Skinny jeans vs straight jeans: which style will suit me?
Skinny jeans vs straight jeans - we've rounded up the pros and cons of both styles, with a little help from the experts.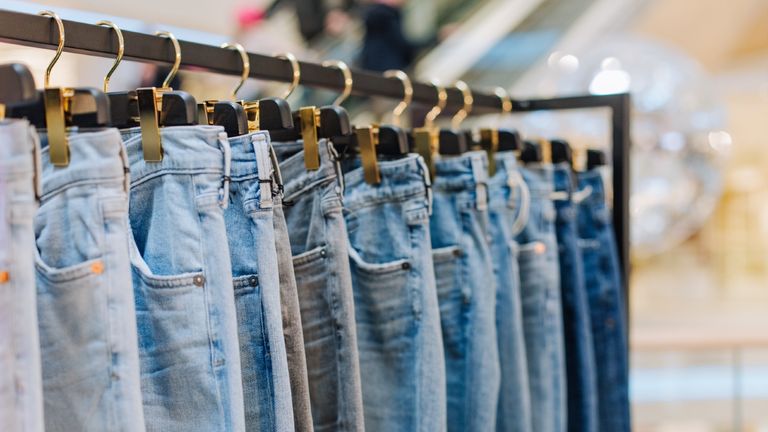 It's skinny jeans vs straight jeans in the ultimate battle of the denim. Let our jeans guide help you decide which style will suit you...
Finding the best jeans when there are so many styles around can be an arduous task, especially when two styles look similar off the peg, such as skinny and straight-leg jeans. But actually, they offer very different looks once on.
Skinny jeans have reigned supreme among high street jeans ever since Kate Moss donned a pair back in 2005. The Topshop Joni jean – a super-high-rise stretch skinny fit – has been one of the high street's biggest sellers for many years. Proof that these seriously slimming jeans are still popular.
But while skinnies remain a classic in our wardrobes, other fits such as the straight-leg jean have gained momentum in recent years. Could the more relaxed straight-leg style be taking over? We think so.
"Despite Joni and Jamie remaining our bestselling fits, we've seen a fantastic reaction to looser styles, including straight and oversized mom, which demonstrates our customer's appetite for an autumn wardrobe update," says Lucy Willans, senior jeans buyer at Topshop.
So, will you be switching up your skinnies for the straight? Get the lowdown on the two sleek styles and which types of jeans you need in your wardrobe below.
What are skinny jeans?
Skinny jeans are skintight and figure-hugging from the waist straight down to the ankle. If you struggle to get yours on in the morning, you're doing it right. They are supposed to be that tight, so battle on! If you can pull them up with ease, you've gone too big.
Skinnies have remained a constant in the jeans world since the early noughties and have been worn by pretty much everyone, from Russell Brand to our future queen, the Duchess of Cambridge. From ripped to indigo, the timeless fit comes in many variations, and we bet you already have several pairs in your wardrobe.
How to wear skinny jeans
Skinny jeans are in danger of looking dated, so it's all about the styling. Opt for high waisted jeans jeans to keep things current, with a shorter top or jumper to balance the look. Skinny jeans work really well with knee-high boots, too, because they are easy to tuck in.
Oversized shirts, slouchy knits and bulky coats also help balance out tight-fitting skinnies. If you want to dress them up, opt for dark-wash styles and team with a silky blouse, blazer and fancy shoes or heels.
"Skinny jeans definitely still have a place in my wardrobe," says Paula Moore, fashion director at Woman & Home. "I love how easy they are to tuck into boots without bunching up at the top. A cropped length – one that finishes just above the ankle – are great leg-lengtheners too, especially when teamed with a pair of fancy heels.
"To avoid them looking too dated, try playing with proportions. Choose a voluminous top and do a 'French tuck'. This is when you tuck in the front half of your top and leave the rest out. It helps highlight your waist for flattering and fashion-forward finish."
A skinny jean will suit most shapes, but you may want to think about which colour and wash you go for. Worn in the right way, the skinny can be one of the more flattering jeans styles. Hourglass and pear shapes suit darker shades, while athletic or apple builds look great in a lighter wash. If you're petite, skinny jeans tucked into heeled boots can also be a great leg lengthener.
What are straight leg jeans?
When it comes to dressing for your shape, straight-leg jeans are more forgiving than their tighter predecessor. They're more universally flattering, skimming over hips and sitting, well, straight. Straight-leg jeans give your ankles a bit more breathing space and the slim-fit is neither baggy or tight.
What to wear with straight leg jeans
Like skinnies, they can be worn with pretty much everything, from cosy cardigans to pretty camisoles – the final effect is just more casual. For an effortless weekend look, pair with cool western or knee-high boots and a vintage-inspired blouse. As with skinnies, a baggy jumper or oversized cardigan on top will balance the look and create a cosy ensemble that's perfect for laid-back weekends.
The difference with a straight jean compared to a skinny fit is that it provides a more relaxed look. While a skinny jean can look dated (depending on how you wear it – just stay away from anything too fitted on top), a straight leg feels more current.
Skinny jeans vs straight jeans: which should you buy?
While skinny jeans will never really go out of style, if you're tired of struggling to get them on or don't want something quite so fitted, straight-leg jeans are your next best option.
They are just as versatile, but way more comfortable. We like to think of them as the skinny jean's cooler sister – you are guaranteed to earn extra fashion points in them.
However, if you are looking for a smarter or dressier style, skinny jeans may work better for you. Just by adding tailoring, such as a blazer or jacket, you can transform your look into more formal territory. They're a really versatile piece of clothing that can be styled for smart and special occasions alike.
Which style has your vote?