Skinny vs straight jeans—which style will suit me?
The debate rages on for skinny vs straight jeans. Here's our take on the trends, with a little help from the experts...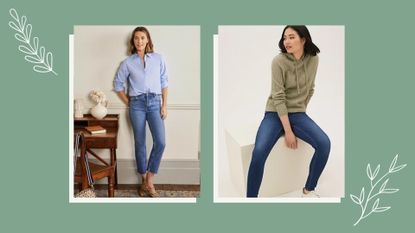 (Image credit: Future: Boden / M&S)
The Skinny vs straight jeans debate has been going on for some time: the styles are similar but they offer wildly different final looks. Luckily this guide is here to help you work out which is best for you.
Finding the best jeans can be tough. While each season ushers in new styles and trends—flares, crops, or barrel leg jeans anyone? There are some silhouettes that remain timeless and ever-present in our capsule wardrobe. While the best skinny jeans came to the fore after Kate Moss donned a pair back in 2005, this once fad style has made a home for itself as a wardrobe essential. Straight-leg jeans began their major moment in the '90s, but have remained one of the most enduring styles thanks to their smart but comfortable aesthetic. While they have sometimes been distressed or baggier, depending on the trends of the time, straight-leg jeans have remained a constant since their first appearance. Both straight and skinny jeans follow the contour of the body over your bum and thigh. A straight-leg jean will often contour with your shape, but rather than hug your calf, it will, as the name suggests continue down to your ankle from the thigh in a straight line, whereas a skinny jean will sculpt and hug all the way to your ankle. With so many shared points of reference, the debate of skinny vs straight jeans has been one that is long-standing.
One of the most popular straight-to-market iterations, the Topshop Joni jean—a super-high-rise stretch skinny fit—has been one of the market's most popular sellers for many years, proof that these seriously slimming jeans are still popular. But while skinnies remain a classic in our wardrobes, other fits such as the straight-leg jean have gained momentum in recent years. Could the more relaxed straight-leg style be taking over? The fashion crowd think so.
"Straight leg jeans are a more flattering and modern denim fit, as we move away from skin-tight dressing to a more relaxed feel. Look for styles that sit high on the waist as these will create a longer line for the eye to follow, giving the illusion of a longer, leaner silhouette. Depending on your choice of footwear, you may also find that a slightly cropped pair that sit above the ankle bone are extra flattering as they show off the slimmest part of your leg"—fashion stylist, Antonia Kraskowski.
What are skinny jeans?
Skinny jeans are skintight and figure-hugging from the waist straight down to the ankle. If you struggle to get yours on in the morning, you're doing it right. They are supposed to be that tight, so battle on! If you can pull them up with ease, you've gone too big. They will often have stretch in them so you can wriggle into them. But the added stretch does mean that over time they may lose their shape.
Skinnies are loved by celebrities and royals, with even Kate Middleton a fan of the fitted shape, they're extremely popular with the fashion crowd too. From ripped to indigo, the timeless fit comes in many variations, it's all about finding the right pair for you.
How to wear skinny jeans
Having been around for a while, skinny jeans can easily look a little date. Opt for the best high-waisted jeans to keep things current, and pair with a shorter top or jumper to balance the look. If you've been wondering how to style knee high boots, skinny jeans work really well here as you can tuck them in. If you're petite, skinny jeans tucked into heeled boots can also be a great leg lengthener.
Oversized shirts, slouchy knits, and bulky coats also help balance out tight-fitting skinny jeans. If you want to dress them up, opt for dark-wash styles and team with a silky blouse, or your best blazer, and fancy shoes or heels. "Skinny jeans definitely still have a place in my wardrobe," says Paula Moore, fashion director at woman&home. "I love how easy they are to tuck into boots without bunching up at the top. To avoid them looking too dated, try playing with proportions. Choose a voluminous top and do a 'French tuck'. This is when you tuck in the front half of your top and leave the rest out. It helps highlight your waist for a flattering and fashion-forward finish."
The Best Skinny Jeans
Skinny Jeans
Reasons to buy
+
Warm and cozy
+
Perfect for tucking into boots
+
Slimming and flattering
Reasons to avoid
-
Can be a challenge for pear body shapes in terms of tight fits
Figure-hugging skinny jeans are surprisingly versatile. Flattering for all shapes due to their ability to act like the best shapewear, find the best skinny jeans and you'll never look back. With a second skin style fit, you'll want to opt for skinny jeans that have stretch in them. This will allow for a more contoured fit and will enable you to easily move in them too.
Fitted from waist to ankle, choose the best skinnies for your shape by considering how and where you need the waistline to sit. For plus sizes or apple shapes who are conscious of their middle, opt for high-waisted styles. The best skinny jeans for curvy women that have a high rise will come up and sit over your stomach and behave like shaping briefs. You can also purchase skinny jeans in mid and low rises, these work better for pear or rectangular body shapes.
If you are a pear shape, however, be wary of 'super-skinny' fits as you may find these too tight for your bum and thigh, instead opt for skinny silhouettes with added stretch.
Available in multiple washes and states of distress, skinny jeans historically have been used as a symbol of rebellion with raw hems, acid washes, and distressed details being particularly popular. As they became more mainstream, smarter, darker indigo and black iterations have become commonplace and skinny jeans are now styled with everything from sharply tailored blazers and pretty blouses to oversized sweaters and hoodies.
The Best Skinny Leg Jeans Picked By Our Fashion Experts
---
What are straight leg jeans?
When it comes to dressing for your shape, straight-leg jeans are more forgiving than their tighter predecessor. They're more universally flattering, skimming over hips and sitting, well, straight. Straight-leg jeans give your ankles a bit more breathing space and the slim-fit is neither baggy or tight.
How to wear straight leg jeans
Like skinnies, they can be worn with pretty much everything, from cozy cardigans to pretty camisoles—the final effect is just more casual. For an effortless weekend look, pair with cool western boots and a vintage-inspired blouse. As with skinnies, a baggy jumper or oversized cardigan on top will balance the look and create a cozy ensemble that's perfect for laid-back weekends.
When it comes to skinny vs straight jeans, straight-legged denim provides a more relaxed look, and dressing more casually has certainly been a big fashion trend for 2022. In a post-pandemic world, softer styles and looser fits have really come into their own, making a straight-leg jean feel more current.
The Best Straight Leg Jeans
Straight Leg Jeans
Reasons to buy
+
Flattering on all figures
+
Easy to style
+
Perfect for all seasons
Reasons to avoid
-
Not the best style for showing off super slender legs
Straight-leg jeans are great for all body types thanks to the flattering cut and simple silhouette they achieve. Offering a slightly more relaxed fit to a skinny jean, they can easily be dressed up or down depending on the occasion.
On an apple body shape, they skim past the midriff and add little to nothing in bulk. For extra security over a tummy opt for high-waisted styles as these will offer extra support and contour.
Straight-leg jeans are forgiving on hips as they skim past, falling straight to the final hem length, making them a great choice for those with a pear-shaped body who want jeans that are less figure-hugging. They'll work easily with sandals, trainers, and boots, although as the fit isn't super close to your ankle, you might find they work better with the best Chelsea boots than trying to tuck them into knee-high styles.
This more relaxed style will look great teamed with one of this season's best blazers, slightly oversized and in a bright color to give a nod to the Dopamine Dressing trend that dominated the runway.
The Best Straight Leg Jeans Picked By Our Fashion Experts
Skinny vs Straight leg: Which cut is best for me?
When it comes to straight vs skinny jeans, the truth is both shapes are universally flattering. While skinny jeans are definitely going to be the most contoured to your shape, straight-leg jeans can be more varied in terms of leg widths.
If you have a pear-shaped body, look for straight-leg jeans that are slightly more bordering what has become known as 'girlfriend' style. These are straight-leg jeans that are relaxed and slightly wider, skimming hips with ease. While some straight-leg styles use traditional stiff denim, pear-shapes might want to look for denim with added stretch as these will offer a better fit across bums and thighs. This is particularly true when looking for the best skinny jeans. Added elastane will ensure your jeans fit like the best leggings, offering excellent levels of comfort.
Apple body shapes can easily wear straight or skinny jeans. While skinny jeans will be the best style to show off slender legs, more fitted straight-leg jeans will still highlight your silhouette. For the most support for a midriff in either style, opt for high-waisted cuts as these will help to contour your shape. If you're looking to tuck tops or blouses in, you might want high-waisted jeans with added sculpting technology built into the waist panel area for a really flattering fit.
Hourglass body shapes benefit from having a small waist and proportionately balanced bust, shoulders, and thighs. While either shape of jeans will work for your body type, a high-waisted cut will highlight your silhouette. To show off your curves, tuck or half tuck your top into your waistband.
Rectangle body shapes suit both styles equally. To create curves, pair your jeans with tops that have added volume. This could be a fuller sleeve for an on-trend feel, a dramatic ruffle detail to add volume to a bust, or a peplum waist, that will give the illusion of an hourglass silhouette.