How to style jeans: Outfit ideas for 7 different cuts
Need some inspiration on how to style jeans? Our expert reveals 7 ways to wear this timeless piece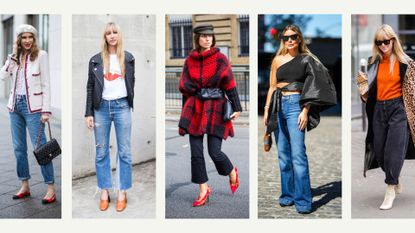 (Image credit: Getty)
woman&home newsletter
Sign up to our free daily email for the latest royal and entertainment news, interesting opinion, expert advice on styling and beauty trends, and no-nonsense guides to the health and wellness questions you want answered.
Thank you for signing up to . You will receive a verification email shortly.
There was a problem. Please refresh the page and try again.
Looking for new ways for how to style jeans? This wardrobe staple is literally one of the most versatile pairs of pants you'll ever own. And if you're looking to bring your jeans into 2023, we've got all the styling tips you need.
First created in the 1800s, the jeans we recognize today were patented in 1873 by tailor Jacob Davis and Levi Strauss, the owner of a wholesale fabric house in San Francisco. Originally made for laborers and miners, they came more into the mainstream thanks to the cowboy movies of the '20s and '30s. Yet, it wasn't really until the '50s and James Dean's Rebel Without A Cause movie, that they became a must-have item for every stylish man, woman and celebrity. In 1976 jeans made their runway debut at Calvin Klein and this is when they became more than just a straight-legged pair of trousers. Designers made them super tight, super low and super flared and as each fashion trend hit, jeans were reinvented, making them a wardrobe staple for everyone.
"Jeans are ageless, and there are so many different shapes and styles that there will always be a pair to suit everyone," says Kate Hiscox from Wears My Money (opens in new tab). "Plus you can dress them up or down so easily."
She continues: "I can't really put my finger on exactly why I love jeans so much! I just feel like 'me' when I wear a great pair. Nothing does wonders for your self-esteem more than finding THE perfect-fitting pair of jeans."
How to style jeans 2023: Jeans outfits for 7 of the most popular jeans cuts
As the denim trends 2023 show, jeans now come in all shapes and styles with wide legs and light washes both proving popular on the runway this year.
While some jean styles, such as the straight leg, can be worn with pretty much anything in your wardrobe, some styles need a bit more thought. The high-waisted flare for example looks better with a tucked-in top half, while the best mom jeans are ideal with more casual attire. While there are many types of jeans for women most styles can work for all body shapes depending on how you style them. With all that in mind, here's how to style jeans to give them a 2023 update.
1. How to style high waisted jeans
While low-rise jeans are making a comeback as part of the fashion trends 2023, the most slimming jeans around have to be high-waisted. Not only do they offer support to your midriff, but they're great for wearing with shorter or cropped tops without exposing any skin.
The best high-waisted jeans should fit well and the waistband of your jeans should sit flush with your ribcage - it shouldn't gape or bulge too much when you bend over or sit down. It may take some trying on to discover your dream pair and while generally dark denim offers the most polish, this is a style that works in all types of denim wash.
Any style of jeans can be high-waisted, whether skinny or flared, but the key feature of this style is that they help accentuate the waist. This means that when it comes to how to style jeans with a high waist, they are best with tops, whether blouses or sweaters, that are tucked in to show off the high waist. A wardrobe essential, this style can be dressed up or down.
(opens in new tab)
Arket Oversized Camel Blazer
RRP: $209 / £149 | A favorite with fashion editors, this wool blazer is a style classic that will look brilliant with everything from your best jeans to your favorite midi dresses. It comes in four different colorways and helps to create a smart casual outfit.
(opens in new tab)
Lily Silk Cotton Blend T-Shirt
RRP: $49 / £45 | Every wardrobe needs a great basic black tee and this one not only looks good but feels good too. Made from a cotton/silk mixture, it will keep you cool on hot days. Tuck this tee into high-waisted jeans for a sleek, but laid-back look.
(opens in new tab)
Levi's Wedgie Straight Jeans
RRP: $98 / £100 | If you're after jeans that make your bottom look amazing, look no further than this high-waisted pair, which are designed to lift and flatter your rear. The slightly cropped style gives them a super modern feel that works with trainers or heels.
2. How to style straight jeans
Back in 1981 when Levi's 501s were introduced for women, straight-leg jeans were everywhere. The classic shape went with everything - and no fashionable woman would be seen wearing anything else. While straight legs fell out of favor for a while, they're back in fashion, which is great because they are so versatile.
Universally flattering, if you are weighing up straight vs skinny jeans, think of straight-leg jeans as a more laid-back, less skin-tight version of the skinny jean. Making them instantly more comfortable as they don't cling to your legs.
"Straight legs go with most things," says Kate. "I'd say turn up the hem so they sit just on your ankle, wear with chunky Chelsea boots or trainers with socks (yes, it's OK to wear socks!)"
Wondering how to style straight-leg jeans? Anything goes and while they are a bit more laidback than skinny jeans, they will work for dressier occasions too, if you opt for a dark pair without distressed detailing.
And as usual, when it comes to how to style jeans, whatever the shape, it's all about keeping proportions balanced but with straight legged styles you can afford to be a little more playful. Whether you opt for a fitted top or an oversized blazer, both can work with straight jeans, making this look all about personal preference. While getting the length right is important, if your jeans are long, don't be afraid to cuff them by rolling them up a couple of times. It's the perfect way to add versatility to what will inevitably become your best jeans.
(opens in new tab)
RRP: $149 / £85 | If you're going to invest in the best cashmere sweater, make sure it's a classic color and shape. It may seem a boring purchase, but jumpers like this work with so many other items. Wear your favorite shirt underneath for a preppy look.
(opens in new tab)
Nudie Jeans Recycled Jeans
RRP: $200 / £135 | Straight jeans are so versatile so play around with colors. These Nudie Jeans are the best white jeans for all seasons. Pair with sandals and a tee for summer style, or a chunky knit and boots to make them cold weather-ready.
(opens in new tab)
Charles & Keith Penny Mules
RRP: $63 / £69 | Loafers for women are going nowhere and this backless pair brings effortless style to any outfit. While they are ideal with tailored pants, the chunky style means they also look great with jeans. The contrast stitch-trim detailing adds interest.
3. How to style skinny jeans
"I think they are still trendy, as long as you think about how you're wearing them," says Kate about the ubiquitous skinny jean. "These days wear with your western style boots and a quilted jacket. Think Claudia Winkleman in The Traitors for true 2023 appeal."
The best skinny jeans will usually contain some stretch, which makes them comfy to wear but also helps with their sculpting effect. And as to how to style skinny jeans? Think of them as a more structured pair of leggings. The beauty of this style of jeans is that they can be worn tucked into boots, teamed with heels for a night out, or worn with sneakers for a styled 'athleisure' look.
A slightly cropped pair of skinny jeans will look much more modern for 2023, style with a blouse, utilizing a French tuck to give it an instantly directional feel. The simple design also means they're brilliant when paired with a statement jacket or jumper.
(opens in new tab)
River Island Pink Mini Dress
RRP: $84 / £45 | Team this satin dress with jeans for a modern evening look. The V-neck and front tie are super flattering, and this pretty party dress will take you through all seasons. Wear with sandals for a summer night out or tights and boots in winter.
(opens in new tab)
Topshop Curve Jamie Jeans
RRP: $217.60 / £40 | Topshop's Jamie jeans are a capsule wardrobe classic and for a good reason - the high-rise fit and power-hold fabric are super flattering and they're available in pretty much every wash, ensuring there is a pair for everyone.
(opens in new tab)
RRP: $59 / £39 | Ticking three of the handbag trends 2023 - a top handle, sustainable, and super tactile - this squishy bag is a must-have style for spring. Clash it with pink or green or go safe and team it with black or denim, it's a great size for day or night.
4. How to style flared jeans
Referring to gently flared jeans over the big bellbottoms of the '70s, a chic flare gives the illusion of long legs, regardless of how tall you are, which makes them a must-buy in our books.
Particularly good for pear shapes and hourglass figures, how to style flared jeans relies on balancing proportions, so tops with too much volume won't work here. Instead, look to tops with a more fitted structure, tucking them in to accentuate your waist. Cropped tops also work well with this trend, especially if you've opted for a high-waisted pair or flared jeans. If you do want to wear an oversized jacket or blazer, just ensure you team it with a slim-fitting or cropped top underneath so your figure isn't overwhelmed.
One thing to consider here is what shoes to wear with flared jeans. Unless you choose a cropped pair, like a trend kick flare, most flared jeans run slightly longer to give that elongated look, so ditch the flats and choose something with a heel or platform. A wedged sandal looks super fresh come summertime, while heeled pointy boots look chic with a trench coat and jumper for the cooler months.
(opens in new tab)
Karen Millen Check Jacket
RRP: $217.60 / £159 | Channel your inner Audrey Hepburn with this gorgeous check jacket. Ideal for teaming with high-waisted flared jeans thanks to the cropped silhouette that will sit naturally on the narrowest part of your waist for a svelte silhouette.
Donna Ida High Waisted Flares
RRP: $284.20 / £235 | When it comes to flared jeans, go wide or go home. Not only will they make your legs look longer, but the wider leg also has a super slimming effect. These ones have a cute basket weave pocket detail, show it off by tucking in your top.
5. How to style boot cut jeans
A popular shape in the '90s, this style of jeans has thrown off its 'mom on a school run' conations thanks to Blumarine and Diesel who sent models down the runway with the slim-fitting small flare.
While flares or baggy jeans can be overwhelming for shorter ladies, with a smaller flare, the bootcut is one of the best petite jeans styles. That's not to say they're not great for other heights or body types too though.
To bring this style into 2023, try different washes, such as super light denim or different lengths. A cropped bootcut looks modern but can be difficult to wear, while uber-long bootcut jeans help to lengthen legs. When it comes to how to style jeans with a bootcut, make like Kate Moss and keep the top half sleek and modern ­and style bootcut jeans with a velvet blazer and simple boots to avoid looking too retro.
(opens in new tab)
Sezanne Floral Chloe Shirt
RRP: $125 / £95 | A pretty floral blouse is a modern-day must-have, taking you from picnic in the park to a more formal work setting. Florals like this always work well with denim, especially when paired with a pair of high-waisted flares or bootcut jeans.
(opens in new tab)
RRP: $86 / £55 | You can't go wrong with a pair of dark bootcut jeans, thanks to their slimming and leg-lengthening properties. Made from sustainably sourced cotton, these will work just as well with a casual tee and trainers as with a pretty blouse and heels.
(opens in new tab)
Ariat Short Western Boots
RRP: $159.95 / £145 | The best cowboy boots are made of hardwearing leather and will go with everything in your wardrobe. However, the best way to wear them has to be with denim, whether denim skirts or jeans.
6. How to style mom jeans
The '90s-inspired mom jean is still going strong, and it's one of the best jeans for curvy women as the high waist gives definition around the tummy, while the tapered leg elongates the body and gives balance. And once you know how to style mom jeans, you'll see they're flattering and versatile for all body shapes.
Unlike the trusted skinny jean, the best mom jeans need to have some rigidity, as this helps them keep their shape. This structure also helps with tucking in your top half, which is important to allow you to keep a balance to your silhouette.
Kate says: "When you've got a looser fit on the bottom half, I would always go for a top that is the same length as the top of jeans, or tuck it in a bit at the front so it gives you a better shape - the French tuck, where you just tuck in the front of your top, is perfect for this look."
Even though they lend themselves to more casual looks, teamed with a pretty blouse and heels, mom jeans will work for evening attire as well. Just pick a darker wash for added polish.
(opens in new tab)
M&S Faux Leather Biker Jacket
RRP: $85.99 / £49.50 | A comfy regular fit with a boxy shape, this white biker jacket makes a nice change from black. Wear it with other monochromes or team it with brights and pastels for a spring-ready look. Great for all sizes, it's available up to size 24.
(opens in new tab)
RRP: $25 / £12 | A slogan tee is a wardrobe staple these days and this simple black and white one is a great option for how to style leather pants or your favorite mom jeans. Lightweight and perfect for layering, it's made with extra fabric for the best fit.
7. How to style barrel jeans
If mom jeans are too retro but straight jeans are a bit basic, denim stylist Sam Remer (opens in new tab), who offers virtual denim fittings, recommends a barrel leg jean.
"The barrel leg is a hybrid of the mom jean and straight leg and a great style for curvy and hourglass body shapes because it's wider at the thighs and tapers in at the ankle," she explains.
A key trend for 2023, barrel jeans are usually made of more rigid denim, so they keep their voluminous structure better. If you're conscious of your bottom half, choose a pair that has a little less volume in them, or look for roomier jeans, such as those with pleats at the waist, to draw the eye up to your middle.
When it comes to how to style jeans like this, pretty much anything goes. Tucking in a cool logo tee or blouse and pairing with a biker jacket or blazer is great for smart-casual looks, however, barrel legs can also work well for evenings. An asymmetric top and a pair of metallic sandals make for great partners with a pair of barrel jeans. And if you want to showcase your best designer belt, choose this style of jeans as it looks super modern with a tucked-in shirt or tee, and the fuller leg, along with a belt helps to showcase a waistline.
Barrel jeans should also be slightly cropped, to get that full-volume effect, but this doesn't mean they can only be worn in the summer. Teamed with a chunky ankle boot or cowboy boot means you can wear them all year round.
(opens in new tab)
RRP: $39.60 / £59 | This top has all the drama needed for how to style jeans. The plain high round neck makes it a great staple and perfect for wearing with different accessories such as statement necklaces or blazers. The deep back is ideal for parties.
(opens in new tab)
Whistles Barrel Leg Jeans
RRP: $189 / £95 | These barrel leg jeans are so popular that Whistles sells them in ten different colors. However, black jeans are a wardrobe staple and if you're not sure how to style black jeans, just think of them like a pair of standard black trousers.
How do I make jeans look more fashionable?
Regardless of how fashionable you want to look, the first rule is to find the best jeans for your body type says Kate.
"Make sure they actually fit you as nothing says outdated more than jeans that are too tight," she advises.
After that, she says, it's all about what you wear with them. One of the major trends for 2023 is double denim, which anyone can wear says Sam.
"As a denim stylist, I'm an advocate for double denim and styling jeans with a denim shirt tucked in or a cropped denim jacket is an easy way to do this," she says.
The best thing about denim is it's considered neutral so is a great backdrop to any of the upcoming fashion trends. Whether you want to try one of the bold fashion color trends 2023, such as bright yellow or Pantone's Color of the Year - magenta, or fancy a bit of fringing or sequins, teaming them with jeans is an easy way to tap into any trend.
What style of jeans are in for 2023?
While high-waisted jeans remain popular, 2023 is the year when waists will drop. A nod to the early Noughties and '90s fashion trends, when low and tight was the order of the day. Thankfully, there are heaps of other retrofits that will continue to be big in 2023 if low-slung waists don't match your aesthetic.
"We see a renewed interest in authentic denim jeans - particularly 1990s fits - and in soft comfort, stonewash denim," says Ali Kirby, Art Director at Denham (opens in new tab) who has created fits called Monroe, Bardot, Kiera and Jolie to honor this vintage feel.
"In general, we see our denim silhouettes trending towards straight and wide leg shapes and regular to high rise waistlines."
For Sam, while any shape goes, she says sustainability is the big buzzword for denim this year.
"Thrifting and re-selling on a multitude of online websites such as Vinted, eBay to Net-a-Porter, now taking in pre-loved designer pieces, meaning we can all be accountable for the denim we buy/ sell in a circular way," she says.
"Designers using old stock fabric to re-work new denim collections is one of my favorites."
With over 22 years' experience in journalism, Jayne has written about a variety of subjects. She spent the start of her career within the world of film, interviewing Hollywood stars, attending premieres and lusting after red carpet outfits, and then moved into fashion, launching websites for big magazines such as Look, Woman's Own and Wedding and working with top fashion brands such as Westfield, LK Bennett and Hunter.
Career highlights include dressing up as Kylie (in gold hot pants!) for a national newspaper and working on big fashion events alongside Giles Deacon, Henry Holland and Naomi Campbell.