How to style flared jeans: how to rock fashion's latest denim craze
Unsure on how to style flared jeans? Get ready for all the outfit inspiration you need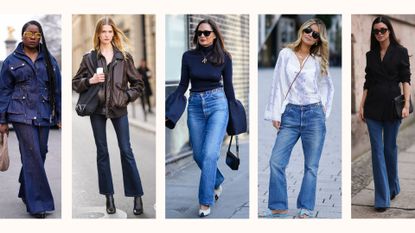 (Image credit: Getty Images)
Discover how to style flared jeans this summer and expand your denim wardrobe. Identified by their figure-hugging fit around waists, bums and thighs before widening below the knee into a bell bottom shape, flared jeans are super versatile and stylish. With a unique ability to flatter all silhouettes, thanks to the figure balancing wide hem, it's no surprise that flares are one of the biggest jeans trend of the year.
First hitting our fashion radar in the '60s and '70s, the flared jean is key to bohemian style, offering a laidback feel to any look. Fast forward several decades and this chic denim silhouette is back as part of the denim trends 2023, in modern denim fabrications and a host of denim colorways.
"Flares are back as a true wardrobe must-have this season," says Jessica Oldfield, denim buyer at River Island, 'What makes them a staple is their leg balancing shape, giving the illusion of longer legs no matter what your height!'
Some of the most flattering jeans for all body types, flared jeans come in numerous iterations, including high, mid and low rise waists. The wider hem line helps to balance out pear shapes, larger busts and wide shoulders, as well as drawing the eye down, lengthening your silhouette. Easy to dress up or down, they're the ideal denim choice from office attire to first dates. So, whether you've got a pair hidden at the back of your wardrobe, or you want to trial the trend, here's how to style flared jeans according to fashion experts.
HOW TO STYLE FLARED JEANS ACCORDING TO A FASHION EDITOR:
1. HOW TO STYLE FLARED JEANS WITH A BLAZER
When it comes to how to style a blazer, this tailored jacket offers instant polish to any outfit and means that jeans can be business casual too. For an office-appropriate style, opt for a blazer in a neutral tone and pair it with a similar colored top for a seamless look. Team with dark-hued flared jeans, with no distressed details for a smart finish. For an effortless day look, a directional bright blazer and your best white t-shirt are a stylish match for traditional blue denim.
A styling tip...
Relaxed blazers are one of the biggest fashion trends 2023. To trial the trend, try a blazer one to two sizes up from your usual size. Make sure to pair is with a fitted top or shirt underneath to avoid looking overwhelmed, and don't be afraid to roll up the sleeves. This styling trick will also work if you're looking for how to style baggy jeans too.
Fashion editor's picks...
RRP: $545 / £298 | With a double breasted fit and contrasting buttons, this blazer is super chic and will help to bring polish to any spring outfit ideas. Wearable for the office, it's a great alternative to black, bringing a lightness that reflects warmer weather.
RRP: $25.99 / £15 | A Breton top is a classic in any capsule wardrobe, and we love the fresh twist this vest top style delivers. With stripes just on the bottom half, this piece will seamless join to your black jeans for a figure-lengthening look.
Old Navy Black Flared Jeans
RRP: $36.99 (US only) | Wondering what to wear with black jeans? This pair delivers a smarter finish and will look great with a tucked in, top or blouse, as this will help to balance out the wider hem line of the jean. Without rips they're a great Quiet Luxury jean too.
2. HOW TO STYLE FLARED JEANS WITH A GILET
The best gilets and waistcoats are an easy and stylish way of adding a layer to your look without adding too much bulk. And thanks to their light layering abilities, they're perfect for adding to a spring capsule wardrobe.
If you're wondering how to style a gilet with flared jeans, it's important to consider the overall look you want to achieve. For a coordinated feel, match your gilet to your jeans in either tone or texture, or, try a contrasting gilet for a more relaxed look. Slightly padded styles can deliver a more sporty element that's ideal for what to wear to a festival this summer.
When learning how to style flared jeans, it's also important to think about proportions. As flares have a bell bottom finish, you'll want your gilet to be relatively form-fitting to help balance proportions. Alternatively, make sure to wear your gilet open, layered over something more fitted, or try this season's vented flares as this helps to readdress proportions by having ankles on show.
A styling tip...
How you wear your gilet can totally transform your outfit. Leave undone for a more relaxed look or fasten up for a more formal finish. While you can wear this look with a blouse, it's also easy to wear with a plain block color or graphic tee too.
Fashion editor's picks...
Barbour Zip Front Padded Gilet
RRP: $230 / £139 | Creators of some of the best waterproof jackets, British clothing brand Barbour does some brilliant gilets and this khaki, parka-inspired design is timeless. The stitch detailing adds detail, while the drawcord at the hem helps to adjust the shape.
Abercrombie & Fitch Flared Jeans
RRP: $90 / £80 | One of the best jeans for curvy women, these are designed to hug your silhouette. With a high-waisted cut to contour your shape, these jeans also feature additional inches at the hips to remove any unwanted gaping at the waistband.
Vans Authentic Platform Trainer
RRP: $75 / £110 | The best white trainers, or in this case, neutral trainers add an instantly relaxed feel to any ensemble. With a classic sneaker cut, these Vans feature a platformed sole which means you get all the height, without the skyscrapper heels.
3. HOW TO STYLE FLARED JEANS WITH A SHIRT
A minimalist capsule wardrobe staple, a shirt is one of the most versatile items you can have in your closet and it's the perfect fuss-free way to learn how to style flared jeans. A wardrobe essential, it's a look that will never go out of fashion and will pair effortlessly with flared jeans of all colors. For a more tailored fit, tuck your shirt into the waistband of your jeans, as it'll define your waist and give the illusion of longer legs. Want a slightly more relaxed feel? Try the fashion crowd's favorite half-tuck for a more nonchalant finish.
A styling tip...
When learning how to style jeans, if you're conscious of your bottom half leave your shirt half or fully untucked. The loose styling will skim your figure for a flattering fit.
Fashion editor's picks...
RRP: $59.99 / £35.99 | The blue and white stripe gives a nod to the Coastal Grandmother trend, as the color combo is ideal for the summer months ahead. A timeless color palette, pair with white or denim jeans for a put together look for dressed-down weekends.
RRP: $89.95 (US only) | One of the best petite jeans, this flared design has a high waist and 2% elastane for a flattering and contoured fit. Pair them with a shirt and comfortable flats or add sky-high platforms to channel flared jeans' naturally vintage vibe.
RRP: $70 (US only) | One of summer's favorite occasion shoes, the wedge, can be paired back with denim jeans. Ideal for shoes to wear with wide leg pants or flared silhouettes, the height lengthens your silhouette, whilst remaining comfy for all day wear.
4. HOW TO STYLE FLARED JEANS WITH A SWEATER
Despite spring and summer being filed under 'warmer months', the weather remains unpredictable so stay prepared by learning how to style flared jeans with a sweater. The key to making this style work is to not overthink it. Team your flares with your best sweaters for a minimalistic feel, opt for a more figure-hugging fit to avoid losing your silhouette to the bell-bottom shape of the jeans. To add interest to this look, try a block-colored sweater in any of the fashion color trends 2023 for a fresh feel, or keep it cool and casual with a cost of neutral hues. Remember, cotton sweaters are ideal for spring/summer weather, giving you the extra layer, with plenty of breathability, you can stay warm without overheating.
A styling tip...
A great sweater can be reached for season after season so don't be afraid to invest in the best cashmere sweaters to add luxe to your look.
Fashion editor's picks...
RRP: $69.95 (US only) | Crafted from 100% cotton, this breathable sweater is ideal for warmer weather. The lovely light hue will add brightness to darker jeans but work particularly well with other neutral pieces. Add a statement necklace to dress it up.
RRP: $49.90 / £32.99 | Learning how to style flared jeans is about more than blue and black iterations. This light khaki pair delivers a new season twist that's ideal when you're looking to create summer outfits for work, just add a tailored blouse and blazer.
RRP: $110 / £70 | Quilted or puffed, the handbag trends 2023 were packed with textured styles and they show no sign of disappearing. One of the best crossbody bags this pale pink design slots nicely in with other neutral pieces for a relaxed look.
5. HOW TO STYLE FLARED JEANS WITH DENIM
If you were put off double denim by the iconic looks from Britney Spears and Justin Timberlake, you'll have to trust us on this one. With '90s fashion trends a major theme for the season, the look is back in favor. The key to double denim is not to overcomplicate it. If you're nervous about the look, go for coordinating denim pieces - such as your best denim jacket, with matching flared jeans in the same hue. For those after a more directional feel, you can easily mix different shades and washes to give your look a modern edge. Finish by pairing with white sneakers or go all in with this seasons best cowboy boots and a simple tee to keep this look fashion-forward.
A styling tip...
You don't need to stop at double denim, finish your look with matching blue or denim accessories for extra style points.
Fashion editor's picks...
RRP: $138 / £110 | In a classic silhouette, the trucker, we love the oversized upgrade delivered here. Roll the sleeves, pop the collar and wear over fitted pieces, or tucked in tops to make sure to highlight your waist.
RRP: $148 (US only) | Spanx make some of the best slimming jeans and thanks to the flared leg, this design will help to create the ultimate hourglass shape. The flat fit across the midriff is contouring too.
Fashion and beauty writer
Jazzria is a journalist and stylist specializing in fashion and beauty. After starting her career at ELLE UK in 2014, she went on to work as part of the style team at heat Magazine for 6 years before going freelance in 2022.
Jazzria is an advocate for diversity within the fashion industry and previously wrote the column, Jazz's Short Stories, developing a voice for petite style. She prides herself on creating content where everyone can see themselves and feel included no matter your size, skin tone or personal style.