A fashion editor explains how to style jeans for the 'Quiet Luxury' trend
There are the best jeans to buy for the Stealth Wealth trend and why they're perfect for a Quiet Luxury look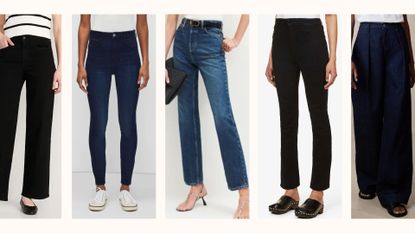 (Image credit: Old Navy, 7 For All Mankind, Reformation, Selfridges/Paige, Banana Republic )
Stealth Wealth or Quiet Luxury has crept into every corner of our wardrobe and nailing how to make all your outfits look subtly expensive has become something of a fashion artform. When it comes to Stealth Wealth jeans, this humble denim item is the perfect partner for executing the look.
Traditionally designed as workwear, the explosion of designer jeans brands and increased denim technology has meant that this hardwearing, low-key fabric is now at the center of the Quiet Luxury trend. Categorized by its subtly expensive aesthetic, Stealth Wealth jeans can be easily dressed up or down for numerous occasions, making this the item to add to any wardrobe.
The best jeans for the Stealth Wealth trend will instantly look expensive, but they won't be flashy. That means that they will be devoid of obvious branding detail, although they may have embossed buttons or other tiny details that give a nod to the jeans brand they belong to. Generally smarter, Quiet Luxury jeans will tend to be darker in wash - including jet black and dark navy designs.
5 of the best Quiet Luxury jeans to shop this season and how to wear them
1. Dark Blue Wide Leg Jeans
The best wide leg jeans for the Quiet Luxury look will be made of dark rigid denim, holding their shape well, regardless of wear. A high waist will help to cinch you in and balance your silhouette, making these easy to pair for smart casual dressing. If you're wondering what shoes to wear with wide leg pants, the options are endless and you can wear heels, or flat trainers depending on occasion. Just make sure your hem isn't scraping the ground, as a well cared for pair of jeans looks subtly more expensive.
Banana Republic Wide Leg Jeans
RRP: $150 (US only) | Jeans can be business casual when they look as sharp as this Banana Republic pair. With a wide leg pants aesthetic, these offer a polished finish to denim silhouettes and we love the front pleat detail for added sharpness.
GAP Modern T-Shirt Bodysuit
RRP: $29.95 (US only) | When it comes to what to wear with wide leg pants, it's important to keep your top half fitted so that your frame is not overwhelmed by the wideness of the hem. This fitted t-shirt body is ideal for showing off your waist and upper torso.
2. Blue Straight Leg Jeans
Debating skinny vs straight jeans? For the most Stealth Wealth appropriate denim look, the best straight jeans are pretty much unmatched. Ideally in a rigid denim, as a firm, non-stretch denim should create the longest lasting jeans, a well cut straight leg will become one of the most popular items in your capsule wardrobe. Wearable with pretty much anything, thanks to its narrowed leg shape you can go oversized on the top, try a half tuck, or fully tuck in to show off your waist. A classic mid blue hue is ideal for more relaxed ensembles, while dark black washes can be dressed up or down with ease.
Reformation Striaght Leg Jeans
RRP: $148 / £168 | Nail how to style straight leg jeans with this timeless pair. In a mid blue hue, they can be paired with any of the latest fashion color trends, or with a classic white blouse for a timeless look. Add heels and a blazer to make these feel date night-ready.
RRP: $160 / £98 | An Oxford shirt is a must-have in any minimalist capsule wardrobe as it can be styled in so many different ways for all occasions. With a pair of straight cut jeans, try tucking the shirt in if you want to fully show off your waistline.
Sam Edelman Snaffle Front Loafer
RRP: $150 / £128 | The best loafers can be worn with ankle skimming jeans for a smart weekend ensemble, or teamed with dressed or tailored pants for a summer outfit for work. Thanks to the leather and snaffle detail these offer a Quiet Luxury finish to denim too.
3. High Waisted Skinny Jeans
Skinny jeans have become a wardrobe staple and if you're looking for skinny jeans that evoke Quiet Luxury, then a dark wash is a must. Generally crafted from a stretch denim, skinny jeans can sag after a while and if you want to maintain a Stealth Wealth aesthetic, it's important to update your denim when you get to the baggy knee stage. Thanks to it's contoured fit, you can pair skinnies with oversized shirts or knits, but opt for classic styles such as cables, Bretons or cashmere sweaters to complete the Stealth Wealth feel.
7 For All Mankind Skinny High Rise Jeans
RRP: $198 (US only) | One of the best jeans brands, these skinny high-rise jeans will help to contour your silhouette. The stretch fabric will help with comfort levels, but also ensures that they offer a second-skin fit. Pair with a more relaxed top for laidback look.
RRP: $128 / £156 | Neutral hues are ideal when looking to create a Stealth Wealth jeans outfit. This classic cashmere crewneck sweater is cut just loose enough to give a cozy and paired back feel, without losing any of its luxury fabric appeal.
RRP: $159.95 / £140 | One of the hottest boot trends of last season, the biker boot remains at the top of many shopping lists and this beautifully crafted pair from expert cowboy boot makers Ariat features only subtle branding making it ideal for Quiet Luxury.
4. Black Wide Leg Jeans
Wide leg jeans can be a tricky style to navigate, but they're actually some of the most slimming jeans on the market. The wider leg takes away the clingy feeling you get with more fitted silhouettes, and the added width at the hem helps to balance out shoulders, hips and thighs, whilst naturally creating a narrowed, hourglass waistline. Opt for a pair in jet black for a smart finish, and start with a smaller wide leg, if '70s-inspired styles aren't quite your bag.
RRP: $36.99 (US only) | While Stealth Wealth is generally categorized by expensive items that don't look overly showy, you can get the look of Quiet Luxury without breaking the bank. This simple and subtle pair of jeans look far more expensive than their price tag.
Mango Striped Zip Up Sweater
RRP: $59.99 / £35.99 | To get the look of luxury on a budget, stick to classic pieces such as Breton tops, that look timeless and elegant. The sporty edition of the half zip gives this look a modern feel, and don't forget to half-tuck the sweater into your waistband.
Converse Leather High Tops
RRP: $70 / £70 | Keep your ensemble fresh with the best white trainers. Although Stealth Wealth jeans outfits are generally devoid of labels and logos, Converse, while a brand label, won't be considered overly showy, up the ante with this luxe all leather design.
5. Straight Black Jeans
A pair of straight black jeans are some of the most versatile in any wardrobe and when considering what to wear with black jeans, you really will be spoilt for choice. Avoid ripped or distressed denim to err on the side of Quiet Luxury, as a jet black pair without any added detail will easily feel more expensive. Pair with over luxe fabrications such as buttery soft leather, and silky shirts for a tactile finish. This is an ideal look to try jeans and heels with too.
Paige High Rise Stretch Jeans
RRP: $250 / £230 | Some of the best designer jeans, the high waist will help to create a longer and leaner silhouette. The ankle-skimming length makes these ideal for showing off shoes too.
All Saints Black Leather Jacket
RRP: $499 / £299 | You can't go wrong with an All Saints leather jacket. Made from supple fabric, a leather jacket is the one piece that gets better with age, so don't be afraid to live in it.
Rivkie is a fashion editor, writer and stylist with over fifteen years' experience in the industry. Having studied design and pattern cutting at the London College of Fashion, Rivkie fell in love with styling and journalism, covering fashion weeks in London, Paris and New York.
Specialising in plus size fashion, Rivkie has long championed that style is for everyBODY and has been a regular talking head on a host of radio stations and television shows, pushing for greater representation for plus size women and fashion throughout her career.