The 6 longest lasting jeans—and what you need to know about the carbon footprint of jeans
Out edit of the longest lasting jeans is brimming with denim you'll love for a lifetime.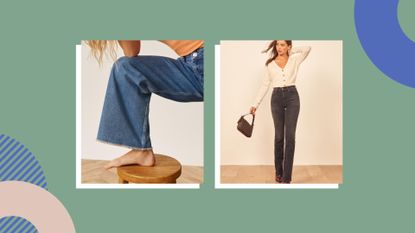 (Image credit: Future)
We all know fast fashion is the enemy when it comes to the environment, and denim is one of the main culprits. Buying the longest lasting jeans you can afford is a simple action you can take to offset your impact on the planet. We recommend 6 great jeans to buy, and provide expert tips on reducing the carbon footprint of your denim.
Firstly, let's start with why the carbon footprint of your best jeans is so bad. The rise of online shopping and quick-changing clothing trends means as a society we are buying more than ever before, and we're disposing of it quicker, too. That combined with how many resources it takes to make a single pair of jeans means that being a sustainable clothing brand is pretty tough. Shopping consciously for denim has never been more important.
As well as we consumers doing our bit, big brands and retailers are also making moves to change the way jeans are produced. Many have joined schemes such as the Better Cotton Initiative, which promises to use less water and chemicals and helps improve farmer livelihoods.
Thankfully, finding decent denim that satisfies our shopping cravings and are eco-conscience is easier than ever. We've hunted down the longest lasting jeans for your shopping pleasure...
The longest lasting jeans according to our fashion experts
(opens in new tab)
1. Levi's Wellthread 70s high rise straight leg jeans
Most timeless long lasting jeans
Specifications
RRP: $128/£110
Sizes: 23-32 waist, 29-34 length
Reasons to buy
+
100% organic cotton
+
Dyed with natural plant-based dyes
+
High waisted design
Reasons to avoid
-
Non-stretch so not a lot of give until worn
WellThread is Levi's most sustainably designed collection. Made using organic cotton, recycled materials and hemp, the jeans are made to last and be loved for longer. The high-rise straight-cut fit is a classic that is universally flattering, so a worthy investment. Whether you style them with your best white trainers, ankle boots or heels, you'll get so much wear out of them.
---
(opens in new tab)
2. Gap The Gen Good high rise skinny jeans with washwell
Cheapest long lasting jeans
Specifications
RRP: $55/£39.95
Sizes: 24-33 waist, regular length
Reasons to buy
+
High waisted style
+
Each pair uses less water and uses no harmful dyes
+
Made in a safe Gap-approved factory
Gap's Washwell program uses 20% less water than a conventional wash, saving more than 248 million liters of water since its launch in 2016. These classic skinny jean has a high waist and they're made from recycled cotton and polyester, which is hardy and lasts well with repeated wear. The washwell collection also includes t-shirts, dungarees and denim jackets all made from more sustainable materials.
---
(opens in new tab)
3. Reformation Peyton High Rise Bootcut Jeans
Smartest long lasting jeans
Specifications
RRP: $118/£120
Sizes: 23-31 waist
Reasons to buy
+
Slightly stretchy denim
+
Fitted at the waist, hips and bum and slightly flared at the hem
+
Made from organically grown cotton and sustainable Tencel lyocell
A favourite with celebs and influencers, this LA-based brand is big on sustainability, detailing every product's environmental impact on its website—no accusations of greenwashing here! These bootcut jeans are made with 69% organically grown cotton and 30% Tencel, a fabric that uses less waste. 1% elastane adds some stretch and makes them comfortable to wear even after washing.
---
(opens in new tab)
4. E.L.V. Denim Mid Blue Match Straight Leg Jean
Coolest long lasting jeans
Specifications
RRP: $338/£245
Sizes: 25-36 waist
Reasons to buy
+
Zero-waste jeans
+
Carbon-neutral shipping on all orders
+
Available in cropped or original hems
Upcycling is at the core of this London brand, creating zero-waste jeans by using discarded denim that otherwise could end up in landfill. Designed and manufactured in east London, it supports local communities and keeps carbon footprint to a minimum. They'll even be delivered to use using carbon-neutral shipping. Their designs are distinctive and very cool, if you can afford them you'll get tonnes of compliments when you wear them.
---
(opens in new tab)
5. Nudie Jeans hightop tilde night spirit
Best black long lasting jeans
Specifications
RRP: $166/£120
Sizes: 24-36 waist, 28-36 length
Reasons to buy
+
Made from organic cotton and recycled polyester
+
Super-stretch denim
+
Great choice of leg lengths
Reasons to avoid
-
May be too spray-on skinny for some people
If you're a skinny-jean fan, then these high-waist super-stretch beauties are the ones for you. Made with organic cotton and recycled polyester, every pair of Nudie jeans comes with a promise of free repairs. Helping you hold on to them that little bit longer. The brand is also transparent so you can see how many liters of water each pair takes to make along with CO2 emissions. These jeans wear so well that you're very likely to grow out of them before they need replacing.
---
(opens in new tab)
6. Aligne Cara high waisted jeans
Most comfortable long lasting jeans
Specifications
RRP: $95/£69
Sizes: 24-34 waist
Reasons to buy
+
Made from 100% organic cotton
+
Comfy wide-fit style
+
From a small London-born brand
Reasons to avoid
-
Only one color available
Fairly new brand Aligne has quickly gained a loyal following of women who want more from their clothes. As a small sustainable label, each piece is created to last and to fit into your existing closet seamlessly. With classic pieces loved by minimalists, the denim edit is made from 100% organic cotton.
The carbon footprint of jeans
According to estimates from the UN, the fashion industry contributes to around 10% of global greenhouse gas emissions and nearly 20% of wastewater. Factors such as how clothing is transported, produced, and then disposed of all contribute to the devastating impact on the environment.
For example, a single pair of jeans requires 1kg of cotton, and producing that uses around 10,000 litres of water. That's enough drinking water for one person over an entire decade—and that's just one pair!
There are a lot of different types of jeans: skinny jeans vs straight jeans and mom jeans vs boyfriend jeans to start. And the average person owns seven pairs. That is seven decades worth of water for a person. Frightening, eh? Much of this wastewater is full of chemicals and dyes that impact our rivers and oceans as well. This is all before our jeans even enter our wardrobes.
Despite making some of the longest lasting jeans on the market, Levi Strauss estimates that a pair of their signature 501 jeans will produce the equivalent of 33.4kg of carbon dioxide equivalent across its entire lifespan. That's about the same as driving 69 miles in the average US car. These emissions are from a combination of production, packaging, transport and consumer use—mainly from washing.
This is where we come in. If we changed our approach to how to wash jeans so that we were doing it every 10 wears, rather than every two, we could reduce water usage and climate-change impact by up to 80%—a big improvement in the carbon footprint of jeans.
UK consumers use more hot water than American or Chinese consumers, and if they washed jeans in cold water instead of warm, it would reduce climate impact by 21%. How we dry our clothes is important, too. Line drying is a lot more planet-friendly than using a tumble dryer.
"You don't need to wash clothes as often as you might think. You can hang your clothes out to air, for example, rather than washing them after each wear. Reducing the amount of washing that you need to do is the best way of making sure that microplastics don't get into the water system," says Fee Gilfeather, Oxfam's sustainable-fashion expert.
How to reduce the carbon footprint of your jeans
Wash jeans after every 10 wears, rather than every two
Air your jeans outside rather than washing them whenever you can
Wash jeans in cold water instead of warm
Dry them on the line rather than using a tumble dryer
Buy the best-quality jeans you can afford and wear them longer
How else can we offset the carbon footprint?
As well as washing less, there are other small things we can do to help offset the carbon footprint of jeans and other clothes. Think investing in higher-quality, long lasting jeans, holding onto them for longer and wearing them more often.
If we continued to wear our clothes for just nine months longer, it could reduce their environmental impact by 22%, according to a report by recycling charity Waste and Resources Action Programme (WRAP).
Hands up if you have clothes in your wardrobe that don't fit you anymore? Or have never even been worn in the first place? You're not alone. Research by Oxfam found that the average adult currently owns at least two items that remain unworn.
Thanks to our thirst for new trends, the lifespan of our clothes has been significantly shortened, but holding on to our clothes longer will help the planet. As will resisting the urge to buy anything new. And seeing as jeans are a fashion mainstay, it's definitely worth investing in one of the longest lasting jeans instead of 'throw-away' cheap pair.
"Buying clothes that are made to last is better for the planet, but you can also extend the life of your clothes by repairing them. Consider stitching on buttons that have fallen off or patching up holes. That way, you reduce waste and reduce the need to buy new clothes, all of which is a drain on the planet's resources," adds Fee.
Around 350,000 tonnes of used clothing ends up in landfill in the UK every year and many of these items could have been recycled or upcycled into easy sewing projects (most of which are simple enough you don't require one of the best sewing machines).
When you are ready to get rid of clothing, think first about how you can give it another lease of life. Donate old items to a charity shop or vintage store, learn how to sell clothes online or take them to a car-boot sale, or have a clothes swap with friends.
Charlie is the Deputy Fashion Editor at Future plc across multiple women's magazines including Woman & Home, Woman and Woman's Own.
She bagged her first magazine job in 2009 and has previously written for titles including Stylist, Closer and Dare. Over the years Charlie has embraced anything that was thrown at her from styling celebrities to testing out the best jeans on the high street to writing about must-have beauty buys.
With a weakness for a printed midi dress, Charlie is on a mission to shop more sustainably and loves finding new ethical brands and second-hand buys.