How to wash jeans - according to the experts
Wondering how to wash jeans? Our thorough guide tells you all you need to know about caring for your denim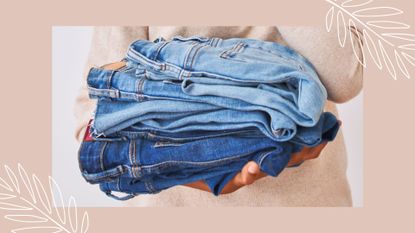 (Image credit: Getty)
woman&home newsletter
Sign up to our free daily email for the latest royal and entertainment news, interesting opinion, expert advice on styling and beauty trends, and no-nonsense guides to the health and wellness questions you want answered.
Thank you for signing up to Woman & Home. You will receive a verification email shortly.
There was a problem. Please refresh the page and try again.
Wondering how to wash jeans properly? There are a few crucial steps you want to be sure you are following. Although almost all of us own multiple pairs of jeans, understanding the specific washing and drying requirements will help you get the most out of your denim and help to increase its lifespan.
Getting longevity out of the best jeans lies in how you wash and care for them, so it pays to know how to do it right. Although denim is a long-wearing and durable material, you can ensure that you get the most out of each pair of jeans by washing them correctly and treating them with care. Whether you favor rigid denim or styles with stretch, this cotton-rich fabric needs to be washed in a particular way
From what temperature to wash jeans at to how to keep different hues vibrant and colorful, we break down everything you need to know about how to wash jeans. Follow this simple step-by-step guide and your favorite pairs should last you for years to come without losing shape or durability.
How to wash jeans: a step-by-step guide
1. Decide on your cleaning method
The first thing you need to do when faced with dirty jeans is decide how you want to wash them. As with most clothing items in your capsule wardrobe, you have a few different options: you can dry clean them, hand wash them, or throw them in the washing machine. Of course, the first point of call is to always consult the care label, but unless you have a particularly special or intricately decorated pair of jeans, you can usually discount dry cleaning.
Serious jeans fans tend to hand wash their denim. Levi's CEO, Chip Bergh, is one of those people. Bergh claims to have owned the same pair of jeans for ten years without machine washing them once. Instead, he spot-treats stains with a toothbrush and a little mild soap. If Chip's favorite jeans are ever in need of a deeper clean, he hand washes them so we have included this method at the end of the piece. However the most common way is via washing machine for ease and effectiveness and we outline how to do this immediately below.
2. Prepare your jeans to be washed
The first step to washing jeans is prepping them properly. Luckily, not much is needed. Denim brand Levi's recommends you "turn your jeans inside out to protect the color from fading through direct contact with detergent, and make sure the zipper is closed to help maintain the shape."
Black and dark blue jeans can often leak color, especially during the first couple of times they are washed, so be mindful of this when washing denim. It is advisable to wash jeans entirely on their own to avoid any color bleeding, so save your comfortable bras and cashmere socks for a separate load.
Once your jeans are all ready, the last step is to make sure that you have the right detergent handy. One of the most comfortable jeans brands, Lee recommends you "use a mild detergent with cold water" for standard blue jeans. Mild detergents are gentler on your jeans and will ensure that they stay looking their best.
3. Use the washing machine on the right settings
Whether you are dealing with the best jeans for tall women or your best skinny jeans the advice is the same: use cold water. "Cold water prevents the fabric from shrinking and the color from fading," says Levi's, so you'll want to give warm water a miss when washing your jeans.
You will notice that the care instructions inside your jeans advise washing cold, and most washing machines will have various temperature settings as well as a cold wash function. This means it couldn't be simpler to wash your jeans safely, just get to know your washing machine and the settings that allow for a cold, gentle wash.
4. Air dry
The first (and perhaps only) thing to know is that tumble dryers should be avoided at all costs. This is because the heat of the dryer can lead your jeans to shrink or fade, therefore damaging your favorite pair. For best results, air dry on a washing line or drying rack - just as you would with your best joggers or other casual items when drying clothes indoors.
If you want to speed up the drying process, you can put your jeans on a radiator at a low heat, or use a dehumidifier for drying clothes in the winter months to absorb excess moisture from the air and your jeans. Once dry, you're all set! You can now enjoy wearing your clean jeans.
How to wash jeans by hand
If you have the time, follow Chip's lead and hand wash your jeans in cold water. The extra time commitment will reward you handsomely in the minimal fade, stretch and shrinkage so they can stay in your closet for years to come.
For a no-hassle hand wash, detergent brand Ariel recommends following the steps below...
Are you supposed to wash jeans?
It is often questioned whether you are even supposed to wash jeans. If you've wondered does washing jeans ruin them, or been concerned about using the washing machine with your jeans, fear not. You are supposed to wash jeans, and when done correctly, there is no risk of damaging them.
However, there is some debate as to how often you should wash your jeans. Levi's says that "in terms of optimal washing frequency, we'd say less is more is the general guideline. The more specific guideline is to wash them once every 10 wears at most to keep them fitting correctly and make sure you minimize sagging." Likewise, denim brand Lee recommends washing "no more than once or twice a month, or after five to 10 wears." Although the denim trends 2023 tell us that grungy looks are in, we still advise keeping them clean and fresh within this guideline.
Can you wash your jeans at 40 degrees?
Jeans should be washed with cold water, so a 40°C machine wash is far too warm for a pair of jeans. If you do wash your jeans at 40 degrees, you can expect the colors to run, or even for your denim to shrink. If you are wondering do you wash jeans hot or cold, always go for cold water. This will help your jeans to last longer and stay bright.
Should you wash jeans before wearing them?
"The answer is YES, with the exception of raw denim. Washing jeans before wearing them the first time helps to prevent dyes from bleeding onto your skin and other clothes," advises jeans brand Lee. Although it is ideal, this isn't a make-or-break piece of advice. Dark blue or black jeans are most likely to bleed, but lighter hues shouldn't cause this problem.
However, another reason to wash your jeans before you wear them is to get the best possible fit. Jeans that are fresh out of the wash hold their shape well and won't be too baggy, so it is a good way to ensure that your jeans mold to your shape with wear.
How can you remove stains from jeans
How you remove stains from your jeans will depend on the nature of the mark and, in most cases, they're fixable - so don't panic.
"Ink and wine stains, especially red wine, are notoriously difficult to remove. However, it's not impossible," says Susan. "Time is of the essence, though, so make sure you treat the stain immediately by soaking it with a damp cloth, then applying a stain remover."
The Wrangler jeans denim experts recommend a similar, yet slightly boozier, approach to general stains and spills - all by using things you already have in your cupboards.
"Use baby wipes or a vodka-soaked rag and dab (don't rub). Both of these methods will take out the stain and dry without leaving a mark."
If you've come up against a stubborn spot that just won't shift, consider customizing your jeans before throwing them in the bin. Could you cut them into shorts? Cover the stain with a patch of contrasting fabric? Getting creative will not only help reduce waste but gift you with a completely unique pair of jeans.
Is putting jeans in the freezer a good way to clean them
Unfortunately, there's little truth in the rumor that putting your jeans in the freezer will rid them of bacteria without the need for a proper wash.
"While some germs die off in the freezer, the hardier ones live on," says detergent brand Ariel. "Since most of the germs on your jeans come from you, once your body temperature warms the fabric the germs can come back just like before."
Consider us told.
How to wash jeans: dos and don'ts
DO wash your jeans before you first wear them
DO turn jeans inside out before washing
DO wash with cold water only and air dry
DON'T tumble dry or wash jeans in hot water
DON'T wash with mixed colors - wash jeans alone if possible
DON'T bother with pricey dry cleaning - machine washing is perfectly fine
Sign up to our free daily email for the latest royal and entertainment news, interesting opinion, expert advice on styling and beauty trends, and no-nonsense guides to the health and wellness questions you want answered.
Jess Beech is an experienced fashion and beauty editor, with more than eight years experience in the publishing industry. She has written for woman&home, GoodtoKnow, Now, Woman, Woman's Weekly, Woman's Own and Chat, and is a former Deputy Fashion & Beauty Editor at Future PLC. A beauty obsessive, Jess has tried everything from cryotherapy to chemical peels (minus the Samantha in Sex and The City-worthy redness) and interviewed experts including Jo Malone and Trinny Woodall.