How to wash jeans – according to the experts
Learning how to wash jeans = longer-lasting denim.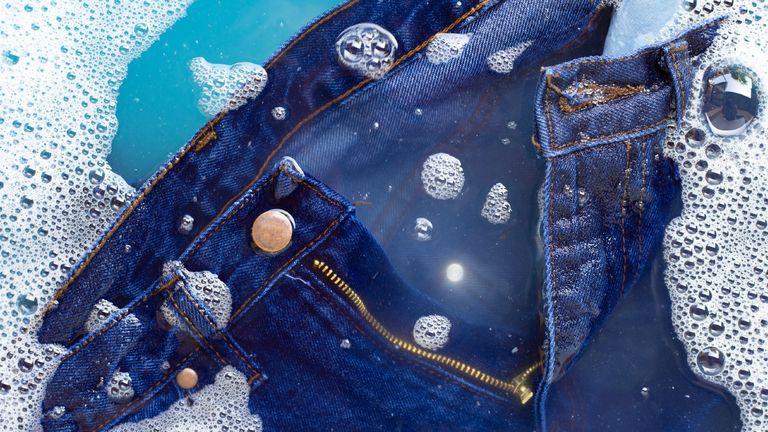 Finally – after hours of tedious online scrolling, weeks of confidence-dampening shopping trips and maybe even years of searching, you've found the perfect pair of jeans. So, how do you stop them from fading, fraying or developing the dreaded knee or bum sag? The key to keeping your best jeans as good as new is in knowing how to wash jeans.
Whether your wardrobe weapon of choice is a pair of flattering high-waisted jeans, fashion-forward white jeans, high-end or high-street jeans, these washing principles remain the same.
How often should you wash jeans?
When it comes to washing your jeans, less is more. Why? Denim is a sturdy, durable fabric and built to withstand plenty of wear without becoming grubby or starting to smell.
Also, you're (hopefully) wearing underwear beneath your jeans, so you don't need to worry about bacteria in the same way you might with a T-shirt or knickers.
As a general rule, aim to wash your favourite, most-worn pair of jeans once a month or after every fourth or fifth wear.
"Unlike other garments, your jeans don't need to spend that much time in the washing machine," says Dr Beckmann spokesperson Susan Fermor. "Washing your jeans frequently can alter the fit and colouring. Putting them on a cool wash once a month is advised to ensure that they are kept clean and fresh."
It's all down to personal preference, though, with some diehard denim enthusiasts choosing to go far longer before popping their jeans on a spin cycle.
Levi's denim experts recommend only washing your Levi's jeans after every ten wears to help save water, while their CEO, Chip Bergh, claims to have owned the same pair of jeans for ten years without machine washing them once. Instead, he spot-treats stains with a toothbrush and a little mild soap. If Chip's favourite jeans are ever in need of a deeper clean, he hand washes them.
How to wash jeans
If you have the time, follow Chip's lead and hand wash your jeans in cold water. The extra time commitment will reward you handsomely in minimal fade, stretch and shrinkage.
Not sure how to wash jeans by hand? For a no-hassle hand wash, detergent brand Ariel recommends following the steps below...
Place your jeans inside out in the sink, or ideally the bathtub, where they can be laid flat.
Fill the basin with cool water.
Add a small amount of liquid detergent.
Leave your jeans to soak for 45 minutes, gently agitating them occasionally.
Once the timer is up, rinse thoroughly with cold water and hang to dry.
How to wash new jeans
The process of how best to wash new jeans is exactly the same as above. Hand washing separately is especially good for sparkly new denim and will eradicate the risk of the fresh dye seeping into and staining your other clothes.
If you don't have a bath tub or a kitchen sink you can soak your jeans in for 45 minutes, you can pop new jeans in the washing machine. Just choose a cool setting and make sure they're separate from other light-coloured clothing.
How to wash jeans in a washing machine
Short on time? No problem. Clean your jeans in the washing machine instead of laboriously hand washing.
Before you get going, check the care instructions on your jeans to make sure you're choosing the appropriate setting. The guidance will vary by brand, style and shade.
If there's no care label, play it safe by choosing a cold, gentle wash.
"Washing your jeans at a cool temperature will ensure the denim keeps its shape and feel," says Susan. "If they are extremely dirty, then dab them down with a cool cloth beforehand to reduce the residue."
You'll need to prep your jeans, too. "Turn them inside out, button up any buttons and zip up any zippers," advises Ariel. "This will stop them from turning white at the seams and catching on other clothing."
How to wash ripped jeans
The best thing about ripped jeans is their casual, worn-in finish, but there's a fine line between fashionably distressed and at risk of a wardrobe malfunction.
We know to put ripped jeans on with care to avoid accidentally pushing a foot through the knee, but how you treat them when they're not being worn is important too.
To stop extra fraying or ripping when washing, we would always recommend taking the time to hand wash ripped jeans or simply spot-treating spills. But if you do need to put them in the machine, fasten all hardware (poppers and zips) and place inside a pillowcase to reduce the risk of them catching.
How can you stop jeans from fading?
Whether you're washing cheap jeans or designer ones, avoiding fade is tricky. Aside from trying to wash your jeans as little as possible, there are a few other things you can do to reduce fade. One of them is to wash inside out, and another is to let them dry in the shade, instead of in direct sunlight.
"You should also use specialised laundry products that are used to preserve colours, such as Dr Beckmann Re-usable Colour Collector Cloth," adds Susan. "The cloth absorbs and locks in colours to protect against colour run and dirt every time you wash. As this excess is locked into the cloth, instead of being released back into the water, clothes stay brighter and colours more vibrant."
How can you remove stains from jeans?
How you remove stains from your jeans will depend on the nature of the mark and, in most cases, they're fixable – so don't panic.
"Ink and wine stains, especially red wine, are notoriously difficult to remove. However, it's not impossible," says Susan. "Time is of the essence, though, so make sure you treat the stain immediately by soaking it with a damp cloth, then applying a stain remover."
The Wrangler jeans denim experts recommend a similar, yet slightly boozier, approach to general stains and spills – all by using things you already have in your cupboards.
"Use baby wipes or a vodka-soaked rag and dab (don't rub). Both of these methods will take out the stain and dry without leaving a mark."
If you've come up against a stubborn spot that just won't shift, consider customising your jeans before throwing them in the bin. Could you cut them into shorts? Cover the stain with a patch of contrasting fabric? Getting creative will not only help reduce waste but gift you with a completely unique pair of jeans.
Products to help you keep your jeans as good as new
A specialist wash is a good way to remind yourself to wash your jeans separately. This one has been carefully formulated to ensure that your jeans not only retain their colour, but their fit too - by protecting the cotton fibres. The scent is a fresh, laid-back mix of bergamot, mandarin rind and a twist of black pepper. Don't be put off by the smaller-than-average bottle - it's highly concentrated, lasting for up to 32 washes.
The Laundress Denim Care Set
If you've splurged on designer denim, it seems sensible to splash out on products to keep them at their just-bought best too. This duo contains a colour and softness preserving wash, as well as a handy spritz to help keep odors at bay. There are no fabric-damaging chemicals in the wash, so you can rest assured your jeans will emerge from the machine as good as new, without sagging or bagging.
DYLON Washing Machine Fabric Dye Pod for Clothes & Soft Furnishings
Sometimes, no matter how carefully you've washed your jeans, the colour will still fade - especially on black denim. If your favourite pair is looking more murky grey than jet black, consider dyeing them before you relegate them to the bin. This clever colour pod works within the washing machine, for minimal mess. You will need to run your washing machine afterwards to stop the dye from seeping into your next wash, so follow the packet instructions to the letter.
Day 2 Dry Wash Spray Denim
Let's be honest, if you're wearing your jeans most days, then that just-washed freshness can evaporate quite quickly. Enter this handy spray. Not only does it banish unwanted smells, but it removes those annoying creases around the knees and thighs too - without having to reach for the iron. Although it's a fine mist, it can take a little while to dry, so we'd recommend using at least 10 minutes before you plan to head out the door.
Dr. Beckmann Colour and Dirt Sheets 20 Pack
A great way to stop the colour from your jeans from transferring onto other clothes, these handy sheets help keep colours brighter for longer. Use one for lighter wash denim, and two for darker colours like deep indigo and black.
Should you put jeans in the freezer?
Unfortunately, there's little truth in the rumour that putting your jeans in the freezer will rid them of bacteria without the need for a proper wash.
"While some germs die off in the freezer, the hardier ones live on," says Ariel. "Since most of the germs on your jeans come from you, once your body temperature warms the fabric the germs can come back just like before."
Consider us told.
How should you dry jeans?
Jeans and tumble dryers don't play nicely together. Although, if your jeans have become stretched, a quick tumble can help them regain their shape. Just be sure the care labels don't warn against it first.
The best way to dry your jeans is to let them dry naturally in the open air. Pop them on a hanger and hook on to a ledge in the shadiest part of your garden or, during the winter months, on to a door handle or the edge of a clothes horse.
Our top tip for storing them? ''One secret to prolonging the wear of jeans between washes is to hang them when you are not wearing them," explains Ariel "It will help the fibres recover from stress and stretch, especially in the knees and the seat."
Jess Beech is an experienced fashion and beauty editor, with more than eight years experience in the publishing industry. She has written for woman&home, GoodtoKnow, Now, Woman, Woman's Weekly, Woman's Own and Chat, and is currently Deputy Fashion & Beauty Editor at Future PLC.
She caught the magazine bug during a stint as Fashion Editor of her university newspaper alongside her English degree, and hasn't looked back since. As for the fashion bug, that came as part and parcel of growing up in the 90s, but the less said about that the better!
Jess' average day in the office is spent researching the latest fashion trends, chatting to industry tastemakers and scouring the internet to bring you this season's must-buy pieces - as well as advice on how to wear them. Weekends are equally fashion-focused, and Jess has been known to visit no less than five Zara stores in a single day in search of the perfect occasion dress.
The only thing that comes close to a buzz of finally tracking down that much-coveted dress is the joy of discovering a new beauty wonder product or hero ingredient. A beauty obsessive, Jess has tried everything from cryotherapy to chemical peels (minus the Samantha in Sex and The City-worthy redness) and interviewed experts including Jo Malone and Trinny Woodall.