Best cashmere socks - the most stylish way to keep feet warm this winter
Looking to keep your feet warm? These are the best cashmere socks to invest in this season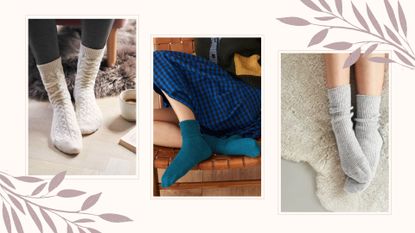 (Image credit: Pure Collection / Brora / White Company)
While it might only be the early days of fall, the best cashmere socks are already high up on our shopping agenda. A stylish and cozy way to keep your feet warm, cashmere socks might feel decadent, but when you start to feel those temperatures drop, they'll quickly become a wardrobe essential.
A great way to keep your feet warm without sacrificing comfort, the best cashmere socks are soft to the touch for a luxurious wear. Crafted from natural fibers, the best cashmere socks are also breathable, meaning they can help regulate your body temperature, answering how to keep your feet warm, but not too hot - ensuring you won't end up with sweaty feet at the end of the night. A great alternative to the best slippers, cashmere socks are often listed as bed socks, as they're a popular choice for wearing both around the house and between the sheets to keep your feet feeling snug.
While 100% cashmere socks offer maximum temperature regulation and feel great, they do often come with a higher price point, as cashmere is a costly fiber. However there are now plenty of cashmere mix alternatives that offer anything between 7% and 95% cashmere in conjunction with other fibers that will still keep your feet warm and comfortable, but without breaking the bank. Although many iterations are for at-home wear, we're seeing a growing selection of cashmere socks intended for day-to-day wear, inside shoes, and boots, it's like wearing the best cashmere sweater on your feet.
18 Best cashmere socks - selected by a fashion expert
The best cashmere socks are a worthy winter investment. After a balmy summer, the temperature drop of fall can hit hard and if you're looking for smart ways to keep your feet warm, without cranking up the heating, then a pair of comfy cashmere socks will help add a warming feeling from your toes up. With prices starting from £8 for cashmere mix iterations, they make a wonderful self gift, or a stylish Christmas gift for friends or family.