The 12 warmest leggings for winter—we've found the comfiest, cosiest styles!
The warmest leggings are not only a joy to wear in the winter (thank you elasticated waistband and stretchy fabric), but our fashion editor's picks look good, too.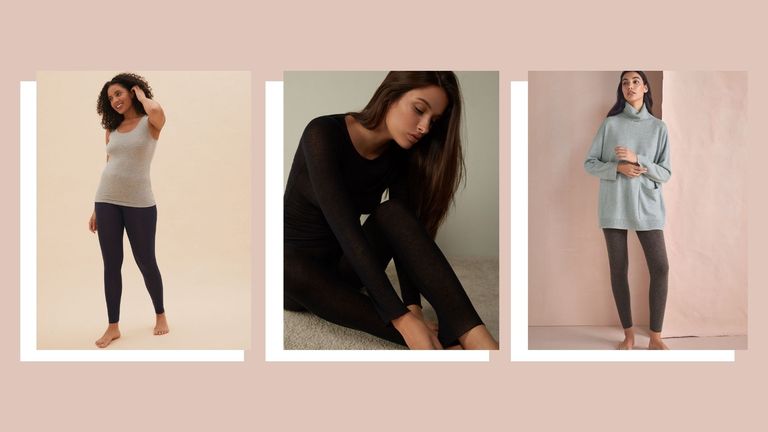 (Image credit: M&S / Intimissimi / Poetry / Future)
The warmest leggings will keep you looking chic in plummeting temperatures. Comfy and cozy, adding warm leggings to your wardrobe will be a game-changer.
Although spring is on the horizon, there are still plenty of chilly months ahead. And of course, while winter throws up joyous elements—think roast dinners, log fires, and cozy nights in, it can also make getting dressed really tricky. Coming out of lockdown, comfort has become a major factor when putting together our capsule wardrobe and legging outfits have definitely earned their position as a wardrobe essential.
If you're still struggling to curate your best leggings collection for cold weather, you should be looking for thermal fabrics, luxe fabrications such as cashmere and fleece linings as these will ensure the warmest leggings. These easy-wear basics can help to underpin your wardrobe for the coming months and can easily be styled with everything from the best hoodies to knee-high boots.
We've rounded up some of our favorite warm leggings here...
12 warmest leggings according to our fashion experts
(opens in new tab)
1. M&S Heatgen thermal leggings
Warmest lightweight leggings
Specifications
RRP: $17 / £12
Sizes: US: 2-18 | UK: 6-22
Reasons to buy
+
Heatgen technology
+
Inclusive size range
These have been a constant in Marks and Spencer's repertoire. Known for their fantastic and trustworthy quality, Marks & Spencer offers great fitting pieces that do what they say on the tin and these lovely soft, thermal leggings are no exception. Made from the brand's innovative Heatgen technical fabric, they're both toasty and breathable. The lightweight construction means they're sleek enough to layer under trousers or jeans without adding extra bulk—making them the perfect piece for chilly commutes and running errands. They also deliver on comfort, being both stretchy and super soft to the touch. Available in versatile black, grey, and navy, get the matching top and slip into your favorite slippers for the ultimate leisurewear look.
---
(opens in new tab)
2. Uniqlo HeatTech Thermal Leggings
Warmest thermal leggings
Specifications
RRP: $19.90 / £14.90
Sizes: XXS-XXL
Reasons to buy
+
Available in classic colors
+
Thin, light, and warm
Uniqlo's Heattech range is well-loved by the fashion crowd. With everything from leggings to tights, t-shirts, tops, and bodies, they have some of the best basics in town and they're utterly brilliant for layering. The insulating, moisture-wicking technical fabric balances breathability with thermal qualities, keeping you cool when it's hot and warm when it's cold. But be quick, due to how well-loved the Heattech range is, it is always selling out of sizes, so when you see them, buy them. In fact, we're big fans of stocking up on their neutral-colored basics as you can wear them season after season. They do different levels of Heattech and these are the basic level of thermal leggings, but there are extra warmth ones available too.
---
(opens in new tab)
3. Calzedonia Ribbed Leggings with Cashmere
Warmest ribbed leggings
Specifications
RRP: $35 / £34.99
Sizes: XS-XL
Reasons to buy
+
Warm and cozy
+
Great price point
+
Machine washable
These gorgeous ribbed leggings with a touch of cashmere will keep you nice and warm but are also breathable to ensure you don't overheat. Available in three colors, we love the relaxed, loungewear feel to them, with an almost sports luxe vibe. Dress these down at evenings and weekends with your favorite hoodie or best cashmere sweater for maximum coziness.
---
(opens in new tab)
4. Poetry cashmere leggings
Warmest cashmere leggings
Specifications
RRP: $177 / £139
Sizes: US: 2-18 | UK: 6-22
Reasons to buy
+
Cozy cashmere material
+
Matching tops available
+
Available in five different colors
Cashmere leggings are the ultimate wardrobe indulgence and with 93% cashmere, these Poetry leggings are super luxurious. One of the coziest fabrics you can invest in, take good care of your cashmere and it will return the favor, tenfold. Good cashmere can be worn season after season, so make sure to handwash on cool water and pack away with moth repellent/mothballs in close proximity. Available in two colors, olive green or coffee-colored, Poetry's cashmere leggings also have a little bit of Lycra in them for added stretch and comfort. While these are wonderful for lounging around in and curling up on the couch with a good book, they're great for a luxe loungewear lookout too. Where with an oversized hoodie, pair under your best midi dresses (no one needs to know) for added warmth, or team with your favorite knee-high boots. The options are endless.
---
(opens in new tab)
5. John Lewis & Partners heat generating ribbed thermal leggings
Warmest ribbed leggings
Specifications
RRP: £16 (UK only)
Sizes: US: 4-14 | UK: 8-18
Reasons to buy
+
Supersoft and lightweight
+
Anti-static and quick-drying
+
Affordable
Any Day is the latest brand launch from John Lewis and Partners, aiming to deliver great style at affordable price points. Having launched in 2021, it has been a huge hit with shoppers, with styles regularly selling out, as it brings the right amount of fashionability, alongside really wearable silhouettes. These heat-retaining and heat-generating leggings are some of the best thermal leggings you can invest in and at just £16 they're a fantastic price point too. With a matching roll-neck sweater (opens in new tab) available, you can wear the co-ordinating set as loungewear or layer it up under a floral midi dress and knee-high boots, for secret coziness and added winter style.
Using lightweight and breathable fabric, these are some of the warmest leggings you can buy and they're great for an insulated layer under trousers on a particularly cold day. With an ankle crop, you can easily wear these with some of the best Chelsea boots too.
Their anti-static properties make them ideal for layering under skirts and dresses.
---
(opens in new tab)
6. Odlo Women's Merino Pants
Warmest hiking leggings
Specifications
RRP: £75 (UK only)
Sizes: 8-16
Reasons to buy
+
100% merino wool
+
Cosy and stylish
+
Great for hiking
During the fall months, runners and hikers need a pair of the best workout leggings with insulating properties—they'll keep muscles warm and make venturing out in bracing temperatures a lot more bearable. Blacks is a multi-retailer site that stocks great items for outdoor activities, including some of the best winter leggings. Odlo merino pants are made from 100% merino wool, making them really soft, but also brilliantly warm. Odlo's Warm technology wicks away moisture whilst retaining heat, and has natural odour resistance, making these ideal for outdoor activities such as hiking and camping. With a nice thick waistband, you can feel comfortable and secure in these very chic black leggings.
---
(opens in new tab)
7. White Stuff Jodie ponte jeggings
Warmest jeggings
Specifications
RRP: $48 / £35
Sizes: US: 2-18 | UK: 6-22
Reasons to buy
+
Great inclusive size range
+
Pockets so can wear as trousers
+
Contouring waist design
Leggings make for a stylish, effortless outfit option when off-duty dressing, especially on busy weekends when speed and convenience are key. The trick to wearing them as cold-weather outerwear is to ensure they're substantial enough to stand up against chilly winds, and thicker jegging styles do just that. A hybrid of jeans and leggings, jeggings have all the durability and versatility of the former with the comfort and stretch of the latter, making them a quick and easy piece to throw on in the mornings. White Stuff's Jodie Ponte Jeggings come in classic dark indigo and black, with a flattering high-waisted and ankle-grazing, slim-fit silhouette. Team with sneakers and your best parka for walks and weekend plans.
---
(opens in new tab)
8. Falke Softmerino Leggings
Warmest wool leggings
Specifications
RRP: $68 / £37
Sizes: 36-46 (equivalent to small-large)
Reasons to buy
+
Wide comfortable waistband
+
Knitted cuffs
+
Available in five different colors
Every fashion insider worth their salt will tell you the best tights to buy are from Falke. Not only do they fit perfectly, the use of luxe yarns means they never fail to add polish to an outfit and have excellent lasting power (just don't put them in the washing machine). The Softmerino leggings are just as covetable, offering a footless alternative which have been crafted especially for the colder months. Made from a combination of soft cotton and premium, temperature-regulating merino wool, they guarantee all-day warmth and supreme comfort. The fine construction means they are perfect for providing a thermal layer underneath winter outfits and, thanks to a trio of classic colorways (navy, grey marl, and black), will work with whatever you happen to be wearing—day or night.
---
9. Joseph Cashmere Stretch Leggings
Warmest designer leggings
Specifications
RRP: $595 / £395
Sizes: XS-XL
Reasons to buy
+
Designer style
+
Warm and stretchy
Joseph is a heritage British brand with a long history in producing beautifully made, quality basics. These cashmere grey leggings, with incorporated stretch will be exceptionally cozy and the dark grey marl hue, suitably stylish. Pair with an oversized sweater, some biker boots and one of these best leather jackets for a gorgeous, casual look for the weekend. The combination of soft cashmere and hard leather will make for a fashion-forward look. The leggings are also available in taupe, which will be great layered under neutral-hued dresses.
---
10. Intimissimi Ultralight Modal and Cashmere Leggings
Warmest fine leggings
Specifications
RRP: £35 UK only
Sizes: S-L
Reasons to buy
+
Super lightweight
+
Cashmere blend
+
Great price
Cashmere leggings, while utterly decadent can be a little thick under light-weight spring dresses, or trousers. These Ultralight modal and cashmere leggings give you the right amount of warmth and breathability without the bulk. With that ankle stitching, they're just right for styling with knee high-boots and will sit flat against the body under jeans or your best joggers too for added coziness. With a soft double-layer waistband, they'll sit comfortably under clothing and shouldn't roll down.
---
11. Under Armour Fly Fast 2.0 HeatGear® Tights
Warmest sports leggings
Specifications
RRP: $60 / £55
Sizes: XS-XL
The sportiest of the bunch, these wouldn't be out of place amongst the best workout leggings for women, but we wanted to bring them to your attention here too as they're literally made for keeping you warm. Under Armour, if they're not a brand that you're familiar with are specialists in heat tech and high performance clothing for athletes, you may have spotted footballers wearing them on the pitch under their kit on particularly cold days. These Fly Fast leggings are not only good for enhancing your workout, but they're designed with breathability, fast-drying and sweat wicking properties making them an all over brilliant wear, weather you're pounding the pavements or simply want to be comfy and snug under a dress.
---
12. Next Outdoor Fleece Lined Leggings
Warmest fleece lined leggings
Specifications
RRP: $46 / £32
Sizes: US: 2-18 / UK: 6-22
Reasons to buy
+
Fleece-lined for maximum warmth
+
Smart color
+
Good size range

Made for exploring the great outdoors, these silhouette hugging leggings with cozy fleece backing are the perfect partner for serious adventurers. Fleece-lined leggings will keep you warm whilst serving up extreme comfort, these are just the thing for long walks in the country. With thermal properties, these smart leggings are also durable and have moisture-wicking fabric, so you can be warm, dry and comfortable, whatever the weather.
---
How to style the warmest leggings
Not sure what to wear with leggings? Need some legging outfit inspiration? Leggings are one of the most versatile pieces you can add to your wardrobe this season. Acting somewhere between tights and trousers—depending on how you wear them and their thickness, a pair of leggings can be both stylish and practical.
If you're looking for comfort and to beat the chill, then a pair of this season's warmest leggings should be added to your shopping basket pronto. For wearing under trousers, opt for a fine knitted pair, as these won't add bulk and you can still squeeze into your best straight-legged jeans.
For wearing under skirts or dresses you can afford to go for a slightly weightier pair, or opt for a cashmere pair of leggings for a really soft and warm finish. If your skirt midi length, add a pair of knee-high boots to your look and no one will ever know that you have a pair of loungewear style leggings underneath.
If you want to show off your leggings and let's face it, if you've invested in some high-quality ones, why not? Team with oversized jumpers and a leather jacket or one of your best winter coats for a laidback outfit.
Frankie Graddon is a fashion and beauty journalist and co-founder of @thewingwoman (opens in new tab), a weekly podcast and newsletter about thirty-something life, honestly.
Frankie has over a decade of experience working as a writer, editor, podcaster and consultant. She has been a regular contributor to a number of high-profile publishers including The Telegraph, The Times, Grazia, You Magazine, Glamour and woman&home.
Frankie has interviewed numerous industry experts and celebrities, from Claudia Schiffer and Karlie Kloss to Sam McKnight and Trinny Woodall. She has also created content for numerous fashion and beauty brands including Liberty of London, Whistles, Kitri, Hush and more.