The 24 warmest leggings for winter - we've found the comfiest, coziest styles!
The warmest leggings are not only a joy to wear in the winter (thank you elasticated waistband and stretchy fabric), but our fashion expert's picks look good, too.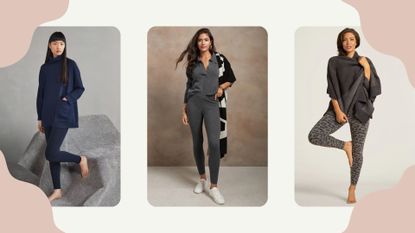 (Image credit: Poetry / Banana Republic / Barefoot Dreams)
The warmest leggings will keep you looking chic in plummeting temperatures. Comfy and cozy, adding warm leggings to your wardrobe will be a game-changer.
With winter on the horizon, there are plenty of chilly months ahead. And of course, while this season throws up joyous element - think roast dinners, log fires, and cozy nights in - it can also make getting dressed really tricky. Comfort is a major factor when putting together our wardrobe for the season and legging outfits have definitely earned their position as an essential.
If you're still struggling to curate your best leggings collection for cold weather, you should be looking for thermal fabrics, luxe fabrications such as cashmere, and fleece linings as these will ensure the warmest leggings. These easy-wear basics can help to underpin your wardrobe for the coming months and can easily be styled with everything from the best hoodies to knee-high boots for comfy, classic style. We've rounded up some of our favorite warm leggings to get you started.
24 warmest leggings according to our fashion experts
Why you can trust Woman & Home Our expert reviewers spend hours testing and comparing products and services so you can choose the best for you. Find out more about how we test.
(opens in new tab)
1. M&S Heatgen Plus™ Fleece Thermal Leggings
The best lightweight warm leggings
Specifications
RRP: $27.99 / £16
Sizes: US: 2-18 | UK: 6-22
Reasons to buy
+
Heatgen plus technology
+
Inclusive size range
+
Affordable
When it comes to affordable, reliable basics, Marks and Spencer is our go-to. Known for its quality, the brand offers great fitting pieces that do what they say on the tin - and these soft thermal leggings are no exception. Made from the brand's innovative Heatgen Plus™ thermal technology, they're both toasty and breathable. With added stretch, the fit is adaptable, sleek, and perfect for layering. The inside lining is brushed with soft fleece that adds extra warmth for the coldest days, whether you pair these leggings with the best slippers for women or wear them out of the house with an oversized puffer and chunky boots for running errands.
---
2. Nike Therma-FIT One Leggings
Best running warm leggings
Specifications
RRP: $60.00 / £44.95
Sizes: 00-3X
Reasons to buy
+
Therma-FIT technology
+
Non-sheer fabric
+
Soft
For the runner who never misses a day no matter the season, the Nike Therma-FIT One leggings will keep you warm and cozy by maintaining your natural body heat with its clever design technology. We all know nothing is worse than thin, see-through leggings, fortunately, Nike knows this too and these thermal leggings are made of a non-sheer fabric that'll save you at the gym or walking around town, keeping you supported and toasty this winter. The leggings also feature two pockets to help store your items for a purse-less and hands-free workout. And of course, while these are some of the best workout leggings, you can also enjoy them as part of a casual outfit too.
---
3. Free People Sloane Thermal Leggings
Best layering warm leggings
Specifications
RRP: $48.00 / £40
Sizes: XS-XL
Reasons to buy
+
Soft-knit fabric
+
Warm base layer
+
Stretchy
While we usually turn to Free People for bohemian fashion staples, they're pretty good in the layering basic department too. With some of the warmest leggings on the market, whether you're looking for a Skims dupe or need to add to your winter outfit ideas, Free People's Intimate label features ultra-soft base layers and loungewear, such as the Sloane Thermal Leggings.
Made of a waffle knit fabric, these high-rise leggings can be worn alone styled with an oversized, on-trend chunky sweater for one of the best loungewear looks, or layered under jeans for a toasty base layer.
---
(opens in new tab)
4. Uniqlo HeatTech Extra Warm Thermal Leggings
The best thermal warm leggings
Specifications
RRP: $19.90 / £19.90
Sizes: S-L
Reasons to buy
+
Available in classic colors
+
Thin, light, and warm
+
Fluffy pile lining
Uniqlo's HEATTECH range is well-loved by the fashion crowd, and for very good reason. With everything from leggings to tights, t-shirts, tops, and jeans, they have some of the best basics for both comfort and practicality. 1.5 times warmer than regular HEATTECH, these extra-warm thermal leggings kick things up a notch. If you are someone who can never get enough layers during the colder months, these warm yet sleek leggings are a worthwhile investment that is still budget-friendly. The only downfall is the small size range, however, this is less intimidating than it looks. Thanks to the elastane, these warm leggings have a good level of stretch which means sizing will stretch a little further than you think. Layer with the best Christmas jumpers for a festively snug look that can be worn for lounging and socializing alike.
---
(opens in new tab)
5. Calzedonia Ribbed Leggings with Cashmere
The best warm ribbed leggings
Specifications
RRP: $35 / £34.99
Sizes: XS-XL
Reasons to buy
+
Warm and cozy
+
Trendy flare style
+
Machine washable
Leggings are traditionally slim fitting, but if you want something a little more directional, that looks less loungewear-esque, flared leggings could be your new best friend. The silhouette of these soft, cashmere-blend leggings will flatter all body types and will help to balance broader hips and top halves whilst still keeping the warmth in.
Pure cashmere leggings, whilst some of the warmest leggings, can get expensive, however, cashmere mix leggings provide similar levels of comfort, but often at a lower price point. With an elastic waist and drawstring, these leggings will contour to your silhouette. Available in four colors, we love the relaxed feel, with an almost sports luxe vibe. Dress these down on evenings and at weekends with your favorite hoodie or best cashmere sweater for maximum coziness.
---
6. L.L.Bean Primaloft ThermaStretch Fleece Tights
Best outdoors warm leggings
Specifications
RRP: $99.00 / £96.74
Sizes: XS-XL
Reasons to buy
+
Fleece interior
+
Zippered pocket
+
Lightweight
Nothing is better than buying a pair of winter leggings from a company specializing in everything outdoors, as you can guarantee L.L. Bean understands how to help you battle the elements. These L.L. Bean Primaloft ThermaStretch Fleece Tights have a plush fleece interior to keep you warm amid low temperatures. Ideal for a host of occasions, whether you're lounging around the house, running errands, or on a winter hike, these are the perfect everyday leggings for those that feel the cold easily. With a smart but sporty aesthetic, if you're wondering what are the best shoes to wear with leggings, try trainers or a pair of chunky sold boots for a relaxed but practical finish.
---
7. Banana Republic Cashmere Legging
Best 100% cashmere warm leggings
Specifications
RRP: $229.00 (US only)
Sizes: XXS-XL
Reasons to buy
+
100% cashmere
+
Extremely soft
+
Neutral colors
Cashmere leggings are a great investment for a winter wardrobe as they never go out of style. A luxury staple, if you can afford to splurge, a pair of cashmere leggings will always make you feel snug and protected.
This Banana Republic pair will add instant softness to your look and the comfortable stretch waistband means you can really relax. Cashmere is known for feeling great against your skin and while we're used to using cashmere for sweaters, a pair of the warmest leggings in 100% cashmere will make you feel like you're encased in a cloud. Available in two neutral hues, they can be styled with the best jumper dresses, with knitwear or teamed with a simple long-sleeve top and jacket.
---
(opens in new tab)
8. Poetry cashmere leggings
The best warm cashmere leggings
Specifications
RRP: $189 / £149
Sizes: US: 2-18 | UK: 6-22
Reasons to buy
+
Cozy cashmere material
+
Matching tops available
+
Available in five different colors
Cashmere leggings are the ultimate wardrobe indulgence for the colder months and with 93% cashmere, these Poetry leggings are amongst the warmest leggings out there. One of the coziest fabrics you can invest in, take good care of your cashmere and it will return the favor tenfold. Good cashmere can be worn season after season, so make sure to handwash on cool water and pack away with moth repellent/mothballs in close proximity. For a pair that can be worn year-round, we recommend opting for the navy or charcoal colors that are ridiculously easy to style.
To add some brightness to your fall wardrobe, the ecru shade will compliment earth tones beautifully. Wear under your best midi dresses (no one needs to know) for added warmth, or embrace the fall 2022 fashion trends and keep things simple with a plain white tee.
---
(opens in new tab)
9. John Lewis & Partners heat generating ribbed thermal leggings
The best breathable warm leggings
Specifications
RRP: £18 (UK only)
Sizes: US: 4-14 | UK: 8-18
Reasons to buy
+
Lightweight
+
Anti-static and quick-drying
+
Stretchy and flexible
Any Day is part of the brand stable at John Lewis and Partners, and was the brand's answer to great value clothing that still stayed true to its tried and tested quality level. These thermal leggings certainly fit that criteria, delivering on practicality, warmth and affordability. Their modal fabric content keeps them naturally breathable - a must for layering and transitional weather. With matching tops available, you can wear the coordinating set as part of your best loungewear looks or layer it up with the best winter coats for a cozy walking ensemble. These are certainly some of the warmest leggings you can buy, and they're great for an insulating layer under trousers on a particularly cold day. With an ankle crop, you can easily wear these with some of the best Chelsea boots, and their anti-static properties make them ideal for layering under silky skirts and dresses too.
---
10. Old Navy High-Waisted Fleece-Lined Legging
Best high waisted warm leggings
Specifications
RRP: $22.99 (US only)
Sizes: XS-4X
Reasons to buy
+
Fleece-lined
+
Cotton-jersey material
+
Affordable
+
Highly rated
If you're searching for a simple pair of everyday leggings that'll keep you warm this winter and don't cost a fortune, these Old Navy fleece-lined leggings are a great option. Made out of a cotton-jersey material and fleece lining, these leggings have great stretch and will pair perfect with the best cashmere sweater and boots ensemble for a casual look or style them with hoodie and sneakers for a relaxed and comfy outfit.
11. Offline by Aerie Warmup Drawcord Legging
Best drawcord warm leggings
Specifications
RRP: $37.36 (international shipping available)
Sizes: XXS-XXL
Reasons to buy
+
Ultra-soft material
+
Drawcord waist
+
Pockets
Aerie is known for its buttery soft, second-skin-like leggings, giving you a fantastically contoured fit. The Offline Warmup Drawcord Legging does exactly what it says on the tin, as it warms you up gently with its brushed, ultra-soft fabric. Slightly more pants-like than most leggings, it features two front pockets and a drawstring waist giving them a more sweatpant-like style. Ideal for wearing every day, or relaxing at home in style this winter.
12. Plush Fleece-Lined Liquid Legging
Best faux leather warm leggings
Specifications
RRP: : $84.00 / £70.62
Sizes: XS-XXL
Reasons to buy
+
Stylish leather material
+
Fleece-lined
Step up your legging game this winter with these fleece-lined faux leather leggings. If you've been wondering how to style leather pants, trialing the trend with some faux leather leggings is a great step in the right direction. With leather being one of the big fashion trends 2022, this slick pair feel incredibly fashion-forward but coupled with a fleece lining, you can be cozy and directional at the same time - winning.
If you want to switch things up from classic black, the Plush Liquid Legging also comes in an army green hue, ideal for teaming with neutral hues. To make these look runway-worthy rather than workout-ready, pair these leggings with booties and a sweater for a stylish winter look.
---
13. Woolx Merino Wool Duralite Stella Legging
Best merino wool warm leggings
Specifications
RRP: $150.00 (US only)
Sizes: XS-3X
Reasons to buy
+
Wool material
+
Opaque
+
Plush
Rated the warmest pair of leggings, these Woolx Merino Wool Tights are made from 85% Australian Merino wool for extreme warmth. Nothing is worse than constantly pulling your leggings up all day, but these Woolx tights will fit you like a glove throughout the day and never lose their shape thanks to their nylon and spandex construction.
These are the perfect do-it-all leggings. These tights are workout friendly with their opaque and odor-eliminating feature, and if you want to bundle up with layers, these high-waisted leggings are bulk free across your middle.
---
(opens in new tab)
14. Acai Outdoorwear Thermal Outdoor Leggings
The best warm hiking leggings
Specifications
RRP: £60 (international shipping available)
Sizes: XS-XXL
Reasons to buy
+
Seamless
+
Moisture wicking
+
Insulating
Finding great workout leggings for the colder months can be challenging, as you need something that will keep you warm whilst also being breathable enough to exercise in. Made with thermal yarn, this pair from Acai Outdoorwear is not only cozy, but also works to wick moisture away from the skin to keep you sweat-free.
These thermal leggings feature seam-free inner legs, making chafing and discomfort a thing of the past. Whether you are after a pair of warm leggings for running, hiking, going to the gym, or just lounging around, Acai provides the ultimate all-rounder design. Available in five gorgeous fall shades, you are spoilt for choice.
---
(opens in new tab)
15. Seasalt Bosvenning Jeggings
The best warm jeggings
Specifications
RRP: $64 / £39.95
Sizes: US: 2-24 | UK: 6-28
Reasons to buy
+
Great size range
+
Back pockets
+
Elasticated waistband
Despite the popularity of jeans for the colder months, they are not always the warmest or most comfortable option. Denim, especially when brand new, can often be rigid and takes some time and wear to settle into. For the look of denim without the tricky adjustment period, jeggings are the answer. With a tight fit, these jeggings will keep you warmer than traditional jeans, as well as provide much more room for movement and flexibility. A hybrid of jeans and leggings, jeggings have all the durability and versatility of the former with the comfort and stretch of the latter, making them a quick and easy piece to throw on in the mornings. Team with sneakers and your best parka for walks and weekend plans, or plan casual Christmas party outfit ideas around this versatile and easy to style Seasalt pair. Wondering what shoes to wear with leggings? These will look just as good with heels as they will with flats.
---
(opens in new tab)
16. Finisterre Merino Wool Leggings
The best warm wool leggings
Specifications
RRP: £65 (US shipping available)
Sizes: XS-XL
Reasons to buy
+
Made from natural materials
+
Soft yet durable
+
Minimalist design
Merino wool is the perfect legging material for unmatched comfort and warmth. This Finisterre pair is made from 80% Merino wool blend for added coziness, plus 20% polyamide for shape retention and longevity. Even if you wear these day after day - and trust us, you will want to - you don't need to worry about them overstretching. The subtly branded waistband adds some edge to the minimalist look, whilst the slightly cropped length provides room for layering with the best cashmere socks on the coldest of days. Style this black pair like tights under the best jumper dresses, or reserve for evenings on the sofa to relax in premium comfort. Finisterre wool is also sourced sustainably, so you can feel good on the inside and outside when flaunting your new leggings.
---
17. Old Navy High-Waisted Fleece-Lined Flare Legging
Best flared warm leggings
Reasons to buy
+
Flare style
+
Cotton-jersey material
+
Stretchy
Leggings traditionally can be tighter than skinny jeans, hugging your curves from waist to ankle. If you're looking to move on from the skin-tight trend, then opting for flared leggings, gives you the look of wide-leg pants, without compromising on comfort. When it comes to what to wear with wide leg pants, these highly-rated leggings can be styled with your best blazer for a chic and comfortable day look or with a simple tee or hoodie. And for some extra warmth, you can pair these with great cashmere socks or tights.
---
18. Barefoot Dreams CozyChic Ultra Lite Leopard Legging
Best leopard print warm leggings
Specifications
RRP: $118.00 (US only)
Sizes: XS-XL
Reasons to buy
+
Soft and cozy fabric
+
Leopard print
+
Highly rated
Barefoot Dreams are known for its CozyChic blankets, which are some of the best blankets and loved by many as they're perfect for keeping yourself warm during chilly months. The brand also sells cozy apparel and loungewear such as these leopard-printed leggings. Made out of the same soft fabric as their CozyChic blankets, they'll be some of the warmest leggings in your closet, in fact, you'll never want to take these off.
---
19. Joseph Cashmere Stretch Leggings
The best designer warm leggings
Specifications
RRP: $595 / £395
Sizes: XS-XL
Reasons to buy
+
Designer style
+
Warm and stretchy
+
Unique colorway
If you are on the hunt for a pair of warm leggings that can do it all, look no further than this cashmere pair by Joseph. One of our favorite British clothing brands, Joseph crafts elegant and ageless pieces that are worth every penny. In a gorgeous mauve colorway, these pure cashmere leggings feature a thicker elasticated waistband for a more contoured fit. Pair with an oversized sweater, some biker boots, and one of these best leather jackets for an outfit that demonstrates how to dress simple but stylish. The combination of soft cashmere and tough leather will make for a fashion-forward look.
---
20. Pour Moi Second Skin Thermal Legging
The best fine warm leggings
Specifications
RRP: $36 / £22
Sizes: S-XL
Reasons to buy
+
Super lightweight
+
Stretchy thermal fabric
+
Perfect layering piece
Any type of legging can be worn as a layering piece, but not all leggings are discreetly warm enough for all-day wear. As hinted in the name, these Pour Moi leggings are extremely lightweight, imitating a second layer of skin with a barely-there feel that won't irritate or cause any discomfort. Leggings make a great layering piece in the coolest of months, like tights but with a foot-free finish, these can be styled under baggy jeans for frosty weekends, or paired with a chunky knit cardigan, an oversized tee and boots to level up your loungewear game.
---
21. Under Armour Fly Fast 2.0 HeatGear® Tights
The best warm sports leggings
Specifications
RRP: $60 / £42
Sizes: XS-XL
Reasons to buy
+
Sporty style
+
Breathable
+
Fun colors
The sportiest of the bunch, these wouldn't be out of place amongst the best workout leggings for women, but we wanted to bring them to your attention here too as they're literally made for keeping you warm. Under Armour, if they're not a brand that you're familiar with, are specialists in heat tech and high performance clothing for athletes. The unique HeatGear® fabric the brand uses is weightless, yet retains heat to keep you toasty no matter the conditions. And when it comes to workout functionality, the 4-way stretch material, no-slip waistband and side pocket have you covered. For rainy days you can rely on the moisture wicking qualities that rival the best waterproof jackets, but they work just as well for weekends in.
---
22. Anthropologie Fur-Lined Leggings
The best fleece lined warm leggings
Specifications
RRP: £25 (UK only)
Sizes: S-L
Reasons to buy
+
Fleece-lined for maximum warmth
+
Stylish color
+
Ideal for colder weather
For the chilliest of days, only fleece-lined clothes will do. Anthropologie is known for its trendy, boho pieces, so you can trust that these leggings are among some of the most fashionable on the market. We love the festive red hue that will rival the best matching Christmas pajamas this season, but can also easily be styled for fall and spring too. Don your best cable knits and battle the crisp weather in style with these in your wardrobe.
---
23. Gobi Silk Cashmere Legging
Best silk-cashmere blend warm leggings
Reasons to buy
+
Silk and cashmere fabric
+
Lightweight
+
Layer-friendly
Two of the best cold-weather fabrics mixed together in a pair of leggings create a luxurious coziness and warmth. Gobi is a brand that makes cashmere everything, from pants and sweaters to scarves, these leggings are made from 66% cashmere and 29% silk, which are two of the best natural materials for keeping your body temperature regulated. The Gobi leggings can be worn alone but are also lightweight and thin enough to wear as a base layer under jeans or long dresses.
---
24. Willit Fleece-Lined Legging
Best warm leggings with pockets
Reasons to buy
+
Fleece-lined
+
Four pockets
+
Waterproof
These fleece-lined leggings are perfect for a day out on the town, a winter workout or lounging around the house. The Willit leggings benefit from being waterproof, meaning that whether you're skiing, on a hike, or at the gym, these leggings will keep you dry, while the fleece lining will keep you nice and warm.
Available in eight colorways, these warm leggings feature four pockets, with two large enough to slide your phone in and a zippered back pocket to store your card in so there's no need to worry about carrying your purse either.
---
How to style the warmest leggings
Not sure what to wear with leggings? Need some legging outfit inspiration? Leggings are one of the most versatile pieces you can add to your wardrobe this season. Acting somewhere between tights and trousers - depending on how you wear them and their thickness, a pair of leggings can be both stylish and practical.
If you're looking for comfort and to beat the chill, then a pair of this season's warmest leggings should be added to your shopping basket pronto. For wearing under trousers, opt for a fine knitted pair, as these won't add bulk and you can still squeeze into your best straight-legged jeans.
For wearing under skirts or dresses you can afford to go for a slightly weightier pair, or opt for a cashmere pair of leggings for a really soft and warm finish. If your skirt is midi length, add a pair of knee-high boots to your look and no one will ever know that you have a pair of loungewear style leggings underneath.
If you want to show off your leggings (and let's face it, if you've invested in some high-quality ones, why not?) team with oversized jumpers and a leather jacket or one of your best winter coats for a laid back outfit.
Kenedee Fowler is a shopping writer based in the United States. She joined woman&home in September 2022, and ever since has been sharing her expertise with the brand to help readers source gifts for any occasion and on any budget, reviews products so you don't have to, and scout out the best deals and products to give you the best value for your money. Before joining woman&home, Kenedee was a home editorial fellow for Insider Reviews, where she wrote in-depth reviews and articles across the home vertical.

Kenedee is a recent graduate from the number one journalism school in the US, the University of Missouri - Columbia, where she gained hands-on experience as a multimedia journalist at mid-Missouri's local news station.

With contributions from