Slimming jeans that will flatter your shape and create a svelte silhouette
Let these slimming jeans do the hard work for you.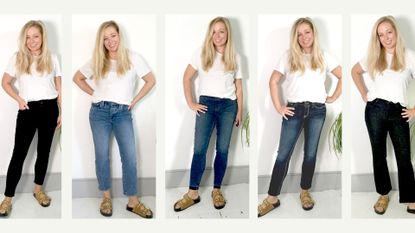 (Image credit: Antonia Kraskowski)
The best slimming jeans are a speedy way to looking and feeling great. A wardrobe building block that will style well for work or play, finding a pair of great jeans is no easy task, but when you do, the outfit possibilities are well and truly endless.
Before you start looking for the best slimming jeans for your shape, it's important to do your research and know what to look for as support and sizing will vary from brand to brand. From labels that simply deliver great cuts, to those that incorporate sculpting technology, finding the best jeans to contour your shape is within reach and these are the key things to look out for to help you on your way.
If you're looking for tummy control, opt for a style with built-in panels across the midriff area to help hold you in. Want to lift your bottom to create the perfect peachy posterior? Styles with curved hems will help you achieve a bootilicious curve that Beyonce would be proud of. And if you want to slim down your thighs, try looking for designs with clever dyeing, sanding, and fabric treatments to create a slimming illusion on your legs, usually focusing on the upper thighs. To balance out heavier bottoms halves without fabric technology, try a pair of bootcut or flared jeans as the wide proportions at the hem will help balance your silhouette.
When it comes to finding the best slimming jeans, trying several pairs is the best way to find the perfect denim fit. Depending on your body type, there are different cuts that will flatter your figure - from the best petite jeans to the best jeans for curvy women, once you find your dream pair, they'll help you build the perfect capsule wardrobe and guide you in how to style jeans too.
How we tested the best slimming jeans
Why you can trust Woman & Home Our expert reviewers spend hours testing and comparing products and services so you can choose the best for you. Find out more about how we test.
In the name of finding the best slimming jeans, we asked one tester to try on a slew of jeans to find the best styles out there at a variety of prices. From specifically 'slimming styles' with modern technology and paneling woven in, to those jeans that are cut so well they simply transform your silhouette in an instant, to work out which jeans are worth splashing the cash on.
At 5'3 and a size 10/12 on her lower body, freelance fashion editor Antonia tested over 40 pairs of jeans, these are the 15 pairs of slimming jeans she would recommend.
The best slimming jeans to buy now
1. BODEN Fitted cropped flare jeans
Best for balancing hips
Specifications
RRP: $110 / £80
Fabrication: 60% cotton, 24% polyester, 12% viscose, 4% elastane
Sizes: US: 2-22 / UK: 6-22
Shape: Fitted cropped flare jeans
Best suited to: Balancing out hips and bottoms
Provides: Tummy slimming and bum lift
Antonia tried size: UK 10
Reasons to buy
+
Special tummy slimming panels
+
Cropped silhouette ideal for shorter frames
+
Only 2% elastane for greater contouring
Reasons to avoid
-
Flared silhouette not suitable for all shapes
One of our favorite British clothing brands, Boden do a brilliant denim range that you may not know about. With a host of classic and trend led styles, you can expect the same great quality as from the rest of the range, with thoughtful and purposeful cuts that are built to last.
Our tester said:
"At just shy of 5'4", cropped styles tend to work out as full length on my body but these fitted cropped flares sit just on my ankle. With only 2 percent elastane, they have just a dash of give which makes me feel pulled in but does mean that they're stiffer than many of my other jeans. As someone who is slightly bottom-heavy, the flared shape helps to balance out my hips and bottom, while the dark black wash adds another slimming optical element.
A must-have from the denim pros, this pair features a tummy-slimming panel and stretch fabric, making them super comfy and easy to move around in."
---
2. SPANX distressed ankle jeans
Best for smoothing your tummy
Specifications
RRP: $98 / £112
Fabrication: 77% Cotton, 12% lyocell, 8% polyester, 3% elastane. lining: 57% elastane, 43% nylon
Sizes: XS-XXXL, available in petite, regular and tall
Shape: Skinny, high waist, ankle jean
Best suited to: Apple shapes
Provides: No-gape waistband and smooths tummy
Antonia tried size: Medium
Reasons to buy
+
High rise and completely flat front for a smooth fit
+
No fastening
+
Discreet shaping panels to act like shapewear
Reasons to avoid
-
Lacks the look of a traditional jean due to lack of fastening
We already know that Spanx delivers on some of the best shapewear, thanks to its fabric contouring technology and if you haven't tried the brand's slimming jeans, this is a pair of denim jeans you're going to want to know. With special sculpting panels built into the jeans, these have a totally flat front, making them ideal for wearing with fitted tops that you don't want to tuck in. Of course this means they do lack some of the traditional jean aspects.
Our tester said:
"After trying three styles - straight leg, flares and skinnies - I find the latter the most flattering for my shape and height. With a super high waistband that sucks you in, the subtle compression is barely noticeable but I feel and look as if inches have disappeared from my lower body. However, the lack of a regular waistband and front pockets means that these are best worn with longer tops that sit over the waistband. If you have fuller calves, the straight leg pair is great for skimming over curvy lower legs."
---
3. Abercrombie Curve Love Skinny High Rise
Best for eliminating waist gap
Specifications
RRP: $85 / £72
Fabrication: 99% cotton, 1% elastane
Sizes: W23-37, extra short - extra long lengths
Shape: Skinny, high rise
Best suited to: Hourglass
Provides: Elimination of waistband gape
Antonia tried size: W28 short
Reasons to buy
+
Minimal stretch
+
2" allowance through the hip and thigh to eliminate waist-gap
+
Molds to your shape with wear
Not necessarily the place you'd expect to find the best slimming jeans, but while these jeans aren't specifically designed to be slimming, they are made with supporting and loving curves in mind.
Our tester said:
"Trying to find the best jeans for your body shape can be particularly difficult if you have an hourglass figure but American clothing brand Abercrombie & Fitch has come to the rescue. The company has listened to its customers and created the Curve Love range. Available in a range of cuts, colors and five different leg lengths as well as a plus range, these are game changers when it comes to jeans as they have an additional 2" allowance through the hip and thigh to eliminate the annoying baggy waist-gap that can happen when you find the perfect fit across the thighs and hips but have a smaller waist size. With only 1 per cent elastane, these jeans need breaking in but gradually took on my shape to become the perfect pair of flattering skinnies."
---
4. LEVI'S WEDGIE STRAIGHT LEG JEANS
Best for bum perking
Specifications
RRP: $108 / £110
Fabrication: 100% cotton
Sizes: W23-32, L26-28
Style: Straight leg
Best suited to: All shapes
Provides: Curve flattering finish
Antonia tried size: W28 L28
Reasons to buy
+
Angled rear pockets
+
100% cotton
Reasons to avoid
-
Stiff fabric takes some getting used to
We can't talk about denim without referencing the kings of jeans, Levi's and this American brand is one that has really stood the test of time. With a relaxed straight leg fit and a distressed style, these slimming jeans are ideal for casual and weekend wear.
Our tester said:
"The stuff of fashion legend, Levi's Wedgie jeans caused a stir when they launched in 2016. With a high-rise waist and bum-hugging lift effect, they have been specifically constructed to flatter and highlight curves. A snug fit through the waist and hips as well as specially angled rear pockets, I immediately head to a mirror to be greeted with the best version of my bottom I've seen in some time. The stiff fabric takes some getting used to and I might have had to undo the top of the button fly when I sat down but I'll take it on the chin for a peachy posterior. The length of these is however slightly misleading - I usually wear a 28L and find these a little long for my liking, so if you're of a petite stature you may find a 26 better."
If you want to know more about Levi's denim jeans, check out our Levi's jeans review of the latest denim pieces.
---
5. FRAME LOMINA HIGH AND TIGHT WIDE LEG JEANS
Best for a wide leg shape
Specifications
RRP: $260 / £245
Fabrication: 77% Cotton, 22% lyocell, 1% Elastane
Sizes: W23-34
Shape: Wide leg
Best suited to: All shapes
Provides: A trend led cut
Antonia tried size: W28
Reasons to buy
+
Comfortable fit
+
Super high waist
+
Skims hips
If you're looking for designer denim, Frame is the fashionistas choice. This cool LA born brand is known for its impeccable denim style and chic handbags, with a host of celebrity clients loyal to its aesthetic. Although they do have consistent classics, they're a great place to head to for the latest jeans and denim trends.
These wide leg jeans give a nod to the '90s fashion trends, that have a distinctly relaxed feel, making them great for casual look. If you're wondering how to style wide leg pants, remember to keep your top half fitted to balance your shape, this will also help to create a slender middle.
Our tester said:
"As I'm fairly petite, I'm not usually one for wide leg jeans as I feel they might swamp me but Frame Denim's Lomina high and tight wide leg jeans are a surprising hit. Just like their moniker, the super high waist means I feel very sucked in and they hug my bum creating a curvy shape, while the loose wide leg shape skims my lower body directly from the hips, creating the illusion that my legs are longer than they are."
---
6. M&S MAGIC SLIM FLARE HIGH RISE
Best for everyday wear
Specifications
RRP: £45 (UK only, international shipping)
Fabrication: 96% cotton, 4% elastane
Sizes: Size 6-24, regular, petite and long
Shape: Slim flare jean
Best suited to: All Shapes
Provides: Holds waist, gap proof finish
Antonia tried size: 10S
Reasons to buy
+
Authentic look with hidden shaping power
+
Trend led style
+
Classic colorways
Reasons to avoid
-
No bum lifting technology
We rely on M&S for some of our best bras and underwear, but this British staple is also ideal for other capsule wardrobe pieces and have developed a much-loved collection of slimming jeans that will easily become your go-to.
What our tester said:
"With a clever bi-stretch fabric and a contoured waistband as well as patented Sculpt and Lift technology, these jeans certainly are magic - the super stretchy fabric requires some serious wiggling but once I'm in, my body feels drawn in from the waist down without being restricted while the slim flare adds a body balancing illusion to boot. Available in three colors and three lengths as well skinny and straight leg cuts, these score highly for me."
7. MOTHER DENIM X SNACKS High Waisted Funnel Ankle Jeans
Best for trend-led
Specifications
RRP: $228 / £272
Fabrication: 100% cotton
Sizes: 23-34
Shape: High waisted funnel ankle
Best suited to: All shapes
Provides: Held in waist
Antonia tried size: W28
Reasons to buy
+
Soft fabric for a comfy fit
+
Built-in belt to cinch you in
Reasons to avoid
-
No variation on leg length
A celebrity favourite, LA-based Mother Denim's new Snacks! denim range takes inspiration from the oversized silhouettes of the '80s and '90s, one of the key denim trends 2022.
Our tester said:
"The high waisted funnel ankle style in rigid denim holds in my stomach but with a relaxed fit through the leg, the denim skims outwards from my hips, creating a smooth leg-lengthening look. These are a great weekend option - wear a fitted top half to your outfit to balance your silhouette."
---
8. RIVER ISLAND HIGH WAISTED BUM SCULPT FLARED JEANS
Best for curve enhancing
Specifications
RRP: $91 / £46
Fabrication: 69% Cotton, 1% elastane, 30% tencel
Sizes : Sizes 6-18, short, regular and long lengths
Shape: Slim leg, flared hem
Best suited to: All shapes
Provides: Bum sculpting
Antonia tried size: 12
Reasons to buy
+
Zip fly for a more comfortable wear
+
Secret sculpting panels to lift and contour
Reasons to avoid
-
Not the most fitted, could size down for great contouring
River Island is always our go to for trending styles and when it comes to jeans, they do some of the best in the biz. From highly fashion focused styles, to the classic silhouettes that will underpin your everyday,
Our tester said:
"Promising to lift and shape your rear, River Island's Bum Sculpt jeans are available in an array of cuts and washes. The secret lies in subtle additional panels on the hips which means the denim hugs your curves tightly with the seams contouring to your body. With a zip fly, they aren't as restrictive as some styles on the tummy but I still feel held in. The stretch denim feels fitted without being cloying but depending on the style, you may want to size down by one size for a firmer fit."
---
9. TOPSHOP EDITOR Denim JEANS
Best for a modern classic
Specifications
RRP: $83 / £50
Fabrication: 100% cotton
Sizes: Size W24/L30-W36/L34, short, regular and long length options
Shape: Straight leg
Best suited to: All shapes
Provides: Contoured middle
Antonia tried size: W28 L30
Reasons to buy
+
Rigid denim for secure hold
+
Universally flattering shape
+
Mass array of colors available
Reasons to avoid
-
No special slimming panels
Topshop was the denim mecca for affordable denim, so when the brand was sold to ASOS amidst the early days of the pandemic, there was understandable panic about what would happen to its stellar denim range. Lucky for jean fans, ASOS have taken up the mantle, continuing Topshop and its jeans legacy. The Editor jeans have long reigned supreme, and part of that is down to their slimming credentials.
What our tester said:
"Launched in 2019, Topshop's Editor jeans sold out three times in the year of launch and revisiting these straight-to-market favorites, it's easy to see why they've become a denim staple in many fashion insiders' wardrobes. Made from a rigid denim and with a button fly, they take some serious wiggling and breathing in to do up but once the final button is looped through, the shape is pleasantly form fitting and supportive. With a tight waist and slightly looser legs, the classic fit is flattering and I find that gradually the fabric moulds itself to my curves as I wear them. Available in over 40 variations from bleached to black vinyl, if this is the shape that works for you, the styling possibilities are endless."
---
10. ARIAT R.E.A.L, Mid Rise Icon Stackable Straight Leg Jeans
Best for thigh slimming
Specifications
RRP: $74.95 / £85
Fabrication: 92% cotton, 6% polyester, 2% spandex
Sizes: Size 25-34W regular, long, extra long
Shape: Straight leg
Best suited to: Fuller hips and thighs
Provides: Thigh shaping and contouring
Antonia tried: W28 regular
Reasons to buy
+
Great slimming jean style for slimming legs
+
Wear well, with a seat that won't sag
Reasons to avoid
-
Mid rise waist, not as supportive across the middle as some other styles
Ariat is already on our radar for making some of the best cowboy boots, but it complements its hardwearing shoes with some of the best slimming jeans too. Using optical illusions and clever sanding as opposed to sculpting panel technology, these thigh sculpting jeans are one to have on your hit list.
Our tester tried:
"In a darker blue denim wash, Ariat's slim leg jeans are a combination of a great cut and clever optical illusion to add extra slimming elements. The hand sanding panels on the thighs mean my legs instantly looked slimmer, while the white stitching draws the eyes to the seams, shaving inches off my legs. With only a mid-rise waist, they aren't as supportive across the tummy as other pairs but still look and feel great, holding their shape well over several wears."
---
11. NEXT Lift, Slim and Shape Skinny Jeans
Best for lift and shaping in one
Specifications
RRP: $73 / £48
Fabrications: 95% Cotton, 3% lycra® T400® EcoMade elastomultiester, 2% lycra® EcoMade elastane
Sizes: 8-18, regular, long, extra long, petite
Shape: Skinny
Best suited to: Apple shapes
Provides: Midriff sculpting
Antonia tried size: 10 petite
Reasons to buy
+
Hidden support to sculpt
+
No gap waistband
+
Great price
Reasons to avoid
-
A lot of give, you might need to size down
Straight to market prices but with a high end feel, these secret sculpt jeans offer lifting technology to enhance your natural curves to the max. With the kind of design detail we would expect from a specialist denim brand, the Next slimming jeans deliver at a great price point.
Our tester said:
"Next's Lift, Slim and Shape jeans promise to instantly transform your look and sliding them on, I'm immediately impressed. Not only is there hidden support to suck everything in, the denim is designed with a clever cut to create a curved waistband that eliminates gaping. At the waist, a double button detail that feels like an extra bit of support where I want it most. The addition of 5% Lycra EcoMade elastane to the cotton rich fabric means they are super stretchy, instantly molding to my body to create a very flattering skinny fit jean. It's worth noting that the extra stretch in the fabric has more give than other styles and I sized down, even in the petite range."
12. Very Sienna High Waist Sculpt Skinny Jeans
Best for jet black jeans
Specifications
RRP: £30 (UK only)
Fabrication: 83% Cotton, 15% Polyester, 3% elastane
Sizes: 8-20
Shape: High waist, skinny
Best suited to: All shapes
Provides: Waist sculpting
Antonia tried size: UK 10
Reasons to buy
+
Great price points
+
Jet black wash
Very has a multi brand product offering, but just because they carry a stack of designer goodies, don't over look the labels own range. Making some of the best skinny jeans. Very's price friendly offering really packs a punch in the denim department.
Our tester said:
"In an over-dyed super flattering black wash, these stretchy jeans don't so much as mould to my body as become one with my legs once I've shimmied into them. The waistband stays in place all day without sliding down or flipping over and the double button design means they feel secure and supportive. I tried my regular size 12 first and while the fit was good, I opted to also try a size 10 pair too, which ultimately felt to be a better fit, being snug without being cloyingly tight."
13. GAP High Rise Vintage Slim Jeans
Best for leg lengthening
Specifications
RRP: $69.95 / £41
Fabrication: 99% Cotton, 1% elastane
Size: W27-32, three lengths
Shape: High rise, slim leg
Best suited to: All shapes
Provides: Leg lengthening
Antonia tried size: 28S
Reasons to buy
+
Classic styling
+
Universally flattering fit
+
Lengthens legs
Reasons to avoid
-
No specific sculpting panels
You can't talk about great jeans without including Gap. A straight-to-market staple, the brand's vintage and timeless aesthetic ensures that Gap jeans create a solid foundation in your closet.
Our tester said:
"With only 1% elastane, Gap's Vintage Slim jeans have a pleasingly rigid feel and a high waist that sits at a good point, making me feel held in. While they don't have any secret panels or slimming technology, the cut of the lower leg is a flattering straight rather than skinny, meaning these skim over my curvy calves, creating a leg lengthening look. While they rub a little when I first wear them, after a few outings I notice that the material is slowly taking on the shape of my legs, creating a great and comfortable fit but without compromising on the shape of the jeans."
---
14. GOOD AMERICAN Straight light compression jeans
Best for size inclusivity
Specifications
RRP: $130 / £140
Fabrication: 67.4% Cotton, 25% recycled cotton, 5.8% elasterell-P, 1.8% elastane
Size: US 00-26
Shape: Straight leg
Best suited to: Petites
Provides: Slimming and sculpting throughout
Antonia tried size: US 6
Reasons to buy
+
Light compression for sculpting with comfort
+
Great size range
Reasons to avoid
-
Can look quite small which can be daunting
One of the most inclusive denim brands on the market, Good American has taken the jean world by storm. With great cuts, designs and hardwearing denim, the brand also shoot product on different sized models to allow shoppers to see a closer representation to themselves.
What our tester said:
"When Khloe Kardashian's jeans arrive, I take one look at the tiny waist and wonder how I'm going to squeeze into them but after taking a deep breath, I start wiggling in to the minimally stretchy denim… and find myself staring at my lower body in the mirror in wonder. The petite 25.5" seam falls at precisely the most flattering point on my ankle, the lower leg skims my calves and the tiny waistband's additional elastic insert means that the fit is like a second skin without cutting off the circulation to my extremities. With a mid-rise rather than high waist, these finish at my natural waist, making them a great fit for my petite stature. Good American's denim offers two different levels of compression and this pair is only level 1, meaning that I am not squeezed in but the cut is pleasingly supportive."
---
15. NEW LOOK Lift and shape high waisted super skinny coated Jenna jeans
Best for apple shapes
Specifications
RRP: £29.99 (UK only)
Fabrication: 77% Viscose, 20% nylon, 3% elastane
Size: Size 6-18, four lengths
Shape: Super skinny
Best suited to: Apple shapes
Provides: Lift and sculpt midriff
Antonia tried size: 10
Reasons to buy
+
Super high rise to contour midriffs
+
Gives a lifted look to bums thanks to clever seaming
Reasons to avoid
-
Coated jeans not suitable for all occasions
Another straight-to-market style bargain, the Jenna is a well-loved New Look style and is a cut repeated in numerous fabrics and washes for the brand. An absolute style steal, at £29.99, this is one of the most cost-effective pairs of slimming jeans on the market.
Our tester said:
"I feel like Sandy from Grease as I try on New Look's Jenna jeans. Not only do they have leather-look coating but the waist comes up to just under my ribs, sucking in and squeezing away any sign of a muffin top. A subtle curved seam over the back pockets and a small additional panel mean that the jeans hug my bottom, giving it a lifted look. Could these jeans be the ones that I want? Quite possibly! If you are slightly between sizes, try going down by one for a truly tight and supportive fit."
---
How to get the best slimming jeans
Unfortunately, sizes can vary from store to store, making shopping for jeans even more stressful. It may sound obvious, but the best thing to do is to order multiple sizes and be prepared to do the returns. Experiment with different sizes, styles, and washes, not just your usual go-to. You never know what new cuts you might discover, so it's a good idea to keep an open mind.
When trying on, make sure you put on a whole outfit to see how the jeans work with your favorite tops and shoes. You want your jeans to be versatile, so see how they look with trainers and heels as well as blouses and knitwear.
Antonia Kraskowski is a freelance fashion editor with over 15 years of experience in the industry.
Having started her career at Conde Nast working for titles including Easy Living, Glamour and Vogue New Markets, Antonia went on to work in the fast-paced world of newspapers and weekly magazines, becoming Fashion Editor at Express Newspapers and Magazines in 2014, a role she held for five years before going freelance.
Her career has seen Antonia travel the world, shooting in 18 countries and styling campaigns for brands ranging from Ben Sherman and DKNY to Wallis.