Our pick of the best Zara jeans, tried and tested by us
The best Zara jeans balance quality and affordability, and the brand's 2023 collection offers comfortable and trendy styles across the board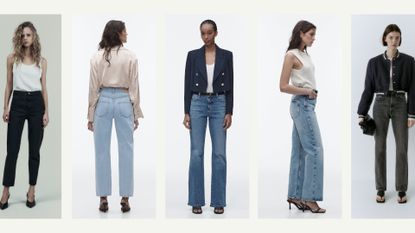 (Image credit: Zara)
Zara denim is both affordable and trendy, making the brand one of our go-to stops for new jeans. For reliable pieces you will wear time and time again, you can't go wrong.
Reasons to buy
+

Fashionable styles

+

Huge variety of pieces

+

Great price tag
Reasons to avoid
-

Sizing can be tricky to navigate

-

No variation in leg lengths
Why you can trust Woman & Home Our expert reviewers spend hours testing and comparing products and services so you can choose the best for you. Find out more about how we test.
ZARA'S JEANS COLLECTION IN NUMBERS
Starting price point: $30 / £20
Size range: 🇺🇸 0-18 / 🇬🇧 4-22
Collection size: 170+ jeans
The best Zara jeans are some of the trendiest and most affordable in the straight-to-market fashion arena, with dozens of styles and cuts to suit a variety of silhouettes. From classic skinnies to edgy distressed numbers, there is no shortage of options to try out this season.
Finding the best jeans can feel like a never-ending challenge. Although there are more brands than ever offering quality denim, shopping for flattering jeans for your body shape and personal style requires a lot of experimenting. But with over 170 different styles available to shop on the Zara site, you are almost guaranteed to get your hands on a pair of jeans you adore.
The denim trends 2023 tell us that wide legs and light washes are firmly in, and classic soft denim isn't going anywhere either. Zara's collection not only provides these trend-led designs that will keep you ahead of the curve, but also timeless cuts that you will never tire of. Our fashion writer spent time trying on a range of different Zara jeans, looking closely at the fit and quality of each pair, to determine which pieces are really worth the money. If you're debating skinny vs straight jeans, or just want a fresh pair of denim to start your year off in style, these are the best Zara jeans that pass the woman&home test.
Zara Jeans Collection Review
One of the best straight-to-market stores for affordable, trendy denim
Reasons to buy
+
Great range of styles
+
Both fashion-forward and classic pieces
+
Good size range
+
Comfortable fits
Reasons to avoid
-
Not the best curve or petite selection
One of our favorite Spanish clothing brands, Zara has been a shopping staple for as long as we can remember. Founded in 1975 in Galicia, Spain, Zara specializes in providing trendy, premium-style designs for an affordable cost. Today, there are over 2000 Zara stores worldwide, and it is one of the most popular brands across the world. From great dresses to statement outerwear, Zara is a go-to shopping destination and one of the best jeans brands with an affordable price point.
How we tested the best Zara jeans
When trying on each pair of jeans, we asked our fashion writer to assess the fit, fabric quality, shape, sizing, and length. Jeans are an essential component of a capsule wardrobe, so getting the perfect pair is high on our priority list. Ideal for planning winter outfit ideas or styling with baggy tees in warmer weather, there is no end to how a great pair of jeans can be styled. Regardless of the price tag, you want to be sure that any purchase made is a good one, so we used our findings to determine if each pair of jeans is worth the price tag.
Our top 8 pairs of Zara jeans to invest in
Image 1 of 2
1. Mid Rise Straight Jeans
Specifications
RRP: $45.90 / £29.99
Sizes: US: 0-14 / UK: 4-18
Fabric: 100% cotton
Worth the price tag: Yes
Care: Machine wash
Reasons to buy
+
Perfect fit, even on curves
+
Classic denim color
+
Trendy and classic
The best straight leg jeans are a wardrobe staple. One of the most universally flattering fits, when it comes to how to style straight jeans, these classic beauties pretty much go with anything and everything in your closet. The darker the wash they smarter they are, while dark blue washes feel instantly cool. A light blue wash conjures up the latest '90s fashion trends that have swept across the runway.
Zara's offering is available in a cool faded blue wash that is ideal as we head towards the warmer months, pairing effortlessly with white and light pastel hues.
What our tester said:
"I was so pleasantly surprised by these straight leg jeans, and they are undoubtedly my favorite pair I tried. The fit was absolutely perfect for my personal taste, as I like a slightly baggier fit on the bottom. I went for my usual size but definitely could have sized down to get a fit more like the one seen on the model, however, I loved how these fit me. Definitely some of the best jeans for curvy women, they were not at all tight around my thighs and bum, but still fit true on the waist - a dreamy combo!
When I think of denim jeans, this style and wash is exactly what I think of. The fact that they not only fit beautifully but also that they are so affordable, is fantastic. Plus, they have a high-quality feel with material that seems like it will last through a lot of wear. Playing into '90s trends, I loved how they looked when unrolled with a slightly bunched ankle. What's more, they're ideal for rolling up or cropping, so there's no end to the styling possibilities. If I could only have one pair of the best Zara jeans in my collection, this would be it."
---
Image 1 of 2
2. The Slim Cropped Jeans
Specifications
RRP: $49.90 / £35.99
Sizes: US: 0-14 / UK: 4-18
Fabric: 98% cotton, 2% elastane
Worth the price tag: Yes
Care: Machine wash
Reasons to buy
+
Very comfortable
+
True to size
+
Great color
Reasons to avoid
-
Not designed for bigger thighs
Generally speaking, cropped jeans are an excellent choice for those looking for the best petite jeans, as the shorter hem length should fit true to your stature and negate the need for alterations. Not petite? You can still wear a pair of cropped jeans as the ankle-skimming style is ideal for showing off the latest shoe trends 2023, as well as holding instantly leg-lengthening properties. A slim fit should sit somewhere between the best skinny jeans and a straight-cut pair.
What our tester said:
"What I loved most about these jeans is how comfortable they felt. The material is very soft and stretchy, so I had no problem slipping these on or sitting down in them. For the days when you want something a bit smarter than your best leggings but don't want anything too rigid, these will do perfectly. The inky blue hue makes a nice change from black without being too informal, and there is no end to the styling possibilities here.
The thing that let these jeans down is how they fit me. As I have found common with quite a few straight-to-market stores, these are not designed to work on bigger legs or petites. Compared to the model, they were a lot tighter on me and didn't provide the straight fit that I was hoping for. However, if you are after a tighter fit that isn't stiff or hard to wear in, you will love these. I wish they carried these in petite leg lengths, as I think that could've made all the difference here, as despite the cropped fit, they weren't cropped on me (they were full length). Nevertheless, they are a pair of jeans that I could see myself teaming with the best sweaters for days in the office, or incorporating into camel coat outfits in transitional weather, so they are worth the small price tag."
---
Image 1 of 2
3. The Contour Bootcut Jeans
Specifications
RRP: $49.90 / £35.99
Sizes: US: 0-14 / UK: 4-18
Fabric: 92% cotton, 6% elastomultiester, 2% elastane
Worth the price tag: Yes
Care: Machine wash
Reasons to buy
+
Stretchy material
+
Perfect flare shape
+
Flattering mid rise
When looking for the best Zara jeans, we had to investigate the Zara bootcut. How to wear bootcut jeans is back on our fashion agenda and if you're nervous about getting into this trend (again), you may want to opt for a slightly more affordable bootcut to start your journey. Ideal for pairing with the latest boot trends - hello best cowboy boots - these mid-blue jeans certainly gave us all the western feel.
What our tester said:
"I had to try this pair of jeans in a size down from my usual, as they didn't have my size available and I really felt the pinch. Despite the stretchy fabric, I couldn't quite make them work. Though they fit fine on the legs, the waist was tight and uncomfortable, so you will definitely want to go for your normal size - if not a size up - with this pair. However, I did like the mid-rise fit that cut at just the right spot.
I find flares to be some of the most flattering jeans, and these definitely gave me the best fit around my bum out of all the Zara jeans I tried. I also love the mid-blue wash that will pair perfectly with the best white trainers - but be aware that the color comes up slightly lighter in person than on the site. The downside is that this pair didn't do me much justice with the actual flare shape that was totally obscured by my height, but the raw hem means that they could quite easily be cropped if needed. This does make them ideal for wearing with heels or heeled boots if you're petite. If you are taller, I really think that they will provide the ideal everyday flare that is not too exaggerated."
---
Image 1 of 2
4. Flare Fit Jeans
Specifications
RRP: $45.90 / £29.99
Sizes: US: 0-12 / UK: 4-16
Fabric: 99% cotton, 1% elastane
Worth the price tag: Yes
Care: Machine wash
Reasons to buy
+
Perfect fit
+
Comfortable rise
+
Feel premium
Flared jeans are back in the mix as part of the fashion trends 2023, meaning there is no better time to learn how to style flared jeans. A universally flattering silhouette, flares are great for balancing proportions and with a nipping waist you can really play with proportions to create an hourglass silhouette.
What our tester said:
"These are the flares I was hoping for! I tried this in my usual size and the fit was perfect for me. I probably could've gone a size down to get a tighter look, but I like having a bit more room around the waist and thighs. The color is perfect for year-round wear, and the waistband sat right under my belly button, providing a fit that held me in without feeling at all restrictive. If you are debating between different types of jeans for women, a pair of subtle flares like these will always look good.
I also noticed that the material felt particularly thick and sturdy on these Zara jeans, meaning that they feel a lot more premium than their price tag. I can absolutely see myself wearing these jeans for all manner of occasions, teaming with stylish tops to wear with jeans or baggy tees in the spring. Unsurprisingly, these were also too long for me, so I did fold them up to get the desired look. But with a pair of scissors and a a quick alterations visit, they would be great."
---
Image 1 of 2
5. Ripped Straight Fit Jeans
Specifications
RRP: $45.90 / £29.99
Sizes: US: 0-12 / UK: 4-16
Fabric: 100% cotton
Worth the price tag: Yes
Care: Machine wash
Reasons to buy
+
On trend
+
Fit true to size
+
Not too long on petites
Reasons to avoid
-
Not for those after a more classic style
If you've been wondering how to distress jeans, you can always let a brand do the hard work for you. Another extension of current fashion and denim trends, ripped jeans are back in a big way and are of course, ideal for more relaxed weekends. The light wash of the denim used here leans further into the '90s and Y2K aesthetic.
What our tester said:
"Much to my surprise, these jeans were a great length for me. I felt like the baggier ends added to the distressed feel, so I had no issues with how these looked. Thanks to the raw hem, they could also easily be cut with scissors for a quick fix. This pair fits true to size around the waist and legs, and I found that I had just enough room around my thighs to feel comfortable without having a look that was overly frumpy.
I liked how the high-waisted fit gave some shape to my waist that contrasts nicely with the more androgynous shape, and this also means there is a multitude of ways to style these Zara jeans. The fabric did feel slightly lighter than some other pairs of jeans, but the quality was still there. A perfect pick for springtime, these won't cause any overheating. Some of the best high-waisted jeans I've tried in ages, these happily sit on my best Zara jeans list."
---
Image 1 of 2
6. Relaxed Fit Rip Stretch Jeans
Specifications
RRP: $49.90 / £35.99
Sizes: US: 0-12 / UK: 4-16
Fabric: 99% cotton, 1% elastane
Worth the price tag: Yes, if you like a tighter fit
Care: Machine wash
Reasons to buy
+
Ideal length
+
Easy to style
+
Cool vibe
Reasons to avoid
-
Those with curves may need to size up
As a general rule, as relaxed fit jean would fall somewhere between a straight cut and a girlfriend cut jeans, but as with all jean adventures, the size and fit differs from shopper to shopper. In a classic dark wash, these jeans have distressed patches to lean into the laidback feel.
What our tester said:
"I'm still a bit undecided on these jeans. When I saw them on the hanger I had a vision of a subtly baggy fit, like mom jeans, that would sit just right on my hips. Unfortunately, that was not what I got. If you have curves, take the 'relaxed fit' label with a pinch of salt. The fit was slightly too figure-hugging for my liking, as I usually like ripped styles to have some room to wiggle around. However, they did still fit comfortably and I had no issues sitting down.
For my figure, I don't think this is a pair of denim I would reach for again. But having said that, I still love the look and think that anyone with narrower hips could rock this style. On the plus side, they are the absolute perfect petite length. If you're wondering how to dress simple but stylish but still want to inject some personality into your wardrobe, these Zara jeans are ideal. The dark hue keeps things minimal, whilst the rips add some flare."
---
Image 1 of 2
7. TRF Straight Jeans
Specifications
RRP: $45.90 / £29.99
Sizes: US: 0-14 / UK: 4-18
Fabric: 100% cotton
Worth the price tag: Yes
Care: Machine wash
Reasons to buy
+
Good for everyday wear
+
Comfortable high rise fit
+
Versatile
Reasons to avoid
-
Not a true straight fit on those with curves
A high-waisted, straight-cut jean is a minimalist capsule wardrobe hero and in a dark black wash, you can wear this style from AM to PM with ease. Adding instant polish, but still effortlessly chic to any look. Add a white shirt and a blazer for a timeless denim ensemble.
What our tester said:
"I always love a high-waisted jean, and I was pleased with how comfortably these fit me. Not too tight around the hips, thighs or waist, this style would be perfect for on-the-go days when you want something a little more refined. The light black wash is exactly the sort of thing I would reach for when shopping for a casual pair of jeans, and the length wasn't too bad considering my height.
However, when it comes to the best Zara jeans, considering these are meant to be a straight fit, they didn't really work on my body. The fit is a lot more skinny than intended, and though I could size up, my worry is that this would lead to a poor fit around the waist. Still, for the affordable price tag and the fact that they did fit comfortably, I do still think they are worth the purchase. Just know what to expect if you're curvier, and play around with how to style jeans with a high waist to get a look you love."
---
Image 1 of 2
8. Mom Fit Jeans
Specifications
RRP: $45.90 / £29.99
Sizes: US: 0-14 / UK: 4-18
Fabric: 99% cotton, 1% elastane
Worth the price tag: Yes
Care: Machine wash
Reasons to buy
+
True mom fit
+
Wardrobe staple
+
Timeless style
Reasons to avoid
-
Could do with more sizes
The best mom jeans have become a fashion staple, categorized by a high waist and a relaxed leg, this retro style has certainly found its spot in the modern wardrobe. Easily pairable with both smart and casual looks, it's all in the wash and the level of distressed detailing you choose as to whether they can be worn for work or play.
What our tester said:
"When it comes to boyfriend jeans vs mom jeans I tend to reach for the boyfriend style more often, as I can never usually find mom jeans that fit my legs properly. That was until I tried this pair. The thick material contains some stretch, making for an ideal fit around the legs, which I loved. Overall I would say they are true to size, and some of the best Zara jeans that I tried, however, the waist was slightly tighter on this style than some of the others that I tried on. This is great if you want to add some more shape and definition, and of course, over time, denim does give a little, but I think I could've also sized up to get that even more relaxed mom fit.
Figuring out mom jean outfits is simple with a pair of denim like this, as there's no end to the styling possibilities. Considering this is such a classic style, I'd love to see Zara extend the sizing on this pair as they have with some other styles. But if you are like me and sometimes struggle to get mom jeans that fit right, this is definitely a pair to try out."
---
What is the quality of Zara jeans like?
Overall, the quality of Zara jeans is very good. Many of the styles on offer are 100% cotton, whilst others are typically cotton mixed with elastane to give some extra stretch. Each pair we tested felt sturdy and comfortable, and we would happily add a number of these pairs to our own wardrobes. Considering the price point, you are getting a great product for an affordable cost.
What do Zara jeans fit like?
As with most jeans, the fit completely varies depending on the style. We found baggier styles to fit perfectly, but straighter cuts were a little trickier to get right. If you have curves, you may need to do some experimenting with a couple of different sizes to get the perfect fit. Overall, Zara jeans do fit well, and we didn't come across any pairs that we couldn't wear. We would love to see Zara extend its size range further in future, as they typically only carry up to a US10 / UK12 in store, which can certainly be improved.
How much do Zara jeans cost and are they worth it?
Zara jeans typically cost around $45/£30, which is a very affordable price for denim. Considering the quality, which we were impressed by, we would say that almost every pair is worth the price tag. They may not last quite as long as more premium denim, but with the right care, you can't really go wrong with this price.
Zara jeans collection - our verdict
Overall, we were very impressed with the Zara jeans offering. Affordable and good quality, there are several pairs here that we would love to have in our collection. However, as is often the case with high street stores, those with curves may need to spend a little more time experimenting with different styles to get the desired fit. But for the price point, trendy styles and quality, we definitely recommend.
Amelia joined woman&home after graduating with an MA in Magazine Journalism from City University in 2022. She specialises in lifestyle journalism and throughout her undergraduate degree she wrote for a variety of student publications, where she developed a love for all things style, beauty and sustainable fashion. She has previously written for titles including OK! Magazine, New! Magazine and Notion before she started her career as a lifestyle journalist with woman&home after completing an internship with the brand.