How to style bootcut jeans 2023: 7 outfit ideas for every occasion
Not sure how to style bootcut jeans? Our expert reveals their top bootcut jeans outfits for 2023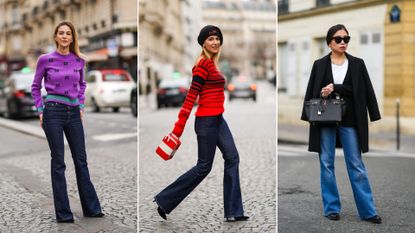 (Image credit: Getty)
You may not have thought about how to style bootcut jeans since they were last popular in the '90s, however, they're back and it's time to give them a bit of a fashion makeover, to ensure your look is directional, rather thank fashion-throwback.
Originally popular among cowboys and ranchers because of the slight flare at the bottom of the jeans that ensured they worked well with a boot, bootcut jeans are back once more. With their last true heyday back in the '90s. Thanks to the Y2K nostalgia that swept through the fashion trends 2023, bootcuts are back, claiming their place amongst the denim trends 2023.
"The boot cut has patiently been waiting in the wings for the skinny to move over!" says denim Stylist Sam Remer (opens in new tab), who offers a Virtual Jeans Fitting Service (opens in new tab) on ilovejeans.com (opens in new tab). "It's definitely time for this universal style to be brought out again. It seems whenever the flare or wide-leg jean is on trend, the bootcut is a diluted favorite that becomes the go-to shape. Gen Z's love of all things '90s and can't get enough of the boot cut shape either with a high-rise waist or a low rise."
Slightly tapered in the thigh area and wider from the knee to the hem, creating a small flare, it's no surprise that these jeans have had a comeback, as they pretty much suit everyone. But it's learning how to style bootcut jeans that will bring them into 2023.
How to style bootcut jeans 2023: 7 bootcut jean outfit ideas
"Bootcut jeans are brilliant for most body shapes, as they balance out a curvy hip, bigger booty, elongate a petite frame and give shape to a lean figure," says Sam.
A good all-rounder jean, they also work for many different occasions from dressed down walks in the park to drinks in the pub, looking especially polished with the addition of a heel.
While the low-rise waist is back on the runway, thankfully most modern-day bootcut jeans come with an easier-to-wear mid or high-rise waist. That's not all that's changed since their '90s inception. Silhouettes are slightly slimmer, and lengths range from cool cropped kick-flares to longer, puddle-length jeans. Although all reference '90s fashion trends at their core.
As with any flared jeans, the key to how to style bootcut jeans is to balance out your look by keeping the top half a little more fitted. Finding stylish tops to wear with jeans that highlight your torso will automatically balance out the width of the hem of a bootcut jean.
If you've not pulled on a pair of bootcut jeans since Jennifer Aniston had the 'Rachel cut', here are 7 outfit ideas to ensure you look contemporary.
1. How to style bootcut jeans with a blazer
"Bootcuts are a universal style and can be dressed up with a blazer or worn more casually with a leather jacket," says Sam.
If you're wondering how to style a blazer with this type of jeans, go for one that hits your thigh area to help give balance. Too short a jacket, may look too boxy, while too long could swamp petite frames. It's also better to choose a slightly fitted blazer, which will not only help emphasize your waist but also keep everything looking neat.
The perfect combination for smart casual outfit ideas, a blazer and bootcut jeans work best with heels, especially if you have longer-length jeans. As for what to wear underneath, a pretty blouse or shirt makes your outfit instantly smarter, whereas a t-shirt or jumper adds a casual vibe.
(opens in new tab)
RRP: $99.50 / £69.99 | Well, hello dopamine dressing! Inject a little bit of Barbiecore style into your wardrobe with this textured blazer. The Chanel-like vibe of the jacket, along with the gold buttons will smarten up anything you throw this over.
(opens in new tab)
Levi's 315 Shaping Bootcut Jeans
RRP: $69.50 / £40 | If you're struggling the straight vs skinny jeans conundrum, these bootcut jeans are a good compromise. Their very small flare helps elongate legs, while the special sculpting fabric helps shape through the hip and thigh area.
Dune London Mid Heel Boot
RRP: $198 / £120 | Every capsule wardrobe needs a pair of versatile black ankle boots. The mid-heel means they're easy to walk in while the sharp pointed toe looks oh-so-modern poking out of uber-long jeans. Wear with dresses, skirts, trousers and jeans – you'll wonder how you lived without them.
2. How to style bootcut jeans with a sweater
Ditch the chunky knits when it comes to how to style bootcut jeans and instead embrace a cropped or slim-fitting sweater. It's also a good idea to choose the more modern high-waisted bootcut jean and leave the low-waisted variety for warmer months. If your jumper is too long, do a French tuck so you have more of a waist.
These are the best jeans to contrast simply against a brightly colored knit but don't just stick to blue bootcut jeans. Primary shades mixed with cream or white jeans make for a modern take on the jean and sweater look and can be worn all year round – just switch your heavier jumper for a skinnier cotton knit come spring.
While trainers will give this look a more casual vibe, if you opt for the longer-length bootcut jeans, try a platform boot or shoe to make the look feel dressier and tap into the shoe trends 2023 in the process. Pop a shirt under the sweater and you've got a look suitable for less corporate workplaces as well.
(opens in new tab)
River Island Oversized Jumper
RRP: $65 / £35 | Light blue hues are predicted to be one of the big fashion colors 2023, so get ahead with this gorgeous sweater. Perfect for teaming with darker shades right now, it will also look great come spring as part of a white jeans outfit.
(opens in new tab)
Veronica Beard Skinny White Flare
RRP: $248 / £75 | If you think white jeans are hard to wear, try them in a bootcut style. The skinny shape of this bootcut looks super contemporary, while the high-rise waist and stretch denim offer a flexible fit, making them some of the best white jeans.
(opens in new tab)
M&S Cream Patent Mary Jane Shoes
RRP: $105 / £59 | The Mary Jane is definitely having its moment. This cream pair will help make your legs look longer, while also giving you extra height - without the pain. The built-in Insolia® technology helps to reduce pressure on the balls of your feet.
3. How to style bootcut jeans with a shirt
When it comes to how to style bootcut jeans with a shirt or blouse, the best shirts to choose from are those that can be tucked in easily to show off your waist and balance out the small flare at the bottom.
If you want to wear something less fitted, how to wear oversized shirts with bootcut jeans still will involve either a little French tuck at the front or wearing them over a more fitted or cropped top, to ensure you have some waist definition.
And when it comes to how to style jeans with a bootcut and a denim shirt, this look is the perfect candidate for double denim.
"As a denim stylist I'm an advocate for double denim and styling a long denim skirt or pair of jeans with a denim shirt tucked in or a cropped denim jacket," advises Sam.
Just ensure that the denim is of a similar shade to not only create a coherent look, but also a slimming jeans outfit.
(opens in new tab)
RRP: $27.99 / £18.99 | The long cuffs, pointed collars and retro print make this shirt a must-have for any over 50s capsule wardrobe. Worn buttoned up, it's the perfect accompaniment for a suit, for how to style high-waisted jeans, tuck the shirt in and leave the top buttons undone, for a smart casual feel.
(opens in new tab)
RRP: $199 / £99 | This slightly cropped bootcut adds a vintage feel to your outfit. Worried about how to style flared jeans like these? The main thing is to ensure that they're not too short, flaring out just above the ankle. While you can wear any shoe style here, a heeled boot or block heel court always looks chic.
(opens in new tab)
Charles & Keith Orange Mules
RRP: $76 / £89 | Take your bootcut jeans to the next level with a pop of orange, one of the big colors for 2023. The peep-toe mule is a classic that will go with everything in your wardrobe, and while they definitely have a party vibe, they also work well with more casual attire such as ripped jeans or denim shorts.
4. How to style bootcut jeans with a top
The rule of thumb for how to style bootcut jeans is to ensure the top half is sleeker in order to balance out the flare at the bottom.
"If you're following the trend for voluminous jeans then counterbalance what you put on the bottom with a tighter top, shirt or jacket," says Sam.
For this reason, slim-fitting t-shirts and tops work best with bootcut jeans. A cropped top will give a really retro look while tucking in a simple camisole and pairing it with sandals is a quick and easy evening look for warmer evenings.
As bootcuts are heavily influenced by the '90s, there are plenty of low-waisted iterations. Get around the low waistband by pairing your jeans with longer-line tops. Just keep them slim fitting and no longer than mid-thigh in length. Play with different lengths and team with a cropped jacket or cardigan for a stylish layered look that will highlight your waistline.
(opens in new tab)
Ganni Leopard Print Jacket
RRP: $190 / £110 | Want to know a quick way to add a bit of fashion flair to any outfit? Animal print. This cropped jacket with the super modern large collar will instantly make any outfit standout. Don't be afraid to mix it with other prints as well.
(opens in new tab)
RRP: $59 / £45 | A simple silk top is a great basic to have in any minimalist capsule wardrobe as it will work with numerous outfits. Use to layer under see-through blouses, wear under a suit for a sexy edge or pair with jeans for a laidback look.
(opens in new tab)
Levi's 725 High Rise Bootcut Jeans
RRP: $59 / £45 | The key to how to style black jeans is to choose a sleek top. Whether that be a bright-colored satin shirt tucked into the high waist or an asymmetric top for a night out. One of the best jeans brands, they're a building block to the rest of your ensemble.
5. How to style bootcut jeans over a dress
With the love for all things Y2K continuing, it's time to grab your jeans and pair them with your favorite dress. How to style skirts over pants, or in this case dresses over jeans made a big impression on the runway, so try and banish images of Noughties halterneck and asymmetric hems over low-slung bootcuts though - in 2023 this pairing has gone seriously stylish.
First up, go for longer lengths. While back in the day mini and above-knee dresses were the way forward, midi (and even maxi) dresses work better in this modern variation. Your jeans should be secondary to the dress, but if you do want to show them off more, choose a high-low hemline or a dress with thigh-high splits.
A great transitional look for spring and fall, to ensure this look isn't too bulky, choose slim-fit bootcut jeans so you're not carrying too much volume around your thighs and waist.
(opens in new tab)
H&M Drawstring Floral Dress
RRP: $39.99 / £39.99 | The drawstring details coupled with the big floral print brings a contemporary feel to this dress and makes it ideal for any special occasion. Wearable all year round, thanks to the light fabric, you can bring this to a more casual arena by pairing it with slim-fitting, black, bootcut jeans.
(opens in new tab)
Citizens Of Humanity Jeans
RRP: $208 / £260 | The slim fit of these bootcut jeans gives them a modern, flattering finish, which will work well under a floaty dress. Cut in the brand's signature stretch denim, they hug every curve while the dark denim offers added polish. Perfect with a slim, high heel to help elongate your pins.
(opens in new tab)
ASOS Twisted Top Handle Bag
6. How to style bootcut jeans for petites
When it comes to the best petite jeans in a bootcut style, Sam says it's all about getting the right leg length and rise.
"The inseam or leg length is important to get right when you are 5'2" and under," she says. "Look for denim brands and retailers that offer a selection of leg lengths. Abercrombie & Fitch, Hollister, M&S, River Island & Karen Millen are good for offering different leg lengths."
She continues: "Another thing to look at is the height of the front rise, make sure it's just an inch under or on your belly button to look in proportion."
All the same rules apply for petite figures in that it's best to team bootcut legs with less volume on the top. Sam also recommends a heel, as this will have the illusion of making you look immediately taller.
"Where possible, wear higher-heeled boots or shoes to elongate your petite frame," she advises. 'If the bootcut fits fabulously but is too long, get them professionally shortened, otherwise, you'll be tripping over your hem!"
(opens in new tab)
Karen Millen Petite Leopard Blouse
RRP: $100 / £59 | Every woman needs a nice top and jeans outfit for those occasions when you just don't know what to wear, and this is it. Leopard print never goes out of style and combined with a directional voluminous sleeve and high neck, this top will bring jeans, a skirt or a suit bang up-to-date.
(opens in new tab)
RRP: $38.99 / £22.50 | These bootcut jeans are a must-have in any wardrobe. Not only are they a bargain, but they also come in a wide variety of waist and leg sizes. On of the best high-waisted jeans to invest in right now, as the high waist and bootcut style will make your legs look like they go on forever.
(opens in new tab)
RRP: $33.99 / £25 | Architectural heels were all over the runway for this season, and at a bargain price, this pair of sculptural heels is an easy way to trial the trend. And as we expect simple, strappy sandals to be going anywhere, anytime soon, these will take you right through 2023 for all those special occasions.
7. How to style bootcut jeans for plus size
Sam believes the most important element of bootcut jeans for plus size figures is the fabric.
"Check the label to see exactly what the jean is made from," she says. "Plus size women should look at the fabric content and the amount of stretch and recovery a jean has specifically for comfort and wear and tear of the garment."
She advises that while polyester will give the jean the ability to snap back into shape, also look out for lycra, spandex or elastane, which will help your jeans fit you better and give more comfort, making them the best jeans for curvy women.
"The higher the percentage, the stretchier the jean will feel on," she says.
Proportion still plays an important roll here and you'll want to highlight your waist if you're looking to create an hourglass silhouette, so tucking or half-tucking tops into high-rise jeans is a great idea. Stretchier denim will also help to eliminate waist gap at the back of your jeans.
(opens in new tab)
RRP: $115.60 / £85 | Logo t-shirts are going nowhere this year. This one by Ganni is bound to make everyone smile and is a great way to dip your toe into designer gear. It will elevate all your basics from your favorite jeans to joggers and cut-offs.
(opens in new tab)
RRP: $138 / £144 | While it's important to find the best jeans for your body type, we challenge anyone to not fall in love with these jeans. Thanks to their 'Magic Pockets', they offer extra contour, while the stretchy denim molds to the body for a comfort fit.
(opens in new tab)
Veja White & Gold Trainers
RRP: $147 / £120 | The best white trainers will be the most hardworking shoes in your wardrobe. Such as these beauties from Veja. The simple styling ensures they can be paired with anything in your wardrobe, while the subtle gold detailing gives them a touch of glam.
Are bootcut jeans back in style for 2023?
Lesley Torson, founder of Trilogy (opens in new tab), believes that the bootcut is now back for good on the denim scene.
"Catching up with the straight leg is a classic bootcut jean, which is again growing in dominance and popularity," she says.
"An extremely leg-lengthening fit, the bootcut is offered in shorter lengths such as Mother's Weekender Jean, making bootcut and flared styles work for all heights of customers. Cropped bootcut styles are also great with trainers or flats for relaxed, day-to-day wear through the warmer months. For dressing up, a style like Citizens of Humanity's Lilah jeans looks great with a heel."
Where should bootcut jeans fall?
Bootcut jeans can be a bit tricky to get right lengthwise. If they don't fall quite right, they can end up making you look a bit awkward, a bit like you're wearing jeans you've grown out of.
Sam says there are two lengths of bootcut jeans that you should consider, starting with a longer, full-length bootcut jean.
"A full length bootcut jean gives a fabulous, elongated silhouette and should be worn ideally with heels for that sexy svelte style," she says. "Keep them long with the hem hitting just before the base of the toe (1-inch from the floor). If there's a break in the long line of the leg, the length is too long."
Alternatively, you can go for something more cropped.
"The crop boot cut can fall (depending on your height) just above the ankle or below the calf," says Sam.
"Let your ankle boot be your guide as you may not want to show a bare leg in the colder months. The crop boot cut is such a great style for all season and works with all styles of footwear, ankle boots, trainers, flats and heels, plus it gives the illusion of a longer leg too."
Can I wear bootcut jeans with sneakers?
While bootcut jeans have traditionally always been teamed with some sort of heel, Sam says don't discount flats as they work just as well - it's all about choosing the right style of bootcut jean.
"Bootcuts look timeless with white trainers, so choose a pair of jeans with a shorter leg length for flats and trainers," she advises. "If two pairs of bootcuts feel excessive, look for a pair with a split vent in the hem so you can wear them with both a trainer and a mid-height heel."
With over 22 years' experience in journalism, Jayne has written about a variety of subjects. She spent the start of her career within the world of film, interviewing Hollywood stars, attending premieres and lusting after red carpet outfits, and then moved into fashion, launching websites for big magazines such as Look, Woman's Own and Wedding and working with top fashion brands such as Westfield, LK Bennett and Hunter.
Career highlights include dressing up as Kylie (in gold hot pants!) for a national newspaper and working on big fashion events alongside Giles Deacon, Henry Holland and Naomi Campbell.