The '90s fashion trends that are making a comeback
Here's how to wear those '90s fashion trends this time around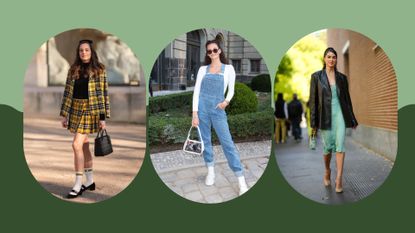 (Image credit: Getty Images)
Fashion is nothing if not cyclical and this time it's '90s fashion trends making their mark on the fashion world once again. Dungarees, slip dresses and logo bags are back, thankfully, all with a contemporary twist.
If you did '90s fashion trends the first time around, the mention of the decade's return might cause some understandable fear. An eclectic era for fashion, from the in-your-face girl power style of The Spice Girls to grunge taking over the runways, the fashion world took inspiration from the music and films of the period for one of the biggest fall 2022 fashion trends. Reincarnating a host of looks that many of us would rather see the back of - we're looking at you ultra low-rise jeans - there are, luckily, plenty of ways to wear the latest '90s fashion trends with a refreshing and grown-up feel.
Dungarees, slip dresses and branded sportswear have over the years become true fashion staples, while mesh tops and logo bags have seen a resurgence in recent years too and all are boosted by the '90s reboot. As with many trends, designers took inspiration from their archives to revive this look with fashion houses including Versace, Dior and Gucci all breathing new life into past heroes for a modern twist.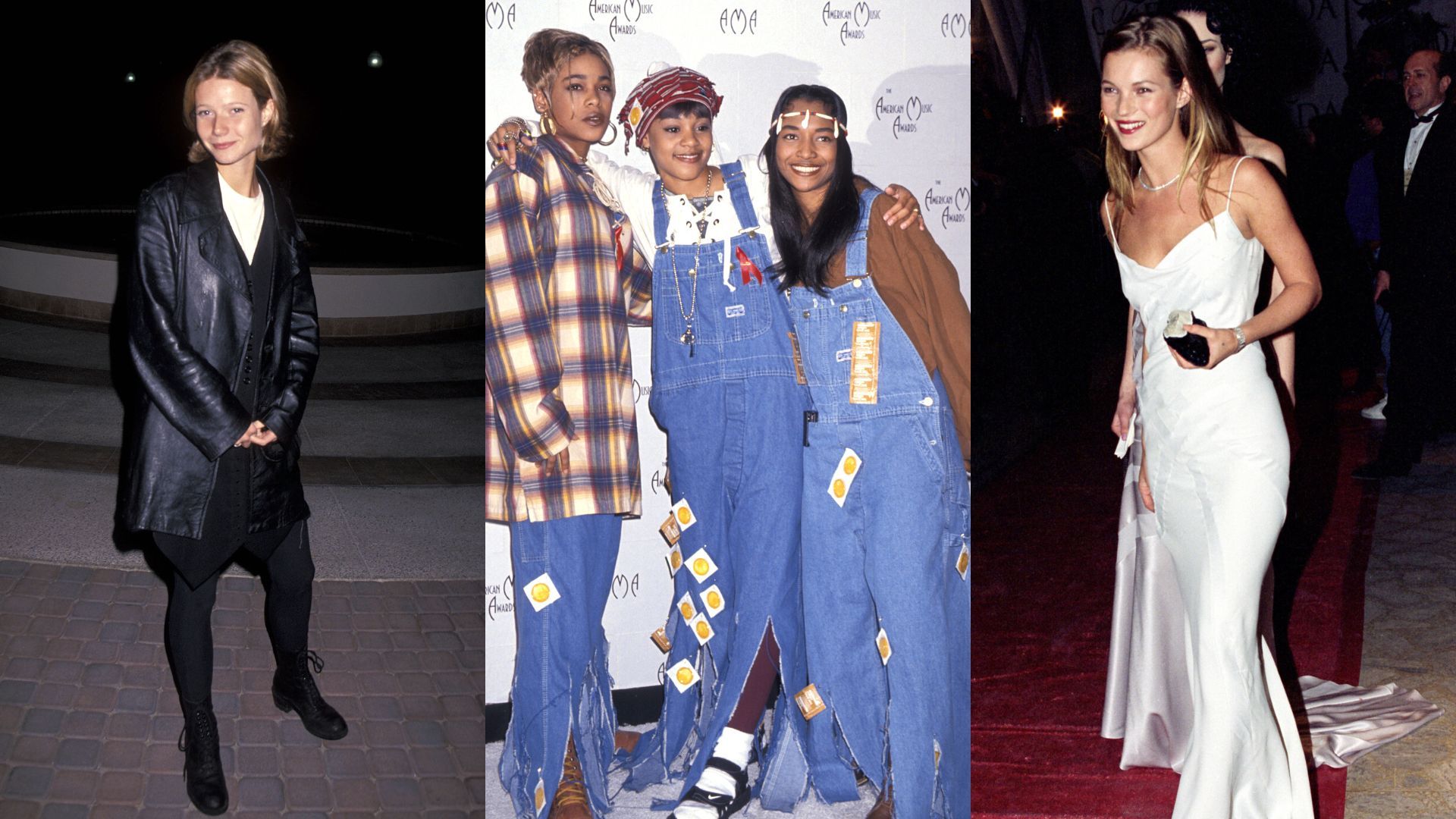 HOW TO WEAR THE '90s FASHION TRENDS Making a Comeback NOW
It might seem a bit strange to wear trends that were big years previously, but the key is to take inspiration from the era and not follow it to the tee - otherwise, you risk looking like someone on their way to a fancy dress party.
Award-winning celebrity stylist and writer Natalie Robinson says harking back to the '90s brings with it a healthy dose of rebellion.
"These trends are making a comeback in the guise of rebellious fashion - think Dr. Martin boots, not to mention the long yellow laces wrapped around the top of the boot," she says.
"Nonchalant dressing sums up the mood of today's fashion - cargo trousers, cycling shorts, platform shoes and sheer slip dresses; to name but a few of the latest style trends - the zeitgeist of the '90s."
She advises taking just one key '90s fashion trend and mixing it in with contemporary pieces for a truly modern take on the original look.
1. '90s fashion trend: Dungarees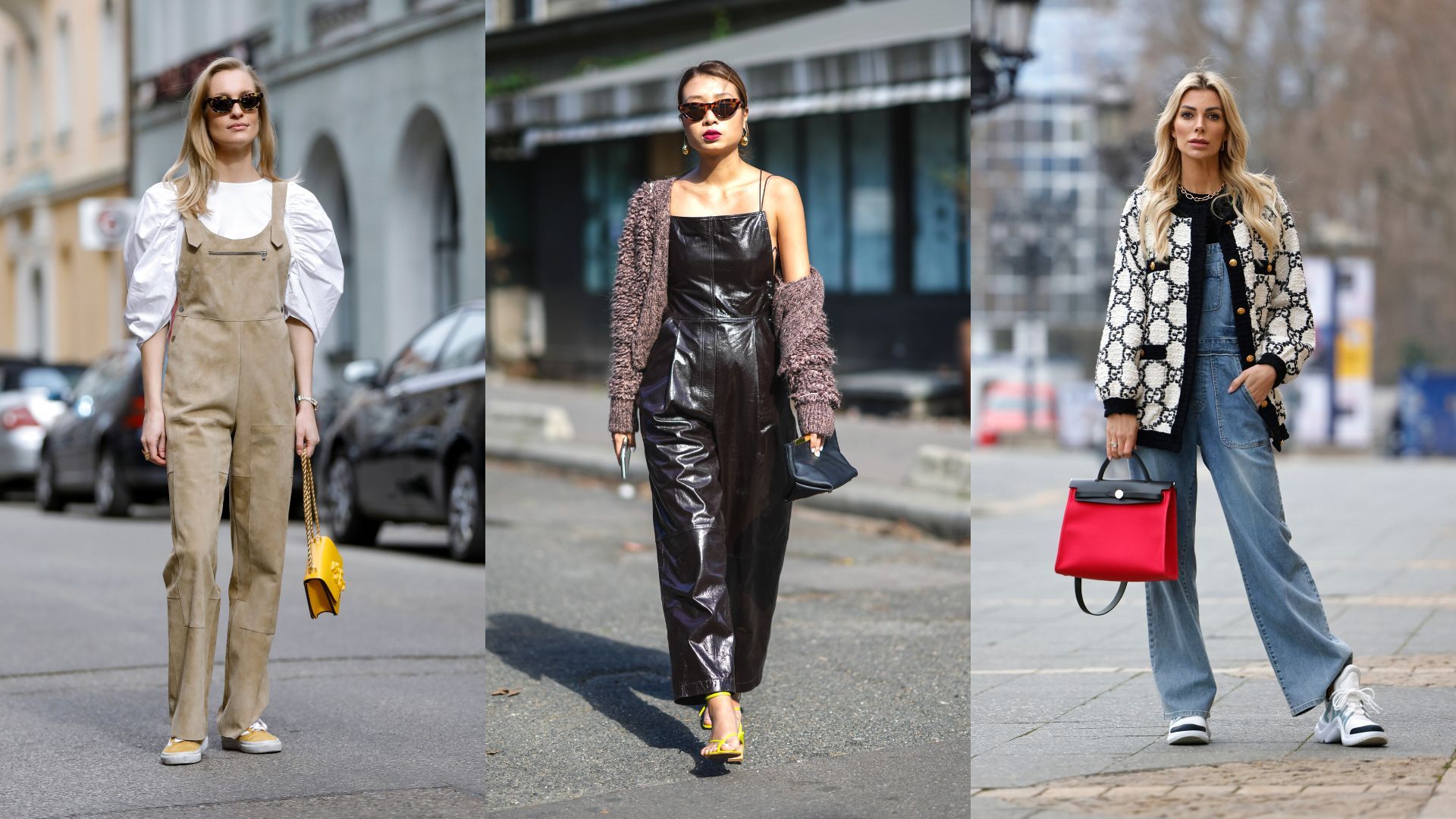 In the '90s, dungarees were injected with more than a touch of coolness thanks to the likes of R&B stars such as TLC and Lauryn Hill who wore theirs with a strap undone and a baggy t-shirt or crop top underneath. While you can still very much wear them the '90s way, there is now a wide array of styles available to suit all tastes and body shapes.
"To wear your dungarees on-trend in 2022, don't just throw them over a white tee, try layering a sheer, long-sleeved blouse underneath with chunky shoes for a cool but effortless look," says SilkFred's Head Stylist Megan Watkins.
Dungarees don't just have to come in denim either. For a cool look, try pleather, cord or velvet - all of which work for a dressier look combined with your best designer heels.
Style tip: "For those looking to be a bit more out there, dare to go double denim and layer your dungarees over a denim top in a contrasting shade," says Megan.
RRP: $60 / £55.20 | Dungarees aren't just for casual. This wide-legged pair can be dressed up with a blouse and blazer or teamed with your best cashmere sweater for a smart-casual look.
Selected Femme Broderie Blouse
RRP: $71 / £65 | Inject a touch of vintage prettiness into any outfit with this broderie Anglaise blouse. Perfect with denim and comfortable flats for a laidback and chic fall outfit idea.
Dune Trimmed Leather Loafers
2. '90s fashion trend: Clueless checks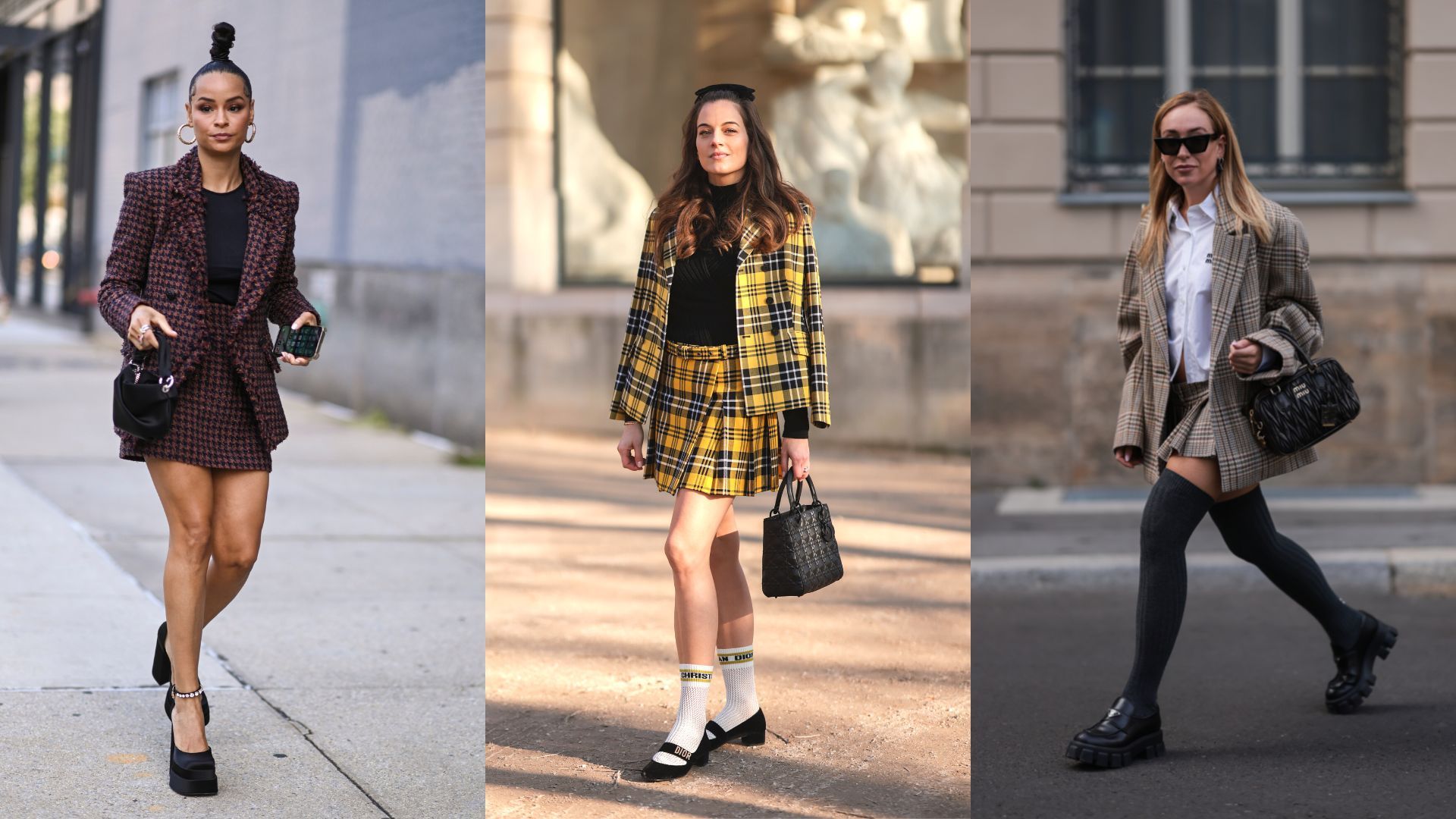 Last seen on Cher Horowitz in the 1995 Clueless film, top-to-toe checks are making a comeback this season. With the mini skirt suit being one of the big fashion trends 2022, this preppy look is suddenly feeling very modern again. While pastel and bright shades give more of a nod to the original Clueless checks, the new look is more understated, such as that seen on the Chanel runway.
"To modernize your Clueless checks, opt for neutral shades such as brown, beige, or grey instead of Silverstone's all-yellow ensemble," suggests Megan.
While Cher would've chosen knee-high socks with a high heel, a much more contemporary take on this look is either flats - such as ballet pumps, loafers, or a chunky boot.
Style tip: This look doesn't have to be top-to-toe aesthetic either, it can be much more subtle.
"For everyday checks, throw a checked blazer over a maxi dress, or your favorite fall jumper on top of a checked midi skirt," advises Megan.
Karen Millen Check Cropped Jacket
RRP: $68 / £40 | Tweed never goes out of fashion. This preppy jacket gets a modern makeover thanks to the cropped style. Team with the matching shorts or learn how to style flared jeans with this blazer for a well-balanced, stylish weekend look.
Karen Millen Check Shorts
RRP: $34 / £20 | These shorts make a stylish alternative to a mini skirt. Great for hourglass body shapes, they highlight the narrowest part of your figure with their high-rise cut. Still not sure about flashing so much leg? Layer over opaque tights.
RRP: $89 / £59.99 | The runways were full of the best designer backpacks making them one of the major handbag trends 2022. A sleek personalized iteration like this one is ideal for pairing with smart attire for work or with jeans when you're off-duty.
3. '90s fashion trend: Slip dresses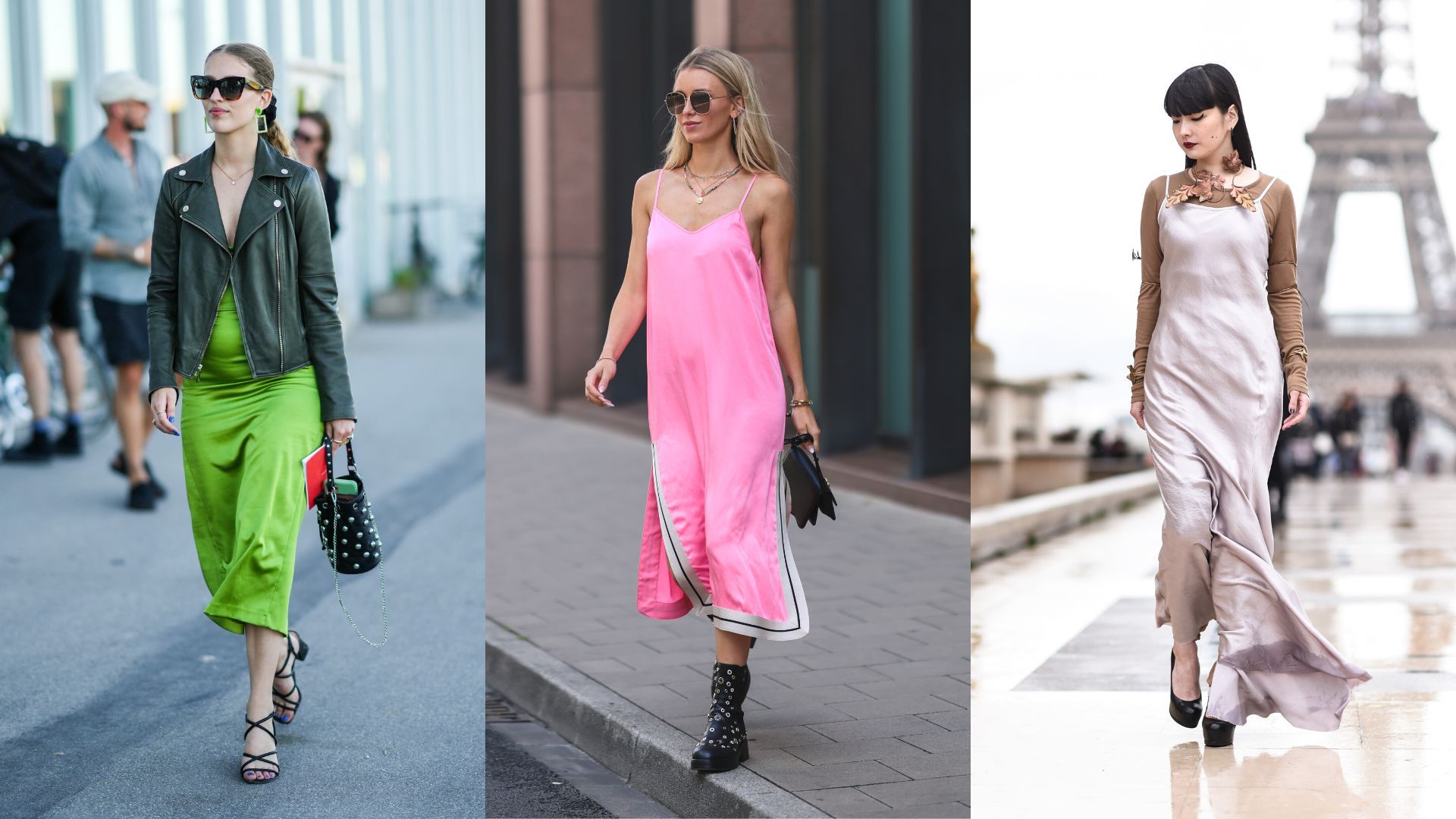 Loved by the likes of Kate Moss and Winona Ryder, the slip dress became a fashion mainstay in the '90s thanks to designers like Calvin Klein and Versace. It's back with a bang and it's no surprise as it is one of the most versatile dress styles you can invest in and can be worn in a multitude of ways.
How to style a slip dress for the '90s fashion trends comeback? Megan says layering is a great way to wear this classic style. She suggests adding a chunky knit, hooded sweatshirt, blazer or trench coat to create a contemporary feel.
Styling tip: Megan says simplicity is best when it comes to wearing a slip dress for a night out.
"If you're taking your slip dress into party season with you, keep it as minimal and classy as possible with no layering and sleek accessories - and remember, the thinner the straps the better".
Urban Touch Cowl Neck Slip Dress
RRP: $70 / £58 | A slip dress is way more versatile than you might first imagine. Worn layered over a white t-shirt or under a chunky knit it can easily go from day to night, making it great for smart casual outfit ideas. This russet shade is ideal for fall.
RRP: $129 / £79.99 | A chic sweater is an essential element of any fall wardrobe and this cropped cashmere one is smart and versatile. The shorter length means it is ideal for what to wear over a dress in winter or with high-waisted skirts and pants.
River Island Platform Boots
RRP: $74 / £40 | Another '90s fashion trend that's back on our radar is platform boots. Less Spice Girls and more stylishly low-key, this pair will go with everything in your wardrobe but will look especially chic with a mini skirt or your best midi dresses.
4. '90s fashion trend: Mesh tops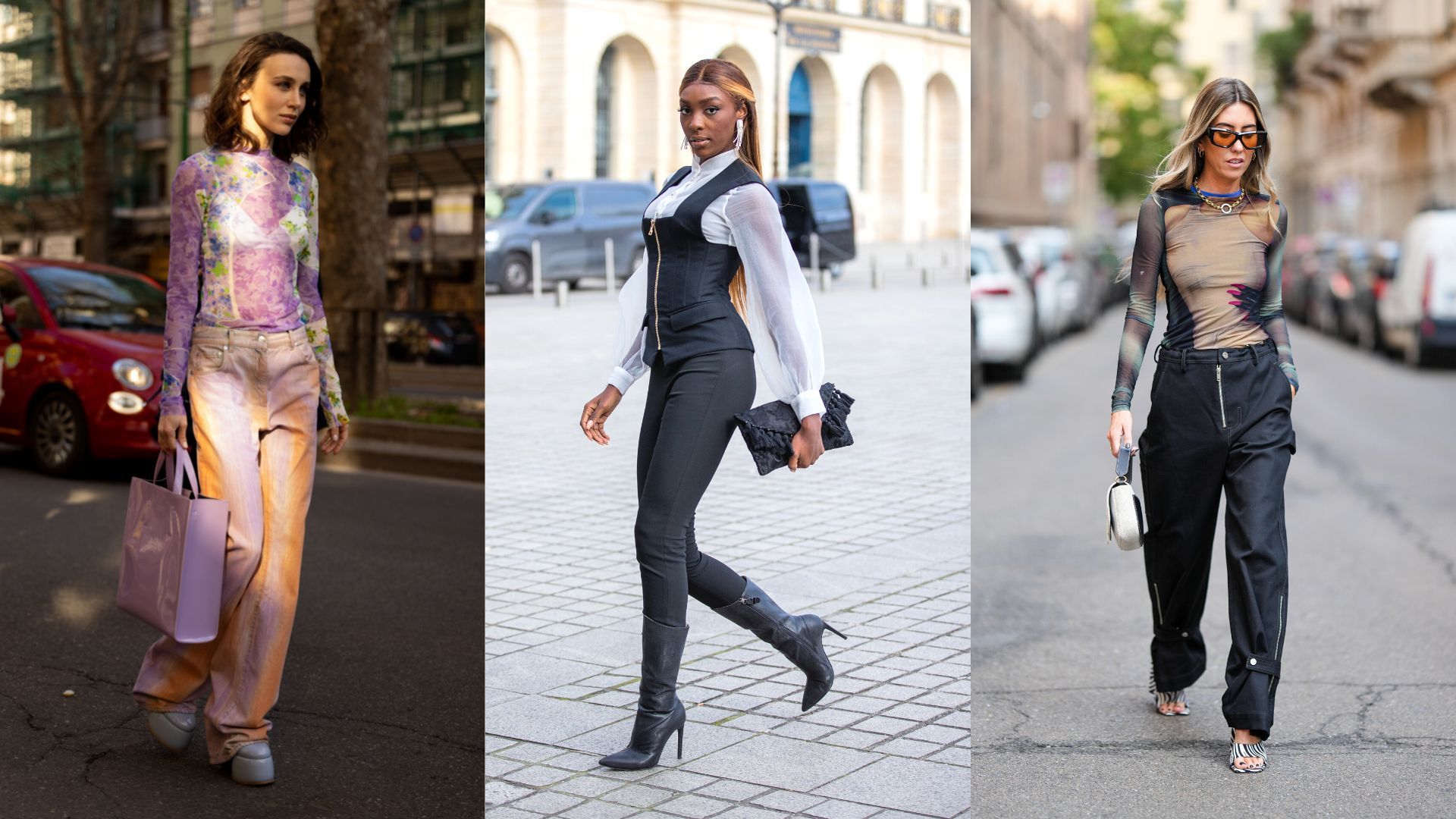 Mesh tops were very much a prominent fashion feature of the rave scene in the 1990s. Stretchy and comfy for all that dancing, they were also a little risqué, which was perfect for clubbing into the small hours of the morning.
Thanks to the thin material they are a great layering item for fall and winter. Wear them under dungarees or a slip dress for a total throwback look or give it a more modern feel by wearing it with a blazer or slip a cardigan over the top.
Style tip: Sheer blouses make a more formal alternative to the stretchy mesh top, while still tapping into the trend. For daytime, wear with a silky camisole underneath; for the evening, you can go a bit more sultry and team with a clashing bra top instead.
RRP: $30.29 / £28 | If you've been wondering what is Barbiecore and how to wear it, this pink sheer top pretty much sums up the look. The trend is a nod to Barbie's favorite shade and offers a great way to add a burst of color to fall wardrobes.
RRP: $128 / £108 | If you're not sure how to style cargo pants, just think of them in the same terms as jeans and wear them with similar tops. A little more relaxed and sporty, keep volume to a minimum on your top half for a more balanced look.
RRP: $165 / £130 | Adored by many celebrities, these are some of the best white trainers. The classic styling means these sneakers will go with everything adding a relaxed feel to all looks. The dash of pastel pink gives them a new season feel.
5. '90s fashion trend: Grunge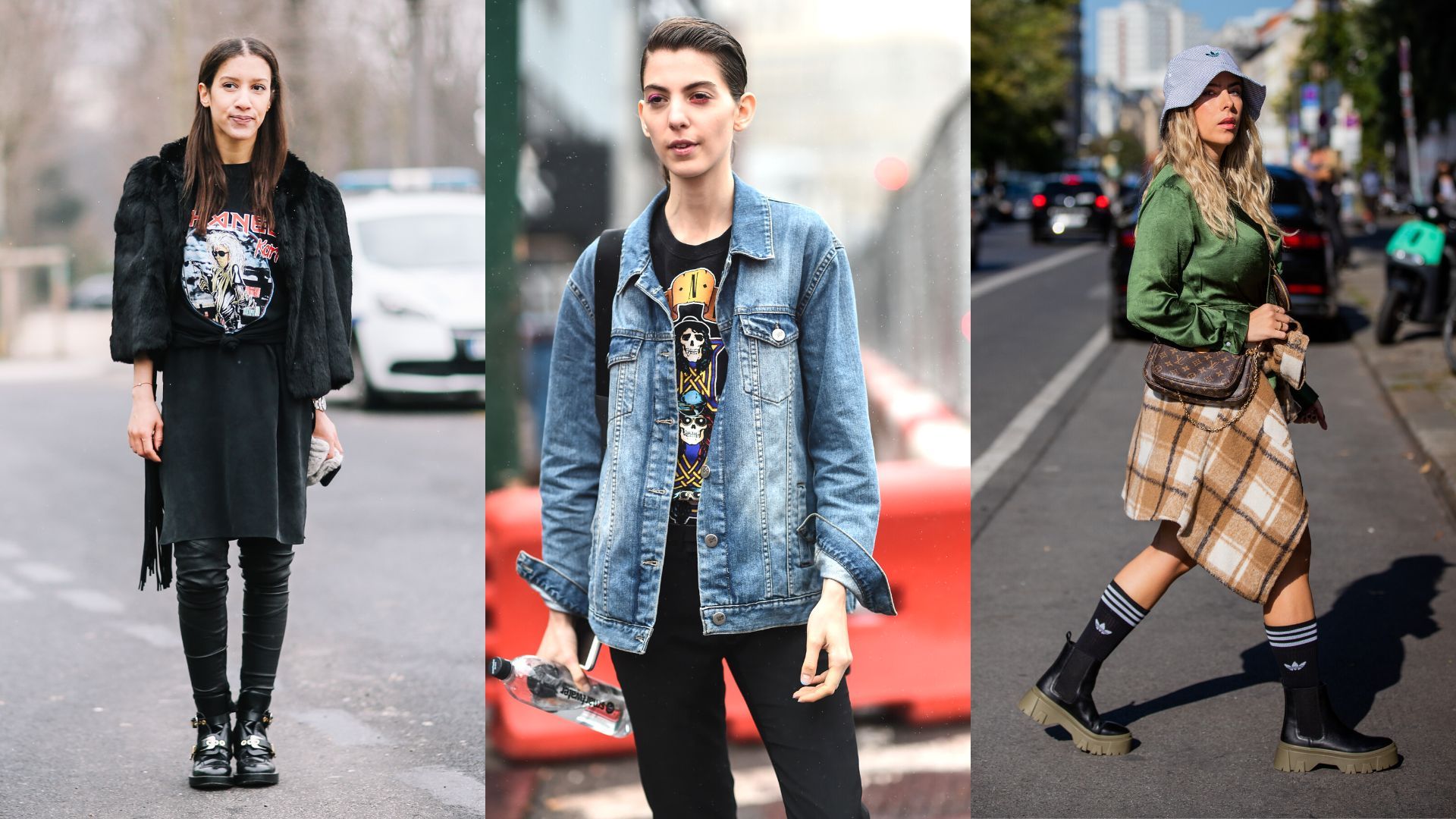 Back in the '90s Drew Barrymore, and Courtney Love were just a couple of the names that sported the grunge look. A look that said 'I've just thrown this on', it consisted of baggy cardigans, rock tees, ripped jeans, combat boots, and check shirts.
Now designers like French clothing brand, Givenchy have given the '90s fashion trend a 2022 upgrade, sending models down runways in baggy denim and leather jackets for a pared-down, grown-up version of grunge.
This look is definitely one to keep for casual moments, and often mixes tougher fabrics such as denim and leather, but if you do want to add a more feminine touch choose a dress. The best dresses for this look are long, dark and loose fitting, - this is no time for body con.
Style tip: The best shirts for this look are obviously checked, but if you want more warmth, go for a snuggly checked shacket teamed with ripped jeans, a rock tee, and Dr Martens boots for a cozy grunge look.
RRP: $19.20 / £16.80 | This trend is a lesson in how to style oversized t-shirts and nothing says rock and roll more than a graphic iteration, and thanks to its size it can also be worn as a dress. Don't want bare legs? Just add some leather leggings.
H&M Oversized Check Shacket
RRP: $49.99 / £34.99 | Checks never go out of fashion and a black and white shacket will go with everything in your wardrobe. The felt weave offers extra warmth and works well as a layer over a polo neck or one of the best jumper dresses.
Kurt Geiger Embellished Boots
RRP: $260 / £219 | When it comes to the best winter boots, the fall winter shoe trends 2022 heralded the return of the biker boot. A shoe that can be worn all day to add toughness to feminine outfits. These come with an added touch of sparkle.
6. '90s fashion trend: Logo bags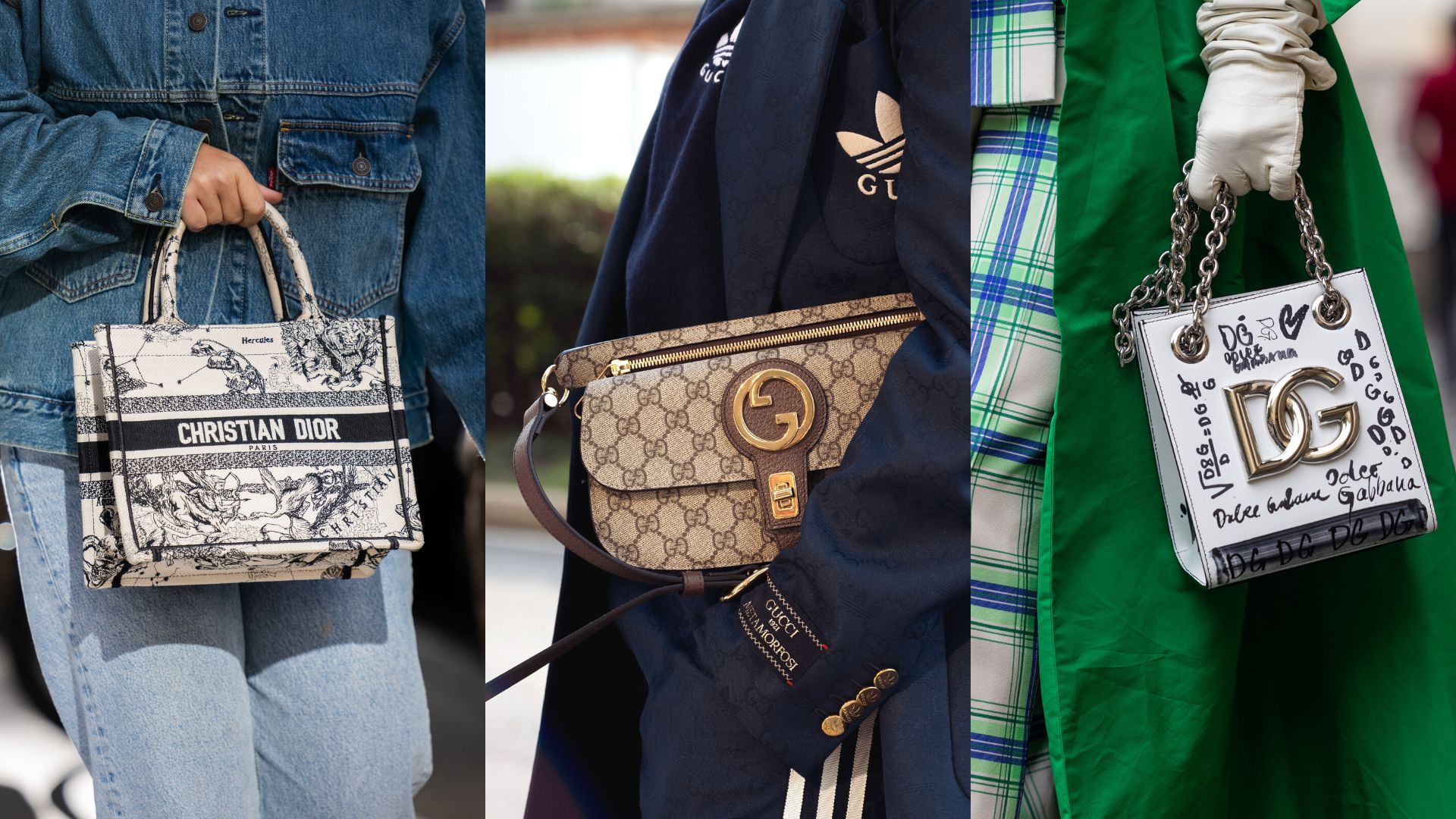 Logomania is back. A trend that began in the materialistic '80s when a bag showing a designer logo was a way of demonstrating success and wealth, the trend peaked in the '90s when style icons and celebrities across the globe were never seen far from their designer logo bags. Now, thanks to the likes of Dior, Gucci and Versace, the style is back with a bang.
When it comes to wearing a logo bag, less is more. Pair your best designer bag with wardrobe essentials, such as a white t-shirt and black pants, allowing your bag to take center stage.
Style tip: For a truly maximalist look, clash your all-over logo bag with other prints, such as a printed dress or jacket.
Gucci Ophidia GG Tote Bag
RRP: $1309 / £1,210 | One of the best designer tote bags that totally nails the logo trend is this classic Gucci bag. In the beige shade, the double GGs are relatively subtle, while the inlay Web detail adds a nice pop of color, without being too over-the-top.
RRP: $421 / £389 | Leather is a major fashion trend for the season and with chocolate brown one of the fashion color trends 2022, this coat ticks a lot of style boxes. Leather items get better with age making this timeless investment piece.
7. '90s fashion trend: Strappy heels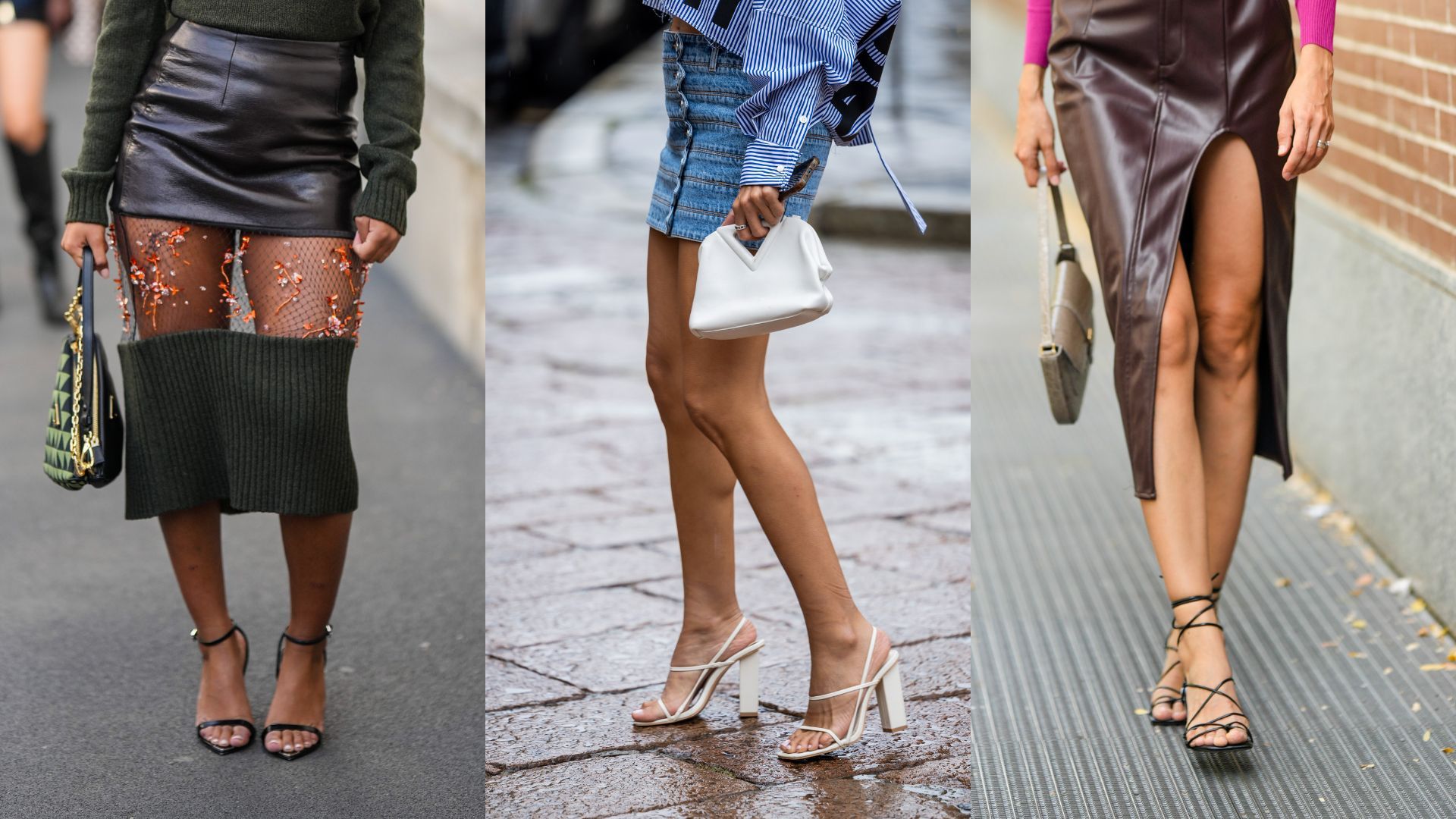 Once the ultimate '90s red carpet shoe, everyone from Halle Berry to Jennifer Aniston sported a strappy sandal. Now, thanks to its minimalist feel, the strappy sandal is back as one of the key shoe trends 2022.
This time round though it's not just for teaming with the best cocktail dresses - a low-heeled pair teamed with jeans and a blazer makes it a must for brunch outfit ideas too. The lower heel makes it easier to wear for longer periods of time, but without sacrificing on sex appeal.
Style tip: While black strappy sandals literally go with every outfit, for special occasions, invest in a pair of glittery low-heeled sandals. They'll add a touch of sparkle for everything from cocktail parties to Christmas party outfits.
Stradivarius High Strappy Sandal
RRP: $45.90 / £29.99 | You can't go wrong with a pair of black strappy sandals. The perfect accompaniment to your best midi dress, trusty jeans, and those on-trend leather pants. While these are high, they come with a flexible latex foam insole for greater comfort.