Paris Fashion Week street style looks that you can wear right now
These are the trending looks from the Paris Fashion Week street style snaps that you can wear right now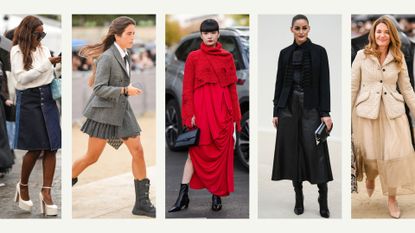 (Image credit: Getty Images)
In need of some inspiration? Paris Fashion Week street style shots deliver it in droves. One of the most elegant and directional fashion cities in the world, the outfits on sidewalks are sometimes just as exciting and thought-provoking as the runway shows themselves.
When it comes to choosing new season looks, inspiration comes from many sources, and as much as we love watching the fashion trends 2023 unfold on the runway, checking out what guests are wearing via Paris Fashion Week street style snaps can be just as rewarding when it comes to working out how to re-work your wardrobe for the season ahead.
Home to some of the world's great designer brands, French clothing brands at Paris Fashion Week attracts the ultimate style set. Guests attending shows often pay homage to current trends, the designer of the show they're attending, or what we might expect in terms of upcoming style themes, providing a great source of insider information. Pouring over Paris Fashion Week street style shots can provide ideas for how to restyle old favorites, or what to look out for in the coming months. These are the looks that you can start wearing as part of your fall outfit ideas right now.
Paris Fashion Week Street Style - Inspiration for your new season wardrobe
Largely considered the home of great style, fashion editor and stylist Antonia Kraskowski (opens in new tab) explains why Paris Fashion Week is such a source of street style inspiration:
"A city known for its inherently chic citizens and the final stop during the bi-annual fashion month, this is where the shows' guests pull out their best pieces to wear as they head to the fashion industry's biggest shows. After all, it's considered polite to wear the designer to the show you're attending and with Chanel, Louis Vuitton and Celine on the schedule, you can guarantee top-quality street style for everyone's final stop."
1. Red
As we head into the fall 2022 fashion trends, the holiday season comes to the fore, and while red never truly goes out of fashion, it shines particularly strongly in the run up to the festive period. To brighten up dull fall mornings, opt for bold berry hues to lift your look.
Tonal dressing was something we saw in abundance on the fall runways and as layering becomes key for the cooler months ahead, this red dress, with red sweater combo is great inspiration for what to wear over a dress this season. To take your best dresses into the coming months, try pairing them with tonal, shrunken sweaters to help keep your proportions balanced. Give summer dresses a winter spin with your best Chelsea boots, and as temperatures really plummet, add in some tights too.
This fit and flare silhouette is one of the most universally flattering styles, and a good one to keep to hand for special occasions. With the 2023 spring/summer fashion shows hailing the return of corset detailing - thank you Erdem - this nipped in waist and fitted bodice style could be winging its way back into our closets very soon. Giving every wearer an hourglass body shape, paired with some of the best designer heels, this is one of the best cocktail dresses for the upcoming party season.
2. Full Skirts
If you love the best midi dresses, then try this season's midi skirt for an easy way to mix up your wardrobe while staying true to a tried and tested silhouette. We spotted full, A-line midi skirts a plenty amongst the top Paris Fashion Week street style pictures and it's easy to see why. Offering a feminine finish to any look, the figure-flattering silhouette works for all body types. Sitting high on the waist, the style skims over midriffs and hips, elegantly finishing around the calf.
Looking for a new way to wear your best sweaters? Tuck knits in, to highlight your waist. For added emphasis, try one of the fashion trends 2022 top accessories, the wide belt. Acting with an almost corset-like effect, this is a great way to create curves, while the full skirt helps to balance out your proportions. This is also an ideal outfit for learning how to style a blazer with a more feminine edge.
Quilting was huge last year and the tactile trend is still sticking around for the fall making this look a winner. Give last season favorites a modern twist, like this Paris Fashion Week guest, by adding in one of the biggest fall winter shoe trends 2022 - the best cowboy boots. Ideal for creating smart casual outfit ideas, learning how to wear cowboy boots with past season pieces will help to bring ensembles bang up to date.
3. Trench coats
From the classic Burberry trench coat to the literally hundreds of iterations showcased on the runway or at straight to market brands, this piece of outerwear is a fall season classic, so spotting plenty of this capsule wardrobe must have at Paris Fashion Week was no surprise.
One of the types of coats every woman should own, this waterproof wonder is the easiest way to add polish to any look for fall and spring. Light but mighty, longer length versions are ideal for pairing with dresses or pants, while shorter styles work well with higher hem lines.
On warmer days and to highlight both your outfit and your waist, try tying the belt behind you. This naturally nips in your silhouette at your smallest part and takes away some of the bulk of the coat from the front of your frame.
When it came to the denim trends 2022, treated and coated jean fabrications were high on designers priority lists, rendering a denim trench coat, with a waterproof layer very much a directional piece. While this iteration isn't as timeless as say a camel or navy colorway, fall and winter is all about outerwear, and statement coats were a huge part of the coat trends 2022.
4. Quilting
Ideal for the winter season, thanks to its cozy properties, quilting has played a huge role in fashion trends over the past 12 months and if the Paris Fashion Week street style snaps are anything to go by, a look we should expect to see a lot more of in the coming 12 too. Ideal for lighter fall jackets and shackets, expect to see this textural trend available for all budgets and across some of the best gilets too.
Opting for a lighter colored quilted jacket ensures you can wear your purchase for both fall and spring, and add instant brightness to any look. Opting for a tonal look, this Paris Fashion Week guest showcases how to style a quilted jacket with a more feminine finish, pairing this tailored style with a directional tulle skirt.
Going heavy on the texture, sculptural pleating, paired with soft, tactile quilting creates a beautifully contrasted look. The best quilted jackets this season are excellent for layering both under heavier coats or over thinner garments, making them particularly versatile.
5. Gothic glam
A fairly constant fall/winter trend, gothic glam, or dark romance is a look we see on a fairly regularly basis at this time of year and one you can certainly embrace now. You're likely to have some of the building blocks to this aesthetic from previous seasons and if you explored what is Dark Academia, there will be pieces from that trend you can inject here too.
With an abundance of rich fabrications, think lace, tulle, velvet and leather, this look is elegant and romantic but with a rockier edge and the ideal styleto embrace for the holiday season.
Olivia Palermo absolutely nails this aesthetic, and follows it through with matching eye make up. Leather is set to be a massive influence on the upcoming fall season and ladylike A-line skirts, or leather culottes make a great base for a gothic romance ensemble. Work together masculine and feminine pieces and varied textures like Olivia to seal the deal.
For a prettier twist on the look, embrace lace and tulle fabrications, something we expect to see a lot of as we head into party mode. Layer up lacey and frothy textures for an elegant edge to this dark, almost grungy look.
6. Preppy with a twist
Between the '90s revival and the reappearance of mini skirt suits on the runway, preppy styles have subtly worked their way back into public consciousness. Not quite the Americana look that you'll recognize from countless teen movies, this iteration of the classic trend has more grungy undertones and feels a little more rebellious than 'girl next door'. Look out for monochromatic iterations and plenty of thigh high hemlines.
Wondering how to make a mini skirt polished? Search no more as the fall fashion trends deliver this aesthetic with ease. Mini skirts in tweed, boucle and wool in both A-line and pleated silhouettes are key to this aesthetic and are easy to inject in your every day wardrobe. For those nervous of the high hem line, pair your mini with opaque tights and treat it as an exercise in how to style knee-high boots. Pairing the two together means you can be directional without too much leg on show.
This grungy, preppy look has been accessorized to perfection, but if you deconstruct this outfit, you can easily wear one or two elements to help bring your wardrobe staples into the fall 2022 season.
When it comes to the handbag trends 2022, micro bags were a huge deal, with the best designer crossbody bags finding themselves shrunken in size. You can also inject a more relaxed feel to outfits with a fashion favorite, the stompy boot, or pair a classic white shirt, buttoned to the top, with a pretty pleated skirt for a slightly softer feel.
7. Ties
Once again drawing from the '90s fashion trend for a more grungy, minimalistic and masculine aesthetic, ties were perhaps the surprise hit when it came to Paris Fashion Week street style, spotted styled with numerous outfits. Largely in black or white for a smart and subtle finish, skinny ties were paired with shirts or streamlined coats and blazers, adding instant polish to guests ensembles. A superbly easy update for fall work outfit ideas, lean into the androgyny of this style and keep everything well tailored.
Blink and you'll miss it, for the subtlest way to wear this look opt for a tonal tie and shirt combination. A great way to explore how to wear wide leg pants this season, well tailored accompanying items are key to making this look sharp.
Offering a slightly softer and more feminine finish, a hint of a skinny tie under a neat coat or fit and flare dress adds interest to a look, acting as an alternative to a necklace this season. Once again, a monochrome palette is used to make the classic items take center stage, removing color in favour of high-quality cuts and fabrications. If you want to look sharp this fall/winter for either the boardroom or a black-tie occasion, this is a great alternative to classic cocktail frocks.
8. Bomber Jackets
A major fall trend, the bomber jacket is the latest piece of outerwear to walk straight off the runway and into our wardrobes. A revival of a classic style, this sporty looking jacket has been treated to luxe fabrications and embellishment and embroidery detailing giving it a more grown-up and glamourous feel.
An easy fall and spring-ready pieces of outerwear, the bomber jacket feels more luxury this time around. Up-styled on the runway with silky fabrications and delicate detailing, this look can easily be worn for dressy nights out. Giving any outfit a slightly more sporty feel thanks to its oversized silhouette and ribbed cuff and collar, wear your bomber over everything from dresses to jean and t-shirt ensembles.
For long-term wearability, the leather bomber jacket is one of the best leather jackets on the market right now. Getting better with age, look for vintage styles in second-hand stores or invest in a new season design safe in the knowledge you can wear this for years to come. More casual than embroidered or beaded iterations, it is no less directional.
9. Denim Skirts
The humble denim skirt was a key mover and shaker in this year's denim trends and is set to remain a staple in capsule closets. Giving a more dressy finish than your favorite jeans, Paris fashion week street style shots offered great denim skirt outfit ideas. Whether you go for fitted or A-line, high waisted styles are ultimately the smartest denim skirt silhouette. Keep your top half fitted, or use a half-tuck on your top to highlight your waistline.
Can't decide between blue or black denim? This skirt serves both and we love the patchwork style for an added boho twist. With a pleated panel too, this denim skirt combines sculptural and casual elements for a unique look, paired with Mary Jane heels, for a dressy finish.
Black faded denim is not quite as smart as jet black iterations, but the front ruffle design adds plenty of interest and detail to this outfit. Paired simply with slim fitting boots and a neat roll neck, this is a timeless outfit with a feminine edge.
Rivkie is a fashion editor, writer and stylist with over fifteen years' experience in the industry. Having studied design and pattern cutting at the London College of Fashion, Rivkie fell in love with styling and journalism, covering fashion weeks in London, Paris and New York.
Specialising in plus size fashion, Rivkie has long championed that style is for everyBODY and has been a regular talking head on a host of radio stations and television shows, pushing for greater representation for plus size women and fashion throughout her career.