How to wear cowboy boots: 7 ways to style these country classics
You don't have to love country music to wear this classic style - here's how to wear cowboy boots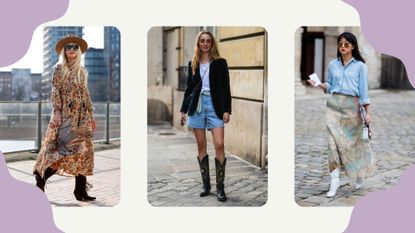 (Image credit: Getty Images)
Wondering how to wear cowboy boots? As the perfect transitional footwear, they pretty much go with everything and work just as well with cut-off shorts, as they do your favorite dress.
Originally created as protection for cowboys while riding their horses, cowboy boots soon became more than just an essential work item. Since then, everyone worth their fashion salt have been spotted in them, showing how to wear cowboy boots in multiple different ways. From Princess Diana matching hers with a blazer to the queen of country, Dolly Parton, wearing them with, just about everything. One of the biggest fall winter shoe trends 2022, today's love affair with the cowboy boot stems partly from the resurgence of Y2K fashion, with designers such as Louis Vuitton, Alexander McQueen and Isabel Marant sharing their take in the shoe trends 2022, breathing new life into the fashion classic.
For Texas-born fashion designer and CEO of Buddy Love (opens in new tab), Grayson DiFonzo (opens in new tab), believes comfort and cool are the reasons cowboy boots are popular once more.
"We've seen the preppy trends and '90s trends make a comeback and now the Western trends are mainstream again," she says. (And) "With the Yellowstone show becoming such a hit, I think it really launched everyone's fantasies to look more like Rip and Beth. Cowboy boots are also such a comfortable way to look dressy with minimal effort."
How to wear cowboy boots in 2022 for maximum style
If you've been wondering how cowboy boots are supposed to be worn in 2022, the answer is essentially, however you like. Gone are the days when they were only appropriate with double denim - these work boots are now firm fashion favorites and go with everything in your closet. And thanks to the wide variety of styles available, there's a cowboy boot available for pretty much every style occasion.
As Grayson says: "Cowboy boots are not just for concerts and rural recreation anymore. Add them to your everyday wardrobe for a fun, trendy look that will turn heads!"
1. How to wear cowboy boots with dresses
What is boho style without a boot, especially a cowboy boot? A floaty maxi or midi dress teamed with the best cowboy boots immediately gives a cool, bohemian feel, especially if you choose a boot with embellishments or fringing. While not an obvious warm weather choice, cowboy boots look great with pretty summery frocks. The best summer dresses to choose are slip dresses and those with prairie details, as the mix of androgynous boot and feminine finishes works nicely together. While the nature of the cowboy boot injects a touch of casual into any outfit, they can also be the perfect accompaniment to a glam dress for a night out.
Styling tip: When dressing for a night out, ditch boring black and choose a metallic pair of cowboy boots and team with a short velvet or embellished dress for maximum impact. Grayson says she particularly favors a tall dress boot for evening attire.
Annie's Ibiza Cowboy Boots
RRP: $422.80 / £350 | An exclusive collaboration with shoe genius Terry de Havilland, these silver cowboy boots will add glamour to any outfit. Don't just save for evenings out - these will look chic with jeans tucked in and a half-tucked sweater for some everyday sparkle.
(opens in new tab)
Pretty Lavish Kimono Dress
RRP: $60 / £58 | Every capsule wardrobe needs a little black dress and this one ticks every box. It works for day and night and suits all body types, thanks to the statement waist tie - looking good whatever the season. Just add tights for extra warmth come winter.
(opens in new tab)
Kenneth Jay Lane Necklace
RRP: $90 / £84 | One of the big jewelry trends 2022 was the return of the statement necklace. It's an easy way to bring an outfit bang up-to-date and this chunky delight also ticks the mixed metals trend, making it a must-purchase to elevate all your looks this season.
2. How to wear cowboy boots with jeans
An obvious way to wear cowboy boots is over your best skinny jeans, as the slim-line fit means they look neat and tidy. For a smart casual outfit idea, try jeans tucked into tall cowboy boots paired with a blazer or shirt, this works brilliantly, especially if you keep it all tonal.
Skinny jeans aren't the only denim shape to wear with cowboy boots though. As the love of the skinny jean dwindles, look to baggier silhouettes tucked into your boots for a new twist on the trend. If opting for this look, keep the top half more fitted to contour your shape.
It's also fun to play around with different lengths of jeans. Try a cropped straight jean with an ankle cowboy boot, or play around with how to style flared jeans in an extra longer length so that your cowboy boots just poke out from underneath.
Styling tip: If you want your legs to look longer, match the color of your jeans with your boots.
(opens in new tab)
RRP: $89.90 / £55.99 | Cream cowboy boots make a welcomed change from black or brown iterations and are great for the summer months, especially teamed with your best midi dress. These will also look great worn with denim of all kinds, all year round.
Baukjen Broderie Anglaise Blouse
RRP: $115 / £95 | Made from organic cotton, this pretty blouse is the perfect way to add a feminine touch to your favorite jeans or shorts. Throw a blazer over the top for a more formal look or team with a maxi skirt and boots for what to wear to a festival.
(opens in new tab)
RRP: $47.35 / £39.20 | Also available in Curve and Petite, this classic style jean has a vintage feel to it. The high waisted fit is super flattering and looks great with a blouse or sweater tucked in, while the shorter length allows you to showcase your boots to the max.
3. How to wear cowboy boots with skirts
While a denim skirt and shirt make the perfect accompaniment to cowboy boots, don't dismiss the other skirts in your wardrobe. The masculine feel of the boot makes for a cute contrast with super feminine skirts such as those with ruffles or florals. If you're looking for long skirt outfit ideas, cowboy boots are also the perfect finishing touch (draw inspiration from the flared jean styling tips above).
To nail how to wear cowboy boots with skirts, try pairing an A-line skirt with a more fitted top half, finished off with knee-high cowboy boots. The best shirts for this look will be slightly more casual or with cute styling details, such as statement collars or embellishment, playing on that mix of femininity and androgyny once again.
Styling tip: Cowboy boots will work with all lengths of skirt so don't be afraid to play around. Mix micro minis with knee high cowboy boots and maxi skirts with ankle style cowboy boots for a directional look.
(opens in new tab)
River Island Cowboy Boots
RRP: $278 / £150 | Make a statement with these unique cowboy boots from British clothing brand, River Island. Perfect for wearing with your favorite jeans, the red toe peeking out of long flares or under a maxi skirt is an easy way to inject some fun and color into your look this season.
(opens in new tab)
New Look Black Crop Blouse
RRP: $30.19 / £24.99 | The gem collar detail here gives this shirt a Western feel, while the puff sleeves make it feel uber feminine. Don't be put off by the crop style either - it's ideal for pairing with high-waisted bottoms and highlighting a waist without putting your midriff on show.
(opens in new tab)
Warehouse Curve Midi Skirt
RRP: $36.35 / £30 | The topstitching and button front gives this skirt a smart casual feel. A great cut for pear shaped bodies, the belt will help define your waist, while the A-line skims hips. Team with a simple t-shirt and trainers, or dress it up with a pretty blouse for smarter events.
4. How to wear cowboy boots with a Blazer
If you're wondering whether you should ever wear a blazer with cowboy boots, according to Grayson the answer is a resounding yes. "A blazer, bodysuit, and cowboy boot are literally the definition of Western chic," she says.
So, how to style a blazer with this classic country and western footwear? Take a leaf out of Emily Ratajkowski's style book and go oversized with the blazer, add some leggings or straight legged jeans, tucking them into a pair of tall cowboy boots. It's a look that will take you from grocery shopping to brunch with the girls. Oh-so flattering, it's comprised of wardrobe essentials you probably already have.
Styling tip: A dress, blazer and cowboy boots can definitely be smart enough for the office - just keep everything monochromatic for added polish.
(opens in new tab)
RRP: $109 / £90 | These boots are definitely made for walking and showing off. Don't hide these beauties under jeans, instead pair with a denim midi skirt or black shorts for real wow factor.
(opens in new tab)
RRP: $190 / £125 | An oversized blazer is an easy way to make any outfit feel more put together. Throw over a pair of leggings and you're good to go from the gym to a girl's night out in an instant.
(opens in new tab)
Arket Straight White Jeans
RRP: $99 / £69 | The high waist on these jeans will look great with a Breton top tucked in for lazy summer days, but equally stylish with a chunky knit and some statement cowboy boots come fall.
5. How to wear cowboy boots with a Blouse
Cowboy boots are a great pairing for a blouse - whether you choose a voluminous design, a longer length version or something cropped. When you're wondering what to wear with black jeans, an easy but stylish choice is a simple white blouse, jeans and black cowboy boots - either with the jean leg tucked in or have your boots peeking out from under the hem.
Of course, you can also play around with this look. Team a blouse with shorts and cute colored boots or add a blouse to a formal suit and tuck the trousers into your boots to get ready for fall.
Styling tip: Match the color of your boots to your blouse for a smarter finish.
(opens in new tab)
Free People Short Red Cowboy Boots
RRP: $298 / £268 | Indulge in some dopamine dressing with these short red cowboy boots. We guarantee these will be your happy boots, adding a splash of brightness to all black outfits or matching pretty florals in your favorite summer dress.
Kitri Vintage Style Floral Printed Blouse
RRP: $96 / £70 | A statement blouse is a must-have for any modern wardrobe. This one has the added bonus of having ties at the front so it can be worn over a t-shirt or cami as an extra layer. The scalloped edge and puff sleeve offer added luxe to your look..
(opens in new tab)
Karen Millen Asymmetric Denim Skirt
RRP: $100 / £59 | The resurgence of Y2K fashion means denim skirts are having a moment in the fashion spotlight once more. The asymmetric hem on this one gives it a directional feel. Pair with a classic white shirt and some cute cropped cowboy boots.
6. How to wear cowboy boots with a Co-ord
If you want to make a formal co-ord, such as a skirt suit, more laidback, cowboy boots are your friend. Whether tucked into suit trousers or teamed with a tailored skirt, choose boots in a similar shade to your co-ord to keep the outfit tonal. Cowboy boots also go well with knitted co-ords come fall and winter, ensuring this look will last well into the next part of the year. For a sleek ensemble, choose non-embellished, plain cowboy boots and mix with a ribbed knit set that will take you from brunch to the bar easily.
Styling tip: Remember that come fall and winter, cowboy boots will still look fantastic worn with tights. Go sheer if you want a more fashion look, or opaque tights for a more formal appearance.
(opens in new tab)
Stradivarius Black Cowboy Boots
RRP: $99.90 / £69.99 | If embroidered or colored cowboys are too daring for you, pick a super sleek pair like these, which contain minimum details and a smart heel. Pairing with everything in your wardrobe, they give a nod to the cowboy boot trend, whilst dabbling with the look of a chic riding boot.
(opens in new tab)
&OtherStories Knitted Crop Top
RRP: $19.99 / £55 | The beauty of a co-ord is that, if you choose wisely, you can get so much wear out of it. This design pairs with its matching skirt, as well as being easily separated out. Try this top with jeans and skirts or even over a shirt dress. Choose a dress in a contrasting color to make the look standout.
(opens in new tab)
&OtherStories Knitted Skirt
RRP: $39.99 / £55 | When it comes to cost-per-wear, co-ords are a winner. Aside from teaming with the matching top, this ribbed design can be styled on repeat. Try a contrasting chunky knit, a black polo or even a t-shirt and oversized shirt layered over the top, all of which will look great with this neutral skirt.
7. How to wear cowboy boots with shorts
When most people think of how to wear cowboy boots, Daisy Duke might spring to mind, however super short, cut-off denim is not the only way to wear shorts with cowboy boots. In fact, a longer Bermuda cut or mom short looks much more modern and directional with cowboy boots, especially if you add an oversized shirt or blazer to the mix. An ankle style boot also works best with denim, giving it a nice casual feel - perfect for festivals or sightseeing.
If you're wondering how to wear knee high boots with shorts, choose a more formal cut of short - such as tailored or leather iteration - and team with a slim-fitting blouse, half-tucked knit or tweed jacket.
Styling tip: Grayson says that while nothing looks better than a casual t-shirt and denim shorts, adding a puff sleeved blouse creates a dressier look.
(opens in new tab)
Nasty Gal Embroidered Cowboy Boots
RRP: $212 / £174.30 | These cowboy boots are not for the faint hearted. OTT, but definitely wearable, just keep the rest of your outfit simple and with a tougher edge to avoid looking like a children's TV presenter.
(opens in new tab)
RRP: $36 / £29.99 | A crew neck sweater is a fall must-have. Bright color clothes are a great way to jazz up a plain outfit, and if you're nervous about embracing bright hues, a sweater like this one is an easy option.
Do cowboy boots go over or under jeans?
For Grayson it's a question of who is wearing them.
"For the fashion forward female, boots should go over your jeans, however, for work boots or men's boots, they will remain under jeans," she explains.
The act of tucking jeans into your boot is actually known as blousing and was common practice among early Texas Rangers, most likely out of necessity to avoid all the ticks out there in the wild west.
However, since the '80s, women have been tucking their jeans into cowboy boots - Princess Diana was a particular fan of this look. To bring it into 2022, don't just leave it for your jeans, slip your cowboy boots over your leggings, trousers and yes, even sweatpants. Basically, if it just looks like you literally threw your boots on in a hurry to leave the house, then you've got the modern day look nailed.