Best jeans to wear with cowboy boots to nail Western style
We've rounded up the best jeans to wear with cowboy boots to help you get the most from this classic look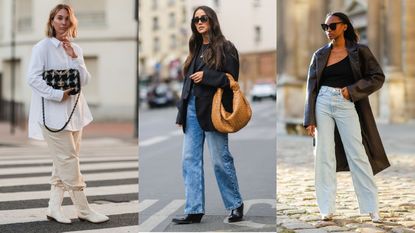 (Image credit: Getty)
Working out the best jeans to wear with cowboy boots will open up your spring wardrobe. These western-inspired stompers have been enjoying a bit of a renaissance since the end of last year, and as we move further into 2023, the cowboy boot shows no sign of abating, especially as we enter festival season.
Whether you've been drawn in by their country music connotations or spotted them on the runway at the likes of Chanel and Ganni, mastering how to wear cowboy boots is key to nailing this boot trend with maximum flare. While cowboy boots work well with dresses and skirts of all hem lengths, deciphering the best jeans to wear with cowboy boots carries a finer line, as you want to look stylish, rather than cliche.
The key to finding the best jeans to wear with cowboy boots is all about considering the cut and length of your jeans, the detailing of the boots (and whether they have a heel) as well as the overall silhouette of your ensemble. With many aesthetic aspects to balance, we've put together the best cowboy boots jeans and how to get winning denim style.
Best jeans to wear with cowboy boots: A fashion Editor round up of the best cowboy boot jeans
Although they have been labelled as one of this season's hottest shoe trends, personal stylist Zoé DuFour sees this versatile footwear as a silhouette that is always in fashion: "I don't think cowboy boots are a trend per se. You'll always find them in certain sectors of the country - hello Nashville!"
Daisy Barnett, founder, and personal stylist at The Daisy Edit, agrees that Nashville's iconic music scene has contributed to the style's return. "The popularity of country music and how it has become more mainstream is a primary reason for the cowboy boots trend," she explains. "But we're also seeing "workwear" as a trend in general. Cowboy boots are associated with the everyday working person in America and it's a big departure from the luxury logo brand trend."
But while they might be holding their own when it comes to this season's fashion trends, learning the best jeans to wear with cowboy boots comes with its own set of checks and balances. We've covered six key types of jeans and shown you how to wear them with cowboy boots.
1. Wide leg jeans with cowboy boots
New to cowboy boots? We'd say that the best jeans to start off styling them with are wide-leg jeans. This cut will sit snugly around your waist before flaring out into a more voluminous shape. What's great about this is that not only are wide-leg jeans universally flattering but there's enough room in the legs to slot your cowboy boots beneath without distorting the cut of your jeans, or your boots.
Ideal for easing yourself into the trend, make your wide-leg jeans a long-line pair and you'll just be able to see a little of the Western detailing and that tell-tale curved Cuban heel. As a general rule, you wouldn't tuck wide leg jeans into cowboy boots as the excess fabric would make this a tight squeeze. If you have a knee-high or fitted calf cowboy boot, you could also try a cropped, wide leg pair of jeans to really show off any stitch or embellishment detail.
Mango Cowboy Style Leather Ankle Boots
RRP: $199.99 / £119.99 | For a straight-to-market label, Spanish clothing brand Mango is really good at leather goods. We love how these are subtle when it comes to stitch detail, letting the signature cowboy boot shape have its moment instead.
Madewell Vintage Wide Leg Crop Jeans
Zara Retro Quilted Crossbody Bag
RRP: $49.90 / £29.99 | Inspired by some of the best designer crossbody bags this quilted number is sure to add some luxe to your look. One of the best crossbody bags for day or night, the metal hardware and chain detailing contrast well with the black.
2. Flared jeans with cowboy boots
All hail the return of flared jeans, some of the best cowboy boot jeans, the '70s are back in a big way when it comes to this season's denim trends. The answer to how to style flared jeans with cowboy boots is relatively straightforward as there's only really one option, take advantage of the way the shape flutes out from the knee and wear your boots beneath your jeans.
True flares don't really work when they're cropped (you need the extra length to see the shape) so only a slither of your boot will be visible. As that's the case, you might as well make a statement, so choose a cowboy boot in a vibrant color (silver is a huge trend right now), with a traditional pattern, or with steel-capped toes. A leather jacket is the perfect finishing touch and will give this retro-inspired look an extra edge. Because you generally won't see much of the boot in this jeans and boots ensemble you can afford to wear short or long cowboy boots with this style.
All Saints Jonty Metallic Leather Cowboy Boots
RRP: $379 / £249 | Think beyond All Saints leather jackets to their exceptional range of footwear. This silver pair of ankle boots have to be among the coolest footwear around this season. This cropped style will also work with kick-flared jeans.
Paige Leenah Distressed Jeans
RRP: $249 / £282.99 | Paige is one of the best designer jeans brands when it comes to hardworking denim. The fades to the thighs and softness of the fabric give a cool lived-in vibe, meaning they feel like an old favorite from the first wear.
Sanctuary Faux Leather Trench Coat
RRP: $129 / £104 | A term leather jacket doesn't just refer to biker styles. This thigh-grazing trench is the perfect layering piece for a spring capsule wardrobe. The self fabric waist belt can help to highlight or create the illusion of an hourglass body shape.
3. Kick flare jeans with cowboy boots
What do you get when you cross great flared jeans with the best straight-leg jeans? Kick-flare jeans. Ideal cowboy boot jeans, this style is the perfect compromise for anyone who wants to add a little interest to their look without tip-toeing too far out of their comfort zone. As the flute is closer to the ankle, there's less room than in a true flare, so you'll need to make sure your cowboy boots are no taller than ankle /low calf height - but taller boots will need to be very fitted on the leg area, leaning into cowboy boot territory on the heel and toe.
The good news is that kick flares tend to be cropped, which creates space to showcase the detailing on your boots, making them ideal for those looking to make a statement. Look for pairs with contrast color detailing or statement stitching to fit the bill. As for the shade of denim, that's up to you, but we think that lighter denim looks more authentic with cowboy boots. The exception is for evening, where darker washes will add polish to your look.
Dolce Vita Women's Landen Western Boots
RRP: $220 / £177 | Proving that the devil is in the details, the contrast piping to the side and top of these boots adds just the right amount of personality. The heel is a great height for all-day wear, and the dark color means these work with black jeans too.
H&M Flared High Crop Jeans
RRP: $39.99 / £34.99 | A favorite among the woman&home fashion team, these affordable jeans seem to suit just about everyone. Available in six different washes, including black and white, they're a great staple for a minimalist capsule wardrobe.
Le Specs Unreal Rectangular Sunglasses
RRP: $79 / £65 | Rectangular frames are a big sunglasses trend this season and Le Specs don't compromise on quality, making these some of the best sunglasses at the lower end of designer pricing, the slim, shape balanced the statement on your lower torso.
4. Skinny jeans with cowboy boots
When it comes to simple styling, the best jeans to wear with cowboy boots are undoubtedly skinny jeans. Why? Well, thanks to the tight fit, there's absolutely no wiggle room for wearing your cowboy boots under your skinny jeans, so the only option is to layer them over the top. Treat them, therefore, like leggings that are pants, and use this as your opportunity to wear a knee-high cowboy boot. You'll be able to see all of the detailing this way, including the signature curved upper and side tabs. For a subtle look that'll work for day or night, pair black cowboy boots with black jeans. Or draw attention to your new boots by contrasting them against your denim. If you're going down this route, keep the rest of your outfit simple (think your best white t-shirt or a cashmere sweater) to avoid stealing their thunder.
Madden Girl Redford Western Boots
RRP: $99 / £79 | Sleek and effortlessly stylish, we love how the stitching blends in with the rest of the fabric. This sandy shade is beautiful but very light, so be sure to invest in a good fabric protector spray to keep them look their best all season long.
Everlane The Mid-Rise Skinny Stretch Jean
RRP: $78 / £75 | Find high-rise jeans restrictive? Try a mid-rise pair of jeans instead. This pair has a generous amount of elastane in the mix for a figure hugging fit and ensuring they're some of the most comfortable jeans from AM to PM with ease.
Zara Cotton Bomber Jacket with Pockets
RRP: $59.90 / £45.99 | Bomber jackets are among the most popular coat trends for 2023, and this one ticks all the boxes. We love the muted mushroom shade of the main body - one of this season's key fashion color trends, contrasted with gold buttons.
5. Straight jeans with cowboy boots
A little more forgiving than skinny jeans, these have slightly looser legs, which gives them a more relaxed, laid-back feel. This makes them great cowboy boot jeans, as they really lean into the traditional Western workwear aesthetic. You can push this even further by opting for true or pale blue denim and maybe even teaming your jeans with your best denim jacket or a matching denim shirt.
As there's not much fabric to worry about tucking in, you can go as high as you want with your cowboy boots, tucking your jeans into your boots with ease. Knee-highs will look just as good with straight-leg jeans as they do with skinnies, and you can go for lower cut boots too without making your legs look shorter.
Equally, if you wanted to, you could pair short cowboy boots with straight leg jeans, as you will only see the tip of them if your jeans are worn over the top.
& Other Stories Western Cowboy Boots
RRP: $299 / £225 | Yee-haw! If ever there were a boot that was barn dance-ready, it's these. We are completely obsessed with the contrasting leathers and love the handy tab at the back, which makes getting these cowboy boots on and off a breeze.
Levi's Premium 501 Original Fit Women's Jeans
RRP: $98 / £100 | One of the best jeans brands, you can't get much more classic than a pair of Levi's 501s. The light wash is our top pick for a retro, Western-inspired look. A timeless buy for those looking for the best jeans for women over 50 too.
Levi's Premium Essential Western Denim Shirt
6. Mom jeans with cowboy boots
The best mom jeans are characterized by a high waist and tapered legs, which delivers a more relaxed fit around the middle and thighs. In pants terms, think of it as a more subtle balloon leg. For this reason, mom jeans are quite hard to team with boots too, as anything too wide will cancel out the nipped-in ankles, and can make your frame look unbalanced.
The solution? Make sure your cowboy boots are ankle length, relatively tight fitting (we don't want any gaping), and ideally heeled. The pointed toe will already work to make your frame look elongated, and a mid-size heel will only enhance that. Just make sure to keep the top half of your outfit fitted and cropped to the waist so as not to overwhelm your middle. If you only have a longline jacket, compromise by wearing it open over a tucked-in top.
Bershka Heeled Cowboy Boots
RRP: $89.90 / £59.99 | Trends are there to have fun with, and these red boots are a guaranteed conversation starter. They're faux leather, so a good choice for vegan shoppers and at under $100 they're pretty friendly for your bank balance too.
Mango Mom High-Waist Jeans
RRP: $69.99 / £35.99 | Made from 100% cotton, these mom jeans have no stretch to them, so will feel tight at first but will soon relax and mold to your silhouette with regular wear. The mid blue wash delivers a delightfully '90s fashion feel.
What are the best type of jeans to wear with cowboy boots?
The best type of jeans to wear with cowboy boots will depend mainly on whether you want to wear your jeans tucked in or out, as not all shapes of jeans will accommodate both. If you want to show off your boots, then skinny and straight jeans are your best choice. If you want to keep the majority of them hidden, then try a flare or wide-leg instead.
"Boot-leg jeans are the most common way to style cowboy boots, but unfortunately they cover the most interesting part of the boot," says Barnett. "Another option is to wear them with a cropped bootcut so you can see a little more of them, or, roll the cuff of straight-leg jeans. Tucking your jeans into the boots is considered a more extreme look and is typically difficult to "pull off"." If you are keen to go down this route, don't let any preconceptions about the trend turn you away. Just keep the rest of your outfit pared back to balance out the boldness of your footwear.
Is it ok to wear cowboy boots with skinny jeans?
It is absolutely OK to wear cowboy boots with skinny jeans. In fact, this is the easiest jean shape to pair them with. As skinny jeans fit close to the body, it's possible to wear them with long and short styles of cowboy boots. If you're hesitating because you think that the whole skinny jeans and cowboy boots look feels quite '00s, then don't let that put you off. It's a look that definitely endures, and has remained a go-to, off-duty look for supermodels and actors alike. Just keep your denim simple (that means no rips, no fades) in a neutral blue wash, and your cowboy boots classic (tan or black, leather or suede) not garish.
Can you wear straight-leg jeans with cowboy boots?
If you're still battling with skinny vs straight jeans, the looser fit of straight leg jeans is certainly a more relaxed alternative, which manages to feel both authentically retro and on-trend all at once. It's just about getting the layering right. "Straight-leg jeans can work if you roll them up," explains Barnett. But as with skinny jeans, there isn't space for layering them underneath. "Typically the leg opening is not wide enough to accommodate the boot," adds Barnett. If you're worried about bunching the denim in, we recommend gathering the fabric into a pair of socks first, so you're not relying solely on the boot to keep the bottom of your jeans in place. Good socks will help avoid blisters with new boots too, so it's win-win.
Jess Beech is an experienced fashion and beauty editor, with more than eight years experience in the publishing industry. She has written for woman&home, GoodtoKnow, Now, Woman, Woman's Weekly, Woman's Own and Chat, and is a former Deputy Fashion & Beauty Editor at Future PLC. A beauty obsessive, Jess has tried everything from cryotherapy to chemical peels (minus the Samantha in Sex and The City-worthy redness) and interviewed experts including Jo Malone and Trinny Woodall.