Spring outfit ideas: 9 looks to get you ready for the new season
We've rounded up the best spring outfit ideas from street style influencers to inspire your next wardrobe refresh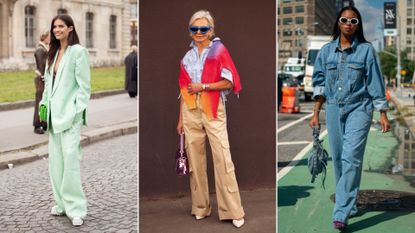 (Image credit: Getty)
When it comes to spring outfit ideas, if you're struggling for inspiration, you've come to the right place. With spring now here, it's time to give your wardrobe a sunnier outlook. One of the more complicated seasons to dress for, the arrival of spring can either fill you with renewed energy for the way you dress, or leave you feeling quite daunted about how to mix it up.
"Spring has officially sprung, and what better time to shake up your current wardrobe, in anticipation of the warmer months ahead," says Farrah-May Archer Boadi, Styling Team Lead at Stitch Fix.
Known for its unpredictable weather, spring offers the opportunity to experiment with layering, color combinations and getting playful with shapes. Whether you're heading to work, spending a sunny Saturday mooching with friends, or enjoying a night out, wearing sleeves in spring is always sensible. When it comes to bolstering your spring capsule wardrobe, opt for a mix of long-sleeved dresses, blouses, and jumpsuits. Or make sure you're carrying one of spring's key layering pieces, such as a classic trench, an on-trend bomber, or a colorful padded jacket. Not yet quite warm enough for shorter hemlines, if you do want to brave it, balance your look with a pair of knee-high boots.
Spring outfit ideas - all the inspiration you need for the season ahead
Struggling with spring outfit ideas? Don't worry, these street style influencers are ready to lead the way, and our fashion expert has shared her favorite pieces too, to get you spring-ready in no time.
1. Printed midi dress
To kick-start, those spring outfit ideas, switch out jumper dresses for the best midi dresses, preferably in a sunshine-welcoming bright print. The mercury hasn't quite risen to summer-worthy temperatures just yet, so to avoid chilliness we recommend opting for a long-sleeved style. If you did want to get a little early mileage out of your holiday dresses though, you could always layer your best white t-shirt beneath strappy styles, or add a sweater or cardigan, ideal for what to wear over a dress.
To match the easy-breezy feeling of lighter evenings and warmer days, make sure to opt for one of the best dresses with a little swish to it, rather than anything form-fitting. This will give you more freedom when it comes to footwear too, stick to your best winter boots for the early days of spring, graduating to your best white trainers and then to your best sandals as the weather catches up.
Fashion editor's picks…
H&M Greige Front Pocket Shacket
RRP: $59 / £39.99 |The soft, woven fabric of this oversized shacket makes for a cozy layering piece, while the lighter hue, ensures it is spring outfit-ready. Wear open to show the shape of your dress beneath and add an androgynous feel to your looks.
Free People Spell Solstice Boho Midi Dress
RRP: $289 / £258 | A long-sleeved dress is great for transitional dressing and we can't get enough of this pink and red design. Layer over a roll neck when winter rolls back around for a truly versatile wear, that is sure to add some dopamine dressing to your look.
Ted Baker Neyomi Leather Block Heel Ankle Boots
RRP: $240 / £195 | White boots are having a moment and this ankle-grazing pair are super versatile. Wear with midi and maxi-length dresses until it's warm enough for sandals. Don't forget to learn how to clean white shoes to keep them looking as good as new.
2. Co-ord
Save yourself the stress of worrying if the top and bottom half of your outfit go together by investing in a matchy-matchy co-ord. This trend has been bubbling in the background for a few seasons now but seems to have really taken over when it comes to the latest fashion trends this spring. There are so many different options to choose from depending on what you're up to and your own personal style. For a laid-back everyday look opt for an oversized top and wide-leg pants, or keep things more formal with tailored separates like a blazer and pencil skirt. Instead of sticking to neutral tones, use the changing seasons as an opportunity to step outside your comfort zone. Pinks and greens are not only big fashion color trends for 2023 but are guaranteed mood enhancers, and will make you feel far bolder and brighter than being clad in head-to-toe black.
Fashion editor's picks…
Zara Patchwork Print Oversized Shirt
RRP: $49.90 / £35.99 | If you're thinking bright and bold for your spring outfit ideas, then this vibrant patchwork-inspired shirt definitely ticks that box. Wear buttoned up or open over a cami for a more laidback look. It will also pair well with wide leg jeans.
Zara Patchwork Print Cropped Pants
RRP: $49.90 / £35.99 | When the weather gets warmer, wide-leg pants make for a more comfortable alternative to your best jeans. We love the combination of prints on this pair. For what to pack for a beach vacation, pair these pants with a white t-shirt.
Everlane The ReLeather Court Sneaker
RRP: $110 / £107 | The kings of a minimalist capsule wardrobe, every closet needs a pair of white sneakers and this pair with mustard suede patches will add a playful pop of color to the classic footwear style. The simple shape means they'll go with everything.
3. Jumpsuit
A flattering jumpsuit can be relied upon in all seasons but really comes into its own when thinking about spring outfit ideas. A long-sleeved jumpsuit or boiler suit in a substantial fabric like denim will give the warmth of a light jacket without the need for layers. If you do still need a little something extra, a cropped jacket is always the best option as longline styles can distort the lines of an all-in-one. Go for a jacket in the same color family for a tonal look or create a clash with a contrasting hue. Consider a good jumpsuit in a neutral shade as the foundation of your outfit and use accessories to add personality and flashes of color.
Fashion editor's picks…
RRP: $205 / £155 | French clothing brand Sezane can always be relied upon for a chic take on a trend. The collar, zip front, and tapered waist give this jumpsuit a '70s edge. The light denim hue makes it ideal for welcoming in the warmer months ahead.
& Other Stories Zebra Scarf
RRP: $49 / £29 | Who doesn't love a bit of animal print? This scarf can be worn around your neck, in your hair, or looped around your handbag. The zebra-inspired print paired with the contrast pipe detailing adds a refreshing spin to your look.
Mango Cowboy Leather Boots
RRP: $199.99 / £119.99 | The best cowboy boots returned to the runway, creating one of this season's hottest boot trends. Wear this pair beneath your jumpsuit, or, if you're feeling brave, tuck pants into them. They'll work with midi skirts and dresses too.
4. Skirt and blouse
Teaming a skirt with a blouse has gained an unfair reputation for feeling a bit stuffy, but there are plenty of ways to breathe new life into this spring-ready combo. Thanks to the '70s and '90s fashion trend revivals occurring this season, denim skirt outfits are back in a big way. Team yours with knee-high tan boots and a floaty shirt for a fashion-forward look. If you wore the denim skirt trend the first time and can't bear to go back, opt for an animal print or bold-hued skirt instead. A figure-hugging pencil silhouette will make any spring outfit feel more polished, and if you're still rocking a silky slip skirt, don't worry, this trend isn't going anywhere either. If you're opting for an attention-grabbing printed or bright skirt, it makes sense to keep your top half simple, so think clean lines and crisp collars when it comes to your blouse. A spring outfit idea that everyone can get on board with.
Fashion editor's picks…
Avec Les Filles Trench Coat
RRP: $199 / £160 | The best trench coats are a look that has become integral to a spring outfit, particularly in the classic beige hue. This design is a softer take on the style staple, thanks to the floaty, unstructured silhouette for a more feminine feel.
RRP: $69 / £55 | The brilliant thing about plisse is not only is it light (ideal for transitional dressing) but it's easy to tuck into skirts and jeans too. This inky blue top makes a refreshing change from black that doesn't compromise on the top's versatility.
RRP: $162 / £130 | We love the burnt orange shade of this slip skirt, as it means it can work for both spring and fall outfit ideas. The slightly fluted hemline gives it plenty of movement and a feminine feel, so add more structured tops to balance it out.
5. Blazer
The best blazers aren't just for the boardroom. Coat trends such as puffer jackets and cozy faux furs are off the menu for the next six months, making room for lighter layers in our closets. A blazer has the benefit of being both lightweight and smart, with a huge spectrum of colors, cuts, and fabrics to choose from, as this silhouette has blossomed in popularity over the last five years.
If you're after something office-appropriate then power dress with a double-breasted style with structured shoulders, or go oversized for an off-duty ensemble. Experiment with color, trialing a pretty pastel hue for a more spring-ready feel. Not sure how to style a blazer? Blazers work with pretty much everything, try longer-length styles with pretty midi dresses, or a pair of the best straight leg jeans.
Fashion editor's picks…
Everlane The Tencel Blazer
RRP: $178 / £173 | Designed with a menswear-tailored shape for a borrowed-from-the-boys feel, this blazer is perfect for layering over your best sweaters or other lighter layers depending on the forecast. It's super soft too to ease you into the season.
Reformation Frankie Silk Dress
RRP: $298 / £335 | This slinky slip dress can be dressed up or down. For how to style a slip dress, wear this dress with an oversized blazer and trainers for a more casual spin, before swapping for a cropped blazer and heels for the evening.
Sam Edelman Linnie Bit Mule
RRP: $140 / £130 | Thanks to their delicious pistachio shade, these buttery soft mules are some of the best loafers we've seen this season. The backless shape is great for avoiding blistered heels too and deliver a more summer-ready feel.
6. Pants and a top
Forget stylish tops to wear with jeans, this season, spring outfit ideas are all about pants and a nice top. Two key styles are dominating this spring - wide-leg pants and cargo pants. The first has been more widely accepted, while the other has been met with a bit more reservation. For a grown-up take on the trend that feels smarter than safari, choose cargo pants with pockets that sit relatively flat to the fabric, and don't add extra bulk around the thighs. It makes sense to wear them in a beige, biscuity, or khaki hue, but team them with something brighter to make sure you don't camouflage into the background.
Fashion editor's picks…
Levi's Kaede Cotton Prep Coat
RRP: $128 / £120 | If blazers and trench coats aren't quite your style, then a cropped shirt coat is the way to go. This washed pink hue will look amazing with all shades of denim and taps nicely into spring/summer utility styles and safari-inspired cuts.
RRP: $59.95 / £30 | A good sky-blue shirt will work just as hard in your wardrobe as a white one. The crinkled fabric gives this one, by American clothing brand Gap, will give any ensemble a more relaxed feel. Wear open over a cami or buttoned up.
All Saints Nola Cargo Joggers
RRP: $219 / £177 | For a luxe everyday look, swap your best leggings for a pair of cargo pants. When it comes to how to style cargo pants, the form-fitting shape and gathered legs on this pair put the focus on the statement side pockets, so keep your top fitted.
7. Jeans
Having one of those I've-got-nothing-to-wear days? We guarantee you've got a pair of jeans in your wardrobe, and lucky for you, that is very much the basis of a chic spring outfit. Our advice is to avoid overdoing it with the rest of your look, and just let the shape of your jeans be the focal point. Wide-leg jeans, straight-leg jeans, and flared styles are still all the rage, and if you feel bold enough, road-test this season's major denim trend, the low-slung waistband. Team with a simple white t-shirt, a striped Breton top, or a pared-back cashmere sweater. If you need an extra layer, a cropped boucle jacket will temper the relaxed feel of the jeans and pull your spring outfit together.
Fashion editor's picks…
RRP: $49.90 / £35.99 | With the fabric of a cardigan, but the shape of a jacket, this cropped knit is perfect for wearing with jeans. You can even buy a matching vest and shorts too for a full look.
Paige Leenah Volar Distressed Jeans
RRP: $249 / £284.99 | Flattering for all figures (but especially if you're tall) the high-rise shape and bow silhouette make legs look endless. The denim has a lived-in quality that feels very cool.
8. Plus-size
Let us begin by saying that all the styling advice above applies to everyone, regardless of size. Luckily, over the past 10 years, more brands have become inclusive with their sizing, so this spring it's easier than ever to find something that makes you look and feel amazing.
If you only invest in one thing this spring, make it one of the best plus size dresses that you can wear during the day with comfortable flats and a jacket, and dress up in the evening with heels and statement jewelry. Knowing you have something hanging in your closet that makes you feel like the best version of you will alleviate any morning wardrobe woes.
Fashion editor's picks…
Mango Green Ribbed Long Dress
RRP: $79.99 / £49.99 | A lightweight knitted dress like this is perfect for spring days when the sun is shining but the temperature is still low. The figure-hugging fit is really flattering.
M&S Collection Wide Fit Leather Kitten Heel Mules
RRP: $68.99 / £39.50 | The wide fit and low kitten heel earn these mules brownie points for comfort, while the square toe and spicy coral shade deliver when it comes to maximum style points.
9. Petite
Layers are a big part of spring dressing, which can be a daunting prospect if you're petite. But the secret to not feeling like you're drowning in fabric is to make sure your waist is defined, as this will help balance your proportions. Alternatively, a looser shape where you show a little skin on arms or legs, will also help to create harmony for your proportions. If you can, try to shop in the petite section of your favorite store, as the items there have been designed to flatter smaller frames. We know that's not always possible though, and if that's the case enlist the help of your local dry cleaner or tailor to tweak your new spring purchases for a spot-on fit.
Fashion editor's picks…
Cinq a Sept Quilted Patchwork Milena Jacket
RRP: $395 / £320 | Don't want to shop in the petite section? Go for a cropped jacket instead of a full-length one to ensure it hits below your waist in the right place. This padded jacket is a real beauty.
Nobody's Child Lilac Coco Midi Dress Petite
RRP: $84 / £95 | With frills to the shoulders and a deep low back, this ruffled dress is hopelessly romantic. The frilled front helps to add curves too. One of the best petite dresses we've seen.
How should I dress in spring?
The question of how to dress in spring is a popular one, as it does feel slightly less straightforward than dressing for the depths of winter or heights of summer. The weather is slightly less predictable as we move through April and onwards, so layers are the key to not getting caught out by surprise showers.
"Be thoughtful with your outerwear," advises Archer Boadi, "That new spring dress you're just dying to wear? Pair it with a trusty longline trench (they're having a moment right now) or an oversized blazer to achieve a chic smart-casual look. These light layers are perfect for some after-work drinks in your nearest beer garden, as the evenings start to get lighter, but not necessarily warmer."
"Layering up for something more casual? Try out the trusty 'shacket' or opt for a classic cardigan, a spring wardrobe staple that is both easy to throw on or to tuck into your bag when the sun comes out. Color-coordinate these with bold accessories to amp up the playfulness."
What colors do people normally wear in spring?
Spring is a good time to shake off the darker shades we gravitate towards during the colder months and incorporate a little more color into your wardrobe. Normally only wear black? Don't worry. Getting to grips with color isn't that scary.
"As most shades for the season are less vibant and more pastel, incorporating color in to your wardrobe might be a little easier than you think," says Archer Boadi. "Try wearing different tones of one shade together for a sophisticated take. For example, style a pastel pink tee with a champagne midi skirt. On cooler days, opt for a rose pink blazer, layered over a white tee and pale pink trousers – I think Elle Woods would approve of this one!"
"Alternatively, inject a pop of color by teaming more neutral pieces with colorful accessories such as belts, ballet pumps or scrunchies. You can also opt for neutral-based prints that have colorful accents within them. Or, make use of a stylist's ultimate tip – "outfit sandwiching". It's a crafty tool I use when my Stitch Fix clients are asking for a well-rounded, put-together look. Begin by selecting a color to act as your foundation (bread), which will essentially pull the whole look (sandwich) together when you incorporate it into both the top and bottom halves of your outfit. Next, choose an opposing color for your 'middle' (filling) - whether that be pants, a skirt, a shirt or cardigan. The result creates a high-impact twist on a monochrome look and there are many ways to go about it, depending on the overall look you want to achieve - and your own unique taste and style."
What clothes are trending this spring?
Thanks to the big and small screens, there are a few key trends that are set to be everywhere this spring. Amazon series Daisy Jones and the Six has bought with it a full '70s revival, while the upcoming Barbie film has meant a boom in pink and '90s nostalgia. But that's not where it ends.
"Silhouettes this season are looser, baggier, and more relaxed - think Kate Moss' appearance on the Bottega Veneta runway," explains Boadi Archer. "Picture 90's inspired wide leg denim, boyfriend plaid button-down shirts, and supersized blazers."
"We're also seeing classically feminine pieces take a slight twist for SS23. Sheer fabrics are everywhere at the moment and skin is definitely in for spring, be it a transparent turtleneck or a mesh dress, there is a see-through moment for everybody to enjoy. The beauty of ballet core also continues to shine through the new season trends, with peplum hems and ballet pumps amongst the hottest picks for these coming months."
Jess Beech is an experienced fashion and beauty editor, with more than eight years experience in the publishing industry. She has written for woman&home, GoodtoKnow, Now, Woman, Woman's Weekly, Woman's Own and Chat, and is a former Deputy Fashion & Beauty Editor at Future PLC. A beauty obsessive, Jess has tried everything from cryotherapy to chemical peels (minus the Samantha in Sex and The City-worthy redness) and interviewed experts including Jo Malone and Trinny Woodall.