The best sunglasses for every budget, style and face shape—from Ray-Ban to Mango
Find your perfect pair with our expert round-up of the best sunglasses to shop now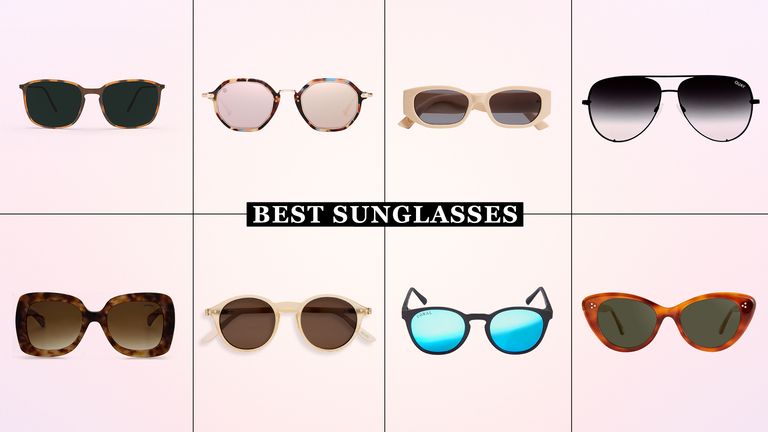 (Image credit: Future)
The best sunglasses are the ultimate summer staple. They have the ability to take any outfit to the next level. But with so many options, where does one even begin to look for stylish sunnies online? 
The best sunglasses are incredibly versatile and will compliment everything from your best dresses to your bathing suits. Needless to say, they are a very important addition to your capsule wardrobe, both sartorially and practically.
Whether you're looking to invest in a classic style that you can bring out every year or you want to make a statement in something bold and playful, there are plenty of pairs to choose from to suit your style and your budget. But remember the best sunglasses should protect your eyes from harmful UV rays, as well as add some sartorial flair to your look. Just like applying SPF, wearing sunglasses is a vital part of our summer routine to help protect our eyes from the sun's harmful UV rays.
"While moderate exposure to sunlight can have beneficial effects on health, the dangers of too much sun are widely recognized. However, far fewer people are aware that overexposure to UV rays can damage their eyesight," says Dan McGhee, director of professional services at Vision Express.
"Sunglasses can also significantly reduce the risk of developing certain eye conditions which may result from exposure to UV rays, including cataracts and macular degeneration."
Make sure you choose lenses that offer 100% UV protection when shopping for the best sunglasses. Anything less than that is just a fashion accessory that won't protect your eyes properly.
2021's sunglasses trends
Some frames will always be on-trend, so if you're looking for the best sunglasses for the long haul, then you can't go wrong with simplistic styles such as aviators and wayfarers. Cat eye sunglasses have a retro appeal that endures every year and flatters most face shapes–just opt for a more pared-back style in neutral color to keep them timeless. 
There are some new styles that are becoming fast faves for 2021 though. The revival of classic 70s trends—perhaps thanks to Jenna Coleman in The Serpent—means retro oversized frames and tinted lenses are front runners, along with bold angular shapes as seen on the Miu Miu catwalk.
"We saw tinted lenses have a huge moment over the winter months, alongside this aviators and square styles are definitely going to be a fixture on faces this summer," says Toby Attridge, head of product development at Taylor Morris, a luxury eyewear brand in London.
Classic styles are worth splashing the cash on if budget allows as you'll get plenty of wear out of them for years to come. But if you're more prone to misplacing your sunnies or you're just looking for more of a statement-maker that you can update every year, stores such as Mango offer affordable chic options that have UV protection covered too. And at more reasonable prices, you can buy more than one pair with no shame.
What are the best sunglasses for me?
Every face is, of course, different, but there are some basic rules if you are struggling with the age old dilemma of what sunglasses suit me? 
As a general rule, you should go for frames that balance out your features. 
For example, square faces should opt for softer shapes such as round and oval styles.
Whereas the best sunglasses for round faces are square and rectangular frames. 
If you have a heart-shaped face, then bottom-heavy, rounded or cat eye styles will be your go-to.
Diamond face shapes should veer towards oval and rectangle frames. 
And finally, lucky oval faces can pretty much wear any frame with aviators and bold shapes looking particularly chic.
The best sunglasses brands
The best sunglasses brands combine top notch UV protection and super stylish frames and there are an array of brands out there that do just that.
When it comes to designer frames that last, one brand that always remains top of their game is Ray-Ban. Crafting stylish sunnies since the 1930s, Ray-Ban sunglasses have been worn by everyone from Jennifer Aniston to the Duchess of Cambridge with their iconic wayfarers and aviators being the most recognisable around the world.
Sunglasses Hut offer a great selection of high-end designer shades that steal the limelight, including Prada, Tom Ford, Miu Miu and Le Specs.
For more budget-friendly options, Quay Australia have a collection of trendy and timeless frames with a festival aesthetic and Spanish brand Mango has a cool and classic collection that are very affordable.
The best sunglasses for women as chosen by our fashion experts
1. Silhouette Sun Lite 4078/75 6030 Polarised
Best polarised sunglasses
Specifications
RRP: $304/£259.90
Protection: 100% UV protection
Material: Acetate
Extras: Includes case and cloth
Reasons to buy
+Excellent visibility+Chic and minimalist
Reasons to avoid
-Expensive
Polarised sunglasses help to eliminate reflective light and increase visibility, and you can really notice the difference with these sleek shades. Although they are at the higher end of the price scale, they feel super-premium, and the vision is first-rate. They are really lightweight, too, and mold to the wearer's face for the perfect fit. The elegant, minimalist style keeps them modern, yet timeless so you know you'll get plenty of wear out of them from years to come.
Browse the full range at Silhouette here
2. Mango Acetane Frame Sunglasses
Best budget sunglasses
Specifications
RRP: $29.99/£17.99
Protection: 100% UV protection, category 3
Material: Frame - 100% recycled polycarbonate. Glass - 100% polycarbonate
Reasons to buy
+Budget-friendly+Trend-led
Reasons to avoid
-Might not suit everyone
Not only are these sunglasses incredibly chic, they offer all the protection too. Plus, they are crafted from partly recycled materials for extra bonus points. Perfect if you're looking for a trend-led pair to add to your ever-growing collection, the rectangle shape will look great on round and diamond face shapes. With their retro 90s appeal and ecru hue, they are a standout pair and would look delightfully stylish, teamed with a jumpsuit or floaty midi dress.
Browse the full range at Mango here
3. Miu Miu Charms Sunglasses
Best designer sunglasses
Specifications
RRP: $570/£420
Protection: 100% UVA and UVB protection
Material: Acetate
Extras: Includes case and cloth
Reasons to buy
+Flattering Shape+Statement piece+Timeless brand and design
Reasons to avoid
-More expensive-Lens quite dark
Looking to invest in some designer sunnies? Look no further than this stunning pair from Miu Miu. They have a classic cat eye shape that's flattering on most face shapes and will always be on-trend. The lenses are quite dark, but the vision is clear, and they are sturdy and comfy to wear with adjustable nose pads. There's even a small hole on the arm to add a cute charm for an extra glamorous touch. Just wait for all the compliments to roll in when you're rocking these.
Browse the full range at Miu Miu here
4. Quay Australia High Key
Best aviator sunglasses
Specifications
RRP: $65/£49
Material: Metal
Reasons to buy
+Affordable+Timeless style
Reasons to avoid
-Can be too big on smaller faces
With thousands of five-star reviews, we're not the only ones who are a little obsessed with these aviators. Affordable, stylish, and available in eleven different colors, they cater to everyone's needs and are comfy to wear too. The size is slightly oversized, giving the classic aviator shape a bolder update, ideal if you're looking for a statement-maker that will stand the test of time. They do a decent job of blocking out the sun with good visibility too.
Browse the full range at Quay Australia here
5. Coral Albacore Polarised Mirror Sunglasses
Best sustainable sunglasses
Specifications
RRP: $278/£199
Protection: 100% UV and UVB
Material: ECONYL regenerated nylon
Extras: Case and cloth included
Reasons to buy
+Eco-friendly+Polarised
Reasons to avoid
-Mirrored sunglasses not for everyone
Crafted from rescued ocean fishing nets and recycled plastic, these are not only achingly cool, but they're planet-friendly too. Handcrafted in Italy and designed in the UK, the lenses help to enhance both sunny and cloudy conditions with clear visibility. They feel pretty sturdy and have a sporty feel making them wearable during workouts too. Packaged plastic-free in a cool cork box and with carbon-neutral shipping, we are seriously impressed with this eco-friendly pair.
Browse the full range at Coral Eyewear here
6. Izipizi #D Sun in Fool's Gold
Best round sunglasses
Specifications
RRP: $50/£40
Protection: 100% UV protection, category 3
Extras: Case included
Reasons to buy
+Flexible arms to adapt to face shape+19 different colours
Reasons to avoid
-Not flattering on everyone
If a simple round style is your go-to, then these really pack a punch. Available in 19 different colors, from bold red to smart tortoiseshell, they're super versatile with much-needed UV protection. Lightweight and affordable, they're a decent choice for your summer hols and incredibly comfortable to wear too. They are tightly packed, making them well-suited for smaller face shapes. We are certainly tempted to snap them up in a few different colors!
Browse the full range at Izipizi here
7. Bloobloom The Icon
Best cat eye sunglasses
Specifications
RRP: From $140/£95
Protection: 100% UV protection
Material: Italian acetate, stainless steel
Extras: Vegan-friendly case and microfibre cloth included
Reasons to buy
+Prescription compatible +Retro style
Reasons to avoid
-None–we love these!
Cat eye sunglasses are super flattering, timeless and have that cool retro aesthetic that will instantly glam up your look. We are a little bit in love with this pair that not only looks oh-so-chic but ticks all the technical boxes too. Polarized and custom tinted lenses for extra clarity, an anti-scratch coating, and 100% UV protection. With every Bloobloom pair purchased, another is donated to someone in need with their Pair for Pair Initiative. As if we needed another reason to add this one to the basket!
Browse the full range at Bloobloom here
8. Ray-Ban Original Wayfarer Classic
Best wayfarer sunglasses
Specifications
RRP: $161/£131
Protection: 100% UV protection
Material: Acetate
Extras: Includes case and cloth
Reasons to buy
+Iconic style+Prescription compatible 
Reasons to avoid
-Thicker frame not for everyone
It wouldn't be a sunglasses roundup without a pair of Ray-Bans, and we can certainly vouch for the fact they are worth every penny. They have many iconic designs, but you really can't beat their simple wayfarers. The square silhouette flatters round faces effortlessly, and they have a sporty aesthetic that makes them universally wearable. Available in different sizes - standard and large and a variety of frames and lens colors, making it easy to find the perfect fit. 
Browse the full range at Ray-Ban here
9. Black Eyewear Garland Sunglasses
Best oversized sunglasses
Specifications
RRP: $271/£197
Protection: European Standard "CE" approved
Material: Cellulose Acetate
Extras: Includes case and cloth
Reasons to buy
+Makes a statement+Fits above the brow line (if you don't like them to show)
Reasons to avoid
-Quite wide, may swamp a small face
Go bold or go home with this larger-than-life pair. They have a wide fit that goes above the brow line, making them an ideal choice if you like your sunnies to shield most of your face. The bold square design will compliment a rounder face. Available in an array of different colors, we love the green hue for a pop of color. If you're after something a bit more versatile, go for a tortoiseshell style instead. You'll definitely get noticed in this pair!
Browse the full range at Black Eyewear here
10. Taylor Morris Westborne
Best mirrored sunglasses
Specifications
RRP: $259/£180
Protection: 100% UV protection
Material: Stainless steel, Cellulose Acetate frame
Extras: Includes case and cloth
Reasons to buy
+Premium feel+Super stylish
Reasons to avoid
-Not as sturdy
A fresh take on the classic round sunnies, these hexagonal sunglasses are super sleek and smart. Available in an array of different colors, we love the blue detailing on classic tortoiseshell for a modern update. The rose mirror lenses add an extra luxe touch too. They are pretty small in size, so they won't overwhelm delicate features. More fragile than some others, they will need taken care of. Luckily they are packaged beautifully in a nifty case.
Browse the full range at Taylor Morris here
11. Vision Express Unofficial Unisex sunglasses
Best prescription sunglasses
Specifications
RRP: From $40/£29 (without prescription)
Protection: 100% UV protection
Material: Metal
Extras: Includes case and cloth
Reasons to buy
+Prescription compatible+Never-date style
Reasons to avoid
-Not polarised 
A classic wayfarer style will stand the test of time, so this is the perfect pair if you want long-lasting, unfussy prescription sunnies. The square shape is finished in a gold hue and stylish tortoiseshell detailing with green-tinted lenses for a simple and sleek aesthetic that works on most face shapes. They feel a lot more expensive than they are with clear visibility and a sturdy frame. Vision Express also offers virtual try-on so you can really get a feel of how they look without having to leave the house - dreamy!
Browse the full range at Vision Express here
How should sunglasses fit?
When you're trying on the best sunglasses, a well-fitted pair should distribute pressure evenly to the nose, head width, and ears to avoid any aches behind the ears and red marks on the nose. 
"The top of your frames should be no higher than the line of your eyebrows, and the bottom edge of the frames shouldn't sit on your cheeks; otherwise, they will start to rub against your skin and cause irritation," explains Dan.
How to choose the best sunglasses
With a plethora of styles out there, it can be quite the style challenge to shop for sunglasses. Our advice is to get out there and try on as many as you can. Finding the best sunglasses for you is dependent on a number of factors, with three key things to consider:
Color: If you're looking to splash out on some sunnies that will last from one year to the next, it's probably better to stick with a simple color palette rather than go for a bold red pair that won't necessarily go with every outfit. Neutral hues such as brown, black, gold, and silver are fail-safe options that are easy to coordinate with your look. Classic and timeless, tortoiseshell is also a safe bet.
Material: Most sunglasses use acetate or metal. Acetate frames are lightweight and hypoallergenic, so perfect for sensitive skin. They are a lot more durable than regular plastic and flexible, too, making them an ideal choice for frames. Metal frames are typically made from stainless steel, titanium, and aluminium, all of which are lightweight and robust. If you have allergies, look for titanium as it's hypoallergenic so that it won't irritate the skin. Metal frames tend to be thinner than acetate ones and are generally used for styles such as aviators. This also means that some metal frames might not be able to accommodate stronger prescription lenses. Metal frames have nose pads that can be adjusted to fit, whereas acetate frames don't. Both materials are comfy to wear, so it generally comes down to personal preference and style choice.
Lenses: Most importantly, they need to offer 100% UV protection. The frame should have the CE UV400 mark to show that it conforms to the EU standards. Lenses also come in a range of different categories, depending on how dark they are–0 being the lightest and 4 being the darkest. Category 4 is ideal for skiing and snowboarding but not recommended for driving. Category 3 is the most commonly used in everyday sunglasses. Another aspect to consider is polarised sunglasses. They eliminate glare with super clear visibility, so excellent for driving. They are often more expensive but totally worth it.