Best prescription sunglasses for stylish eye protection on sunny days
Stylish and practical, find your perfect pair with the best prescription sunglasses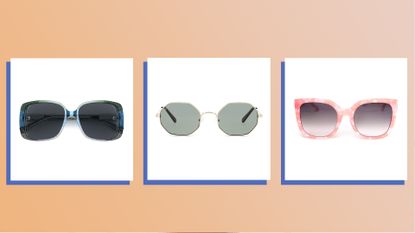 (Image credit: Future)
woman&home newsletter
Sign up to our free daily email for the latest royal and entertainment news, interesting opinion, expert advice on styling and beauty trends, and no-nonsense guides to the health and wellness questions you want answered.
Thank you for signing up to . You will receive a verification email shortly.
There was a problem. Please refresh the page and try again.
Everyone who relies on wearing glasses for perfect vision knows the struggle of choosing the best prescription sunglasses. Unlike regular sunglasses, it's not as easy as just popping on a pair of shades as soon as the sun makes an appearance.
While some may opt to wear contact lenses and regular sunglasses, others might prefer to invest in some prescription sunglasses instead.
Although prescription sunglasses can be more expensive, they are often worth the investment. They can be a lot more comfortable than wearing contacts, especially if you're at the beach and taking a dip in the sea. Wearing contact lenses in water can increase your chances of infection, so you may prefer avoiding the risk and going for glasses instead.
"Prescription sunglasses can be useful for those who are unable to wear contact lenses with traditional over-the-counter sunglasses and can also provide an easy switch for those who resort to wearing a substandard, cheap pair of sunglasses over their vision-correcting glasses," says Giles Edmonds, Specsavers clinical services director.
Prescription sunglasses have come a long way too. It's a sartorial myth that there are limited frame options, and we're here to prove there are a plethora of stylish shades out there that will go with everything from the best dresses to the best sandals. Big brands such as Ray-Ban and Meghan Markle's fave Finlay & Co are prescription friendly, so you won't have to sacrifice your style for your sight.
Why get prescription sunglasses
Just like our skin, our eyes need protection from harmful rays too.
"While many people understand the damage UV rays can cause to skin, fewer appreciate the damage they can cause to your eyes. Prolonged exposure of your eyes to UV has been linked to cataracts, macular degeneration, and even some types of eye cancer," says Mr. Edmonds.
Although prescription sunglasses tend to have a higher price point, cheaper sunglasses don't always cut it when it comes to top-notch protection, and there are certain things you need to look for when shopping for a new pair of shades.
"Before you buy a pair of cheap sunglasses, make sure they provide adequate protection—not all do. Sunglasses don't need to be expensive, but they should always conform to agreed safety standards," explains Mr. Edmonds.
"Look out for UV400 markings and aim for a pair that offer 80 percent light reduction. It's essential that we wear sunglasses whenever we're outside as, even on cloudy days, our eyes can be exposed to UV radiation."
Can you order prescription sunglasses online?
Ordering online prescription glasses has never been easier, and it is possible as long as you have an up-to-date prescription (prescriptions last between 1-2 years).
"For those who opt for prescription sunglasses, it's vital to have regular eye checks to ensure your prescription is up to date," adds Mr. Edmonds.
"Wearing glasses or contact lenses with an old prescription could lead to you suffering from headaches and eye strain, blurred vision, and dizziness. An out-of-date prescription which doesn't take into account any new changes to the vision could even be dangerous, particularly if driving too."
Most online companies will typically cover single vision lenses between SPH -5.00 and +5.00 without needing any additional measurements. This is because, among other things, additional measurements are needed when dispensing complex prescriptions, varifocals, etc.
Most prescriptions will not include the PD (Pupillary Distance), so it is essential you use the website's online tools to help you take these measurements. Or get in touch with the website for a phone, or even better, a FaceTime consultation.
Can I get a copy of my prescription?
Yes. Opticians are required by law to give you a copy of your prescription regardless of whether you make a purchase, so if you get a free eye test, you can get a free prescription too.
If you do need a new prescription, before spending money on an eye test, Martin Lewis at Money Saving Expert advises looking for a free one.
If you work using computers, you may also be able to get your employer to pay for your eye test, though they're only required to pay for your glasses if you need them just for your job.
How to chose the best prescription sunglasses styles
Finding your face shape can also help determine what sunglasses suit you. Most fit into the five different face shapes—oval, round, square, heart, and diamond—so you can choose styles that compliment your features. Go for contrasting details, for example, round faces suit square styles, and square faces can pull off round frames. Cat-eye frames flatter a lot of face shapes, including diamond and heart. Oval faces are lucky enough to pull off most frames.

Using measurements can also serve as a helpful tool for finding the best prescription sunglasses. If you already own a pair of glasses with a fit you like, look for a set of numbers inside the arm. The first number refers to the lens width, the second number refers to the bridge width, and the third number refers to the side length. You can then use these measurements to compare and select styles you're looking at.
If you have a high prescription and are short-sighted (-5.00 and up), your lenses will be thickest at the edges and thinnest in the middle. It's recommended that you choose a frame that has a small lens size and a narrow lens shape.
If you have a high prescription and are long-sighted (+5.00 and up), your lenses will be thickest in the middle and thinner at the edges. To get the best possible finish for your lenses, it's recommended that you choose a frame that has a small lens size and a round or square lens shape.
The best prescription sunglasses to shop now
1. Cubitts Herbrand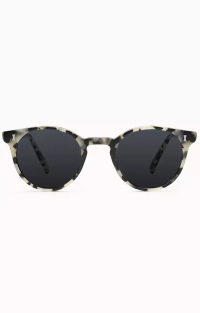 (opens in new tab)
RRP: From $165/£125 | Frame colors: 15 | Lens colors: Three
These slick round sunnies will suit square faces and people with flatter nose bridges. Cubitts make it super easy to find the right fit for your face, including a virtual try-on feature. They are also available in four different sizes, from small to extra large. There are many different designs and colors to choose from, including matte and gloss finishes and varying lens colors. Your options are endless!
---
2. Bloombloom Stylist in Frost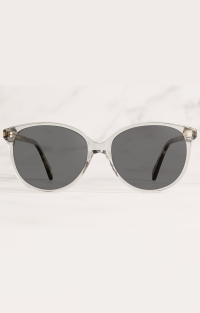 (opens in new tab)
RRP: From $140/£95 | Frame colors: Six | Lens colors: Six
Who says prescription sunnies can't be cool? This oversized 80s inspired pair is a must-have for any fashionistas. They deliver on all the technicals too, with polarised tints, an anti-scratch coating, and 100% UV protection. Plus, for every pair you purchase, Bloobloom donates a pair to someone in need in their Pair for Pair initiative. The brand is incredibly transparent, too, breaking down production costs, from materials to labor, for each pair on their website.
---
3. Ray-Ban Clubmaster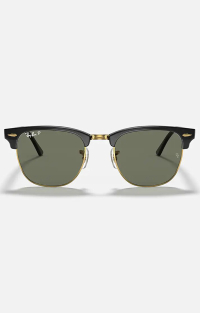 (opens in new tab)
RRP: From $161/£155.95 | Frame colors: Six | Lens colors: Six
You can't beat Ray-Ban for classic designs that last, and this simple and sleek style is a winner. Available in an array of different colors, we love this black and green combo which is bound to go with any summer outfit. Online opticians Mister Spex can fit prescription lenses into these beauties as well as a plethora of other pairs.
---
4. Finlay & Co Taplow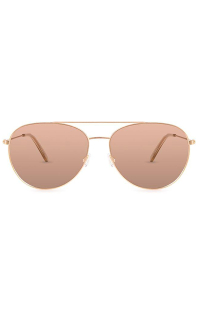 (opens in new tab)
RRP: $225/£150 | Frame colors: Four | Lens colors: Four
The classic aviator style will instantly give your outfit some serious cool points, and we love the rose gold update on these beauties for a fresher take. They are slightly oversized, too, for a contemporary finish with a metal brow bar and comfy acetate-tipped temples for all-day wear. With full UVA and UVB protection, you can also get these engraved for that extra personal touch.
---
5. Ace & Tate Kat Golden Brown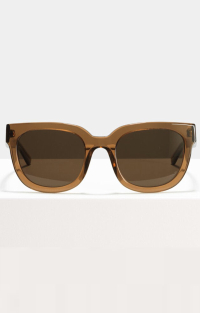 (opens in new tab)
RRP: From $125/£100 | Frame colors: Three | Lens colors: Three
These shades are classic, ladylike, and oh-so-chic. They have a wide frame with a slight slant that's flattering on round and heart-shaped faces and those who like their shades oversized. They have an anti-scratch lens coating and 100% UV protection that meet the EU standards. Their stylish frames are designed in Amsterdam, and virtual try-ons are available if you want to order online.
---
6. Marc Jacobs Sun RX 13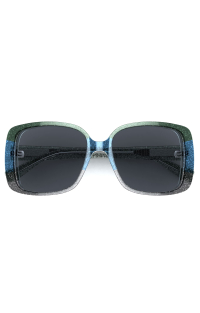 (opens in new tab)
RRP: From £149 | Frame colors: One | Lens colors: One
Specsavers is a go-to if you want to stick with your favorite designer shades and give them a prescription upgrade. This Marc Jacobs pair is a real statement maker and perfect for injecting a bit of glamour into your outfit. Featuring an oversized square shape, they would look stylish on oval or round faces. They also have a virtual try-on tool to help you find the perfect fit for your hair color and face shape.
---
7. Unofficial Unisex Sunglasses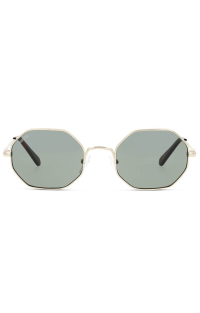 (opens in new tab)
RRP: From £39 | Frame colors: One | Lens colors: One
For a budget-friendly pair that still packs a punch, this smart pair from Vision Express is a great option. They offset rounder features with a hexagon shape, and the more delicate frame is perfect for smaller faces. A gold color with green lenses offers 100% UV protection, too—a decent choice for every day that will stand the test of time.
---
8. Alexis Amor Orla Hot Pink Marble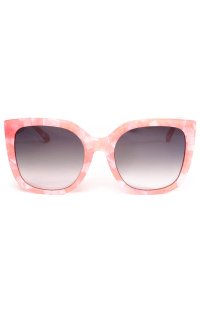 (opens in new tab)
RRP: From £295 | Frame colors: One | Lens colors: One
These feminine frames are super flattering on most face shapes and we love the pink hue for a summer refresh. They only come in one size so may come up big on smaller faces. All the prescription lenses have anti-reflection and anti-scratch coatings as well as full UV protection. Team with a gingham smock dress for a picnic-perfect look.
---
9. London Retro Lucas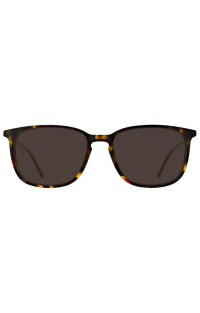 (opens in new tab)
RRP: From £89 | Frame colors: Three | Lens colors: One
If you want to stick with your go-to frames, then Glasses Direct is a good place to head. These stylish Lucas frames are available in a variety of lenses from sunglasses to varifocals to blue reflect. The tortoiseshell design gives it that cool retro aesthetic that will forever be on-trend. You can select frames for a home trial, too, allowing you to try on frames for free and send them back within a week.
---
Charlie is the Deputy Fashion Editor at Future plc across multiple women's magazines including Woman & Home, Woman and Woman's Own.
She bagged her first magazine job in 2009 and has previously written for titles including Stylist, Closer and Dare. Over the years Charlie has embraced anything that was thrown at her from styling celebrities to testing out the best jeans on the high street to writing about must-have beauty buys.
With a weakness for a printed midi dress, Charlie is on a mission to shop more sustainably and loves finding new ethical brands and second-hand buys.