Meghan Markle's tortoiseshell sunglasses are back in stock!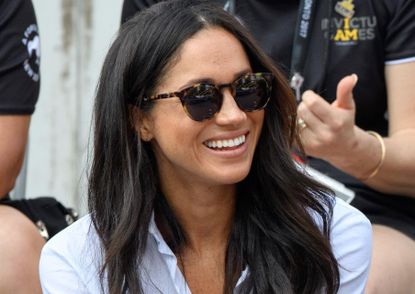 We love Meghan's style, especially when we are able to copy it ourselves.
Back in September 2017, Prince Harry and Meghan Markle made their first proper public appearance together at the Invictus Games in Canada. The happy couple laughed and smiled together the whole time, capturing the hearts of everyone who saw them together.
However, for many of us, there was one big question our minds - where are Meghan's amazing sunglasses from?!
It turns out, they are from FINLAY London, but sold out within hours of the pictures being published, and have been out of stock for a long time. Until now...
FINLAY has announced they have restocked the sunglasses, which sell for £120. So if you want a pair, now is your chance!
If you look very closely, you can make out a small MM on Meghan's pair, as she shelled out an extra £40 for them to be engraved - and you can too!
Meghan's exact pair are the Percy Frames in Light Tortoise and are available in multiple colours, perfect if you like the classic frame but are looking for something a bit different from tortoiseshell.
If you don't want to spend £120 on a pair of sunglasses, we have some cheaper (but still super stylish) versions that you might be interested in.
Lidl tortoiseshell aviators, £2.99
If you're after a super-affordable new pair of sunglasses, but can't quite stretch to Meghan's budget, these Lidl sunnies are the ones for you. With a similar, squared at the top, rounded at the bottom frame, the likeness to Meghan's original pair are clear to see.
This Lidl pair also features a similar tortoiseshell edge, for a brilliantly summery vibe.
But best of all, the sunglasses come in at just £2.99 - a complete bargain for any pair, let alone ones so similar to Meghan's!
But for those worried that the quality may not be there, never fear. The sunglasses guarantee 100% UV protection - so you can look stylish and protect your peepers at the same time.
However, if you want these for your summer wardrobe, you'll have to be quick, as they are limited edition. So when they're gone, they won't be coming back!
Le Specs Hey Macarena Sunglasses, £40
These gorgeous, classic frames are available on Net-A-Porter (opens in new tab), and will set you back £80 less than the FINLAY ones.
If you're looking for something even cheaper, then you might be in luck.
Pull and Bear Round tortoiseshell sunglasses, £12.99
This pair from Pull and Bear (opens in new tab) are super similar to Meghan's, and will set you back under £13 - what's not to love?!
If you love Meghan's classic shape as well as the tortoiseshell, but want something with a little more wow-factor then consider these...
Jeepers Peepers Round Gold Tortoiseshell Sunglasses, £18
These glasses (opens in new tab) are the same classic shape as Meghan's, but have the extra gold detailing that gives them a little bit more glamour.
With so many options to choose from, we're spoilt for choice this summer!
Mollie worked as a junior reporter across Women's Lifestyle brands, focusing on news, with a particular fascination with all things royal.
Mollie started out doing work experience across digital websites, before taking up a role as a digital intern, working mainly on woman&home, where she excelled at sourcing original stories for the woman&home audience, but also wrote up fashion, beauty, and general lifestyle features. She now works in marketing for a creative media recruitment company.
Mollie is a candle, film, and food fanatic, who also makes a mean margarita.