Sunglasses trends 2022—get ready for brighter days ahead!
The best sunglasses trends 2022 has to offer—and there's something to suit everyone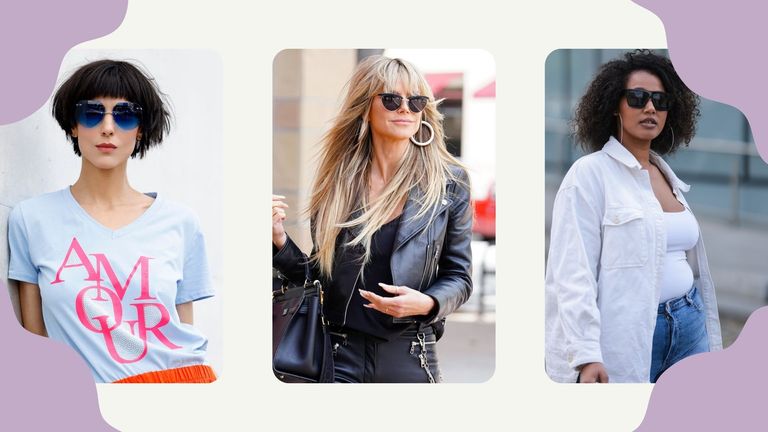 (Image credit: Getty Images)
Prepare for brighter days ahead with our expert insights into the biggest sunglasses trends 2022. Bring on the sunshine.
As summer makes itself known, there has never been a better moment to investigate the sunglasses trends 2022. Like with the best eyeglasses trends, if you choose wisely, your sunglasses will have longevity and look great year-round. An instant way to add a touch of luxe to your best swimsuits and best beach cover-ups, a great pair of sunglasses is a wardrobe essential. While many associate sunglasses purely with summer, even grey and overcast days can cause eye strain in the winter so make sure your eyes are covered, whatever the weather. When it comes to the best sunglasses to pick, there is a lot to consider. 'What sunglasses suit me?' is a commonly asked question and it's important to take into account both your face shape and complexion to help you select the most flattering sunglasses trends in 2022.
Natasha Luthra, David Clulow Resident Optometrist advises: "It's usually best to balance out your features. Take for example someone with strong cheekbones and a chiseled jawline—a frame with softer, rounder edges will complement these features beautifully. In contrast, those with a round or oval-shaped face or less definition would benefit from a more square or rectangular style—the sharper edges will help create the illusion of a more angular appearance."
For frame colors, those with olive or dark complexions have the run of hues as most will suit them. If you're pale, steer away from stern black frames that may wash you out, opting for soft, warming colors such as gold, pastels, or a pair like Meghan Markle's tortoiseshell sunglasses.
Sunglasses trends 2022—10 top predictions from fashion experts
1. Pastels
When it comes to the pastel sunglasses trend, many people ask 'what color suits me?' and automatically assume that pale shades will wash them out. However, quite the opposite is true. Blondes, redheads, and those with fair complexions look good in soft pink, pale blue, and soft greens such as mint or sage while lucky Brunettes can wear most colors. Those with darker complexions can have fun with sunshine yellows and soft violet for eye-catching sunglasses.
Simon Jablon, Creative Director for Linda Farrow, confirms pastels are a key look when it comes to the latest sunglasses trends:
"For 2022 we focussed on a soft pastel trend for our hero acetate styles leading with a lavender, peach, and sky blue color palette. We've seen over recent years that our customers are more and more experimental when it comes to colors, opting to color block and match their outfits rather than going for the traditional black or tortoiseshell every time".
Style tip...
When it comes to ice cream-inspired eyewear, don't be afraid to try on several shades and colors - you may be surprised by what ultimately suits you! One of the biggest sunglasses trends 2022, expect to see some of the best designer sunglasses in soft, sun-ready hues, although there are plenty of budget-friendly options too.
Our fashion expert recommends
2. Oversized '70s
The 1970s are the decade that never goes out of style and that certainly applies to sunglasses trends - the oversized frames of this decade are a style perennial to this day. Designer sunglasses by Chloé are the brand of the moment to shop if you're looking for an investment pair.
Natasha Luthra advises there are a lot of feminine styles to choose from when it comes to this trend, "as always, a feminine style sneaks in every season and this time it's the Butterfly shape, a strong chunky style, softens the face and is a natural showstopper."
Style tip...
Look for shapes such as rounded frames in neutral metallics and light-colored acetates for a pair of sunglasses you'll return to year after year.
Our fashion expert recommends
Great price
Le Specs Air Heart Sunglasses
RRP: $68.32 / £55.60 | A favorite of style queen Olivia Palermo, the dramatic size of these sunglasses will add flair to every outfit.
Farfetch Wire Frame Oversized Sunglasses
RRP: $396 / £300 | The delicate wire frames and light lenses of this pair contrast with the oversized shape for a feminine take on the oversize trend.
Dior Doll Round-Frame Acetate Sunglasses
RRP: $420 / £310 | These vintage-inspired frames will look great teamed with a kaftan and a wide headband for a '70s look.
Quay Ivory Statement Sunglasses
RRP: $85 / £65 | Quay know how to do style on a budget, and these oversized square-framed shades with polarised lenses will be perfect for any season.
Chloé Pink Acetate Sunglasses
RRP: $315 / £230 | Didn't we say Chloé owns the oversized trend? Well, these glasses prove it, with an understated frame and gorgeous gradient lenses.
3. Gradient Lenses
Try swapping your favorite dark lenses for gradient styles for a speedy sunglasses trend update—with less contrast against your skin than typical dark lenses, they are a great winter option.
Simon Jablon says, "more and more we find our customers are requesting lighter tint lenses since the pandemic. We believe this is partly due to masks as people don't want to be always wearing fully blackout lenses as their whole face is covered."
Natasha Luthra agrees that customer focus has shifted from frames to lenses, "it is all about the lenses, everything from soft blues and pinks to mirror lenses is quite popular, it's a very easy way to stand out from the crowd."
Style tip...
Pink and brown gradient lenses will add warmth to your complexion, while green and blue ombré are a great option for those that suit cooler hues.
Our fashion expert recommends
Great Price
Vicious Eyewear Sabine Sunglasses
RRP: £29 (International shipping available) | Not sure about color gradients? Theses lenses will give you all of the coverage of a traditional black lens but with the complexion flattering softness of a gradient lens.
Quay Australia Come Thru Sunglasses
RRP: $65 / £49 | Pair with any of the best pink dresses for a summer look that embraces 'dopamine dressing'. The gradient lens evokes feelings of beautiful sunsets, so you can kick-back and relax in style this summer.
Victoria Beckham Navigator Sunglasses
RRP: $320 / £255 | With a rich gradient lens and multi-tonal tortoiseshell frames, these sunglasses tick all of the style boxes this summer. A smart design team with summer workwear or your best blazer.
Linda Farrow Gradient Kew Sunglasses
RRP: $675 / £495 | The gentle sunset gradient on this pair from Linda Farrow is a flattering alternative to dark lenses. Farrow designs are great for the '70s trend.
Ray-Ban Gold-Tone Aviators
RRP: $178 / £140 | Ray-Ban's aviators with brown gradient lenses will never go out of style and will be sure to suit any outfit year-round, making these an ideal investment.
4. Statement Frames
Statement sunglasses are a great way to add interest to the simplest of outfits—slipped on with your best jeans and cashmere sweater, you'll get a totally fashion-forward look in a jiffy. To make the most of this trend, keep the rest of your look simple and classic and let your sunnies do the talking.
Style tips...
If you can't quite stretch to one of the best Gucci handbags, sunglasses are an excellent gateway into designer accessories—Gucci has long been the champion of statement eyewear with embellishment, logos, and thick arms creating stand-out looks.
Marie Wilkinson, Style Director of Cutler and Gross is a fan of statement frames: "Making a statement in sunglasses has been a trend for some time now however you'll find different people make their statements in different ways. You can make a statement with a colorway that pops and matches your mood or go bold with an oversized and unique shaped frame. If you have doubts about wearing oversized shapes, matching the frame to your hair color or opting for a translucent acetate colorway to balance the depth of the frame, allows the chunky or oversized frame to show without being too prominent or overbearing on the face".
Our fashion expert recommends
5. White Frames
While many of us associate white clothing and accessories with summer, white sunglasses are the ideal style pick-me-up to wear all year round. The light-colored frames help to brighten your visage on even the dullest of days - keep an eye out for styles in thicker frames and with darker lenses for a bold look.
Style tip...
The best rental fashion services offer you the ability to try before you buy if you're not sure you want to commit to expensive designer sunglasses. Many cyclical fashion models have popped up over the last few years from Rent The Runway in the US to Hurr Collective in the UK.
Our fashion expert recommends
---
6. The Classics
When it comes to sunglasses trends, there are some frames that never go out of style and that will suit virtually every face shape. The classics are often considered the best sunglasses to invest in for this very reason. Since James Dean first wore the Ray-Ban Wayfarer in 1955 in Rebel Without a Cause, this classic frame shape has come to be a byword for insouciant cool. Available in three different widths, every face size is catered for and the style also comes in a variety of colors. Try teaming with your best v-neck t-shirt, jeans and a tailored blazer for a timeless, stylish look.
Style tip...
If you're looking for a truly timeless pair that works year-round, go for tortoiseshell with green lenses. Plenty of brands have since copied the iconic shape with their own spin so don't be afraid to either!
Our fashion expert recommends
Ace and Tate Monty Sunglasses
RRP: $125 / £110 | A rounded take on classic styles, these frames will suit those with square features and narrow faces.
Ray-Ban Black Wayfarers
RRP: $163 / £137 | It doesn't get more timeless than Wayfarers. When opting for a dark frame, try a green lens for a softer look.
Taylor Morris Ledbury Sunglasses
RRP: $215 / £160 | A strong rectangular shape but a lightweight, narrower frame, offers a modern update on a classic style.
Gucci Round Sunglasses
RRP: $320 / £205 | Classic Wayfarers reimagined with a designer feel. The dark lenses paired with rich brown tortoiseshell create a year-round, timeless look.
Tiffany & Co Havana Sunglasses
RRP: $373 / £272 | Featuring a pop of Tiffany blue on the inside of the frame, these subtle and sophisticated shades will pair with everything this season.
7. Angular Frames
Angular glasses are a popular choice amongst the style set, with the Grand Dame of Fashion, Anna Wintour, rarely seen without hers—even on the Front Row.
Natasha Luthra tells us, 'there are quite a few trends popping up in 2022, one of the strongest is the angular chunky sunglasses, where frontal and temples are artfully crafted in striking shapes and complimented with contrasting colors.'
And Robert Roope, founder of Black Eyewear, is predicting a square sunglasses trend for 2022, "for this year I can see a major trend in large angular and squared frames. If you want to buy sunglasses to make a statement and add more character to your face, you should definitely go for angular and large frames."
Style tip...
When it comes to angular frames, those looking for sunglasses for round face shapes may find their features sharpened by square styles, while rectangular shapes will balance out longer faces, as seen on Gigi Hadid.
Our fashion expert recommends
Great price
Vicious Eyewear Antonella Sunglasses
RRP: £29 (international shipping available) | With upturned corners and quirky granite-like detailing, this frame is a stylish angular take on a typical cat's eye frame. We love the speckled marble frame design too.
Black Eyewear Kirk Sunglasses
RRP: $244 / £197 | The abstract zebra tortoiseshell acetate offers a statement look, out styling plain black or brown frames. Wear with a block colored look to allow these sunnies to shine.
Persol x Dolce & Gabbana Pink Sunglasses
RRP: $408 / £272 | If you love Italian clothing brands, then make sure to snap up this limited-edition collaboration between two standout Italian design houses.
Linda Farrow Titanium Sunglasses
RRP: $755 / £665 | The subtlest way to inject this look into your sunglasses collection, the gold frames give this pair a distinctly vintage feel.
Mango Tortoiseshell Retro Sunglasses
RRP: $29.99 / £17.99 | Ideal for adding sharpness to rounder faces, these thick framed, angular sunglasses continue to champion the '70s as fashion's favorite decade.
8. Cat's Eye Frames
A classic frame shape, cat eye silhouettes are flattering for nearly all faces. A major trend for eyeglasses this year, we're also seeing an uptick, in retro-inspired, cat eye sunglasses. Coming in all the classic tones: tortoiseshell, black, red and spring-ready blues, although this silhouette is on-trend right now, due to its vintage feel, it's unlikely to date anytime soon.
Style tip...
Think about how wide the frame is when purchasing a cat eye pair of sunglasses. The winged edge can often make the frames appear wider, but they should be around the same width as your face or just a bit beyond. If you really want to lean into the retro feeling of this particular style, look for wingtip detailing, such as an exaggerated point, or opt for some extra dazzle with an embellished pair. Red and black iterations will also channel the fifties look particularly well.
Our fashion expert recommends
9. Aviators