Sunglasses trends 2022 - get ready for bright sunny days!
The best sunglasses trends 2022 has to offer - and there's something to suit everyone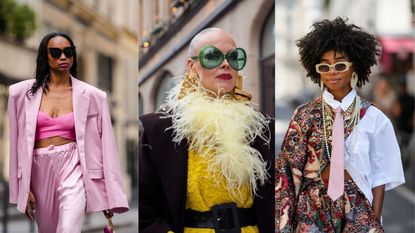 (Image credit: Getty)
woman&home newsletter
Sign up to our free daily email for the latest royal and entertainment news, interesting opinion, expert advice on styling and beauty trends, and no-nonsense guides to the health and wellness questions you want answered.
Thank you for signing up to . You will receive a verification email shortly.
There was a problem. Please refresh the page and try again.
Finally we have a need for the sunglasses trends 2022. While we've been prepping for warmer weather for several months, the summer is finally in full swing, and with some of the hottest days in recent years, you don't want to get caught without the latest shades to complete your look.
As summer makes itself known, there has never been a better moment to investigate the sunglasses trends 2022. Like with the best eyeglasses trends 2023, if you choose wisely, your sunglasses will have longevity and look great year-round. An instant way to add a touch of luxe to your best swimsuits and best beach cover-ups, a great pair of sunglasses is a wardrobe essential. When it comes to the best sunglasses to pick, there is a lot to consider. 'What sunglasses suit me?' is a commonly asked question and it's important to take into account both your face shape and complexion to help you select the most flattering sunglasses trends in 2022. And while the best designer sunglasses might slot nicely in with the latest fashion trends, you don't always have to spend lots of money, as our guide will show.
Natasha Luthra, David Clulow Resident Optometrist advises: "It's usually best to balance out your features. Take for example someone with strong cheekbones and a chiseled jawline - a frame with softer, rounder edges will complement these features beautifully. In contrast, those with a round or oval-shaped face or less definition would benefit from a more square or rectangular style - the sharper edges will help create the illusion of a more angular appearance."
For frame colors, those with olive or dark complexions have the run of hues as most will suit them. If you're pale, steer away from stern black frames that may wash you out, opting for soft, warming colors such as gold, pastels, or a pair like Meghan Markle's tortoiseshell sunglasses.
While many associate sunglasses purely with summer, even grey and overcast days can cause eye strain in the winter so make sure your eyes are covered, whatever the weather.
Sunglasses trends 2022: 10 styles to invest in, selected by fashion experts
1. Pastels
When it comes to the pastel sunglasses trend, many people ask 'what color suits me?' and automatically assume that pale shades will wash them out. However, quite the opposite is true. Blondes, redheads, and those with fair complexions look good in soft pink, pale blue, and soft greens such as mint or sage while lucky brunettes can wear most colors. Those with darker complexions can have fun with sunshine yellows and soft violet for eye-catching sunglasses.
Simon Jablon, Creative Director for Linda Farrow, confirms pastels are a key look when it comes to the latest sunglasses trends:
"For 2022 we focussed on a soft pastel trend for our hero acetate styles leading with a lavender, peach, and sky blue color palette. We've seen over recent years that our customers are more and more experimental when it comes to colors, opting to color block and match their outfits rather than going for the traditional black or tortoiseshell every time".
Style tip...
When it comes to ice cream-inspired eyewear, don't be afraid to try on several shades and colors - you may be surprised by what ultimately suits you! One of the biggest sunglasses trends 2022, expect to see some soft, sun-ready hues.
Our fashion expert recommends
2. Oversized '70s
The 1970s are the decade that never goes out of style and that certainly applies to sunglasses trends - the oversized frames of this decade are a style perennial to this day. Designer sunglasses by Chloé are the brand of the moment to shop if you're looking for an investment pair.
Natasha Luthra advises there are a lot of feminine styles to choose from when it comes to this trend, "as always, a feminine style sneaks in every season and this time it's the Butterfly shape, a strong chunky style, softens the face and is a natural showstopper."
Style tip...
Look for shapes such as rounded frames in neutral metallics and light-colored acetates for a pair of sunglasses you'll return to year after year.
Our fashion expert recommends
3. Gradient Lenses
Try swapping your favorite dark lenses for gradient styles for a speedy sunglasses trend update - with less contrast against your skin than typical dark lenses, they are a great winter option too. With the dopamine dressing trend being a key catwalk look, play with the fashion color trends 2022 when it comes to this style and embrace gradients in various hues.
Simon Jablon says, "more and more we find our customers are requesting lighter tint lenses since the pandemic. We believe this is partly due to masks as people don't want to be always wearing fully blackout lenses as their whole face is covered."
Natasha Luthra agrees that customer focus has shifted from frames to lenses, "it is all about the lenses, everything from soft blues and pinks to mirror lenses is quite popular, it's a very easy way to stand out from the crowd."
Style tip...
Pink and brown gradient lenses will add warmth to your complexion, while green and blue ombré are a great option for those that suit cooler hues.
Our fashion expert recommends
Great Price
Vicious Eyewear Fay Lilac Sunglasses
RRP: £29 (International shipping available) | In a soft and flattering lilac gradient, these sunglasses are not just a fantastic price, but a style you can embrace all summer. Pair with a maxi dress and your best sandals.
(opens in new tab)
Quay Australia Total Vibe Sunglasses
RRP: $65 / £49 | If bright gradient lenses are too showy, these black frames offer the perfect subtle nod to the trend. With an elegant edge, these will look sharp teamed with tailored items such as your best blazer.
(opens in new tab)
Victoria Beckham Sunglasses
RRP: $320 / £255 | These blue gradient lenses are bang on trend and we love the sleek and modern wired frame and aviator silhouette. A smart design, team with summer workwear such as your best shirt dress.
(opens in new tab)
Dior Oversized Square-Frame Sunglasses
RRP: $580 / £430 | The white of these frames contrasts beautifully with the dark gradient lenses. With statement D cut-outs on the arm, the minimal color palette makes them delightfully easy to style, too.
(opens in new tab)
Ray-Ban Square-Frame Sunglasses
RRP: $166 / £146 | Brown gradient lenses add warmth to any look, making them ideal for your summer wardrobe. These frames also have 100% UV protection - practical and stylish.
(opens in new tab)
Chloé Clear Carlina Sunglasses
RRP: $429 / £300 | Featuring a subtle purple gradient, Chloé's clear framed glasses offer style and sophistication in one. Pair with your best midi dresses in floral prints for a feminine feel.
4. Statement Frames
Statement sunglasses are a great way to add interest to the simplest of outfits - slipped on with your favorite jeans and best cashmere sweater, you'll get a totally fashion-forward look in a jiffy. To make the most of this trend, keep the rest of your look simple and classic and let your sunnies do the talking.
Style tips...
If you can't quite stretch to one of the best Gucci handbags, sunglasses are an excellent gateway into designer accessories - Gucci has long been the champion of statement eyewear with embellishment, logos, and thick arms creating stand-out looks.
Marie Wilkinson, Style Director of Cutler and Gross is a fan of statement frames: "Making a statement in sunglasses has been a trend for some time now however you'll find different people make their statements in different ways. You can make a statement with a colorway that pops and matches your mood or go bold with an oversized and unique shaped frame. If you have doubts about wearing oversized shapes, matching the frame to your hair color or opting for a translucent acetate colorway to balance the depth of the frame, allows the chunky or oversized frame to show without being too prominent or overbearing on the face".
Our fashion expert recommends
5. White Frames
While many of us associate white clothing and accessories with summer, white sunglasses are the ideal style pick-me-up to wear all year round. The light-colored frames help to brighten your visage on even the dullest of days - keep an eye out for styles in thicker frames and with darker lenses for a bold look. If you're getting married in the summer, then some white sunglasses will look fantastic if you're spending extended periods of time relaxing outside. Just make sure to consider the wedding dress trends 2022 before investing, so you can ensure your sunglasses work with your final frock.
Style tip...
The best designer dress rental services offer you the ability to try before you buy if you're not sure you want to commit to expensive designer sunglasses. Many cyclical fashion models have popped up over the last few years from Rent The Runway in the US to Hurr Collective in the UK.
Our fashion expert recommends
---
6. The Classics
When it comes to sunglasses trends, there are some frames that never go out of style and that will suit virtually every face shape. The classics are often considered the best sunglasses to invest in for this very reason. Since James Dean first wore the Ray-Ban Wayfarer in 1955 in Rebel Without a Cause, this classic frame shape has come to be a byword for insouciant cool. Available in three different widths, every face size is catered for and the style also comes in a variety of colors. Try teaming with your best v-neck t-shirt, jeans and a tailored blazer for a timeless, stylish look.
Style tip...
If you're looking for a truly timeless pair that works year-round, go for tortoiseshell with green lenses. Plenty of brands have since copied the iconic shape with their own spin so don't be afraid to either!
Our fashion expert recommends
7. Angular Frames
Angular glasses are a popular choice amongst the style set, with the Grand Dame of Fashion, Anna Wintour, rarely seen without hers - even on the front row.
Natasha Luthra tells us, 'there are quite a few trends popping up in 2022, one of the strongest is the angular chunky sunglasses, where frontal and temples are artfully crafted in striking shapes and complimented with contrasting colors.'
And Robert Roope, founder of Black Eyewear, is predicting a square sunglasses trend for 2022, "for this year I can see a major trend in large angular and squared frames. If you want to buy sunglasses to make a statement and add more character to your face, you should definitely go for angular and large frames."
Style tip...
When it comes to angular frames, those looking for sunglasses for round face shapes may find their features sharpened by square styles, while rectangular shapes will balance out longer faces, as seen on Gigi Hadid.
Our fashion expert recommends
8. Cat's Eye Frames
A classic frame shape, cat eye silhouettes are flattering for nearly all faces. A major trend for eyeglasses this year, we're also seeing an uptick, in retro-inspired, cat eye sunglasses. Coming in all the classic tones: tortoiseshell, black, red and spring-ready blues, although this silhouette is on-trend right now, due to its vintage feel, it's unlikely to date anytime soon.
Style tip...
Think about how wide the frame is when purchasing a cat eye pair of sunglasses. The winged edge can often make the frames appear wider, but they should be around the same width as your face or just a bit beyond. If you really want to lean into the retro feeling of this particular style, look for wingtip detailing, such as an exaggerated point, or opt for some extra dazzle with an embellished pair. Red and black iterations will also channel the fifties look particularly well.
Our fashion expert recommends
Vivienne Westwood x Specsavers Sunglasses
RRP: £149 (UK only) | British clothing brand, Westwood has collaborated with Specsavers to create an edit of eyewear. Featuring Rococo-inspired detailing on the hinge, to include Westwood's iconic orb, they're made from recycled plastic and bio-based materials.
(opens in new tab)
Zara Red Acetate Cat-Eye Framed Sunglasses
RRP: $29.90 / £19.99 | Pair these bright red sunnies with a slick of red lipstick, blue jeans and a navy and white Breton top for an instant outfit winner. We know that Zara will always deliver on trend-led items that won't break the bank and its sunglasses are no exception this season.
(opens in new tab)
Hot Futures Boogie Love Tortoiseshell Sunglasses
RRP: $112 / £95 | Independent brand Hot Futures provides high-quality and distinctive shades for every occasion. Cat-eye sunglasses are universally flattering and add a vintage feel to any look. In a classic tortoiseshell, this distinctive pair will be loved for years to come.
(opens in new tab)
Alexander McQueen Sunglasses
RRP: $245 / £215 | McQueen is well-versed in delivering trends with a twist and this pastel blue hue allows the brand to put its stamp on the cat-eye trend. With a pronounced and pointed silhouette, this pair of sunnies is ideal for teaming with white and denim.
Linda Farrow Silvie Cat Sunglasses
RRP: $690 / £500 | Bringing a delicate elegance to proceedings, these sunglasses feature mocha gradient lenses for a soft finish. With a more curved cat-eye silhouette, this pair combines retro styling with a thoroughly modern silhouette. Great teamed with neutrals.
Great price!
(opens in new tab)
Quay Australia Cat Eye Sunglasses
RRP: $77 / £65 | Available in marbled orange or plain black, these chunky cat-eye glasses feature polarized and gradient lenses for a practical wear. This peachy hue is ideal for welcoming in the summer sun in style and ideal for teaming with beachwear.
9. Aviators
A timeless trend, aviators are always a good choice when it comes to looking for sunglasses shapes to invest in. While they were originally developed in the early 20th century to help pilots protect their eyes and combat glare, they have since become one of the most iconic and enduring sunglasses trends of all time. And due to its cult status, there are plenty of options available at a host of price points.
Style tip...
You might also need to consider the best prescription sunglasses if you're an eyeglasses wearer. When choosing the best sunglasses trend for this purpose, make sure to pick frames that are thick enough to take your lens prescription. Wire frames, or slim aviators may not be suitable for your prescription, but thicker, acetate or statement frames will adapt more easily.
Our fashion expert recommends
10. Sporty Sunglasses
Sporty sunglasses is a rather wide-reaching trend. From oversized, ski-like goggles, to sleek, go faster, wrap-around iterations, designers really embraced a streamlined style, largely associated with high-performance sports sunglasses. For those looking for sporty options that will also perform when you're out getting active, stick to brands such as Oakley that specifically design for movement. For those that want to simply look like they might be heading off for a high octane workout, there are plenty of fashion iterations to embrace.
Style tip...
Not ones to shy away from the dramatic, designers interpreted this trend largely through mirrored lenses and oversized mask silhouettes, offering quite a head-turning look. If you're going bold, keep the rest of your outfit neutral and let the sunglasses take center stage.
Our fashion expert recommends
---
w&h thanks the following contributors for their time and expertise:
Marie Wilkinson, Style Director Cutler & Gross (opens in new tab)
Natasha Luthra, David Clulow (opens in new tab) Resident Optometrist
Simon Jablon, Creative Director of Linda Farrow (opens in new tab)
Antonia Kraskowski is a freelance fashion editor with over 15 years of experience in the industry.
Having started her career at Conde Nast working for titles including Easy Living, Glamour and Vogue New Markets, Antonia went on to work in the fast-paced world of newspapers and weekly magazines, becoming Fashion Editor at Express Newspapers and Magazines in 2014, a role she held for five years before going freelance.
Her career has seen Antonia travel the world, shooting in 18 countries and styling campaigns for brands ranging from Ben Sherman and DKNY to Wallis.