8 dress rentals to have on your radar— the best clothing hire sites for brilliant outfits
The most stylish and sustainable dress rentals in the US and the UK to try now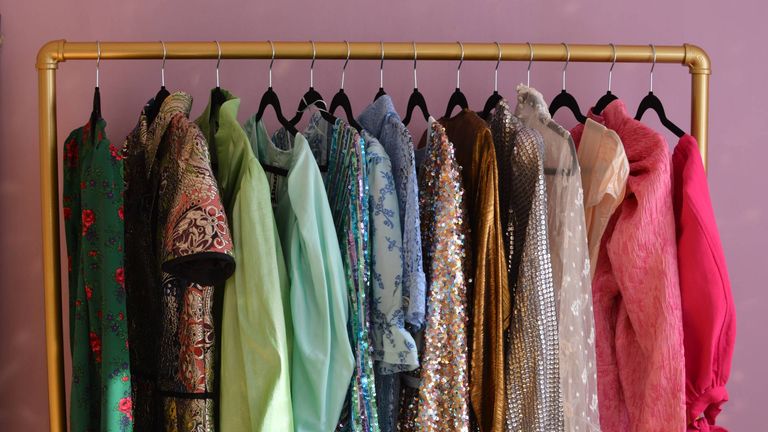 (Image credit: By Rotation)
The rental fashion revolution is upon us, and the best dress rentals out there offer a stylish and sustainable way to get your next fashion fix. With so many to try out, borrowing rather than buying your next outfit is easier than you may think. And with several fashion editors and well-dressed celebrities already fans (the best rent the runway dresses have been spotted at fashion week and on the red carpet) any stigma around wearing second-hand pieces has been banished.
How many times have you looked in your closet and uttered the words "I have nothing to wear", as you stare at a rail of clothes? Or, received an event invite and your initial thought is that you need to buy a new outfit for it? With fast fashion speeding up the availability of endless outfits, it's no surprise we've become accustomed to a throw-away lifestyle.
But this is changing—with some of the best sustainable clothing brands around and rental fashion on the rise, there are alternative ways to shop. With the help of some of the best clothing rental services and best clothing rental subscriptions, it's quick, convenient and fashionable to hire an outfit instead. In fact, it's basically trending, but we see it less of a trend and more of a longstanding shift in the way we get dressed.
3 Reasons to try dress rentals
There are so many pros to renting an outfit instead of simply buying a new one. They boil down to three main points. Renting helps:
reduce pollution and climate change
save you money, and can earn you money
you develop your style risk-free
1. Reduce pollution and climate change
But let's start with the shocking facts. The fashion industry is thought to be the largest polluting industry, second to oil, in the world.
And with a garbage truck of textiles being added to landfills or burned every second, it's no surprise that globally, 92million tonnes of textile waste is produced each year. Many fast-fashion retailers promote eco collections, but evidence suggests that this is often just greenwashing.
This is why rental brands are pushing for more people to reduce their individual impact by renting clothes instead of buying new, because every little effort really does help. UK rental site Rotaro reports that for wedding season alone, if everyone wears a pre-loved outfit the carbon emissions saved will be the equivalent of taking 56million cars off the road for a day.
2. Save you money and earn you money
Renting is not just for special occasions though. Peer-to-peer rental platform, By Rotation, encourages its community to share outfits for everyday wear at any time of the year. Need a killer outfit for an important work meeting? Or want a new dress for date night? Rent it.
The best dress rental services will not only save you money, as the cost of a rental dress is a fraction of buying a new one, they can also earn you money. If you don't want to sell clothes online, you can rent out your much-loved pieces so that they earn while you're not wearing them. By Rotation's ethos is: why have a piece hanging in your closet when you can make money from it?
3. develop your style risk-free
Renting clothes also allows you to experiment with different trends and styles to see if they suit you (if you have trouble figuring out what suits you, read our guide to dressing for body types) without committing to a big purchase. "Rental provides a sustainable and affordable alternative to buying an outfit and wearing it once. Customers tell us the service lets them experiment with fashion—often trying bolder styles from brands they haven't purchased from before. Also, 47% of women say they feel pressure to wear a different outfit for every event. We basically facilitate those special occasion outfits being shared, instead of each customer buying an outfit and wearing it once." says Isabella West, co-founder of rental service, Hirestreet.
Is renting clothes sustainable?
There's no getting away from the fact that the most sustainable way to shop would be not to shop at all, and to only wear what you already own. But let's face it, for many of us that's not realistic. Plus, with the fashion industry forever growing, the temptation to shop isn't going away any time soon. Brands are increasingly waking up to the need to produce clothes in a more planet-friendly way, and though many high street conscious collections can be dismissed as greenwashing, there are sustainably-minded brands authentically helping to reduce the negative impact of fashion consumption.
Dress rentals are an effective way to minimise the need to buy new, and subsequently control the amount of clothing that ends up being thrown away. The question mark when it comes to sustainability within the rental space is over the transportation and cleaning of garments, both of which use energy and produce carbon emissions. In a bid to tackle this, many sites such as Rotaro have started to use electric services for delivery and planet-friendly alternatives to dry cleaning.
How easy is it to try dress rentals?
Each of the best dress rental services are different. However, each site makes it as easy as possible to get customers renting, returning and swapping so that every amazing outfit gets to be worn and enjoyed by as many people as possible. Some sites such as Endless Wardrobe and Rotaro also aim to make the process circular by selling the pieces for less than retail cost, once they've reached the end of their rental cycle.
Ultimately, using dress rentals is as easy as ordering a new outfit online, without the need to feed into the damaging world of fast fashion or have shopping guilt. With a host of stylish rental services to try, it's easier than ever to give it a go.
The best dress rentals chosen by our fashion expert
Best US dress rentals
Rent The Runway
Best dress rental service for designer dresses
Specifications
Dress brands include: Cecilie Bahnsen, Derek Lam, Diane Von Furtstenberg, Jenny Packham, Joseph, Marni.
Price: The monthly price depends on how many garments you want to borrow: $89 for six items $135 for eight items $199 for sixteen items You can also get a discount on your first month to try it out.
Available: US
Reasons to buy
+
Different membership plans
+
Over 700 designers
+
Can see customer reviews
Reasons to avoid
-
Unable to rent single items
Why we love it: One of the best-known clothing rental subscriptions, Rent The Runway allows customers to hire runway dresses. With over 700 luxury designer brands, choose from red carpet-ready gowns by Jenny Packham, Diane Von Furstenberg and Marni to name but a few. Subscribers can tailor their monthly subscription plan to suit them—from how many items they want to borrow, to how often they want to receive them. The clever filters also allow you to filter by your style, mood, occasion or what's trending.
How to use it: Pick your membership plan (prices start at $89 with a discount for the first month for new users), browse through the brands and choose what pieces you would like to be sent. You can borrow items for as long as you like. When you're finished, send them back in the reusable bag and plan your next package. Return in the pre-paid reusable bag via RTR Return Location, RTR Drop-off Box, FedEx store, FedEx Drop Box or a FedEx partner location.
Try now: renttherunway.com
---
Nuuly
Best dress rental service for vintage dresses
Specifications
Dress brands included: Keepsake, Sister Jane, Sachin & Babi, Eva Franco, The Fifth Label, Anthropologie, Urban Outfitters.
Price: $88 a month for 6 items.
Available: US
Reasons to buy
+
Petite, plus and maternity available
+
Can rent vintage pieces
+
Laundry and repairs included
Reasons to avoid
-
Unable to rent single items
Why we love it: As one of the best clothing subscription services, Nuuly has an edit of high street brands, up-and-coming designer labels, and its own exclusive vintage pieces which would give the best online vintage stores a run for their money. With so many covetable dresses to pick from, the trickiest part will be choosing which to borrow each month. Not to worry though, if you end up not wanting to give your rental back, you can opt to buy it. Trying before you buy is a great way to be more conscious of what you're spending and see if you love the item before committing to a purchase.
How to use it: Operating on a flat rate, the site allows you to pick up to six items to borrow for a month for $88. Simply sign up, choose what you would like to be sent, then return them to swap for another six pieces when you're ready. Everything will be sent via UPS in a reusable bag, and cleaning and repairs are included in the monthly price.
Try now: nuuly.com
---
Gwynnie Bee
Best dress rental service for plus size dresses
Specifications
Dress brands includes: Calvin Klein, Dex, Hutch, Lauren Ralph Lauren, Leota.
Price: From $49 a month.
Available: US
Reasons to buy
+
Size 0-32
+
Can filter by style inspiration
+
Can buy after rental
Why we love it: Stylish and inclusive, Gwynnie Bee offers covetable pieces to borrow in sizes US 0-32. The curated edit spans every dress code, from casual everyday wear to pieces for the office and event-ready styles. Part of a rental community, tag #ShareMeGB on Instagram once you've worn what you've rented and the brand will share your style with its loyal followers to give others outfit inspiration.
How to use it: Pick your subscription package depending on how many items you want to borrow each month, and how many you want to be able to have out at a time—from one up to ten. Everything will be sent by USPS Priority Mail/ DHL and takes one to four business days for delivery. You can easily return pieces with the free postage label.
Try now: closet.gwynniebee.com/
---
Style Lend
Best dress rental service for luxurious dresses and accessories
Specifications
Dress brands include: Borrow luxury Marchesa, Givenchy and Vince gowns and you can also get accessories such as Gucci belts and Prada bags to finish off the look. Looking for high street? They have the likes of Asos, Ted Baker and Revolve, too.
Price: 10-15% of retail price plus dry cleaning fee.
Available: US
Reasons to buy
+
Can lend your own items
+
High end designers
+
Also has bags and shoes
Reasons to avoid
-
7 day only rental length
Why we love it: Whether you're looking for high-end brands such as Prada and Saint Laurent or high street finds from the likes of ASOS and Free People, Style Lend will have you scrolling through for hours. You can rent from other people's closets or lend your own to make money from your investment pieces. Ready for work, brunch dates and evening soirées, this is the fashion elite's hub for all the most stylish clothes, bags, shoes, accessories and more.
How to use it: Search through the thousands of dresses by size, color or style, pick what you would like and get your order delivered in two-three days to keep for seven nights.
Try now: stylelend.com
---
Best UK dress rentals
Rotaro
Best dress rental service for cult designer labels
Specifications
Dress brands include: Dress brands include: Jacquemus, Reformation, Rejina Pyo, Shrimps, The Vampire's Wife
Price: From just £10 for four days.
Available: UK
Reasons to buy
+
Scandinavian designers
+
Can buy rental items for less than retail
+
4, 8, or 12 day rentals
Reasons to avoid
-
Limited sizes for some brands
Why we love it: A go-to for cult labels and Instagram-loved brands, you can rent everything from dresses and coats to designer bags. Everything is borrowed directly from Rotaro, and unlike some sites, they stock pieces in multiple sizes. Rent pieces for as little as four days, or as long as 12. We also love that all items are delivered in a carbon-neutral way, and arrive in reusable bags. Not sure what to do with your dress once you've worn it? Pop it straight in the bag to return—Rotaro deals with the cleaning so there's no need to worry.
How to use it: Say yes to the dress, select the rental start date and duration you want to borrow it for, and wait for it to be delivered the next day (if you order before midday) or on your nominated day of choice. When you've finished, pop it in the pre-paid bag and send it back via DPD drop-off.
Try now: rotaro.co.uk
---
By Rotation
Best dress rental service for Instagrammable outfits
Specifications
Dress brands include: You'll find everything from Rixo and Ganni to Sleeper and Self Portrait.
Price: Daily rental price is up to the person who is lending their garments, but usually 5% of original retail price. Additional cleaning fees may be added, again, depending on each seller's preference.
Available: UK
Reasons to buy
+
Can borrow from favourite influencers
+
Be part of a community
+
Must-have labels
Reasons to avoid
-
Have to arrange own delivery with lender
Why we love it: As a peer-to-peer platform, the By Rotation app is all about community. Whether you join to borrow an outfit or lend your own closet, it's all based on people who share a love of fashion. Have you ever seen an outfit on Instagram you would love to wear? This is basically a way to do it, without having to splurge on designer outfits.
How to use it: Founder Eshita Kabra-Davis explains how to use the platform: "By Rotation's app is very user-friendly. Once you set up an account, you can browse by size, color, designer, or even user (if you find someone with your dream wardrobe). Then you simply chat with the lender about any queries, book out the dates you would like to rent it for on the calendar, and that's it. The hardest part is having to give the item back to its owner!
Try now: The By Rotation app
---
Hirestreet
Best dress rental service for special occasions
Specifications
Dress brands include: Asos, Zara, French Connection, Finders Keepers, Rat & Boa
Price: From just £5 for a four day rental. Hirestreet also charges a £3 delivery fee for all orders to cover costs, much like you would get when shopping online.
Available: UK
Reasons to buy
+
Wearable brands
+
Can filter by occasion
+
Curve section
Why we love it: Have you got a special occasion coming up? From wedding guest looks to birthday party dresses, Hirestreet has an outfit for everyone. With sizes UK 4-24, you can also search the site by occasion, size, color and even price. Unsure of your size? You can always order more than one, and if returned with tags, you won't have to pay for that rental.
How to use it: If you have an event, Hirestreet suggests booking your items to arrive two days before the date so you have time to try them on. Once you've worn them, pack them back up in the bag provided and use the free returns label to post back via Royal Mail. No need to worry about cleaning, the team will take care of this.
Try now: hirestreetuk.com
---
Endless Wardrobe
Best dress rental service for everyday outfits
Specifications
Dress brands include: Designers including De La Vali, Olivia Rubin, Musier Paris and Alexa Chung, and high street brands including Whistles and Free People.
Price: From £19 for four days.
Available: Shipping to the UK for rental and internationally for purchases.
Reasons to buy
+
Up and coming designers
+
Each item has different sizes
+
Can buy new or nearly new
Why we love it: A dress rentals site that allows you to rent, buy brand new or nearly-new garments that have already been rented, Endless Wardrobe does it all. With high street and designer brands, the site carefully curates an edit of select pieces so it isn't overwhelming to look through. Stocking sizes UK6-18 and XS-XL, you can search by style, size and brand. There's also a permanent outlet section where you can find pieces that are ready to shop after reaching the end of their rental life-cycle.
How to use it: Endless Wardrobe stocks all the brands themselves—like an online shop would—so you can book different sizes and styles, and anything you don't wear will be refunded to you. If you rent a piece and love it so much you want to keep it, Endless Wardrobe will discount the price you've paid to rent it from the new or nearly-new price.
Try now: endlesswardrobe.com
Harriet Davey is a freelance fashion editor, writing and styling for titles including Vogue, Stylist, Grazia, Who What Wear, and woman&home. With over 10 years of experience in the industry, Harriet has a love for shopping but also a newfound interest in trying to be more sustainable. From renting outfits instead of buying new ones to opting for investment pieces, there are so many ways you can be more conscious of the way you shop.
This is why at womanandhome.com, Harriet is here to bring you carefully curated edits of the very best pieces worth spending your money on. With a love for Scandi brands and an eye for key designer pieces to mix in with high street hero buys, expect to see shopping stories and buying guides that'll make you feel excited about updating your wardrobes.