What is greenwashing? Everything you need to know about fashion's faux sustainability
A guide to spotting greenwashing within the fashion industry to make sure your wardrobe is truly eco-friendly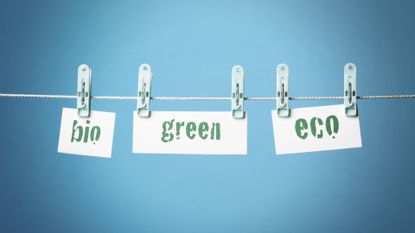 (Image credit: Getty)
woman&home newsletter
Sign up to our free daily email for the latest royal and entertainment news, interesting opinion, expert advice on styling and beauty trends, and no-nonsense guides to the health and wellness questions you want answered.
Thank you for signing up to Woman & Home. You will receive a verification email shortly.
There was a problem. Please refresh the page and try again.
Greenwashing within the fashion industry is a hot topic. As more of us become increasingly aware of the detrimental impact fast fashion has on the environment, the demand for brands to operate in a sustainable way is greater than ever.
However, finding ways to shop that are authentically sustainable can be tricky, with brands using vague buzzwords to grab consumers' attention. How often have you seen 'conscious', 'eco' and 'green' plastered all over websites and social media? The thing is, these sweeping statements needn't be proved to be used, so you may be getting tricked into believing a brand is more sustainable than it really is. According to a recent report by Changing Markets Foundation, 60% of sustainability claims by leading British and European brands could be classed as fast fashion "greenwashing."
While we can rely on the best online vintage stores and best dress rental services to offer pre-loved pieces for a more sustainable fashion-fix, there are ways of shopping new pieces that don't have a negative impact on the environment. The best sustainable brands are utilizing innovative materials and manufacturing processes to create thoughtful wardrobe additions that can be worn and cherished forever. But how can we sort the true sustainable brands from the ones who don't make the grade?
Firstly, let's define exactly what the meaning of greenwashing is so we know how to spot it.
What is the definition of greenwashing?
With a new wave of shoppers interested in living more sustainably, and an estimated one in three consumers caring more about sustainable apparel than before the pandemic, greenwashing is being used as a way to tap into this mindset and label products as sustainable when they don't quite meet the criteria for such a claim.
"Greenwashing is one of the biggest issues we are facing at the moment. It's marketing spin which uses unsubstantiated vague claims allowing consumers to think that a brand, product or service is environmentally friendly. When it comes to fashion, greenwashing is often used as a way to attract eco-conscious consumers into buying from them by making them believe they're a planet-first company." says Emily Rose Turner, head of brand at Eco-Age.
The term was first coined in 1986 by American environmentalist Jay Westerveld, when he was asked to reuse a towel in a hotel in order to reduce water usage, but noticed the resort was also expanding its grounds at the time and destroying the surrounding environment. Greenwashing shows how people can be easily blindsided by misinformation. Now, it's most commonly used to describe deceiving marketing campaigns.
"Companies who are honest and transparent about their sustainability journey are less likely to be accused of greenwashing. Brands need to avoid using grand claims like '100% sustainable' as this is just factually incorrect. If you think about it, every product has an impact on the planet and so, in a way, nothing can ever be entirely sustainable. Instead, try to be specific about what exactly is being done, share both the successes and the challenges. People are more likely to trust brands that are open and humble. Most importantly make sure you can back up any sustainability claims with data." says Emily.
What are examples of greenwashing?
Greenwashing is most prevalent in the fast fashion arena and according to the Changing Market Foundation report.
The report highlights that ASOS' Circular Design Collection launched last year, touts monomaterials as circular, even when they're 100% virgin synthetic; for example a 'zero-waste' shirt made from 100% polyester.
A pair of H&M Conscious Collection trousers was found to be made from 100% polyester, none of which is claimed to be recycled. To qualify for the Conscious Collection, an item must have at least 50% recycled content.
The report also found that Zalando listed faux leather leggings as sustainable, despite only containing 20% recycled polyester.
Fast fashion labelling also typically doesn't cover aspects such as if the person who made the garment was fairly paid and whether the rest of the supply chain was sustainable. Plus, if the brand is then encouraging excessive consumption and impulse shopping by producing in large quantities and selling at very low price points, its sustainable credentials come into even more question.
With so many aspects to consider, it's often hard to believe a company who makes such claims, especially when its pricing, brand image and ethics in general may not support this 'sustainable' image overall.
How can fashion stop greenwashing?
If the fashion industry is truly going to move to a more sustainable model, and greenwashing be made a thing of the past, authentic and radical changes need to be adopted.
"Brands can start by committing to paying their workers fair living wages and by signing accords that means they're committed to doing so. I think they need to really hold themselves accountable when it comes to their 'green' marketing tactics. Fashion, by nature, is unsustainable and I think more fashion brands need to acknowledge that excessive consumption is causing climate breakdown. How are they educating their consumers? How are they supporting their workers? And could they produce less in a bid to encourage people to buy less?" says fair-fashion campaigner Venetia La Manna.
Founder and CEO of carbon monitoring company Plan A, Lubomila Jordanova adds, "Honesty and being aware of one's responsibility are a good start. The topic seems too complex and overwhelming, therefore many companies are deterred from taking the first steps. But recognizing the need for carbon reduction and collaborating with all stakeholders to find more efficient and effective solutions to design, manufacture, and distribute garments is key."
6 ways to spot if a fashion brand is greenwashing
1. Is the brand being transparent?
If a fashion brand is open about its supply chain—from producing the raw material through to manufacturing processes—this will allow consumers to make an informed decision before we buy, and help avoid greenwashing.
If you're unsure about a brand, check out resources such as the The Fashion Transparency Index 2021 report, this shows over 250 brands and how open they are about sustainability from supply chain to production. And look to brands who are openly making waves within the industry. US brand Reformation is leading the way with its new FibreTrace denim collection which uses a QR code to allow customers to see the products' entire cycle, from start to finish.
2. Look for certifications
"If something sounds too good to be true, it probably is. Look for more information on the brand's website and check the reliability of the sources", says Emma.
Is there a sustainability section on their website where everything is clearly outlined? If not, this may mean they're not disclosing this for a reason. Check for certification stamps from the likes of Global Organic Textile Standard (who clarify the clothing materials which are actually organic), FairTrade (who ensure a set of standards are reach during production and supply of a product) or B Corporation (which highlights brands that are being completely transparent about their efforts to be as eco-focused as possible.
If you can't find what you're looking for, ask. This is a sure-fire way to find out, and if a brand isn't willing to tell you then the chances are it's greenwashing purely to gain customers.
3. Beware of false claims
59% of claims by European and UK fashion brands were found to be unsubstantiated or misleading to consumers, according to a recent Changing Markets Foundation report. So no doubt you've fallen victim to greenwashing before without even realising.
On Instagram, you will have seen 'for every purchase a tree is planted', or 'a percentage of each sale goes to charity'. But if it doesn't say which charity or who it has collaborated with, is this really happening? Don't overlook the possibility that these companies are potentially, quite simply, lying to consumers. Check the site for information or simply contact them to find out. If the brand doesn't tell you who it is working with, it's likely this is just to make you feel better about spending your hard earned cash.
"The demand for fairly traded and sustainably produced products and services is evident from the ubiquity of green labels alone. Unfortunately, it is still difficult for consumers to distinguish green companies from those that only claim to be "green" or "organic". To put an end to this and ensure more transparency, we launched a petition in April called "Make 2021 Count". In it, we call on the EU to finally introduce transparent, binding, and comparable standards for ESG reporting by brands and companies in the EEA. Our goal is to put an end to greenwashing and help businesses make their way to net-zero emissions", says Lubomila, CEO of Plan A.
4. Who is making your clothes?
Fashion Revolution's 2020 report found that 70% of consumers want brands to outline wages and working conditions for the people who make their clothes.
"A good place to start is to know that we cannot have sustainability without ethics. So if a fashion brand is making huge claims about their latest 'eco' fabric or 'take-back' scheme, try to find out if the brand is paying their workers fair living wages, Fashion Checker is a great site to rely on" says Venetia.
5. Know your fabrics
Only 30% of 250 brands in the Fashion Revolution report described how they define what they consider a 'sustainable' material. So if the brands aren't even aware of which fabrics are more eco-friendly, how are us shoppers supposed to be clued up?
Brands may entice eco-conscious customers by labelling with 'vegan' or 'organic' but this doesn't necessarily mean the material it is made from isn't detrimental to the earth. Often 'vegan' leather is made from plastics that cannot be recycled and should not seen as a 'sustainable' material if it hasn't been made in a way that doesn't harm people and the planet. And when it comes to organic, look for GOTS certified cotton to ensure the the textile has been made from organic natural fibres. When it comes to material, also look at the label. There's nothing to stop brands adding a 'vegan', 'organic' or 'sustainable' label even if only a small percentage of the product is made from such materials.
Be wise, know the buzzwords and again if in doubt, challenge the brand to tell you what the product is made from. Much like food, you should be able to know the ingredients that go in to making these items.
6. Don't be fooled by token gestures
A brand may have a 'green' edit or a 'eco-friendly' collection, but look at the bigger picture; if the majority of its offering has no sustainable credentials then its true eco-friendliness can be called into question. Look to brands which have publicly stated clear sustainability goals. For example, Mango has recently launched a campaign to let everyone know that 79% of all its garments currently have sustainable characteristics, and by 2022, that figure will reach 100%.
Sign up to our free daily email for the latest royal and entertainment news, interesting opinion, expert advice on styling and beauty trends, and no-nonsense guides to the health and wellness questions you want answered.
Harriet Davey is a freelance fashion editor, writing and styling for titles including Vogue, Stylist, Grazia, Who What Wear, and woman&home. With over 10 years of experience in the industry, Harriet has a love for shopping but also a newfound interest in trying to be more sustainable. With a love for Scandi brands and an eye for key designer pieces to mix in with high street hero buys, Harriet specialises in shopping stories and buying guides that'll make you feel excited about updating your wardrobe.