The best sustainable clothing brands - how to shop stylish fashion with a conscience
The best sustainable clothing brands combine ethical supply chains and eco-friendly materials with stylish design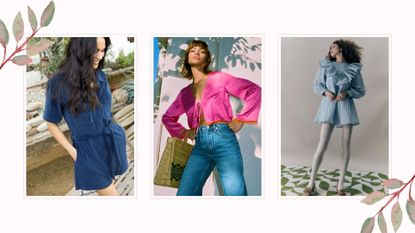 (Image credit: Outerknown, Omnes, Ilk + Ernie)
woman&home newsletter
Sign up to our free daily email for the latest royal and entertainment news, interesting opinion, expert advice on styling and beauty trends, and no-nonsense guides to the health and wellness questions you want answered.
Thank you for signing up to Woman & Home. You will receive a verification email shortly.
There was a problem. Please refresh the page and try again.
The best sustainable clothing brands prove great style doesn't need to cost the environment. As we become increasingly aware of the detrimental impact fast fashion shopping habits have on the world we live in, the demand for brands that put the planet before profit is growing.
It's now easier to shop more sustainably than ever as the industry rapidly grows due to consumer demand. While sustainable clothing used to carry a hefty price tag, it's becoming increasingly more price-accessible. Whether you're looking for luxe t-shirts, jeans, or even footwear all can now be updated with slow fashion and sustainable alternatives.
It's no secret that the fashion ecosystem has contributed to the ever-growing climate crisis while compounding existing environmental, labor, and social injustices. The fashion industry produces 10% of humanity's carbon emissions, emitting more than international flights and maritime shipping combined. Not only this, fashion production is the second-largest consumer of the world's water supply, and washing synthetic fibers causes microplastics to enter our oceans and harm marine life.
"Sustainability in the fashion industry is not just important, it's vital," says Charlie Bradley Ross, Founder & Director of Offset Warehouse & The Sustainable Fashion Collective. That's why we always turn to the best sustainable clothing brands when shopping for new pieces to add to our closet.
The best sustainable clothing brands as chosen by our fashion team
"With systemic change, the fashion industry can lift millions of people out of poverty, providing them with decent and dignified livelihoods. It can preserve and restore our living planet. Fashion can be a powerful force for good - bringing people together as a source of joy, creativity, and expression." says Bradley Ross. From up-and-coming labels to well-loved names, these are the very best sustainable clothing brands to shop now.
1. Everlane
Best sustainable clothing brand for basics
Specifications
Sizes: XXS-XL
RRP from: $31 / £23
Reasons to buy
+
Transparent supply chain
+
Timeless pieces you will wear for years
+
Reasonable prices for high quality
If you're looking to create an eco-friendly wardrobe filled with the best basics, Everlane is your answer. Widely considered one of the best ethical clothing brands, the American clothing brand prides itself on an entirely transparent supply chain and partners with the best ethical factories around the world.
It aims to use recycled materials, address water use and chemical inputs, and invest in carbon-offset projects, whilst making chic clothing in the process. If you want to master how to dress simple but stylish without reverting to fast fashion, Everlane has you covered - this is your destination for quality basics with a conscience. Think cotton t-shirts, leather totes, smart trousers and the best sweaters with versatile, classic designs.
RRP: $110 / £105 | Made from recycled leather, this shoe has all the feels of a vintage court sneaker. This range is created with ReLeather, an innovative long-lasting material that is made of recycled leather scraps that need no new tanning or dyeing and uses minimal water and waste - brilliant.
Everlane The Way High Jean
RRP: $98 / £94 | Denim can be a particularly tricky item to produce sustainably, but these jeans are made from organic cotton, uses cleaner chemistry, and have a reduced water consumption to up their eco points. Available in plus sizes too, there's nothing we don't love.
Everlane ReTrack Crewneck
---
2. ASICS
Best sustainable clothing brand for workout wear
Specifications
Sizes: XS-XL
RRP from: $34 / £22
Reasons to buy
+
Uses carbon and energy-saving methods
+
High quality sportswear
+
Classic and trendy pieces
ASICS is a brand that is very transparent about its sustainability credentials - always a good sign when shopping the best sustainable clothing brands. 90% of running shoes the brand manufactured in 2021 and 2022 contain recycled material, which is expected to grow in 2023.
ASICS has previously launched collections like the Earth Day pack, which focused on eco-conscious items including some of the best running shoes and workout leggings, including GEL-NIMBUS™ 23, GLIDERIDE™ 2, and GEL-LYTETM™ III shoes.
Not absolutely everything on the ASICS website is sustainable, however, they have a handy key system to let you know which items are produced ethically. Look out for the sunflower symbol to easily decipher which pieces are a sustainable buy.
Asics Glideride 2 Trainers
RRP: $150 (US only) | Scientifically proven to save you energy over a long run and the brands' FLYTEFOAM® Technology provides lightweight cushioning. At least 20% of the primary material of the shoe's upper is made with recycled materials.
RRP: $65 (US only) | Inspired by a 1992 ASICS apparel collection, these leggings channel '90s fashion trends with their bold stripe detailing. Made using sustainable methods, these sporty leggings help the brand lower its carbon footprint.
---
3. Levi's
Best sustainable clothing brand for jeans
Specifications
Sizes: 24-34" regular, sizes 14-26 plus
RRP from: $25 / £20
Reasons to buy
+
Uses water-saving methods
+
Inclusive sizing
+
Staple pieces in limited collections
When you think of the best jean brands, the chances are you think of Levi's. The label has become well-loved for affordable jeans and high-quality denim. The purveyor of many of the best skinny jeans, and mom jeans on the market and always on the money when it comes to denim trends. But the brand transcends great-looking jeans; Levi's is at the forefront of sustainable fashion when it comes to denim production, with planet-friendly collections including WellThread, where 100% of materials are recyclable.
The brand strives to use recycled plastics, reduce landfill waste, and shrink its carbon footprint. Additionally, 50% of Levi's products are now made with the brand's Water<Less techniques, with more than 13 billion liters of water saved as of 2020. We also love that they keep collections small and always have their hero pieces available, tackling the fast fashion trend cycle that leads to significant overproduction and waste.
Levi's WellThread '70s Jeans
RRP: $198 (US only) | Part of the WellThread collection, these trendy '70s style jeans are made with all recyclable materials. When sustainability looks this good, who are we to say no?
Levi's Original Trucker Jacket
RRP: $89.50 / £100 | Getting plus size sustainable clothing has often been a challenge, but not at Levi's. Available in plus, this is the brand's infamous trucker crafted with Levi's Water<Less technique.
Levi's Wedgie Straight Leg Jeans
RRP: $98 / £65 | Some of the best straight leg jeans, this pair is made from 15% organically grown cotton. Available in multiple leg lengths, we love the cropped hem for showing off shoes.
---
4. Patagonia
Best sustainable clothing brand for outdoor wear
Specifications
Sizes: XXS-XXL
RRP from: $23 / £17
Reasons to buy
+
Uses energy-saving manufacturing processes
+
Practical and trendy pieces
+
Reliable, high-quality brand
Brands like Patagonia really understand how to make great ethical outdoor clothing and make some of the best waterproof jackets amongst other stellar items. Once known as the go-to brand for Wall Street bros to stock up on vests (aka the 'Midtown Uniform'), Patagonia has evolved into one of the best sustainable clothing brands in the contemporary fashion landscape, with the climate crisis driving manufacturing practices, supply chain and marketing.
The American clothing brand aims to reduce carbon emissions and prioritize efficient use of resources by upcycling waste fabrics and old garments into new products that get reused multiple times. To meet these goals, it has spearheaded numerous programs including Worn Wear, an initiative enabling customers to shop for used items in select stores and online.
Patagonia Better Sweater Fleece
RRP: $129 / £101 | One of the best fleeces for women, this jacket is a best seller. Each fleece is made of 100% recycled polyester and dyed with a low-impact process for enhanced sustainable credentials. When compared to traditional dyeing methods, Patagonia's approach is more energy-efficient, as it reduces the use of dyestuffs, energy, and water.
Patagonia Yellow Ridge Sweatshirt
RRP: $79 / £75 | This casual mustard sweatshirt with a muted stripe will pair brilliantly with your favorite jeans at the weekend, but it's also hiding a genius design secret. Made from 100% recycled materials, it utilizes fabric scraps and recycled bottles, helping the brand to reduce its reliance on virgin materials. It is also Fair Trade Certified sewn - winning.
Patagonia Long Sleeve Swimsuit
RRP: $179 (US only) | When it comes to the best swimsuits, there's no need to compromise on sustainability. This sleeved swimsuit is a great choice for sun protection and also features a higher, collared neckline. Made from soft and stretchy material, it is 83% recycled polyester and spandex and is an ideal and pretty swimsuit for those who want a little extra coverage.
---
5. Reformation
The best sustainable clothing brand for dresses
Specifications
Sizes: US: 0-12 / UK: 4-16
RRP from: $54 / £40
Reasons to buy
+
Uses deadstock fabric
+
Fashion-forward designs
+
Staple pieces you will wear for years
A cult destination for fashion editors, Reformation is widely considered one of the best sustainable clothing brands in the US and UK, beloved for its on-trend offering that delivers on ethical credentials. From party-ready midi dresses to bridesmaid gowns, every piece is made in Los Angeles, California.
Reformation partners with industry groups like the Fair Labor Association to oversee on-site social responsibility audits and champions workers' rights. To create a sustainable supply chain, the brand uses low-impact materials, rescued deadstock fabrics, and repurposed vintage clothing. They also list the impact each item has had through production on the website listing.
Although many of the pieces are on the pricier side, each item is a style staple that you can be sure to wear for years to come. And thanks to the sustainable materials, they will last you significantly longer than cheaper fast fashion pieces. Look no further for spring capsule wardrobe buys.
Reformation Emerick Dress
RRP: $198 / £220 | One of this season's best dresses, we haven't been able to stop thinking about it since we saw it. With adjustable straps for a custom fit, this is the ultimate summer piece you will never tire of. Made sustainably saving water and carbon dioxide, you will feel as good inside as you look on the outside.
RRP: $128 / £145 | This top might look cute but it also packs a scientific punch. Made from viscose rayon, a man-made cellulosic fiber made from wood pulp, Reformation only use forest-based products from sustainably managed forests. The floral print ensures you're ready for bright spring days too.
RRP: $198 / £235 | Another sustainable denim piece. This flattering jumpsuit uses organic cotton which restricts the use of chemicals and pesticides. The timeless brown hue will work beautifully for transitional weather thanks to the short sleeves, which can be layered over a roll neck in cooler climes.
---
6. Outerknown
Best sustainable clothing brand for everyday staples
Specifications
Sizes: XS-XL
RRP from: $14 / £15
Reasons to buy
+
A pioneer in sustainable fashion
+
Great, luxe basics
+
Buy now and wear forever
Outerknown led the sustainable fashion bandwagon before it became trendy. Not surprisingly, the environmentally-friendly brand has a laundry list of bragging rights, which have earned our trust. It actively invests in employees through Fair Trade USA and guidelines put forth by The Fair Labor Association (FLA), which holds brands to strident and equitable international labor standards.
Outerknown sources organic, recycled, and regenerated fibers and materials, and promises to repair, replace, and recycle its S.E.A. Jeans to keep them out of landfills. Historically, the brand has promoted successful campaigns that further its mission, such as its debut of ECONYL clothing, a process of turning fishing nets into endlessly regenerative fibers.
RRP: $148 / £150 | The plaid shirt is a classic. Made with 100% organic cotton, which cuts out all the harmful synthetic chemicals from conventional cotton growth, this style staple can be worn as a jacket or layering piece this season.
RRP: $148 / £150 | A romper is the easiest thing to throw on in warmer weather and this piece is so versatile. Made from 57% recycled polyester, it is a truly sustainable purchase that you will reach for every summer without fail.
---
7. ABLE
Best sustainable clothing brand for bags
Reasons to buy
+
Supports vulnerable women
+
Beautiful classic designs
+
Offers clothing and accessories
Driven by a mission to make fashion an ethical environment with fair opportunities, ABLE is dedicated to providing training and employment for women to help them break out of poverty. Since launching, the Nashville-based brand has expanded from hand-woven scarves made by craftswomen in Ethiopia, into a full-scale lifestyle brand offering some of the best tote bags, apparel, shoes, and jewelry.
Every piece is made by partner communities in Mexico, Brazil, India, and Ethiopia as well as in-house in Nashville. You can find a lot of information about the brand's sustainable practices on its site, as well as its ethical supply chain and social impact. For timeless bags that are also extremely high quality, look no further.
RRP: $190 / £153 | The best-selling Mamuye Classic Tote - named after one of the women the brand works with - is made from 100% leather and comes in a large size. An interior pocket keeps valuables organized, while durable straps mean it will stand up to repeat wear. It comes in six gorgeous and versatile colorways.
RRP: $260 / £209 | The best work backpacks for women are smart, chic and well made - and this Liliana bag certainly hits the mark. Featuring a padded back for comfort and support, a spacious interior with multiple pockets and sleeves large enough to fit a laptop, this bag is ideal for a busy day ahead.
RRP: $150 / £121 | A rival to the best designer crossbody bags in terms of both style and substance, this sleek crossbody will never go out of style. With two different shoulder strap designs, this is a customizable number that will suit all tastes. Complete with gold hardware, this is the perfect everyday luxury item.
---
8. AllBirds
Best sustainable clothing brand for running sneakers
Specifications
Sizes: US: 5-11 UK: 2-8
RRP from: $98 / £71
Reasons to buy
+
Carbon neutral
+
Well tested styles
+
Shoes for every occasion
Dedicated to utilizing sustainable fabrics, AllBirds uses recycled bottles, castor bean oil, recycled cardboard and wool ethically sheered from merino sheep. It also uses BIO-TPU, an innovative renewable polyurethane. Not only this, the environmentally friendly clothes brand also measures, reduces, and offsets each product's carbon footprint meaning it's 100% carbon neutral. It has also pledged to cut its carbon footprint in half by 2025, taking it to zero by 2030.
Allbrids Tree Dashers Trainers
RRP: $135 / £125 | When it comes to running shoes, the Tree Dashers check all the boxes, made from renewable fabrics and offering a streamlined, comfortable fit. Featuring durable and breathable tree material uppers (FSC Certified eucalyptus trees to be exact), plus a dual-density sugarcane midsole that offers cushioning and stability. For greater support, the heel has a Merino wool lining to comfortably hold your foot in place.
Allbirds Trail Runners Trainers
RRP: $140 / £135 | Not only do these look great but they feel great too. Allbirds rigorously road-tested The Trail Runner SWT over 2,000 miles with 100 runners of all ages, abilities, and body types, so you know that these shoes will actually do what they're designed for. Made from FSC-certified TENCEL Lyocell (eucalyptus tree fiber) and ZQ Merino Wool blend upper and recycled polyester ripstop, their sustainable credentials are top-notch too.
AllBirds Wool Flyer Mizzles Trainers
RRP: $154 / £160 | For a little extra height, these mid-sole trainers tick all the boxes. Ideal for wet weather long-distance runs, thanks to the fluorine-free outer coating that repels water. These are sustainable sneakers that pack a punch too. Crafted with a SwiftFoam™ for a light and bouncy feel, these will easily become your go-to pick for style and practicality.
---
9. Allkind
Best sustainable clothes brand for boots
Specifications
Sizes: US: 7-11 / UK: 5-9
RRP from: $204 / £150
Founded in 2020, Allkind is quickly becoming one of the best sustainable clothing brands in the UK, offering 100% vegan footwear made from leather alternatives including cotton, microfibre, and natural rubber. Committed to using only eco materials, the brand uses recycled and recyclable fabric at every opportunity, from soles to shoe boxes. It also partners with carbon neutral initiative, Ecologi to offset carbon emissions by taking part in tree planting programs and rainforest protection. Plus, 5% of profits are donated to PETA and The Rainforest Trust. Each covetable style is designed in Britain and handmade in Spain.
Allkind Brown Chloe Heeled Boots
RRP: $295 / £220 | The Chloe heeled boots are top of our wish list, featuring a comfortable mid-height heel and round toe. This classic pair is hand-stitched from vegan leather, includes only cruelty-free materials, and does not contain toxic dyes. It's the perfect unity of chic design and sustainability.
Allkind Alice Tan Vegan Loafer
RRP: $214 / £160 | The most comfortable flats will always have a home in your wardrobe and this Alice tassel loafer for women is not just a classic style but also represents one of the best shoe trends 2023 has to offer. Hand-stitched with fringe detail, it's an essential slip-on shoe made with vegan suede.
All Kinds Kate Vegan Court Shoe
RRP: $201 / £150 | An enduring style, a block heel court shoe will always come in handy. Made with vegan patent leather, they're ideal for everything from nights out, to the office, to what to wear to a christening. This shoe will always have a home in your capsule wardrobe.
---
10. Olly Olly & co.
Best sustainable clothing brand for leggings
Specifications
Sizes: XS-L
RRP from: $32 / £24
Reasons to buy
+
Uses regenerated ocean waste
+
Coordinating sets
A premium activewear label with sustainability at its core, Olly Olly & co. uses regenerated ocean waste, such as discarded fishing nets, to make its luxe leggings and sports bras. The brand's strict ethos ensures every step of the manufacturing process is sustainably and ethically focused - nothing has been untouched, including its use of non-toxic dyes and stamps inside garments to reduce the fabric waste of clothing labels. Every piece is made in Portugal, in a factory that strictly adheres to European Standards of Labor.
Olly Olly & Co Pocket Leggings
RRP: $85 / £69 | With built-in pockets, these olive leggings are both trendy and practical. Made from BPA-free recycled plastic bottles that would otherwise end up in the ocean, the premium quality material will survive any type of workout you throw at it. Now all you need is a crash course on how to start running.
Olly Olly & Co Y Sports Bra
RRP: $51 / £41 | Make it a matching sportswear set by adding the bra top. This is a high-quality activewear piece you will want to wear for every workout. Wire-free, sweat-wicking, and made from 77% recycled nylon, sustainable and comfortable activewear has never been easier to find.
Olly Olly & Co Square Neck Top
RRP: $51 / £41 | The perfect basic, this longer line workout top will look just as good for casual weekend wear as it does for days at the gym. Double lined for extra coverage with a softer inner lining to glide smoothly against your skin, you won't want to take it off. Made with recycled nylon, it is kind to the planet too.
---
11. Ilk + Ernie
Best sustainable clothing brand for summer dresses
Specifications
Sizes: XS-XL
Price from: $13 / £10
Reasons to buy
+
Female-run label
+
Off-cut fabrics
+
Transparent, ethical supply chain
Based in Brighton in the UK, ILK + ERNIE is an ethical, female-led brand making a splash in the sustainable fashion arena. The sustainable fashion brand specializes in creating garments from off-cut materials from straight-to-market retailers, which would have otherwise ended up in landfills.
Every season, ILK + ERNIE purchase, recycle and re-use unwanted fabric and transform them into beautiful, fashion-forward pieces. Doing so saves on greenhouse emissions and the millions of liters of water usually used to produce fabric. If you're looking to shop sustainably and invest in garments with longevity, then ILK + ERNIE is your one-stop-shop for quality, comfortable and sustainable clothes. The brand's vision is to see every woman wearing clothes that not only turn heads but also positively affect the environment.
Ilk + Ernie Delilah Dress
RRP: $146 / £115 | Ethically made from thick surplus tartan cotton, the Delilah dress makes a beautiful summer statement piece. With a trendy oversized collar and cropped sleeves, this bold pattern is sure to turn heads in the sunshine.
RRP: $191 / £150 | Ethically made from 100% cotton twill with a little bit of stretch for extra comfort, the boxy shape makes for a relaxed fit. We especially love the friendship bracelet-style collar detailing for an added directional twist. The sun and moon print feels fresh too.
RRP: $159 / £125 | A beautiful statement dress in the summer months. Blue gingham is a print we will never tire of, especially when it looks this good. The oversized frill collar taps into this season's fashion trends. But be quick as this one is selling fast!
---
12. People Tree
The best sustainable brand for separates and dresses
Specifications
Sizes: US: 2-14 / UK: 8-16
RRP from: $15 / £10
Reasons to buy
+
Supports artisan skills
+
World Fair Trade Organization awarded
+
Timeless and staple items
Respecting people and the planet are at the heart of People Tree, the first fashion company to be awarded the World Fair Trade Organization product label in 2013. Not only are their pieces high quality, but also ethically made.
As well as creating timeless pieces in lust-worthy prints, collections are made using organic cotton, TENCEL, Lyocell, and responsible wool with traditional artisan skills and low impact dyes. It also has an admirable moral compass by being a huge advocate for fair wages, good working conditions, and gender equality as well as creating employment in rural areas thanks to utilizing niche skills in designs, such as hand weaving and block printing.
People Tree Tyra A-Line Dress
RRP: $95 / £75 | A black dress is a total wardrobe essential, so it's worth investing in one you know will last. Made from fairtrade certified organic cotton stretch jersey, it is comfortable as well as extremely chic. The A-line silhouette delivers a flattering fit.
People Tree Brooklyn Denim Dungarees
RRP: $209 / £155 | Made from 100% GOTS certified organic cotton, People Tree's denim collection saves up to 90% of water during the production process compared to conventional denim production. Versatile and trendy, these can be styled so many different ways.
---
13. Baukjen
Best sustainable clothing brand for loungewear
Specifications
Sizes: US: 2-14 / UK: 6-18
RRP from: £19 (international shipping available)
Reasons to buy
+
Offers rental service
+
Carbon neutral
+
Great selection of pieces
Baukjen has long been on our fashion radar for its classic, relaxed styles, but it's the brand's use of sustainable practices that we really rate it for. As well as 85% of its collection is made from responsible fibers (a percentage it is intent on growing), the brand uses plastic-free, biodegradable packaging, and offsets its carbon emissions.
In fact, it currently captures more carbon than it emits. It even offers a rental service for customers to loan products for a period of two weeks to reduce the desire for fast fashion. Plus, it donates at least 10% of its profits to charity each year and operates with a strict code of conduct across its supply chain.