The best sustainable clothing brands—how to shop stylish fashion with a conscience
The best sustainable clothing brands combine ethical supply chain and eco-friendly materials with stylish design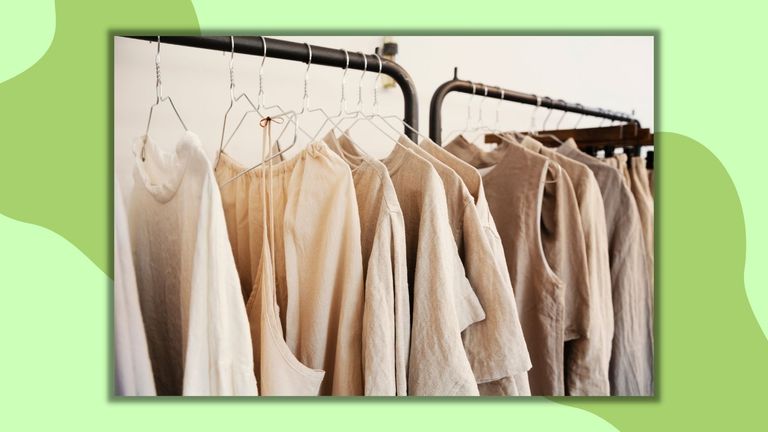 (Image credit: Future and Getty Images)
The best sustainable clothing brands prove great style doesn't need to cost the environment. As we become increasingly aware of the detrimental impact modern fast-fashion shopping habits have on the environment, the demand for brands that put the planet before profit is growing. Shopping sustainably is easier than ever, thanks to a host of exemplar brands leading the way with ethical mindsets and sustainable initiatives.
It's no secret that the fashion ecosystem has contributed to the ever-growing climate crisis while compounding existing environmental, labor, and social injustices. The fashion industry produces 10% of humanity's carbon emissions, emitting more than international flights and maritime shipping combined. Not only this, fashion production is the second-largest consumer of the world's water supply, and washing synthetic fibers causing microplastics to enter our oceans and harm marine life.
"Sustainability in the fashion industry is not just important, it's vital," says Charlie Bradley Ross, Founder & Director of Offset Warehouse & The Sustainable Fashion Collective.
Why is it important to shop sustainably?
Have you ever thought about how your best jeans might impact the environment? They might be part of your capsule wardrobe, but denim is one of the planet's worst offenders using an average of 1,800 gallons of water per individual pair thanks to the thirsty raw cotton material, not to mention the synthetic chemical-laden dyes.
"For years, manufacturers have been producing fabrics and garments irresponsibly: disposing of carcinogenic chemicals, toxic fertilizers, pesticides, and dyes into the rivers and the earth," says Bradley Ross.
"The raw materials and resources we use far supersede the rate at which we can replace them. To put it into context, by 2025, 1.8 million people will be facing absolute water scarcity. Coupled with the devastating environmental effects of irresponsible fibre production, we're talking about the destruction of biodiversity and ecosystems affecting millions of animals and people worldwide."
Amid dire circumstances, it can seem overwhelming to take action. Investing in better quality clothes that last longer, shopping second-hand pieces via the best online vintage stores, repairing old clothes or recycling by selling clothes online, and borrowing pieces using the best dress rental services are all ways we can help lesson our fashion footprint. But another really big step is to shop from environmentally friendly clothes brands that are actively operating in a better way.
What makes a fashion brand sustainable?
When it comes to clothing brands, 'sustainable' is often used as an umbrella term that encompasses several aspects. However, broadly speaking, it means approaching design, fabrics, sourcing, manufacturing, and packaging in a way that doesn't harm the environment.
This often also goes hand in hand with ethical practices which encompass social justice, like labor rights, women's empowerment, fair wages, and working conditions. If a brand is considered sustainable, its values will often naturally overlap with ethical practices.
"A sustainable or responsible brand seeks to minimize its negative environmental and social impact. Every aspect of the supply chain from raw material, to shop floor, to how the garment is cared for once in the customer's hands can be considered," explains Bradley Ross.
Which fashion brands are sustainable?
The past few years have seen a surge in stylish brands making strides in protecting the planet, including independent labels and slow-fashion retailers such as Everlane, Thought Clothing, and Reformation.
Brands aren't always honest with their efforts, though, and greenwashing—a term used to describe the marketing spin a brand may use to convey misleading environmentally friendly claims—can often deceive customers into believing it is an ethical and sustainable business. When in reality, it may not be.
Authentically sustainable brands will have information about their methods and practices on their websites and offer clear insights into the actions they are taking to produce in a responsible way. Look for brands that do the following:
Use ethically sourced raw materials or upcycle waste and deadstock fabrics.
Employ energy-saving manufacturing techniques and either have zero carbon emissions or offset them.
Endorse supply chain transparency by telling you where garments are made and who made them.
Have ethical business practices and adhere to basic human rights laws. Look for the Fair Trade certification which means farmers and workers have safe working conditions and are paid fairly.
Focus on timeless designs that will last, rather than trendy styles that will date.
Use zero waste packaging.
Encourage consumers to recycle well-loved pieces with in-house recycling facilities.
Take social responsibility, promoting charities and programs that aligns with their ethos, values, and mission to help others.
The best sustainable clothing brands as chosen by our fashion team
"With systemic change, the fashion industry can lift millions of people out of poverty, providing them with decent and dignified livelihoods. It can preserve and restore our living planet. Fashion can be a powerful force for good—bringing people together as a source of joy, creativity, and expression." says Bradley Ross.
From up-and-coming labels to well-loved names, these are the very best sustainable clothing brands to shop now.
Meet the Earth Day Pack: an eco-conscious collection launched by ASICS. The collection features brand heroes across ASICS running and Sportstyle ranges, including GEL-NIMBUS™ 23, GLIDERIDE™ 2, and GEL-LYTETM™ III shoes, plus clothing. Each product included in the collection features a bright sunflower icon on its page.
As an advancement of the brand's sustainable initiatives, this capsule uses approximately five tons of recycled textile waste as part of a series of energy-efficient production processes. (That's the equivalent of 25,000 t-shirts recycled into new shoes.) The inner part of each shoe was developed through solution dyeing. Compared to conventional dyeing processes, this approach reduces CO2 emissions and water waste by a large percentage.
---
When you think of the best jeans, the chances are you think of Levi's. The classic brand has become well loved for quality denim at affordable prices, and is the purveyor of many of the best skinny jeans, slimming jeans, boyfriend jeans and mom jeans on the market.
But the brand transcends great looking jeans; Levi's is at the forefront of sustainable fashion, with planet-friendly collections including WellThread™. The brand strives to use recycled plastics, reduce landfill waste, and shrink its carbon footprint. Additionally, 50% of Levi's products are now made with the brand's Water Less techniques, with more than 1.8 billion liters of water saved and 129 million liters recycled. Levi's also unveiled a secondhand storefront with resale designs.
---
If you're looking to create an eco-friendly capsule wardrobe, Everlane is your answer. Widely considered one of the best ethical clothing brands, the US label prides itself on an entirely transparent supply chain and partners with the best ethical factories around the world. It aims to use recycled materials, address water use and chemical inputs, and invest in carbon-offset projects.
This is your destination for quality basics with a conscience. Think cotton t-shirts, leather totes, smart trousers and crewneck knits with versatile, classic designs.
---
Once known as the go-to brand for Wall Street bros to stock up on vests (aka the 'Midtown Uniform'), Patagonia has evolved into one of the best sustainable clothing brands in the contemporary fashion landscape, with the climate crisis driving manufacturing practices, supply chain and marketing.
The brand aims to reduce carbon emissions and prioritize efficient use of resources by upcycling waste fabrics and old garments into new products that get reused multiple times. To meet these goals, it has spearheaded numerous programs including Worn Wear, an initiative enabling customers to shop for used items in select stores.
---
A cult destination for fashion editors, Reformation is widely considered one of the best sustainable clothing brands in the UK and US, beloved for its on-trend offering that delivers on ethical credentials. From party-ready midi dresses to bridesmaids gowns, every piece is in Los Angeles, California. Reformation partners with industry groups like the Fair Labor Association, oversees on-site social responsibility audits, and champions workers' rights. And to create a sustainable supply chain, the brand uses low-impact materials, rescued deadstock fabrics, and repurposed vintage clothing.
---
Outerknown has led the sustainable fashion bandwagon before it became trendy. Not surprisingly, the environmentally friendly clothes brand has a laundry list of bragging rights, which have earned our trust. It actively invests in employees through Fair Trade USA and guidelines put forth by The Fair Labor Association (FLA), which holds brands to strident and equitable international labor standards. Outerknown sources organic, recycled, and regenerated fibers and materials, and promises to repair, replace, and recycle their S.E.A. Jeans to keep them out of landfills. Historically, the brand has promoted successful campaigns that further its mission, such as its debut of ECONYL® clothing, a process of turning fishing nets into endlessly regenerative fibers.
---
Driven by a mission to make fashion an ethical environment with fair opportunities, ABLE is dedicated to providing training and employment for women to help them break out of poverty. Since launching, the Nashville-based brand has expanded from hand-woven scarves made by craftswomen in Ethiopia, into a full-scale lifestyle brand offering covetable leather bags, apparel, shoes, and jewelry. Every piece is made by partner communities in Mexico, Brazil, India and Ethiopia as well as in-house in Nashville .
---
Dedicated to utilizing sustainable fabrics, AllBirds uses recycled bottles, castor bean oil, recycled cardboard and wool ethical sheered from merino sheep. It also uses BIO-TPU, an innovative renewable polyurethane. Not only this, the environmentally friendly clothes brand measures, reduces, and offsets each product's carbon footprint meaning it's 100% carbon neutral. It has also pledged to cut its carbon footprint in half by 2025, taking it to zero by 2030.
---
Founded in 2020, Allkind is quickly becoming one of the best sustainable clothing brands in the UK, offering 100% vegan footwear made from leather alternatives including cotton, microfibre and natural rubber. Committed to using only eco materials, the brand uses recycled and recyclable fabric at every opportunity, from soles to shoe boxes. It also partners with carbon neutral initiative, Ecologi to offset carbon emissions by taking part in tree planting programmes and rainforest protection. Plus, 5% of profits are donated to PETA and The Rainforest Trust. Each covetable style is designed in Britain and handmade in Spain.
---
Committed to designing more responsible collections, FatFace already uses 100% sustainably sourced cotton; and by 2025 this will be extended to linen, viscose, and polyester too. An active member of the Ethical Trading Initiative, it is committed to only working with suppliers that operate in a planet-first way and use with factories, which undergo an ethical audit every year to ensure working conditions are fair. In addition, the brand doesn't use down, feathers, fur, mohair, or angora in its clothing, and beauty products aren't tested on animals. You can even join in by popping your tired clothes into one of the recycling boxes in-store to help reduce the number of textiles going into landfills.
---
A premium activewear label with sustainability at its core, Olly Olly & co. uses regenerated ocean waste, such as discarded fishing nets, to make its luxe leggings and sports bras. The brand's strict ethos ensures every step of the manufacturing process is sustainably and ethically focused- nothing has been untouched including its use of non-toxic dyes and stamps inside garments to reduce the fabric waste of clothing labels. Every piece is made in Portugal, in a factory that strictly adheres to European Standards of Labor.
---
White Stuff monitors its fashion footprint from product conception to completion, implementing energy-efficient processes for greater impact. A leader in sustainable fashion, the much-loved high street brand already offers a diverse range of organic and Fair Trade Sourced cotton pieces. In their three-year agreement with Fair Trade, White Stuff aims to increase the amount of sustainable cotton sourced every year. The goal being to use only sustainably sourced cotton by 2024.
---
One of our latest discoveries, Thought is an independent sustainable fashion brand majoring on beautiful quality, timeless wardrobe pieces. Born in Australia, the sustainable fashion brand blends fabrics such as bamboo, hemp, organic cotton, and tencel modal fibers with unique prints designed by its in house team. The brand motto is "Wear me, love me, mend me, pass me on." Selling eco-friendly womenswear, menswear, accessories and homeware, it's your one-stop sustainable shop.
---
Based in Brighton in the UK, ILK + ERNIE is an ethical, female-led brand making a splash in the sustainable fashion arena. The sustainable fashion brand specializes in creating garments from off-cut materials from high-street retailers, which would have otherwise ended up in landfills. Every season, ILK + ERNIE purchase, recycle and re-use unwanted fabric and transform them into beautiful, fashion-forward pieces. By doing so, they are saving on greenhouse emissions and the millions of liters of water usually used to produce fabric. If you're looking to shop sustainably and invest in garments with longevity, then ILK + ERNIE is your one-stop shop for quality, comfortable and sustainable clothes. The brand's vision is to see every woman wearing clothes that not only turn heads but also have a positive effect on the environment too.
---
Respecting people and the planet are at the heart of People Tree, the first fashion company to be awarded the World Fair Trade Organization product label in 2013.
As well as creating timeless pieces in lust-worthy prints, collections are made using organic cotton, TENCEL™, Lyocell, and responsible wool with traditional artisan skills and low impact dyes. It also has an admirable moral compass by being a huge advocate for fair wages, good working conditions, and gender equality as well as creating employment in rural areas thanks to utilizing niche skills in designs, such as hand weaving and block printing.
---
Baukjen has long been on our fashion radar for its classic, relaxed styles, but it's the brand's use of sustainable practices that we really rate it for.
As well as 85% of the collection being made from responsible fibres (a percentage it is intent on growing), the brand uses plastic-free, biodegradable packaging, and offsets its carbon emissions. In fact, it currently captures more carbon than it emits. It even offers a rental service for customers to loan products for a period of two weeks to reduce the desire for fast-fashion and clothes ending up in landfill. Plus, it donates at least 10% of its profits to charity each year and operates with a strict code of conduct across its supply chain.
---
Having only launched in 2020, Omnes might be the new kid on the block, but it's certainly not one to be ignored. Named after the Latin word for 'all' (because we are all responsible for protecting the planet together), the brand focuses on creating thoughtfully made clothing with style-factor. With pieces hitting under £100, it's one of the best affordable sustainable clothing brands around.
Pieces are made using quality fabrics that are grown, sourced, and manufactured responsibly. For the brand's launch collection, everything was made using FSC (The Forest Stewardship Council) certified viscose—a renewable plant-based fabric that fully biodegrades. Omnes is also exploring upcycling off-cuts of fabric and deadstock into accessories to avoid anything going to waste.
Packaging is made from recyclable cards and even the clothing labels are made from recycled plastic that has been removed from the ocean. With digestible, transparent information detailed on its website, Omnes is an up-and-coming brand that takes sustainability seriously.
---
A leader in luxury sustainable fashion, Mother of Pearl has been praised for its ongoing commitment to take accountability for its fashion footprint while creating modern designs that have longevity.
Using organic and natural materials, social responsibility, respect to animals and low environmental impact are at the forefront of the brand. Transparency is also key, and the sustainable attributes of each piece are clearly labelled on the brand's website, with an option to filter products in accordance with what eco-responsible element is most important to you.
---
In the market for ethical activewear? Girlfriend Collective is passionate about making confidence-boosting athleisure from sustainable fabrics. For example, sports bras and compressive leggings are made from recycled polyester and nylon, and t-shirts are made from cupro—a fiber made from waste the cotton industry leaves behind. All of the brand's packaging is 100% recycled and recyclable, too.
Girlfriend Collective also sells a washing bag that attaches to your washing machine to capture the tiny pieces of microfibre plastics before they enter water streams and the ocean and cause harm to marine life.
---
Beloved by the Duchess of Cambridge, French footwear brand Veja has reached cult status thanks to its signature sneakers that hit high on sustainability and style-factor.
From material to supply chain, every element of a Veja sneaker is done with the planet's wellbeing in mind. For example, the rubber soles used for each design are bought at twice the market price to help protect the Amazon rainforest, which is where the material is derived from. Recycled plastic bottles, cotton and polyester is used to create uppers, and innovative leather alternatives are used in the brand's vegan range.
---