The best sustainable fashion brands to shop for the ethical fashionista in all of us
We've curated a list of our favorite sustainable fashion brands that are backed by an ethical supply chain, eco-friendly materials, and chic designs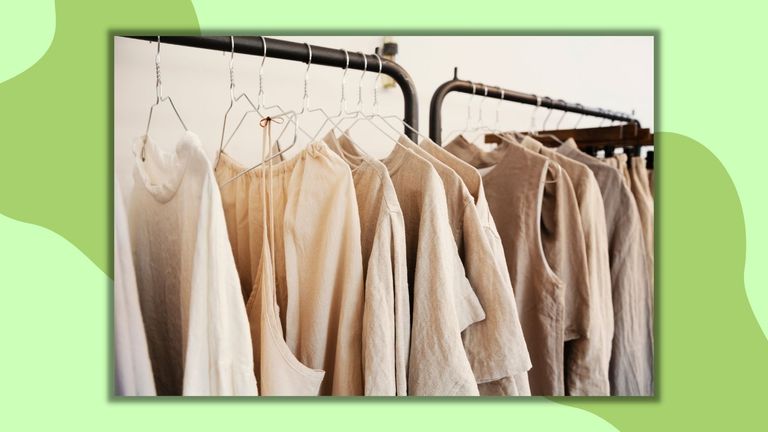 (Image credit: Future and Getty Images)
Sustainable fashion is a growing market trend as we learn more about how our shopping habits adversely impact the environment. We're here to share the top sustainable fashion brands worth noting, all of which have earned the coveted green halo among consumers for their initiatives.
It's no secret that the fashion ecosystem has contributed to the ever-growing climate crisis, while compounding existing environmental, labor, and social injustices. The fashion industry produces 10% of humanity's carbon emissions, emitting more than international flights and maritime shipping combined. Not only this, fashion production is the second-largest consumer of the world's water supply and through washing our clothes microplastics enter our oceans.
Amid grave and dire circumstances, it can be quite overwhelming to take action. Buying less, shopping second-hand, investing in better quality pieces, keeping clothes longer, recycling, repairing and clothes swapping are all ways we can help lesson our fashion footprint. But another really big one is shop sustainable fashion. There are many noteworthy brands that are doing their bit and making a stand for sustainable fashion; and with Earth Day approaching, now is a great time to do your part.
Satisfy your fashion fix with our pick of the best sustainable fashion brands, including big high street names and more niche brands. From vegan leather boots to ethically-sourced shoes, you'll quickly find eco-friendly buys for every season.
What makes a fashion brand sustainable?
Sustainable fashion is either largely undefined or defined, but encompasses many variations that exacerbate the confusion. Within the greater ecosystem, sustainable fashion is a new approach to sourcing, manufacturing, and designing garments, and focuses on reducing carbon footprint and environmental impact. The concept, rooted in tenets of ethical practices, naturally overlaps with social justice causes, like labor rights, women's empowerment, etc. behind the scenes.
But in the age of greenwashing and misinformation, what makes a fashion brand sustainable? To start, sustainable fashion brands aim to combat lax regulations and other commonplace issues within the fast fashion industry. These issues include: complicated supply chains, high consumption rates, chemical pollution, water and textile waste, and grisly human rights violations. In response, there are several criteria, qualifications, and standards that brands must uphold. All in all, sustainable fashion brands are characterized by their actions, not their promises.
Sustainable fashion brands ethically source ingredients, whether it's through localization or other vehicles.
Sustainable fashion brands endorse supply chain transparency. Generally, a brand with supply chain transparency makes products in their base country, or in developed nations where workplace health and safety codes are strictly followed and workers are paid living wages. The product lines tend to be smaller for greater control over the process, and typically come out of smaller factories rather than behemoth workshops.
Sustainable fashion brands have ethical business practices and adhere to basic human rights laws. Try to shop Fair Trade certified companies whenever possible. The term "fair trade" defines when employees in developing countries are paid fair and equitable prices for their work by companies in developed countries.
Unlike fast fashion brands, sustainable fashion brands leverage durable and enduring materials in their production process. Every design can be recycled, worn multiple times, has a renewable energy component, and reduces waste (carbon, water, you name it). When possible, look for handmade items, zero waste packaging, and carbon neutral shipping services.
Sustainable fashion brands take greater social responsibility. They typically promote give-back programs that aligns with their ethos, values, and mission to help others.
The Best Sustainable Fashion Brands To Shop
ASICS
Various styles, sizes, and variations available across footwear and activewear
Meet the Earth Day Pack: a new eco-conscious collection launched by ASICS. The pack features brand heroes across ASICS running and Sportstyle ranges, including including GEL-NIMBUS™ 23, GLIDERIDE™ 2, and GEL-LYTETM™ III shoes, plus clothing. Each product included in the collection features a bright sunflower icon on its page.
As an advancement of the brand's sustainable initiatives, this capsule uses approximately five tons of recycled textile waste as part of a series of energy-efficient production processes. (That's the equivalent of 25,000 t-shirts recycled into new shoes.) The inner part of each shoe was developed through solution dyeing. Compared to conventional dyeing processes, this approach reduces CO2 emissions and water waste by a large percentage.
• ASICS Earth Day Pack available on ASICS from $22-$250
Levi's
Sizes available: US 23-32 | Styles available: 11 | Lengths available: 26 and 28
When you think of denim and the best jeans, you automatically think of Levi's: the market leader of quality apparel at affordable prices. Levi's presents many of the best skinny jeans, slimming jeans, boyfriend jeans and mom jeans on the market to date.
But the brand transcends denim: Levi's is at the forefront of sustainable fashion, with planet-friendly collections including WellThread™. The brand strives to use recycled plastics, reduce landfill waste, and shrink its carbon footprint. Additionally, 50% of Levi's products are now made with the brand's Water Less techniques, with more than 1.8 billion liters of water saved and 129 million liters recycled. Levi's also unveiled a secondhand storefront with resale designs.
From the Levi's Premium Collection, the Wedgie Straight Jeans features eco-friendly materials and unique details for a better fit. This pair features belt loops, a cropped inseam, contrast stitching, copper- and silver-tone hardware, belt loops. Sustainable fashion has never looked better.
• Wedgie Straight Women's Jeans available on Bloomingdales for $68.60
Everlane
Sizes available: US 5-11 | Styles available: 3
If you're looking to create an eco-friendly capsule wardrobe, Everlane is your answer. The US brand prides itself on its entirely transparent supply chain, partnering with the best ethical factories around the world. They aim to use recycled materials, address water use and chemical inputs, and invest in carbon-offset projects.
Of all the offerings, we love The Tread Runner, the brand's ultimate running sneaker. With The Tread, Everlane aims to create "the world's lowest-impact sneakers" that are proudly carbon neutral. As an extension of this mission, the brand leverages full-grain leather and has reduced the amount of virgin plastic used in its supply chain.
Drawing inspiration from retro '80s track shoes, this iteration integrates eco-friendly and durable materials for comfortable wear — such as leather paneling, a cushioned insole, and a contrasting tread outsole. Since they're considerably nostalgic, you'll want to pair these shoes with grunge-esque mom jean outfits.
More importantly, the pair is designed from sustainably sourced materials, including a low-plastic sole and 100% recycled polyester lining. The laces and linings are made of recycled plastic bottles (In fact, 9.5 bottles are renewed to make every pair). It embodies sustainable fashion, signaling a better, more reformed industry in the years to come.
• The Tread Runner available on Everlane for $98
Patagonia
Sizes available: US XXS-XXL | Styles available: 10
Patagonia is no longer coined as the brand for Wallstreet bros and their fondness for vests, also known as the "Midtown Uniform". Rather, the brand has evolved into a sustainable fashion icon, with the climate crisis driving its manufacturing practices, supply chain, and marketing. Patagonia aims to reduce carbon emissions and prioritizes efficient use of resources: Waste gets upcycled into new products that get reused multiple times. To meet these goals, the brand has spearheaded numerous programs, including Worn Wear: an initiative enabling customers to shop for used items in select stores.
The best-selling Better Sweater Fleece Jacket is a testament of Patagonia's steadfast efforts. Each fleece is made of 100% recycled polyester and dyed with a low-impact process. Compared to traditional dyeing methods, the Patagonia approach is more energy efficient, reducing the use of dyestuffs, energy and water. Additionally, this fleece is fair traded certified sewn.
We also love Patagonia's Women's Down With It Jacket, which is much better alternative to faux fur coats.
• Women's Better Sweater Fleece Jacket available on Patagonia for $139
Reformation
Sizes available: US 0-12 | Styles available: 3
Reformation aims to democratize the sustainable fashion industry, making it an accessible space for everyone. This sustainable fashion brand has a stunning curation of silhouettes and accessories, all of which are made in Los Angeles, California. Reformation partners with industry groups like the Fair Labor Association, oversees on-site social responsibility audits, and champions workers' rights. And to create a sustainable supply chain, the brand uses low-impact materials, rescued deadstock fabrics, and repurposed vintage clothing.
The Fulton Dress incorporates a form-fitting bodice and waist, plus a relaxed skirt, sweetheart neckline, and ultra-feminine front slip. As part of Reformation's mission to ensure forest-based products, each dress is made of breathable georgette fabric and viscose, a man-made cellulosic fiber made from wood pulp. Environmental impact aside, it's impressively flattering on and off the rack; and serves as one of the best dresses for every type of unpredictable spring day.
• Fulton Dress available on Reformation for $248
Outerknown
Sizes available: US XS-XL | Styles available: 8
Outerknown has led the sustainable fashion bandwagon before it became a cool and trendy. Not surprisingly, the sustainable fashion brand has a laundry list of bragging rights, which have earned our trust. The brand actively invests in their employees through Fair Trade USA and guidelines put forth by The Fair Labor Association (FLA), which holds brands to strident and equitable international labor standards. Outerknown sources organic, recycled, and regenerated fibers and materials; and promises to repair, replace, and recycle their S.E.A. Jeans to keep them out of landfills. Historically, the brand has promoted successful campaigns that further its mission, such as its debut of ECONYL® clothing: a process turning fishing nets into endlessly regenerative fibers.
The fan-favorite S.E.A. Suit is playful, yet ergonomic. Made of a soft organic cotton and linen blend, this option features button entry and plenty of pockets, along with functional details for comfort: a rounded collar, an adjustable waistline, and tapered leg to be rolled up or kept down.
• S.E.A. Suit available on Outerknown for $168
Able
Material: Distressed leather | Styles available: 4
In the world of sustainable fashion, ABLE marries chic designs with environmental and social integrity, bridging the ever-growing gap between the two in sustainable fashion. Driven by an ethical mission, ABLE employs, educates, and invests in women, granting them agency and opportunity to break the cycle of poverty. Since its founding, ABLE has transformed from hand-woven scarves into a full-scale lifestyle brand featuring leather bags, apparel, shoes, and jewelry.
The top-rated Mamuye Classic Tote pairs exceptionally with casual and elevated looks — and remains undeniably practical for holding belongings. Each bag is handcrafted in Ethiopia and Mexica, and includes durable straps, an interior pocket, and subtle variations. Its high caliber design is bound to endure through continued use (even the day-to-day chaos). Finish your 'fit off with a Parisian-chic beret, another timeless accessory for your collection.
• Mamuye Classic Tote available on ABLE for $185
AllBirds
Sizes available: US 5-11 | Styles available: 4 classic and 13 limited-edition styles
With mother nature as the main muse, AllBirds uses recycled bottles, castor bean oil, recycled cardboard, BIO-TPU, sugarcare, TrinoXO™ fabric, and wool from merino sheep in their supply chain. The sustainable fashion brand measures, reduces, and offsets their products' carbon footprint, which defines the amount carbon dioxide and carbon compounds emitted from production. Carbon footprint provides a concrete measurement for which companies should meet or avoid.
When it comes to the best running shoes, the Tree Dashers check all of the boxes, offering a streamlined fit for all sizes. Each pair features durable and breathable tree material (FSC® Certified eucalyptus trees to be exact) for your most comfortable wear yet; plus a dual-density sugarcane midsole that's made with the world's first carbon negative green EVA. For greater support, the pair is detailed with ZQ Merino wool along the heel counter to hold your foot in place. By design, the sustainable fashion sneakers are flexible, adjusting intuitively to how you move.
The Tree Dashers are carbon neutral, with a starting carbon footprint of 9.0 kg CO2. For context, a standard sneaker has a carbon footprint of 12.5 kg CO2e. The AllBirds shoes have an average carbon footprint of 7.6 kg CO2e.
• Women's Tree Dashers available on AllBirds for $125
Allkind
Sizes available: US 7-11 | Styles available: 2
We love discovering new sustainable fashion finds to help us shop ethically and curate eco-friendly wardrobes. Founded recently, Allkind is a British vegan footwear and lifestyle brand. The brand has developed the world's finest vegan footwear range, handmade in Spain from sumptuous, cruelty-free materials.
The Chloe heeled boots are top of our wish list, featuring a comfortable mid height heel and round toe. This classic pair is hand stitched from vegan leather, includes cruelty-free materials, and does not contain toxic dyes. It's the perfect unity of chic design and sustainability.
• Chloe Black Vegan Leather Heeled Long Boot for $389 (available at Wolf & Badger)
FatFace
Sizes available: US 2-18 | Styles available: 2
Committed to designing more responsible collections, FatFace already uses 100% sustainably-sourced cotton; and by 2025 this will be extended to linen, viscose and polyester too. You can even join in by popping your tired clothes into one of the recycling boxes in store to help reduce the amount of textiles going into landfill. Our sustainable fashion favorite for blistering temperatures, is FatFace's Ruby Puffer Jacket. The cold-weather essential is made with 100% recycled materials, including plastic bottles. It also features lightweight, yet insulated construction, zip up pockets, an adjustable hood.
Olly Olly & Co.
Sizes available: UK XS-L | Styles available: 1
This British active wear label also uses ECONYL®, a 100% regenerated nylon yarn derived from pre and post industrial waste such as discarded fishing nets for all its product. Manufactured in Portugal in a factory that strictly adheres to European Standards of Labor, this sustainable fashion brand ship stocks to the UK to reduce carbon footprint. The brand's strict ethos ensures every step of the process is sustainably and ethically focused- nothing has been untouched including their use of non toxic stamps inside garments to reduce fabric waste labels.
The Audrey Leggings are form-fitting, yet undeniably comfortable for intense workouts. Thanks to its breathable material, it won't pill overtime — plus, the pair doesn't contain toxic dyes. Now all you need is a crash course on how to start running.
• The Audrey Sports Leggings in Ocean Blue for £79
White Stuff
Sizes available: UK 6-22 | Styles available: 12
White Stuff monitors its fashion footprint from product conception to completion, implementing energy-efficient processes for greater impact. A leader in sustainable fashion, the much-loved high street brand already offers a diverse range of organic and Fairtrade Sourced cotton pieces. In their three-year agreement with Fairtrade, White Stuff aims to increase the amount of sustainable cotton sourced every year. The goal being to use only sustainably sourced cotton by 2024.
• Organic Cotton Cardi for £15-£28
Thought Clothing
Sizes available: UK 6-18 | Styles available: 1
One of our latest discoveries, Thought, is an independent sustainable fashion brand helping women feel beautiful and comfortable. Born in Australia, the sustainable fashion brand blends fabrics such as bamboo, hemp, organic cotton, and tencel modal fibers with unique prints designed by their in house team. Their brand motto is "Wear me, love me, mend me, pass me on." Selling eco-friendly womenswear, menswear, accessories and homeware, it's your one-stop sustainable shop.
The Tiered Maxi Shirt Dress is a timeless option that leverages breathable fabric and organic cotton, finished off with a hand painted floral print. It's mid length for warm and cold temperatures, and incorporates a dropped shoulder with flattering blouson sleeves. Needless to say, the brand certainly does not mince on decorative details.
• Organic Cotton Tiered Maxi Shirt Dress for £49
Ilk And Ernie
Sizes available: UK XS-L | Styles available: 1
Based in Brighton in the UK, ILK + ERNIE is an ethical, female-led brand making a splash in the sustainable fashion arena. The sustainable fashion brand specializes in creating garments from off-cut materials from high-street retailers, which would have otherwise ended up on landfill. Every season, ILK + ERNIE purchase, recycle and re-use unwanted fabric and transform them into beautiful, fashion-forward pieces. By doing so, they are saving on greenhouse emissions and the millions of liters of water usually used to produce fabric. If you're looking to shop sustainably and invest in garments with longevity, then ILK + ERNIE is your one-stop-shop for quality, comfortable and sustainable clothes. The brand's vision is to see every woman wearing clothes that not only turn heads, but also have a positive effect on the environment too.
The No Frills Blouse is sustainably sourced from poplin cotton and integrates an emperor collar, pleated bib, button-up back, and ornate and puffed long sleeves.
Sustainable Fashion 101: How to shop ethically
Shop staple pieces: While on-trend garments are considerably snazzy, they're often limited to one-time-occasion wear. You're more likely to discard your item faster than you purchased it. Instead, invest in the classics: evergreen outfits that'll last you through the seasons and never depart from the fashion cycle. Though generally more expensive, they tend to be made of durable, eco-friendly, and soft materials, which won't wear overtime. This brings us to the next point, below.
Transform your shopping behavior: To build an sustainable fashion wardrobe from scratch, you must change your approach to shopping. If an item is super cheap, chances are it's way too good to be true; and it's most likely a biproduct of the fast fashion industry. Aside from assessing a garment's chic factor and price, you'll want to analyze its carbon footprint and energy used to make it. Also, try thrifting — there are many secondhand stores to explore. Either way, you'll want to think quality over quantity.
Do your research: When it comes to sustainable fashion, the standards are always influx and changing. That's why it's imperative to be informed. Do your homework and know where to shop. Understand the latest ethical labels and their manufacturing processes; and examine the materials used. Ask the right questions if you're uncertain, and do the nitty-gritty work in searching for answers. Ignorance is not bliss.
Donate your unwanted clothes: Before tossing your outdated 'fits into a landfill, consider donating them to a good cause. This effort is not only sustainable, it's philanthropic, too. It always feels great to give back.
Tailor your clothes: So maybe you don't want to donate or discard your garment; however, its quality has visibly diminished. Fortunately, there are ways to repair your clothing in a jiffy — whether you take matters into your own hands or pay a professional. This measure goes a long way in contributing to the sustainable fashion movement.
Think Fair Trade: Fair trade practices ensure safer working conditions for employees and uphold rigorous standards. More evidently, the fair trade complex fosters greater ecological integrity, social justice, and active change to the fashion system. Many brands are fair trade certified, including Patagonia.