How to shop sustainably, according to ethical fashion experts
We asked ethical fashion experts their top tips on how to shop sustainably, including the best planet-friendly brands to invest in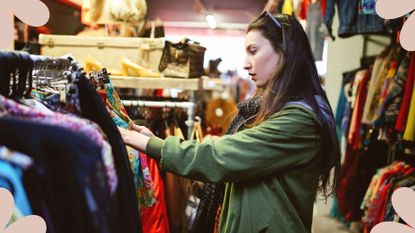 (Image credit: Getty Images/Future)
Sustainable fashion has become something of a buzzword over the last few years, and as more of us look for ways to reduce our carbon footprint and implement sustainable switches into our daily routines, many fashion brands have taken note.
But as much as many fashion brands are trying to make moves towards more sustainable production, fast fashion brands have come under fire for 'greenwashing': claiming that their products are ethically made, while evidence shows that the brand is still producing huge amounts of waste, or the workers making the garments are not being paid a fair wage. This means it's sometimes hard to know the best way to start shopping sustainably, especially with so much information to wade through. But while it may seem daunting, making small, planet-friendly changes to the way you shop is easier than ever.
Of course, the most sustainable choice when it comes to fashion would be to buy nothing at all, but this isn't necessarily realistic. If you are planning on buying a new item, not only are there plenty of genuinely ethical brands to shop, but there are also lots of ways to make your clothes last even longer, ensuring you're making the most out of your existing wardrobe. We spoke to sustainable clothing experts to get their top tips on all things ethical shopping, from tailoring existing pieces to making solid investment purchases for your spring capsule wardrobe.
Top 5 tips for how to shop sustainably, according to the experts
1. Shop second-hand first
Shopping vintage, preloved and second-hand pieces not only means you are reducing your personal carbon footprint by purchasing an item that already exists - therefore isn't creating any unnecessary waste - it's also a great way to save money. Francesca Willow, sustainable living and social justice activist, tells woman&home: "I always opt for second-hand first, such as Vinted, eBay or charity shops. I try to be specific in what I'm searching for, using keywords around color, material or pattern, or I try and narrow it down to more unique, better quality options that feel less overwhelming".
Plus, if you have a pile of old clothes you no longer wear regularly, and you're wondering the best app to sell clothes on, there are plenty of websites and apps that let you list all your preloved items for sale, sometimes without you having to pay listing or selling fees. When it comes to thrifting or browsing charity shops for unique items, Willow suggests "trying to stick to colors that already match things you already have in your wardrobe, as well as opting for natural materials, rather than synthetics". She adds: "Always check the men's section, as well, for some hidden gems!"
2. Do your research
If you are planning to shop brand new pieces, the most important advice to follow is to research the brand and its practices. Andréa Bernholtz, sustainable fashion expert and founder of sustainable swimwear brand Swiminista, suggests some things to look out for: "Are the items being mass produced? Or are they quality items made ethically and designed to last? What are the items made from?"
Lucy Greenwood, co-founder of responsible fashion brand Lucy & Yak, adds that buyers should "look for fabrics that are durable, versatile, and super comfy, with good sustainability credentials. These types of pieces are made to stand the test of time, meaning they should live in your wardrobe for years to come!"
Suzanne Vinnik, fashion designer and CEO of ethical fashion brand byVINNIK, agrees. "Look at ethical fashion brands who state on their website that they use vintage and deadstock textiles", she says. "I really think the best way to shop is to shop indie brands, and small companies where they actually make the clothes where they are designed. Brands that are transparent about how their clothes are made, are definitely the ones to shop".
While researching the ethical standards of brands will take you a little longer, and may mean abandoning some of your straight-to-market favorites, all our experts agreed that it will save you money, and time, in the long run. "A good rule of thumb is that if you are buying cheap, you will be buying more over time", says Bernholtz.
3. Make your own wardrobe last longer
Another tip shared by all of our experts is to make the most out of pieces you already own. Over time, of course, your favorite items of clothing might fit differently, or have developed rips or holes from plenty of wear, but this doesn't mean they belong in the bin. Greenwood tells us that "repairing or reworking clothes that have seen better days, or fallen out of favor, is a great choice if you're looking to reduce your footprint and keep clothes out of landfill - and it can end up feeling like you're wearing a brand new piece".
If you feel confident, adjusting clothes can be done DIY-style - Greenwood notes that "there are some great tutorials online for how to do this yourself, such as masking a hole by adding a patch in contrasting fabric" - but if you'd rather leave it to a professional, seek out your local tailor. "As someone who's on the curvier side when shopping vintage pieces", Vinnik adds, "I found it hard to find second-hand pieces that fit me. But going to a tailor isn't expensive! Clothes have become so disposable, people think that if an item has a hole in it, they can buy something new, because clothes are so cheap". Tailoring your existing clothes, or even new pieces you find in a charity shop or on Depop or Poshmark, can breathe new life into an item and give you more confidence to wear it.
4. Find a like-minded community
Any new routine is easier if you have people to share it with. Finding a community of like-minded people looking to shop more sustainably might come from social media, preloved clothing apps, or even organizing meet-ups with friends and swapping your old clothes.
Greenwood notes that "there are lots of online communities where you can trade, sell, or buy some of your favorite pieces second-hand. You can also use social media communities like these to seek out sample or surplus sales, where items that would otherwise go to waste can be picked up at a lower price: saving the planet and your wallet". Vinnik agrees, suggesting "looking for different Facebook groups that appeal to your interests - I'm in an ethical fashion group, and we might post things like 'I have this extra fabric, I'm not going to use it, does anyone want it?'"
You could also learn how to sell clothes online, meaning the items you no longer wish to wear can get a second lease of life with a new home, and you can earn some money at the same time.
5. Practice mindful shopping
Perhaps the most important piece of advice for sustainable shopping - alongside doing the appropriate research when buying new pieces - is to implement an attitude to shopping that is mindful and tentative, with a focus on investment buys that will last for years to come.
"If buying first-hand", Willow tells us, "I do my best to avoid impulse buying. If I see something from a sustainable brand that I like, I'll usually bookmark it and leave it for a while; if after a few weeks or a month, I still love it and feel I could pair it with lots of items I already own, then I'll think about purchasing it".
Vinnik takes a similar approach: "I'll look at items and think, am I actually going to wear this? Does it bring value to my life, or is it just making me feel good in this moment? Fashion is the easiest way to express ourselves, so I really consider whether this piece is going to make me excited about getting dressed".
Echoing the concept of a minimalist capsule wardrobe, Bernholtz advises "purchasing a few staples that will last, and can be worn daily. Prioritize quality over quantity to limit your own personal waste: it's worth it to invest in quality clothing".
Greenwood also suggests that buying better, means buying less; you'll ultimately be reducing the amount of waste your wardrobe produces, and allowing for pieces to be worn in a multitude of different ways. This is where concepts such as a capsule wardrobe or the 'Stealth Wealth' look comes heavily into play. As these styles are about quality, investment pieces that you'll wear again and again. "Buy clothes you're going to love forever - timelessness over trendiness every time".
What certifications should you look out for?
In both the US and the UK, ethical and sustainable brands often need to adhere to certain certifications, to prove that they are making clothes in a way that doesn't harm the planet or the workers producing the garments. Willow advises that when shopping, "look for external certifications such as Bluesign, Cradle to Cradle Certified, Fair Trade Textiles Standard, Global Organic Textile Standard and Organic Content Standards".
What is greenwashing?
Greenwashing is a term coined by environmental activists to describe companies who claim to be sustainable or ethical, while evidence suggests the contrary is true. Willow explains that "greenwashing occurs when a corporation markets itself to appear more environmentally conscious than it actually is. Brands will use vague wording and misleading information about sustainability, while still harming the environment and workers".
Vinnik explains, "you can shop sustainable collections all you want, but if the people making the clothes aren't being compensated, what you're doing is complete nonsense".
Shop our favorite sustainable fashion brands
TALA Dayflex Flared Yoga Pant
RRP: $92 / £62 | TALA champions sustainability in the activewear space, and stocking sizes 2XS to 4XL this is a really size-inclusive range too. These Dayflex flared pants can be worn to work out, or instead of your best loungewear around the house, or if you're wondering what to wear on a plane. Team this classic black pair with a tee or a tactile sweatshirt for the months ahead.
Lucy & Yak Emmy Organic Cotton Dungaree
RRP: $91 / £65 | Lucy & Yak is an inclusive, ethical fashion brand that began as a small business selling dungarees from the back of a van (named Yak, hence the name). This linen pair is perfect if you're stuck for holiday outfit ideas, crafted from comfortable and breathable fabric, they're ideal for more active trips thanks to the practical wide leg fit, and easy to layer top half.
Pact Softspun Crew Neck Tee
RRP: $18 / £21 | Pact is dedicated to sustainable practices, including investing in solar power projects, using 100% organic cotton and ensuring its factories are Fair Trade certified. This soft crew neck t-shirt is a wardrobe essential that can be worn with anything; sizing goes from XS to XXL, and there are plenty of colors to choose from, so you can find the shade that'll suit you.
Hannah is the UK Shopping Writer for woman&home. As a shopping writer, Hannah has written on everything from period pants to wine subscriptions, and is especially interested in sustainable alternatives to well-known products, as well as books and homeware accessories.
Before she joined the team at woman&home Hannah headed up the social media accounts for Wonderland in 2019, where she was also a Contributing Editor for the magazine's sister titles. During the COVID-19 pandemic, Hannah also explored evolving shopping trends at New York Magazine's The Strategist UK, researching everything from face masks to status candles and even pens.