Which is the best app to sell clothes online in 2023?
Declutter your wardrobe and make money to invest in new pieces by using one of the best apps to sell clothes in 2023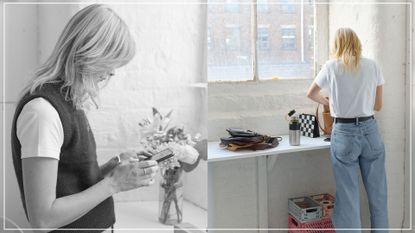 (Image credit: Morgane de Schaetzen)
There's more than just one best app to sell clothes on in 2023, as the original clothes re-sale sites like Depop and Poshmark face new competition from fresh apps competing for users and a slice of the profit.
If used correctly and consistently, the best apps to sell clothes can turn your latest closet declutter into spending money, with some people getting so good at buying and selling pre-loved and vintage items online that they turn it into a bonafide side hustle.
The first step to learning how to sell clothes online and make a profit is finding the right app to sell your items on. We've rounded up the best apps to sell clothes on below and based on our extensive testing we've rated them as easy to use and would recommend for both complete beginners and those with experience selling secondhand clothes. We also investigated the fees associated with selling items on each of the apps, and share how much of a cut the sites take from the cash you'll earn from each sale.
Best apps to sell clothes online in 2023
Why you can trust Woman & Home Our expert reviewers spend hours testing and comparing products and services so you can choose the best for you. Find out more about how we test.
1. Depop
Best app to sell clothes overall
Specifications
Listing fees?: No
Does the site take a cut of sales?: Yes, 10%
iOS or Android?: Both
Reasons to buy
+
App allows users to browse and search items
+
No listing fees
+
Easy to engage and communicate with buyers
Reasons to avoid
-
Very saturated with users
A popular choice for selling pre-loved clothes since its inception in 2011, Depop has an Instagram-like interface which allows users to browse clothes and accessories by brand, style, and category, as well as showcasing top sellers and recommending clothes based on items you've 'liked'. When it comes to listing and selling on the app, it's completely free to do, though the seller does often pay for shipping and Depop will take a commission of 10% for each sale. However, if you have lots of items to list and you've taken great photos in natural lighting, you'll find it's easy to start selling on the app, and you don't need lots of followers to get going (though being a 'social commerce' platform, it'll definitely help you get more sales down the line).
Liv Sorvel, founder of Lockup Vintage (opens in new tab), favors Depop for selling pre-loved clothes because "it's the easiest app to use, and you can upload new items on the go. It's super user-friendly, and as it's a lot more informal than other reselling sites such as ASOS Marketplace, there's less pressure for users to upload professional imagery". Alex Littlehales, who owns the pre-loved store Reloved Vintage (opens in new tab), tells us that "Depop is great because anyone can use it, whether they just want to get rid of a few things or they want to curate a full shop on the platform. You don't have to pay a monthly fee to be on there, they just take a cut, as opposed to other selling platforms like ASOS Marketplace. It's also a safer way to sell as customers have buyer protection - and if you ever need to make a dispute about a sale, they'll always help". Littlehales also loves the personable aspect of Depop, and the fact that "you can curate your shop as you like".
2. Vinted
Best easy-to-use app to sell clothes
Specifications
Listing fees?: No
Does the site take a cut of sales?: No
iOs or Android?: Both
Reasons to buy
+
Easiest app to use out of all on this list
+
No listing or selling fees makes it completely free to use
Reasons to avoid
-
A more basic interface and platform than others on the list that are tailored to experienced sellers
Vinted has become a popular app to sell old and pre-loved clothes because, unlike Depop, selling on Vinted is completely free. Only the buyer pays for postage - which is often very cheap, using delivery services like Evri and Yodel - and the buyer also pays for the transaction fees, rather than the seller. Alex Littlehales says that "Vinted has completely come in and changed the game. It's great because you can find anything on there, and at much lower prices, because people are for the most part just clearing out their wardrobes".
As opposed to a platform like Depop, Vinted is better-suited to users simply looking to make a bit of money from clothes they no longer wear, and isn't "really built for commercial use, or creating your own shop", says Littlehales. However, if you're looking for an easy-to-use selling platform that won't take up too much of your time, Vinted is the best choice. When you upload an item, Vinted offers photo tips, prompts you to write helpful descriptions, and it also lets you know if the price you're suggesting is too high for the item you're trying to sell. It's easy to discount items if you want to sell a bundle of clothes at once, you can set up recurring donations for each of your sales, and you can even quickly turn on 'holiday mode', which hides your items so that buyers won't be able to buy them while you're away.
One downside of the app is that the interface isn't quite as visually appealing as an app like Depop or Vestiaire Collective - while the very simple layout of Vinted is great for beginners, it does mean that it's harder to create a good-looking 'shop' on the site. However, if you're looking for an app to get started with as soon as possible, and you don't want to go through too many hurdles to get there, Vinted is definitely the best app to sell clothes quickly and simply with little fuss and no cost.
3. Vestiaire Collective
Best app to sell vintage clothes
Specifications
Listing fees?: No
Does the site take a cut of sales?: Yes, 15%
iOs or Android?: Both
Reasons to buy
+
Trusted seller badge allows more visibility of items
+
App is easy to browse and search items on
+
'Consignment service' means that the site will help you to sell your clothes for a larger cut
Reasons to avoid
-
Commission for sales is fairly high
-
Less well-known than apps like Depop or Vinted
Launched in 2009 as a French company, Vestiaire Collective has recently expanded to the US and UK, and allows its users to sell vintage clothes and accessories to its community of over 23 million people. With a focus on designer and unique items, sellers can list their clothes for free on the app, with a 15% selling fee deducted from the price of each sale you make over £80. Dedicated to sustainable fashion, Vestiaire Collective doesn't accept clothing which is made from the fur of protected, endangered or at-risk species, and buyers are able to see that the item they're looking for has been verified and authenticated by the app's team of experts, with a guaranteed refund if the item doesn't match the description provided by the seller.
If you sell at least two items in a six-month time period and ship 80% of your items within 5 days, as long as all of your items match their description, you'll be eligible for a 'trusted seller' badge - which will give your items more visibility on the app's homepage and encourage buyers to purchase items from your shop. It's really easy to get started with selling on the app, and your first listing won't incur any selling fees (as long as it sells for under £300). Vestiaire Collective also suggests prices for your items as you list them, as well as providing pre-paid shipping labels. Plus, if you sign up for the 'consignment service', the app will basically do all the work of listing and selling your items for you, although this comes with a steep 35% commission on each sale.
4. eBay
Best app to sell clothes with a bidding function
Specifications
Listing fees?: Free up to 1,000 listings a month
Does the site take a cut of sales?: Yes, between 2% and 12.20%
iOs or Android?: Both
Reasons to buy
+
Free listing and reasonable selling fees
+
Also great for selling accessories and vintage items
+
Options for starting auctions or choose 'buy it now'
Reasons to avoid
-
As it's used by so many people, it could be harder to get your items noticed
-
It's more expensive than other apps to sell clothes on
First launched in 1995, eBay is probably better-known as one of the best sites to buy and sell items such as laptops and cameras, but lots of people also use the site to sell their pre-loved clothes. One of the reasons why eBay remains so popular is that it's so secure, with buyers able to purchase their items through their linked PayPal account, and sellers encouraged to use eBay's own delivery service, which is an easy-to-use experience itself, making use of delivery service Evri to post items securely.
Heather Suttie (opens in new tab), who has been selling on eBay since 2016, tells us she loves selling and buying on the site as "it's safe, secure, and easy. It only takes a few minutes to take the photos, upload them, add the description then publish your listing, and I also find the dashboard really easy to use". When uploading a listing to eBay, you have the option to choose a starting bid and allow potential buyers to make offers - 'auctions' usually last a week initially, but you can choose how long you want the item to be active for - or you can select the 'buy it now' function and have people purchase the item immediately for a higher price than they would bid. The messaging function on the app is super convenient, and allows you to send photos to buyers if they request proof of purchase.
While the fees for selling on eBay are higher than for other apps such as Depop, eBay does allow you to sell up to 1,000 items a month for free. The site also encourages selling through special promotions, such as listing an item in a certain category ('pre-loved fashion', for example), and earning £5 in cashback. Suttie also loves "that you have the option to donate a proportion of your sales to charity", which is an added bonus.
5. Etsy
Best app to sell unique clothes
Specifications
Listing fees?: Yes, it costs £0.17/$0.20 to list each item
Does the site take a cut of sales?: Yes, around 6.5%
iOs or Android?: Both
Reasons to buy
+
Great for artisan items and quirky clothing
+
Easy-to-use interface
+
Etsy offers new users help and guidance while setting up their shop
Reasons to avoid
-
Doesn't offer free listings
-
Items are only active for four months
Etsy is known for its wide range of unique, quirky products from independent sellers and it's a site for people looking to launch a small business selling clothes online, rather than an app to sell second hand clothes. So if you're looking for the best app to sell clothes online that are preloved, this is not the app for you and you're better off looking at Vinted or Depop.
We always use Etsy on woman&home to look for everything from long-distance relationship gifts to thoughtful Mother's Day gift ideas, and it's also a great place to curate a shop that sells interesting clothing and accessories if you're looking to turn a hobby into a side hustle. Sellers pay £0.17/$0.20 to list each item, after which it will be active for four months, and then you will have to pay the fee to relist it if the item hasn't sold. Once an item sells, the transaction fee is about 6.5%, which the seller pays out of their earnings on the site. While these fees aren't the lowest on this list, there's no pressure to sell a certain amount each month, so it's easy to get started and test the waters with a few items first. Laila Sinke, who runs a shop on Etsy called Vintage Pumpkins (opens in new tab), loves the site because "it's incredibly careful with its policies, making sure that the right people are selling". She adds that while selling on Etsy, "I have definitely learnt so much as a small business, and I notice my shop growing consistently every day."
Another pro of Etsy is that it has its own payment service, which allows sellers to accept payments for their items from credit or debit cards, PayPal, Apple Pay, and even Etsy Gift Cards. This money is then transferred into your bank account on a weekly or monthly schedule, and you can also register for a shop via PayPal, if you'd prefer not to link your bank card to the site. Etsy's 'purchase protection plan' protects sellers if an item they have sold is lost in transit or arrives damaged, and it offers help and advice for things like best shipping practices. It's more time consuming and detailed to set up a shop with Etsy than with other apps on this list, but that's because it's really aimed at independent sellers and small business owners, rather than people selling second hand clothes or preloved items. There's also advice available for first-timers to help you decide what to sell, how to take the best photos, what prices to consider and even what to name your shop.
6. Gumtree
Best app to sell bundles of clothes and homeware
Specifications
Listing fees?: No
Does the site take a cut of sales?: No
iOs or Android?: Both
Reasons to buy
+
Buyers can choose to pick up items instead of having them delivered
+
Users search by location
+
Seller ratings are shown on their profile so buyers know the seller is trusted
Reasons to avoid
-
Ads are only live for one month
-
A less trusted peloved commerce platform than other apps on this list
While Gumtree might be best-known for people selling furniture and homeware items, you can also find success selling multiple items of clothing at once - or a 'bundle'. Buyers enjoy purchasing bundles because they only have to make one purchase in order to receive several new pieces of clothing, and sellers can enjoy the feeling of clearing out lots of old pieces from their wardrobe or decluttering their jewelry and accesories in one go. Unlike apps like Depop and eBay, Gumtree only allows listings to be live for one month, and similarly to Facebook Marketplace, sellers can choose to deliver their items via a postal service, or arrange for buyers to pick up their new items from the buyer's home.
Gumtree is one of the easiest apps to use when you want to post a listing, or 'ad' - when you start typing in the name and description of your item, Gumtree will recommend certain categories, and there's a 100 character limit to the title, to encourage sellers to keep it searchable and to the point. Another great feature of Gumtree is that a seller's rating - which they accumulate as they stack up positive reviews from buyers - is clearly displayed on each of their listings, so if you sell your items swiftly and post high-quality, honest listings, you can easily build a successful seller profile. There's also less pressure on Gumtree to take visually appealing photographs or 'curate' the images of the items you are selling, which can be the case on other apps like Depop.
7. Facebook Marketplace
Best app to sell clothes quickly
Specifications
Listing fees?: No
Does the site take a cut of sales?: No
iOs or Android?: Both
Reasons to buy
+
Easy-to-use and connects to your Facebook profile
+
Buyers can search items or look at what's in their location
Reasons to avoid
-
Not the best app for making lots of money
-
We found there were lots of time-wasting buyers who were genuine or serious about buying items
If you already have a Facebook account, you're on your way to making money through Facebook Marketplace. The app allows users to not only send and receive deliveries when they make a sale, but also to pick up and drop off items in person. This is an option that people often make use of when they want to sell items such as old furniture or electrical goods, but it's possible to make money through selling pre-loved clothes on the app, too. Like Vinted, it's completely free to list and sell items on the app, but unlike Vinted, the buyer also doesn't pay any fees - so the entire experience is free, whether you're buying or selling. The only downside to this is that you. as the seller will need to pay to post your item, if the buyer doesn't want to collect in person.
Because the app is connected to Facebook, it's easy to message potential buyers and make negotiations through the messenger function, and you can also share listings to your Facebook profile, meaning your network will be able to see the items you're selling in the same way they can see your status updates. Users of Marketplace will search for items based on their location, so rather than your items being lost in a sea of similar pieces with no guarantee that someone will see them, you'll always be able to attract potential buyers who are geographically close to you.
If you want to create and curate an individual, unique seller profile and/or shop, you'd be better off downloading an app such as Depop or Vestiaire Collective - apps for which it pays off to build up a following and market your clothes in the right way. You can also wait for weeks, months or longer for any interest in your listing on Facebook, so it's not the best app to sell clothes en masse after a wardrobe clearout. You'd better selling to serious buyers on apps like Vinted instead.
What to consider before selling clothes online
Research the fees involved: There's nothing worse than getting your items ready to sell, taking great photos, nailing the listings and uploading them to your chosen app or site, before realising that you're going to be making much less money than you planned for when you do make a sale. Researching the listing, commission and/or transaction fees is one of the most important steps to take before deciding which is the best app to sell clothes for you.
Make sure you're protected: The majority of apps will offer some form of protection for sellers making transactions. For instance, if a buyer purchases one of your items on Vinted, you post it, and it ends up getting lost or stolen in the post, Vinted will step in and refund the buyer themselves, rather than taking the sale from you as a seller. Make sure you research the protection policies that each app offers, to ensure that you won't have any nasty surprises when it comes to making sales.
Be prepared to be consistent: With apps such as Depop and eBay, consistency is key if you want to attract potential buyers and grow your following. Certain apps, such as Vinted and Facebook Marketplace, require a little less consistency, as buyers will usually just search for the items they're looking for, rather than following specific pages and becoming acquainted with people's shops.
How much can you really make selling clothes online?
How much you can make selling clothes online depends on the quality of the clothing, how attractive the listing is, and how much time (and effort) you are willing to put into uploading your old clothes to one of these apps or platforms. If you are consistent and are taking high-quality photos of your items, there's no reason why you can't make a good amount of extra cash from the clothes you have that you no longer wear.
Depop claims (opens in new tab) that its top sellers have sold over 50 items at an average of £15/$20 each for four months in a row, or have sold items for a total amount of £2,000/$2,600 for four consecutive months. These numbers show that it really is possible to make a notable amount of money out of selling preloved items online, provided you know how to sell them and which the best app to sell clothes is for you.
Hannah is the UK Shopping Writer for woman&home. As a shopping writer, Hannah has written on everything from period pants to wine subscriptions, and is especially interested in sustainable alternatives to well-known products, as well as books and homeware accessories.
Before she joined the team at woman&home Hannah headed up the social media accounts for Wonderland in 2019, where she was also a Contributing Editor for the magazine's sister titles. During the COVID-19 pandemic, Hannah also explored evolving shopping trends at New York Magazine's The Strategist UK, researching everything from face masks to status candles and even pens.