How to declutter jewelry so you can get the most out of your accessories
Learn how to declutter jewelry according to an expert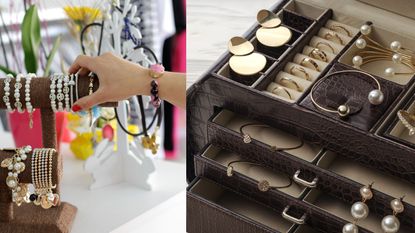 (Image credit: Getty Images)
Discovering how to declutter jewelry will help you truly maximize your accessories. Jewelry is an easy way to up-style or refresh a look, but if your collection is in disarray making the most of your stash can become unworkable.
As we enter a new season, there has never been a better time to learn how to declutter jewelry to get yourself prepped for the months ahead. Injecting the latest jewelry trends 2023 into your look is a clever way of updating a minimalist capsule wardrobe, but to do this to the greatest effect, you need to first declutter, sort, and store jewelry in a workable manner, and it will make getting dressed in the morning a breeze. If you've already nailed how to declutter clothes, this is the natural next to getting your wardrobe to its best ever state.
When it comes to how to declutter jewelry, you will likely be dealing with two different types of jewelry. While the majority of jewelry is seasonless, always having a home in your capsule wardrobe, you will also likely invest in trend-led styles to help update your wardrobe each season to keep everything feeling timely. If this sounds like your jewelry collection, you will likely need to treat these two types slightly differently.
How to declutter jewelry
When learning how to organize a closet, it's important to recognize the facets that make up your look. While we're all use to purging clothing and perhaps shoes, jewelry often just gets put to one side, as smaller pieces can be more easily stored, but it can quickly get out of hand.
In order to help you understand how to declutter jewelry we've compiled a six-step guide for you to follow. Once you have decluttered your jewelry, you should be left with accessories that you can see and use with ease, and a quick way to elevate everyday looks.
1. Gather all your jewelry into one place
Before you do anything else, gather all your jewelry together. This is best done on a desk or kitchen table as you'll need a good and solid surface area to lay everything out as you finally need to assess exactly what you have. You can own pieces from the best jewelry brands, but if you can't easily navigate your collection, you won't be getting the most out of it.
So get all of your jewelry out, find all the pieces you've dropped into handbags, left in suitcases or chucked onto sideboards - don't worry, we all do it. Place it on a surface so you can see everything on one layer.
2. Sort into kind
Now it's time to sort. Sort jewelry items into types, dividing by material, eg. silver, gold, rose gold, costume jewelry, etc. before separating into kinds, such as earrings with earrings. This will help you see exactly how much of each type of piece you have, and whether there are areas you have vastly too many pieces or other areas you wish to develop further. This also helps you to understand the type of storage you may require.
You should also consider dividing jewelry into categories, such as timeless pieces and trend-led, fast-fashion designs. This is because you may wish to declutter trend-led, jewelry more regularly, where as classic pieces, gifts, and special occasion wear will often be cherished for a lifetime.
3. Declutter and purge your collection
With stage one done, you can finally see how many items you have, meaning it's time to declutter your jewelry. As you would with clothing, go through each item of jewelry and decide if you still like it - you may also want to reference what color suits me, to work out what metals and shades work best for you, as you'll want necklaces and earrings to compliment your tone. If you're keeping an item, particularly a statement piece, think of three items you could wear it with. You can even try outfits on and photograph your ensemble to serve as a reminder.
"When it comes to decluttering your jewelry box, treat it as you would your wardrobe. Take everything out and try it on in the mirror. Like clothes, jewelry trends change over time and you may find that some of the pieces languishing are no longer your style or perhaps they literally don't fit." says fashion editor and stylist Antonia Kraskowski (opens in new tab).
If you have special items, such as heirlooms or gifts that you love, but don't wear, these can be stored separately from other items. This is so that you end up with a jewelry capsule wardrobe, an edit of easily accessible pieces that you can really utilize to up your style game. Sentimental items should of course be kept, but stored separately.
As you go through the above processes you will likely come across items you know longer like or want. Place these in one pile. Depending on their value you may wish to look at selling them on one of the best apps to sell clothes online, as accessories sell on those sites too. In a similar situation to how to sell clothes online, you could look to resell sites or for high prices items, try specialist jewelry re-sellers. You could also try to arrange a jewelry swap with friends or in your local area to refresh your collection.
If you're finding pieces that you still want but they need to be fixed, make a separate pile to deal with within the next fortnight. And finally create a pile to donate, this is particularly good for fast fashion or trend-led pieces. Those that are simply beyond repair should be recycled or disposed of.
4. Storage solutions
When it comes to how to declutter jewelry, part of the challenge is finding the best storage solutions as this will make all the difference to how accessible your jewelry is, making it easy to wear and keep in order.
Once you can know exactly how many items you plan to keep, it's time to purchase appropriate storage, and the options are endless. From jewelry boxes to drawer inserts, it is important to get the storage that works for you and this can be particularly tricky if you're navigating how to organize a small bedroom.
You may wish to have different storage solutions for different types of jewelry or for everyday and special occasion pieces. We've popped a few of our favorite jewelry organizers below.
(opens in new tab)
Stackers Jewelry Organizer
RRP: $109.27 / £89.95 | Stackers make learning how to declutter your jewelry a breeze. With five layers, each with different compartments and slots so you can display your jewelry. It will feel like you're shopping your own collection.
Ikea Komplement Drawer Insert
RRP: $135 / £80 | If you're one of the many people who has invested in an Ikea PAX wardrobe system, you can benefit from some of the draw inserts the homeware brand has created to match its own units. This draw insert comes in oak and in white.
(opens in new tab)
Yonzone Jewelry Box Organizer
RRP: $33.88 / £22.09 | Ensure your necklaces aren't tangled and your rings are easy to see with this clever jewelry box. Easy to stash on a vanity, this is ideal if you have a medium sized jewelry collection and makes it so simple to organize your jewelry.
5. Return items to their new home
Now you have got appropriate storage solutions, it's time to return items to their new home. But what if your storage space and volume of jewelry aren't fully compatible? Whatever you do, don't double up compartments. You should be able to see every piece in the selected storage at a glance, as this will ensure you can effectively choose the right item per piece. You have two choices, further jewelry decluttering, or opt to have a rotational system for jewelry, creating a fall and winter capsule wardrobe for jewelry and then repeating this for spring and summer. This will require you revisiting the earlier decluttering stages and filtering out what will be used for each season, before restoring. This is quite a commitment and you should revisit how to declutter jewelry at least every 6 months.
6. Fix, donate, resell discarded items
Now turn your attention to the piles that are left. You should have a pile for fixing, you maybe able to do some of the fixing yourself with a pair of pliers, or you may need to take items to a local jeweler or silversmith. Next work out how you're going to sell items you no longer want. From eBay to garage sales or re-selling through specialists, do not allow this pile to sit there for more than a week. And finally, items beyond repair should be recycled or discarded with immediate effect to stop them finding their way back into your current jewelry wardrobe.
You should now have a decluttered jewelry collection that is easy to navigate and ready to up-style any outfit you have planned. If you've noticed during decluttering that you are missing some key staples such as a pair of hooped earrings, or a simple chain necklace, you may want to start creating a shopping list, or gift list to plug the holes in your collection. Why not challenge yourself to wear a different piece of jewelry everyday for a week?
What can you do with sentimental jewelry?
Sentimental jewelry shouldn't be stored in your working jewelry collection. Instead, why not create a memory box, carefully storing the item of jewelry in an appropriate box and adding imagery of you wearing the jewelry and any related photos of the person the item is from. This way you always have the item stored safely and it is stowed with the memories too ready for you to enjoy as and when you want.
"Jewelry often has more sentimental attachment than a pair of jeans, so if a piece means a lot to you, give it a clean and hold on to it by all means. But if you feel like you've outgrown some of the contents of your jewelry box, consider reselling, donating or perhaps getting pieces remodelled into something new that you'll love for years to come" says Antonia.
How do you get rid of unwanted jewelry?
There is a number of ways to get rid of unwanted jewelry.
Swap: Organize a get together with friends or other people in the local area, you can even do this for charity. Everyone can place items out - doing so by type works particularly well and everyone can swap items.
Donate: As with clothes and shoes, you can often donate jewelry items to charity shops or charitable organizations to help share the love.
Re-sell: If you have high value items, particularly gold or silver pieces, look to specialist retailers. This means you can then reinvest the money in something you really want, or buy new jewelry.
How do you organize a large amount of jewelry?.
We can not stress enough how important well thought out storage is needed when it comes to how to declutter jewelry. If you have a lot of jewelry but not a lot of space, then a multi layered, but compact jewelry box that expands maybe the most effective solution for your collection. Meanwhile, if you have plenty of space, try compartmentalized drawer inserts, to help you group and sort items. The most important thing is that you can clearly see at a glance what you have so you can always make the best style decision.
Rivkie is a fashion editor, writer and stylist with over fifteen years' experience in the industry. Having studied design and pattern cutting at the London College of Fashion, Rivkie fell in love with styling and journalism, covering fashion weeks in London, Paris and New York.
Specialising in plus size fashion, Rivkie has long championed that style is for everyBODY and has been a regular talking head on a host of radio stations and television shows, pushing for greater representation for plus size women and fashion throughout her career.