Best jewelry brands to shop—from everyday sparkle to party-ready pieces
The best jewelry brands will elevate your everyday outfits and add glamor to evenings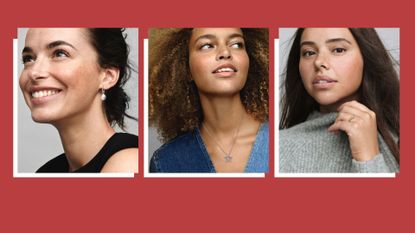 (Image credit: Pandora / Future)
The best jewelry brands can transform your everyday looks and make every outfit feel personal to you.
Your jewelry collection should be viewed as one of your wardrobe essentials. It's a great method of making a look distinctive and can make well-loved items feel fresh and new.
Trends can dictate a lot of what's available during a given season, however most jewelers will also have a distinct identity. A small amount of research can help you find the jewelry brands that work best for your life and your personal style. You can also check out the best jewelry trends 2022 for more inspiration.
Best jewelry brands from the US
Best jewelry brands in the UK
Best US jewelry brands, as chosen by our fashion experts
Why you can trust Woman & Home Our expert reviewers spend hours testing and comparing products and services so you can choose the best for you. Find out more about how we test.
1. Catbird
Best for delicate fashion pieces
Reasons to buy
+
Great collaborative collections
+
Modern twists on classic styles
Stacking rings, wedding rings and earrings, Catbird balances delicacy with a fashion-forward aesthetic. Beginning life around a kitchen table, the brand now has a few boutique stores in the US, although they ship all over the world. They also specialize in exciting collaborations: fashion stylist and editor Leith Clark, The Metropolitan Museum of Art, film director Miranda July, and painter Cassi Namoda have all worked with the brand.
Collection Highlights
Slim gold rings sprinkled in diamonds, modern interpretations of pearl earrings, and collectible pendants that include cheeky gold 'better half' friendship bagels, pearl-studded cannoli, engravable 'Love Letter'.
---
2. J. Crew
Best for everyday
Reasons to buy
+
Easily accessible
+
Great price points
+
Directional pieces for everyday
Jewelry is no longer reserved for special occasions and is now very much something we consider to be integral to our capsule wardrobe. While of course, you should still look for those statement fashion jewelry items, many of us are simply looking for versatile pieces that we can wear day to day, on repeat. J. Crew, one of the best American clothing brands, delivers this wearability in droves and for an amazing price point too. Like many ready-to-wear brands, J.Crew's signature style for accessories is heavily influenced by trends, but for 2022 you can expect plenty of chunky gold plated pieces that will help you reinvent your wardrobe staples.
Collection highlights
Gold hoops and circle plate earrings alongside chunky chain bracelets and necklaces remain the key everyday pieces, freshening up any of your best shirt and blazer combinations. While new interpretations of classic pearl earrings are also popular at J.Crew for the coming season. Clamp and hinge bracelets, largely inspired by Cartier's much sought after 'Love' bracelet remain popular too but as we head into summer lookout for bright pops of color through acetate and resin earrings, offering a fresh spin and a welcomed brightness for the months ahead.
---
3. Kate Spade
Best for whimsical pieces
Reasons to buy
+
Great price points for designer pieces
+
Original and quirky style
You may be aware of Kate Spade's extensive fashion and handbag lines. But the brand also has a fantastic line of original jewelry. Like the rest of the Kate Spade brand, the jewelry is playful and incorporates a lot of color—often a rarity in designer jewelry. Heart, flower and bow shapes are popular, as are pieces featuring name initials. The brand has a strong feminine aesthetic and we suggest teaming Kate Spade pieces with any of your best midi dresses for ladylike chic.
Collection highlights
Bows are a classic Kate Spade shape, but these linear bow earrings offer a modern take. These sculptural 3D flower earrings will dress up any smart or casual look. Love darts or arrows are another Kate Spade favorite and this quirky set of huggie earrings make for lovely Valentine's Day gift ideas.
---
4. Maria Tash
Best for piercings
Specifications
Prices from: $65 / £45.93
Reasons to buy
+
Fine jewelry for all piercing types
+
Luxurious gemstones
Combining fine jewelry, piercing and celebrity clients including Blake Lively, Rihanna and Jennifer Lawrence, Maria Tash has elevated body jewelry. Pieces are intricately designed and use the body to inform their structure. Earrings are generally sold singularly, so make sure to get two if you want a matching pair.
Collection highlights
The celestial collection combines elegance with rock 'n' roll vibes: from lightning bolt charms to diamond star-studded earrings this collection is unlikely to date rapidly. Pearls are getting a modern makeover in many places, and these hoops, studded with pearl drop embellishment make a great statement piece.
---
5. Nordstrom
Best for choice
Reasons to buy
+
Range of different designers and brands in one place
+
Price points for every budget
Nordstrom is a department store covering a range of fashion, beauty and homeware categories. With stores across the US and international shopping capabilities. Nordstrom house a number of different brands (both large and small), making them a great destination for browsing an eclectic mix of jewelry. Carrying brands such as Tory Burch, Kate Spade and Gucci, alongside Madewell, Kendra Scott and their own label, you can expect real variety and choice.
Collection highlights
Something for everyone, but we've honed in on the mid-price pieces from the likes of Kurt Geiger for their fun, rainbow aesthetic of colorful jewels and playful takes on the Evil Eye charms. Nordstrom's own brand is very wearable and particularly great for evening wear, giving you the look of diamonds for around $50. Other highlights include American brand, BaubleBar, a collection of statement, whimsical pieces that feel modern and fresh, and a great way of injecting a little bit of fun and fantasy into your jewelry box.
---
6. Tiffany & Co
Best for investment pieces
Reasons to buy
+
A classic investment
+
World-famous
Everybody knows Tiffany's. Their trademark blue boxes have been recognisable for decades, even before Audrey Hepburn ate her takeout breakfast outside the shop in the 1961 film. The brand are known for their classic heart shapes, and an engraved Tiffany pendant is high on many wish lists. Diamonds form the core of their business, meaning Tiffany is a popular destination for engagement rings, Valentine's Day gifts and other special occasion presents. Collections are discreetly branded never showy, and this heritage jewelry brand feels fresh and is still very much desired.
Collection highlights
The most recent range, the T1 collection, debuted in 2020 and incorporates the brand's T in a collection of sleek lined pieces, including some fantastic hinged bangles. The classic Tiffany Knot collection is often picked up by buyers who want to give a symbol of relationships and connection. And of course, the obvious starting point is the 'Return to Tiffany' heart tag. Utterly iconic, this piece will never go out of style.
---
Best jewelry brands in the UK, as chosen by our fashion experts
1. Annoushka
Best for designer
Reasons to buy
+
Unique charms
+
One of a kind pieces available
Annoushka is a brand with a penchant for zodiac and talismanic jewelry and an emphasis on meaningful and spiritual pieces that sit alongside more fashion-led items. Delicate hoops, modern pearls and quirky, single stud earrings feature. Annoushka have also recently collaborated with British fashion favourites Alice Temperley and The Vampire's Wife.
Collection highlights
There are many beautiful pieces in the Annoushka range but the charms stand out. with embellished submarines, fishbones, dazzling pods of peas and floral designs. Playful and delicate, the use of fine gemstones renders them suitably grown-up. Charm bracelets have experienced a resurgence in the last few years and Annoushka's pieces take this trend to a new level.
---
2. Astley Clarke
Best for timeless style
Reasons to buy
+
Classic pieces
+
Great entry price points
Astley Clark specialize in timeless pieces that can be worn for a lifetime, using metals, precious and semi-precious gemstones. There are delicate chains that can be layered or worn alone, subtly stylish bracelets and items with a discreet sparkle, useful for lighting up your best shirt. The latest collection nods towards current trends using colored gemstone.
Collection highlights
Astley Clarke offers an engraving service on many items across their range including lockets, necklaces and bracelets—allowing you to create special gifts. Astley Clarke's grown-up hoop earrings are also worth looking for.
---
3. Beaverbrooks
Best for engagements and weddings
Reasons to buy
+
Jewelers since 1919
+
Great for engagement and wedding rings
Open since 1919, Beaverbrooks have a number of jewelry shops across the UK, retailing a mix of designer and own-brand. While their core business is engagement and wedding rings, a strong mix of fashion products and watches are available too. With a keen eye on jewelry trends, you can find everything from chunky chains, modern settings for pearl jewelry and stylish statement earrings that will uplift any outfit.
Collection highlights
Beaverbrook's jewelry sets are an excellent way to let someone know you care. Classic in style, these coordinating gift sets start from £59, making them pretty and accessible buys. We particularly love the mother/daughter rose gold plated cubic Zirconia Bee pendant set. Their array of cubic zirconia earrings will see you shine as bright as a diamond but at a fraction of the cost.
---
4. Monica Vinader
Best for affordable luxury
Specifications
Prices from: $27.50 / £20
Reasons to buy
+
Extensive collection for a range of tastes
+
Designer style with accessible entry price points
With a global network of boutiques and stockists, Monica Vinader is a jewelry powerhouse. Born in San Sebastian, Spain, Monica studied fine art in London, before falling in love with jewelry. Today the brand is designed in Norfolk, England, but expertly cut and crafted in Jaipur and Thailand. Inspired by art, architecture, and the world around us, Monica's collection is vast and varied. Modern and clean lines are key to the Vinader aesthetic, they have some of the best necklaces for layering, and a gorgeous selection of stacking rings, for an eclectic and personalized feel. Make sure to check out their engraving service too.
Collection highlights
Taking on a fashion-forward aesthetic, Vinader's pearls take on new architectural shapes, light and dark iridescent coloring and are accompanied by abstract gold shells, chunky chains and drop earring silhouettes. Layered necklaces are particularly important to getting the 'Vinader look' and come into their own for great spring/summer dressing. A great way to elevate your everyday looks, combine them with a pair of your best jeans and a classic white t-shirt for effortless style.
Looking for something a little dressier? Then make sure to check out Vinader's excellent selection of cocktail rings. A statement ring is an easy and stylish way to make an impact and don't think they have to be reserved just for cocktail hour either. Need a wardrobe little boost?
5. Pandora
Best for customization
Reasons to buy
+
Stylish gifting
+
For all ages
Best known for their customizable charm bracelets, Pandora have worked hard to create a brand that transcends age. With a huge array of charms, their aim is to use jewelry as a way of marking important moments. While many charm brands use a clip-on system, the majority of the Pandora charms slide onto their bracelets and use connectors to hold pieces in place, ensuring you can create pieces that really speak to your style. In addition to their varied and extensive charm collections, they also have a rich selection of essentials and everyday silver, gold and rose gold pieces—simple pieces that you can wear on rotation to dress up your everyday looks. Other statement looks include the brand's collaborative collections with Harry Potter and Star Wars.
Collection highlights
With such a big impact on the charm market it feels like some of the other Pandora collections often get missed, but they have a great selection of statement rings, with intricate multi-band detailing and colored stones that are a cute way to add interest to any outfit. Not one for a charm bracelet? What about a charm pendant? Pandora's 'O' pendant necklaces are perfect for constant customization as they are compatible with Pandora charms.
---
6. Selfridges
Best for brand mix
Specifications
Prices from: $11.50 / £14
Reasons to buy
+
Great brand choice
+
International shipping
Offering a huge array of collections, Selfridges has long been a brilliant platform for jewelry brands big and small. Their in store 'Wonder Room'—a luxury jewelry hall, is a testament to their commitment to fine jewelry, retailing the most luxurious products as well as their extensive range of new and exciting brands. With exclusive to Selfridges pieces that start from just £35, you can get a stylish treat without breaking the bank. From fashion jewelry from the likes of Ted Baker, to pieces that can be personalized from East London's handcrafted label Littlesmith. When you shop with Selfridges, you're getting way more than the run of the mill brands you'll see everywhere else, you're stepping into a world of jewelry buying expertise and can discover some exciting independent labels too.
Collection highlights
Crystal Haze offers a super cute selection of resin, 'gummy bear' style charms in several different hues, alongside gold chain necklaces and cubic zirconia studded tennis bracelets. The Project Earth Edit is a particularly exciting selection of responsibly sourced and recycled jewelry pieces. The range covers multiple brands and houses everything from watches to jewelry and incorporates pre-loved pieces too—vintage shopping just got a whole lot sleeker. In fact, you can nab a Balenciaga ear cuff for just £190 as part of ReSelfridges, the brands pre-loved options.
---
7. Swarovski
Best for sparkle
Reasons to buy
+
Show stopping statement pieces
+
Plenty of glitz
Founded in 1865, Swarovski has been bedazzling women for generations. Known for their crystals, you'll be hard-pressed not to feel dressed up when wearing a Swarovski piece. Their classic, essential collection covers those nods to everyday sparkle—expect simple stud earrings, discreet jeweled drop earrings and delicate pendants. But it's the statement costume jewelry that really stands Swarovski out from the crowd. Colored crystals, sculptural shapes and playful geometric structures have become synonymous with their cocktail rings, alongside crystal drop earrings that will elevate any ensemble. For those after something truly special, it is Atelier Swarovski that really fulfills those fashion needs and is home to the brand's most stand-out pieces and often a number of designer collaborations.
Collection highlights
Swarovski works for multiple tastes due to its varied collections and you really can take from it the elements that suit your style best. For classic stud earrings, stylish hollow hoop earrings and discreet but charming pendant necklaces—that offer a subtle way to add a little sparkle to your capsule wardrobe. To those looking for dressier pieces, or statement items of jewelry to really dress up an evening look, then opt for color and oversized structures—such as asymmetrical, drop cut crystal earrings or a hefty cocktail ring, such as this magnetic green ring. Styled with anyone of your best blazers and you're sure to command attention in any room.
---
8. Thomas Sabo
Best for collectible charms
Reasons to buy
+
Fun charms for all ages
+
Varied designs
Thomas Sabo has really developed a multi-strand offering to cover a huge range of tastes and products. While they may have made their name with a more rock and roll aesthetic—punk style ear cuffs were their first-ever bestseller back in the 80s, Thomas Sabo today houses everything from rebellious skull rings to intricate and delicate necklaces, colorful charms, and timeless pearls.
Their Charm Club incorporates earrings, bracelets and necklaces, with a constant update and release of new charms to ensure that you can personalize your bling and build your collection of charm attachments. From utterly delicate hearts to nature, food, zodiac and initial charms, there is constant innovation when it comes to the charms on offer.
Collection highlights
If charms aren't your thing, check out Thomas Sabo's range of great statement rings. Incorporating lots of different stones and colors, there are detailed silhouettes such as crown rings, multi-stone designs and star-inspired silhouettes, as well as more classic cocktail ring styles. There are so many options, to reflect multiple personalities and styles, but it is the attention to detail that make some of Sabo's pieces really a thing of wonder. The Tropical Paradise collection is bursting with color, bringing together exotic bird and wing silhouettes, punctuated with enchanting colorful jewels.
Rivkie is a fashion editor, writer and stylist with over fifteen years' experience in the industry. Having studied design and pattern cutting at the London College of Fashion, Rivkie fell in love with styling and journalism, covering fashion weeks in London, Paris and New York.
Specialising in plus size fashion, Rivkie has long championed that style is for everyBODY and has been a regular talking head on a host of radio stations and television shows, pushing for greater representation for plus size women and fashion throughout her career.