How to build a capsule wardrobe for women over 50 according to style experts
Looking to create a capsule wardrobe for women over 50 These are all the tips you need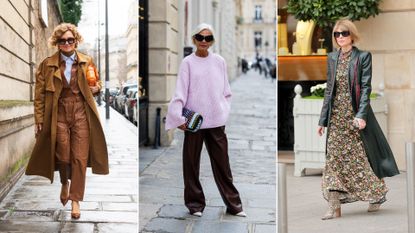 (Image credit: Getty)
woman&home newsletter
Sign up to our free daily email for the latest royal and entertainment news, interesting opinion, expert advice on styling and beauty trends, and no-nonsense guides to the health and wellness questions you want answered.
Thank you for signing up to . You will receive a verification email shortly.
There was a problem. Please refresh the page and try again.
An over 50 capsule wardrobe is a great idea, whether you're a fashion-savvy woman who knows their style, or one who still struggles to work out what to wear every day. Creating a capsule wardrobe over 50 will help to hone the items in your closet and putting outfits together a no-brainer.
Getting dressed with less stress is never a bad thing, especially when you lead a busy life. Many women in mid-life often find their capacity is at breaking point, whether that's thanks to pesky hormones, looking after elderly parents and children or working in a full-on job. The joy of an over 50 capsule wardrobe is that it frees up valuable brain space for more important things, yet still allows you to look and feel your fabulous best. Just because you're a certain age doesn't mean you can no longer have fun with fashion, but a capsule wardrobe allows you to be stylish, without the fuss.
There are other advantages as well. It can save you money in the long run, preventing those emotional purchases that never get worn. And it's great for the environment too. Fast fashion and our need for constantly changing looks have contributed a great deal to the issues we're facing with the planet. A smaller, and more considered wardrobe will ensure you're really maximizing what you own and can wear it for longer.
WHAT SHOULD A CAPSULE WARDROBE FOR WOMEN OVER 50 CONSIST OF?
A capsule wardrobe for over 50 women doesn't necessarily mean a sea of plain basics - unless that's your bag of course. It's about finding your style personality and choosing a select number of pieces that all go well together. Each item should really work with at least four other items in your wardrobe. Meaning you'll have both wardrobe essentials - like the best sweaters and well-tailored trousers, alongside funkier pieces, like statement blazers or bold jewelry.
So, how many items should a capsule wardrobe for a woman over 50 contain? It all really depends on personal taste, but QVC fashion presenter and stylist, Evey Amery Kurlander (opens in new tab) says between 40 and 50 is the optimal amount.
"I tend to look at them over a year, so pretty much, I'd say you're looking around 40- 50 items in a capsule wardrobe, which probably does sound a lot, but if you break it up across seasons, it's not huge," she says.
While Evey looks across the year, it may be easier to separate your capsule wardrobe out into seasons, as it will make it easier to organize your closet as your fall/winter wardrobe will need to work very differently from your spring/summer one. Regardless of the seasons though, there are some basics that should live in your capsule wardrobe. If needs be you can just change up the fabrics or patterns to make them more summer or winter friendly.
For award-winning personal stylist Lisa Talbot (opens in new tab), it's all about how interchangeable your clothing items are.
"When you start to create a capsule wardrobe, the aim is to see how many outfits you can create from the items you have in your wardrobe e.g. 15 items of clothing that can be interchanged to create perhaps 30 outfits," she says.
To begin your wardrobe, Lisa also suggests choosing basics - such as the best t-shirts - in neutral tones such as black, grey, beige or navy, and then you can add in print and color as you go along.
Here are the starter items every capsule wardrobe for women over 50 needs…
T-shirts and sweatshirts: Round neck and V-neck styles, both short and long-sleeved
Shirts: White oversized shirt, a silky blouse, a short-sleeved blouse
Winter coat: Tailored wool coat, casual style, such as a quilted or puffer coat
Spring/fall coat: Trench coat
Jackets: Leather, denim, blazer
Jeans: Straight, high-waisted jeans in dark, black and white denim
Dresses: A little black dress (in a thicker material for winter and light cotton for summer), wrap dress, sweater dress, evening dress
Skirts: Leather skirt, denim skirt, pencil skirt, pleated skirt
Trousers: Slim-legged tailored trousers, wide-legged high-waisted trousers, joggers
Knitwear: A simple v-neck or round-neck cashmere sweater, a turtleneck, an oversized cardigan
Shoes and boots: Trainers, ankle boots, courts, loafers, knee-high boots, evening shoes, sandals
Bags: Crossbody bag, clutch, shoulder bag, large tote
Accessories: Scarf, belt, hat, hoop earrings, simple necklace, sunglasses
Once you've got your items, Evey recommends having a play around styling them up and then snapping the looks that you love.
She says: "If you love yourself in an outfit, take a picture of it and have it in your library of style looks because sometimes you can't be bothered with actually thinking about an outfit. If you know that you've had compliments or good feedback with something, you can always go to it and feel good."
ITEMS YOU NEED IN A CAPSULE WARDROBE FOR WOMEN OVER 50
The basics are the building block for your over 50 capsule wardrobe, and once you've got those, you can inject elements that show your personality. If you are starting afresh, buy the best quality you can afford. They'll wash better and last longer, meaning you can get much more wear out of them.
To ensure your wardrobe still feels modern, it's also great to include a couple of trend pieces each season. Not only will it bring your look up-to-date but will also stop you from getting bored with what you have in your wardrobe.
Don't think of your capsule wardrobe as a finished masterpiece, it will evolve over time. You'll want to remove some items and add new items as your lifestyle and trends change and that's OK. The premise is just to stick to a simplified wardrobe. As soon as getting dressed feels like hard work again, you may have to go back to editing and have a clearout.
THE TYPES OF TOPS NEEDED FOR AN OVER 50 CAPSULE WARDROBE
"Some really good layering pieces like a simple t-shirt, both short-sleeved and long-sleeved are essential for a capsule wardrobe," advises Evey.
Layering is key, enabling you to utilize your wardrobe fully, so plain, simple basics are important, however, don't forget to include a couple of fun pieces as well. A sweatshirt with a graphic print or a silky chiffon blouse will all add interest to your basic pieces.
Whether you choose round neck or V-neck tops all depends on personal preference and your body type. While V-necks are universally flattering, they're especially good if you have broad shoulders. And if you've got a larger bosom, you may prefer a less revealing round-neck or boat-neck top.
For cooler months, don't forget the best cashmere sweaters. While fashion blogger Jacqui Berry (opens in new tab) goes for neutral tones, she also believes color has a place in an over 50s capsule wardrobe.
"Good quality jumpers in neutral colors like black and cream go with so much and work into most wardrobes, but I'd also pick a brighter jumper that would complement a patterned or floral shirt in the same tones," she says.
The types of tops you need in an over 50 capsule wardrobe include: Round/scoop neck (plain and patterned), V-neck (plain and patterned), white shirt, dressy blouse, sweatshirt or jumper.
THE TYPES OF TROUSERS NEEDED FOR AN OVER 50 CAPSULE WARDROBE
The right kind of trousers can take you from work, to play to chill out time! While you can have a wild card of a bright pair of trousers, if you want to get more versatility, go for neutrals such as grey, navy, black or even khaki.
When it comes to the styles to choose, this is again down to personal choice however, you cannot go wrong with slim, straight trousers. Teamed with a blazer it's office appropriate, adding a simple t-shirt and your best white trainers make for a stylish weekend look.
Jacqui's personal go-to is a pair of wide-legged trousers. She says: "They are so elegant and very flattering for most body shapes."
You can also play around with fabrics. A pair of leather slim trousers will inject a touch of rock and roll into your wardrobe, while a brightly colored pair of trousers will definitely encourage some dopamine dressing.
There's one style of trousers that all over 50 capsule wardrobes need and that's jeans. Evey recommends that high-waisted jeans are a good choice as they're universally flattering and allow your silhouette to be supported, while Jacqui says it's really all about trial and error.
"There are so many fits around, it really does depend on what suits you," she says.
"Take a load of styles into the fitting room and just try them all on to see what suits you. Another option is to order online, then you can try them on at home and see what 'goes' with them from your wardrobe."
The types of trousers you need in an over 50 capsule wardrobe include: Slim-legged tailored trousers, wide-legged high-waisted trousers, joggers or elasticated relaxed trousers.
THE TYPES OF DRESSES NEEDED FOR AN OVER 50 CAPSULE WARDROBE
When it comes to finding the best dresses for your over 50 capsule wardrobe, choosing those with structure over loose-fitting, baggy dresses will make all the difference.
You need dresses that can literally be worn in various ways so it's good to stick to basics that fit well. Saying that there's also space in your closet for special evening dresses, however, try to resist overly statement styles, if you want pieces you can still wear it in a multitude of ways and re-style for different functions.
For Lisa, it's all about including dresses that make you feel good.
"With many styles of dresses available, you can really choose the perfect one for you, your personality and your lifestyle," she says.
"Whether it's a block color or print, mini, midi or full length, empire line, shirt dress or tea dress, have the dress style in your wardrobe that you love and want to wear."
The types of dresses you need in an over 50 capsule wardrobe include: A little black dress, a wrap dress, a jumper dress, a denim dress, and a cocktail dress.
THE TYPES OF SKIRTS NEEDED FOR AN OVER 50 CAPSULE WARDROBE
Even though dresses are easy to throw on in the morning, an over 50 capsule wardrobe works best with lots of separates as this allows you to create different looks easily. Skirts, therefore, are essential, but you don't need to go crazy. Choose the right two or three styles and you'll be able to wear them for lots of different occasions.
For Jacqui, the obvious first choice for an over 50 capsule wardrobe is a pleated skirt.
"They are timeless and very versatile and can be dressed up with a nice pair of heels or teamed with trainers or chunky boots for a casual street style," she advises.
When it comes to length, Evey says midi is best, as it's flattering for nearly everyone.
"I do think midi skirts are good because they tend to hit the balance if you are different heights and also body proportions," she says. "They can be quite slimming and also elongating as well."
Mix and match the fabrics and patterns you choose for your skirts to add extra interest. Sheer layers add a romantic touch to any outfit, while leather gives a cool edge.
If you don't choose a cocktail dress to add to your over 50s capsule wardrobe, then an additional evening skirt, such as a sequin skirt or a floaty, ruffled number, will work for a more formal occasion.
The types of skirts you need in an over 50 capsule wardrobe include: A pleated skirt, a denim skirt, an A-line skirt, a dressy skirt.
(opens in new tab)
Oliver Bonas Pleated skirt
RRP: $95 / £65 | A leopard print skirt is a great way to add some fun to your wardrobe. Don't be afraid of the bold print, it's perfect for wearing with wardrobe basics. Dress it up with a cami and gold jewelry or team with trainers and a chunky knit for casual.
(opens in new tab)
Monsoon Denim Belted Skirt
RRP: $95 / £65 | Not just for warmer months, denim skirts can work in the winter if you go for a darker shade and a structured fit like this one, which will help you create lots of denim skirt outfit ideas. Tuck in a floaty blouse or a sweater for a chic style.
(opens in new tab)
M&Co Faux Leather Midi Skirt
RRP: $46.50 / £39.50 | A skirt doesn't always have to be black to be versatile, especially when it's leather. Not sure how to style a leather skirt? Try tucking in a crisp white shirt for an office-appropriate look, finishing it with chunky loafers or a ballet pump.
THE TYPES OF JACKETS/COATS NEEDED FOR AN OVER 50 CAPSULE WARDROBE
Just like fitted dresses look smarter as we get older, tailored jackets have the same effect and should definitely be included in any over 50 capsule wardrobe.
"I prefer to wear fitted jackets over anything like wide leg trousers or pleated skirts as it balances out the whole look," says Jacqui, who says she would also include a long-line blazer, denim jacket and faux leather jacket in her capsule wardrobe.
When it comes to coats, if you can only afford one, choose the best wool coats in your budget. Buy cheap, buy twice, as the saying goes, and this is especially true with an overcoat. Choose a classic style in a neutral shade such as camel or black and it will last you many, many years.
The types of jackets or coats you need in an over 50 capsule wardrobe include: A blazer, a denim jacket, a wool overcoat, a down-filled coat, a leather coat, a shacket or a trench coat.
THE TYPES OF SHOES NEEDED FOR AN OVER 50 CAPSULE WARDROBE
Jacqui thinks these three pairs are the minimum amount of shoes you can have in a capsule wardrobe - a pair of loafers, trainers and a strappy sandal for evenings out. However, you might want to expand on this so you can ensure you're prepared for every event.
Trainers are a must, even if you never go near a gym. They work well to tone down dressier items, such as a wrap dress, to make them perfect for daywear.
"If you are thinking you don't want to have the look of a sports trainer, go for a leather one or a leather look," advises Evey, who says stylish trainers don't have to cost the earth thanks to straight-to-market brands like M&S and Next offering variants.
The other must-have shoe Evey believes every over 50 capsule wardrobe needs is a flesh-toned court. A favorite of Kate Middleton, it's super versatile and flattering.
"I always tend to add in neutral court shoes as they go with everything and are very elongating to the leg as well!"
The types of shoes you need in an over 50 capsule wardrobe include: Trainers, loafers, high heels, courts, ballet pumps, ankle or knee-high boots.
THE TYPES OF BAGS NEEDED FOR AN OVER 50 CAPSULE WARDROBE
Yes, you may want to buy every bag going, but a good over 50 capsule wardrobe really only needs three - a tote or shoulder bag for when you need to carry around more than usual, the best crossbody bag for every day and an evening or clutch bag.
If totes aren't your thing or you need to lug a laptop to the office, look at the best work backpacks for women, as an additional to your closet. But overall, less is more when it comes to bags.
While Evey recommends neutral shades for your bags, she says color can have a place, especially if the rest of your wardrobe is in muted tones.
"If you don't like to actually bring color into your fashion, I suggest adding color with your accessories, such as a gorgeous bright bag," she says.
The types of bags you need in an over 50 capsule wardrobe include: Tote or shopper, crossbody bag, evening bag or clutch.
(opens in new tab)
Matt & Nat Abbi Vegan Tote Bag
RRP: $150 / £105 | The best tote bags are those that can hold everything, while still looking super stylish. The minimal design of this bag ensures it will complement everything in your wardrobe and it comes in a wide choice of colors, plus, it's made out of vegan leather, so it's kinder to the planet as well.
(opens in new tab)
Mulberry Billie Crossbody Bag
RRP: $1,365 / £995 | This is the one bag you'll turn to on repeat, so if you can, invest in one of the best designer crossbody bags This Mulberry one is classic enough to never date, and the leather will just get better with age. It features detailing such as the Mulberry lock and chain to make it a stand-out purchase.
(opens in new tab)
RRP: $69.90 / £49.99 | From one of the coolest Spanish clothing brands, comes this perfect LBB - Little Black Bag. Zara's bag may be black but it's not boring. The beading and fringing ensure it's evening ready and will go with a variety of looks from bright jumpsuits to little black dresses, all with great movement and style.
THE TYPES OF ACCESSORIES AND JEWELRY NEEDED FOR AN OVER 50 CAPSULE WARDROBE
This is where you can have fun with your wardrobe, and as Evey says, accessories and jewelry are a great way to inject some personality into your over 50 capsule wardrobe basics. To keep a look directional, you can refresh this part of your wardrobe seasonally, giving a nod to the latest jewelry trends or sunglasses trends.
"You can always add a pop of personality with accessories, especially if you are not somebody who feels confident to wear a lot of print or motif pieces," recommends Evey. "You can be a bit cheeky and show some fun styling."
Evey loves a leopard print scarf for injecting that fun into your wardrobe. Whether you tie it around your neck, use it as a headband or tie it around your bag, it's a super versatile piece that can help you change up your look.
When it comes to jewelry Evey says classic, simple pieces are key and choosing things like hoop earrings and simple chains means you'll always be able to accessorize your items stylishly.
She says: "I always think you can't go wrong with a classic, such as diamond studs or hoops. They are something that I always think of as really beautiful."
The types of accessories and jewelry you need in an over 50 capsule wardrobe include: Scarf, belt, hoop earrings, a hat, sunglasses, a piece of statement jewelry, a simple gold pendant.
With over 22 years' experience in journalism, Jayne has written about a variety of subjects. She spent the start of her career within the world of film, interviewing Hollywood stars, attending premieres and lusting after red carpet outfits, and then moved into fashion, launching websites for big magazines such as Look, Woman's Own and Wedding and working with top fashion brands such as Westfield, LK Bennett and Hunter.
Career highlights include dressing up as Kylie (in gold hot pants!) for a national newspaper and working on big fashion events alongside Giles Deacon, Henry Holland and Naomi Campbell.