Stealth Wealth: How to make your clothes look more expensive than they are
A fashion expert explains the Stealth Wealth trend and how to get the look for less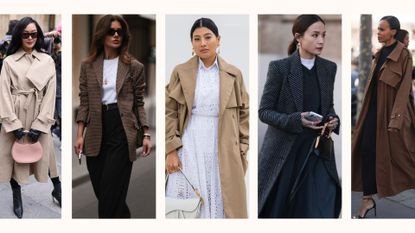 (Image credit: Getty Images)
While monogram detailing is back in fashion, stealth wealth or quiet luxury is the antithesis of showy fashion. Shunning obvious designer items for subtly expensive-looking pieces, this is the style you need to embrace if you want everyone to think your outfits are pricey, even if they can't put their finger on why. And better yet, we know how to get this look at a range of price points.
For many fashion houses, monograms and branding play a front-and-center role in key statement pieces, with the best designer bags decorated with logos and recognizable prints that have everyone you pass acknowledge your high-end purchase. But while these timeless buys - such as the best Louis Vuitton bags in the brand's iconic Damier canvas will always be much sought after, there is a growing movement towards a more subtle approach to dressing expensively.
Stealth Wealth, or old money-aesthetic as numerous TikTokers like to call it, is the art of dressing expensively, without shouting about it. This style revolves around timeless buys and swapping out the latest fashion trends for a more minimalist capsule wardrobe that champions well-crafted pieces that exude elegance. And while the easiest way to bag this look is by paying for it, we'll show you how to be more 'Stealth Wealth', for all bank balances.
Stealth Wealth fashion - how to look expensive for less
Finding its fashion feet thanks to the likes of the television show 'Succession', which revolves around some seriously stylish characters, Stealth Wealth is the art of looking expensive, without being brazen about your high-fashion wardrobe. And although the true Stealth Wealth aesthetic relies heavily on designer fashion brands, it's about selecting the buys that look and feel expensive thanks to excellent cuts, and luxe fabrications, and these don't always have to cost the earth. We round up the timeless buys that will ensure you look expensive, instead of flash and it's achievable for all price points.
1. Best blazers for stealth wealth
The best blazers for the Stealth Wealth trend are elegantly understated but crafted with excellence. That means that you're looking for quality fabrics and tailored cuts that sit beautifully across the shoulder and nip gently in at the waist. To elevate a blazer further, consider switching the original buttons for a more expensive button, to both individualize and give your jacket a playful twist. Buy the highest quality fabric you can, in particular wool or wool blend varieties for quality feel and handle. Opt for versatile neutral hues rather than bold colors for timeless elegance.
RRP: $69.90 / £49.99 | When it comes to straight-to-market tailoring, Spanish clothing brand Zara has really worked hard to nail this look. This elegant blazer, in a neutral hue feels immediately expensive, up-styling any item it is paired with.
RRP: $545 / £298 | At a higher price point, but pre-designer level, this Reiss tailored blazer offers a figure-lengthening double-breasted design. Look for a neat cut across the shoulders to give off a made-to-measure and handcrafted feel.
RRP: $575 / £506.42 | Masters of this trend, American clothing brand Rag & Bone don't heavily embellish or brand its item, making them the perfect choice for the Stealth Wealth aesthetic. This black and white blazer is ideal for work or play.
2. Best dresses for stealth wealth
When it comes to the best dresses to exude Stealth Wealth, there are some key capsule wardrobe heroes worth investing in. Classic styles, such as nautical stripes, cozy knitted dresses and warm weather-ready linen shirt dresses are ideal for adding this trend to your closet. The key here is to work around current trend, swapping bright colored clothing or time-sensitive prints for monochromatic and neutral block color designs that work effortlessly for different times of day.
Cos Striped Knitted Dress
RRP: $135 / £79 | A perfect spring outfit idea, nautical stripes are classic enough to outlive any new season trend and this elegant take - thanks to the midi length hem and timeless colorway is a Stealth Wealth must-have, better yet, it's under $150.
RRP: $149 (US only) | Shift dresses deliver a more prim finish, but this subtly pleated design is one that can easily be dressed up or down. Slip over a blouse, or under a blazer, wear with heels for an occasion, or flats for the day, it's just so versatile.
RRP: $165 (US only) | The best shirt dresses are perhaps one of the best styles for those looking for a Stealth Wealth aesthetic. A one and done look, you don't need to worry about heavy styling, and in white, it really suggest you've got it together.
3. Best pants and skirts for stealth wealth
Similarly to blazers, skirts and pants for the Stealth Wealth trend are heavily reliant on fabrication and quality cuts. Excellently tailored pants, be it directional wide legs, or never-not-useful, slim fits will ensure that the rest of your ensemble hold together and maintain its expensive aesthetic. If using less expensive pieces for this trend, don't be afraid to ask a local tailor to help give your pieces that 'made to measure' finish. When it comes to fabrications, wool, silk and leather are just three fabrics that give off that 'old-money' feel.
RRP: $225 / £197.10 | Stealth Wealth can be easily exuded with well fitting clothes. Smartly tailored, straight-legged pants, like this Reiss pair create an effortless foundation for numerous outfits. Totally seasonless, these pants can be worn all year through.
RRP: $610 / £350 | Neutral leathers age beautifully and always feel 'on the money'. Opt for pieces without branding but that look and feel buttery soft to showcase their quality. When it comes to how to wear a leather skirt, let it be the star of your ensemble.
RRP: $168 / £188 | To nail what to wear with wide leg pants, create balance in your look by keeping your top half more fitted. This will intern ensure your outfit remains polished and streamlined, lengthening your frame and looking expensive.
4. Best coats for stealth wealth
Stealth Wealth outerwear can be an easy win, as a coat is the first item anyone will see of your outfit and it immediately sets the tone for the rest of your look. To deliver on the trend, avoid any outerwear that relies heavily on the coat trends 2023, instead, opting for timeless investment looks that you can wear again and again. By skipping the trends, opting instead for timeless style, you're creating your own fashion pathways that doesn't require the runway for relevance. In this instance, it's building an outerwear wardrobe with the best trench coat, a great winter wool coat and a striking leather jacket that will see you through all seasons.
RRP: $300 (US only) | A spring wardrobe hero, a water resistant, cotton trench coat is ideal for April showers right through mid-fall. In a classic camel hue, this longline design offers extra coverage and the more relaxed fit is ideal for work or play.
RRP: $950 / £836.69 | The best wool coats deliver on appearance and warmth. Keep it simple with classic, belted wrap coats that never go out of style and opt for timeless neutral hues, as these will look expensive, rather than showy.
5. Best bags for stealth wealth
The best designer bags can be the lynch pin to whether you successfully carry off Stealth Wealth or not. In the television show, Succession, one character was berated for their overly showy handbag, something that Stealth Wealthers see as a handbag mistake. As with blazers and pants, it's all about understated elegance, opting for high quality fabrications, that aren't dripping with obvious logo details or prints.
While you can still shop the handbag trends 2023, swerve bold colors, instead going for neutral hues, buttery leathers and simple silhouettes, as these will feel the most effortless. Any branding should be minimal and discreet, it's very much a case of, 'if you know, you know'.
This makes this an easy one to fake, if a designer bag is out of your remit. Instead opt for the highest quality bag you can from straight to market brands, such as a simple leather tote or clutch, that still exudes quality, but without the eye-watering price tag.
RRP: $169 / £109 | Discretion is key, which means that switching out designer goodies for straight-to-market iterations can work for the Stealth Wealth trend. Opt for high-quality leather bags that have no branding for a streamlined look.
Ralph Lauren Shoulder Bag
RRP: $375 / £349 | Of course you can wear designer for this trend and this designer crossbody bag delivers that luxury look without tags and monograms. The supple tan leather will wear beautifully over time, while the hue will work in all seasons.
Christian Louboutin Tote Bag
RRP: $1,4900 / £1,272 | Featuring discreet detailing that says 'if you know, you know'. From the subtle stud work to the iconic red trim, usually reserved for the brands best designer heels, the is one of the best designer tote bags for the Stealth Wealth look.
6. Best shoes for stealth wealth
As with bags, whether it's designer heels or comfortable flats, the key is simplicity. Avoid obvious detail that feels to purposeful, or anything too runway-worthy. This is about footwear that looks effortlessly elegant. Super-soft leather ballet pumps, sweet patent pumps, luxe loafers, or timeless winter boots, detailing should be subtle and purposeful, as opposed to heavily embellished.
Stealth Wealthers aren't looking to stand out from the crowd overtly, what makes them noticeable is their subtle style, so always ensure that shoes are polished and well maintained to truly nail this look.
RRP: $49.90 / £35.99 | Sleek patent pumps and classic court shoes are ideal for creating the Stealth Wealth aesthetic. Leave the shoe trends 2023 on the runway and instead opt for the types of shoes that will never not be in style, neutral hues are key.
Porte Paire Leather Pumps
RRP: $250 / £195 | While ballet pumps are back on the runway, this understated flat has never really gone out of style. An ideal pair of shoes to wear with leggings, jeans or dresses, these easily slot into a handbag for those that need a flat for on the go.
RRP: $150 / £132.11 | The best loafers for women should a timeless quality to them. Delivered in neutral colorways for both versatility and subtlety, while classic snaffle detailing are more than fine, anything overtly trendy should be avoided at all costs.
7. Best jewelry for stealth wealth
The latest jewelry trends are the enemy of sealing the deal on Stealth Wealth's jewelry style. While costume pieces are ideal for up styling an outfit and creating a statement look, to pull this tricky trend together, you're looking to create the ultimate jewelry capsule wardrobe. Simple hoops, a sweet tennis bracelet that has 'air loom' appeal, and dainty, wear-everywhere studs don't have to cost the earth, but will make your outfit look as if it does.
While generally the best jewelry for this look avoids trends or cult pieces, something like the Cartier Love Bracelet is one that is universally loved and thanks to its timeless and simple shape is a piece everyone wants in their arsenal. Of course, if you manage to bag yourself one, stack it with over simple bracelets, so that you don't appear to be showing it off.
RRP: $125 / £110.09 | Stealth Wealth jewelry revolves around items that appear to heirlooms, or investment pieces that you never take off. A diamond tennis bracelet is a classic piece that is often gifted for a birthday, wedding or anniversary, suiting the look.
Blue Nile Diamond Earrings
RRP: $365 (US only) | In keeping with items that are worn and kept forever, simplicity is a must when it comes to jewelry. Diamond stud earrings are ideal for everyday or for special occasion, adding pared-back glamour and sophistication to an ensemble.
Rivkie is a fashion editor, writer and stylist with over fifteen years' experience in the industry. Having studied design and pattern cutting at the London College of Fashion, Rivkie fell in love with styling and journalism, covering fashion weeks in London, Paris and New York.
Specialising in plus size fashion, Rivkie has long championed that style is for everyBODY and has been a regular talking head on a host of radio stations and television shows, pushing for greater representation for plus size women and fashion throughout her career.