7 best shoes to wear with leggings this season
These are the best shoes to wear with leggings for maximum style points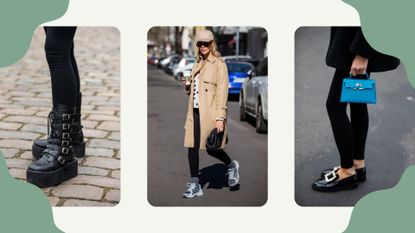 (Image credit: Getty Images)
Working out what shoes to wear with leggings is no easy task and we all know the right pair of shoes can make or break an outfit. Traditionally seen as gym wear, leggings can be tricky to accessorize, but once you've nailed this aesthetic, you'll be able to wear leggings for a host of occasions.
Suffering a bit of a bad wrap over the years, learning what shoes to wear with leggings is no easy sartorial task and creating chic leggings outfits that give runway vibes over 'just off for a run' feels takes some practice. The fitted silhouette is favored by many for its contouring ability and now thanks to modern fabrics and different styles, such as stirrup and split hem leggings, leggings are once again in the fashion spotlight. And while they're enjoying being top of the style game once more, there's no denying how comfortable they are too.
Obviously, your choice of footwear will depend on what look you're going for and your activity for the day and while trainers and ballet pumps are for more casual outings, a mid-heel mule or a high-heeled ankle boot will look super chic for evening drinks.
THE BEST SHOES TO WEAR WITH LEGGINGS - INSPIRATION FROM A FASHION EDITOR
Such a wardrobe staple, you might be wondering why deciphering what shoes to wear with leggings is so tricky. After all, there seems to be less struggle with other basics, such as jeans.
Fashion stylist and presenter Emma Lightbown, believes the gym connection can make it tricky for people to work out what shoes to wear with leggings.
"Because of the sport and activewear origins of leggings, many people struggle to know what shoes to wear with them other than trainers. However, leggings work with almost all shoes – it's just about creating the right balance for the rest of your outfit."
1. How to style trainers with leggings
When you think about what shoes to wear with leggings, trainers are pretty much the first choice. However, if you're looking to wear this ensemble outside of your workout, there are a few things to consider.
Go simple and choose either black or white trainers to team with plain black leggings. The best white trainers for this look are oversized and chunky, giving a nod to the 'Dad trainer' shoe trend 2022. The oversized trainer works because it balances out the tight fit of the legging and gives a much more contemporary.
While full-out athleisure wear such as your best hoodie and quilted jacket work with these shoes, sharp accessories will keep it looking less chilled out and more styled - such as adding your best designer tote bag to give a more polished feel.
Style tip: This doesn't have to be a sporty look, according to Emma.
"Consider teaming your trainers and leggings with a chunky knit and a crossbody bag or finishing off a simple t-shirt, leggings and trainer combo with a smart trench coat," she says.
RRP: $113 / £84.99 | Fitting the lust for all things Y2K. The chunky design and the metallic flashes very much reflect that era. They're ideal for wearing with slim-line trousers such as leggings or skinny jeans as they balance out proportions.
RRP: $99 / £89 | Wear oversized cardigans over your favorite t-shirts or buttoned-up for a cool, laid-back vibe. This one, which is the perfect example of dopamine dressing, has the added benefit of adding a much-needed zing to a winter wardrobe.
RRP: $38 / £25 | These are possibly the best leggings for everyday wear. Made in a stretchy fabric that won't sag, the high-rise waist stays put all day and helps create a smooth silhouette across your midriff and bum. Super comfy and versatile.
2. How to style high heels with leggings
If you get it wrong, heels with leggings can look like you've just walked off the set of an '80s movie. The key to this look is to keep it simple when it comes to choosing the style of your high heel.
"I love a classic court shoe with leggings," says Emma.
"You don't want anything too fussy as it can look cluttered next to the slim fit of leggings, so avoid ankle straps, Mary Janes, and anything overly strappy. Keeping it simple with a chic court shoe will help elongate your legs rather than shorten them."
Popular among the fashion set, courts look chic when worn with a stirrup or split hem leggings. It makes them look much more considered and less like you've put a pair of heels on with your gym gear.
Style tip: Black leggings and black heels are super chic, however, if you're nervous about bright color clothing but really want to add a flash of color to your outfit, teaming black leggings with bright heels works really well.
Stuart Weitzman Scallop Courts
RRP: $418 / £375 | The best designer heels are those that will live through trends but also stand out from the heel crowd. The scallop design and shiny leather on these ones tick both those boxes and will add designer chic to any outfit all year through.
RRP: $213 / £187 | Every fall capsule wardrobe needs a trench coat. A great transitional style, they'll work for formal or casual wear. When it gets cooler, layer a trench over your favorite hoodie or sweater, you may want to size up to accommodate.
RRP: $39.99 / £22.99 | One of the best Spanish clothing brands, Mango always delivers on-trend pieces at affordable prices. Also available in plus sizes, the stirrups on these leggings make them look super fresh - especially when worn with high heels.
3. How to style chunky boots with leggings
Probably one of the easiest shoes to wear with leggings are a pair of chunky boots. Whether you choose hiking, biker or DMs, they will add a touch of contemporary cool to any legging outfit. Prefer a flatter Chelsea boot? While they will work, the best Chelsea boots are those that have had a 2022 upgrade in the form of a platform or lug sole.
The chunkiness of this style of boot balances out the slimness of the leggings and also makes sure they are winterproof in an instant - just add your warmest leggings. This is a look that can work for a night down the pub or a walk in the country - a quilted coat is the best coat trend to finish off this look this season.
Style tip: Looking for easy Christmas party outfit ideas? Try an embellished biker boot with added sparkles and team with pleather leggings for a look that's comfortable and stylish.
ASOS Buckled Leather Biker Boots
RRP: $60 / £51 | Get your motors running. A major fall 2022 fashion trend, biker style and leather clothing made serious waves on the runway. The buckles add interest to what would otherwise be an ordinary black boot and we love the chunky sole.
Warehouse Silver Sequin Funnel Neck Top
RRP: $53 / £47.20 | Sequins are one of the big fashion trends 2022 guaranteed to bring some sparkle into your wardrobe. Don't save them just for the party season though, this top will look great paired with jeans or leggings for an everyday look.
Yours Clothing Leather Look Leggings
RRP: $29 / £16.99 | Available up to size 32, leather look leggings toughen up more feminine pieces, adding an edgier twist. Try styling these with pretty sheer blouses or under your best midi dresses, for an alternative to how to style leather pants.
4. How to style ballet flats with leggings
One of the big fall winter shoe trends 2022 has to offer is the ballet pump. That's right, the footwear beloved in the mid-Noughties by Amy Winehouse and Kate Moss is back. And what's more, it's one shoe style that works really well with leggings.
When teamed with leggings, this combo definitely has a French clothing brand, retro vibe to it, which is probably why fashionistas are wearing them once more. The minimalist look of a ballet pump is great for those more streamlined outfits such as an oversized blazer teamed with leggings.
While ballet pumps look their best with bare feet, style icons like Alexa Chung have shown that pumps and socks can work with leggings - just stick to neutral shades in both the shoes and socks.
Style tip: To give your look a more modern edge, choose ballet pumps with square or pointed toes or with a strap going across.
French Sole Two-Tone Ballet Pumps
RRP: $108 / £78 | Ballet pumps are the perfect finishing touch for any fall outfit ideas. They bridge the seasons well and go with everything in your wardrobe. These Chanel dupes by French Sole will inject a touch of Parisian chic into your outfits.
RRP: $17.99 / £12.99 | A polo neck is such a versatile jumper to have in your wardrobe. Styled minimally, it's super chic - think Audrey Hepburn - but it's also great for layering under other knitwear, shirts and dresses to help keep out the winter chill.
Karen Millen Belted Leggings
RRP: $108 / £79.20 | A slight upgrade on leggings, this belted style is great when you need something a little smarter. The front seams on the legs help create a lean silhouette, while the fabric belt emphasizes the waist nicely, ideal for hourglass body types.
5. How to style knee high boots with leggings
The beauty of leggings is their super slim fit, which means they're ideal for learning how to wear knee-high boots and really show this boot style off. Great for pairing with this season's must-have footwear style, the best cowboy boots for fall are packed with intricate detailing. Just add a blazer and tee and you're good to go.
Alternatively, if you want to keep your look more traditional and less trend-led, opt for a monochrome color palette and match your boots to your leggings for super leg-lengthening properties.
Style tip: Want to be a bit more daring? Emma suggests teaming your leggings with this season's on-trend thigh-high boots.
"Wearing them with leggings is an easy way to try out this trend and can look super stylish paired with a white shirt and tailored blazer," she advises.
Zara Block Heel Knee High Boots
RRP: $169 / £119 | To style knee-high boots with leggings,make sure to keep it simple - especially if they're not simple plain black boots, like these. While they're high, the block heel makes these easy to wear teamed with leggings or a midi dress.
Superdry Roll Neck Knitted Dress
RRP: $99.95 / £79.99 | Could this be the best sweater to include in your fall wardrobe? While it's strictly a dress, the above-knee length means it can also work well with a pair of leggings for extra warmth and coverage - a great switch out for tights.
RRP: $38.99 / £22.50 | Cozy, tactile and a great neutral color, these leggings are a must for any fall closet. Team with your best cashmere sweater or an oversized denim shirt for a laidback vibe, that gives a nod to retro seventies trends too.
6. How to style loafers with leggings
You can never go wrong with flats when you're working out what shoes to wear with leggings. In particular, leggings are great if you're wondering how to style loafers - they're a natural partner for these pared-down trousers.
Emma suggests tapping into the preppy vibe - as seen in Paris Fashion Week street style snaps, if you're going down this route.
"Think preppy. A stylish knit draped over your shoulders paired with an oversized shirt, a longline blazer with a simple t-shirt underneath or teamed with a tailored coat," she says.
Style tip: Like with trainers, chunky loafers will work much better with leggings than a slim-line loafer. Choose a thicker, ponte legging to make this look more office appropriate.
Zara Track Sole Chain Loafers
RRP: $69.90 / £49.99 | The ideal shoe for any smart casual outfit ideas, the loafer has come a long way from being a 'work' shoe. With the track sole and chain this pair are a modern way to smarten up jeans or add a masculine edge to midi dresses.
RRP: $99 / £89 | How to style a blazer that is oversized? The key is to keep the rest of your outfit simple, teaming it with a pair of straight jeans or a column dress. And for a night out, nothing looks better than a big blazer slung over a corset or slip dress.
Saint + Sofia Ponte Leggings
RRP: $39 / £39 | These ponte leggings should definitely be one of your wardrobe essentials. Made from eco-friendly fabric, they are slightly thicker and have a less clingy fit than some leggings, making them great for work outfits or nights out.
7. How to style mid heels with leggings
Mid heels have previously never quite looked right with leggings, perhaps thanks to the gap between the bottom of the leggings and the top of the shoes. However, thanks to the new split-hem legging, this heel height now works really well.
The best mid-heel shoes to wear with leggings? Well, it all depends on what you want to dress for. A block heel works well with a blazer for a more office-appropriate look, whereas a kitten heel mule looks directions with leggings and a corset top and blazer on top.
Style tip: When it comes to split hem leggings, longer always looks better - and then wear with a higher heel or a chunky trainer so that they're not dragging on the floor.
Stuart Weitzman Embellished Mules
RRP: $244 / £219 | Beloved by celebrities such as Meghan Markle, Kate Beckinsale and Bella Hadid, Stuart Weitzman shoes definitely bring the glamour. These embellished mules are ideal for work Christmas party outfits instead of high heels.