Best designer heels - from classic collectables to of the minute styles
The best designer heels - from evening glamour styles to everyday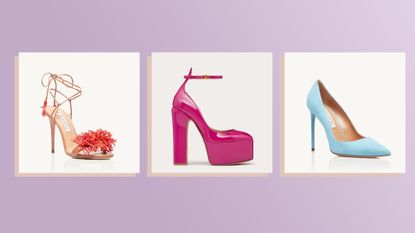 (Image credit: Aquazzura, Valentino, Aquazzura)
The best designer heels are practically works of art. While heels can be tricky to walk in, the best designer heels are architecturally designed to be as comfortable as any heel can be. Synonymous with power and glamour, these heels are made to stand the test of time.
When it comes to building a capsule wardrobe, the best designer shoes can be worth investing in, and of course, they work well with the best designer bags too. While they can be expensive, they're expertly crafted from high-end materials, and when looked after properly, they can last a lifetime. And if you pardon the shoe quote, "A woman with good shoes is never ugly", is just one of the iconic Coco Chanel quotes on shoes that we have vowed to try to live by.
If you've wanted to learn how to dress like Carrie Bradshaw and curate a wardrobe full of shoes (who doesn't), then starting off with the basics is key. If you're only going to invest in one pair of designer heels, opt for a black pair as these will always be a wardrobe essential, working with everything from flattering jumpsuits to up-styling any casual outfit in a flash. They're also a reliable choice if you're unsure what to wear to an interview.
If you don't want to pay full price, then checking out the best designer outlets is a smart way to invest in designer heels for less. While you might not find the latest shoes trends 2022 has to offer, you will still get a good selection of heels to start building your collection. An investment purchase that will stand the test of time, well-looked-after designer heels can also be resold online. Check out our guide on how to sell clothes online for more tips. And finally, to keep your shoes in good condition, get yourself one of the best shoe organizers to keep your footwear neat, tidy and dust-free - although shoes being sold with their original box are likely to have a higher resale value.
Where to shop for the best designer heels
Why you can trust Woman & Home Our expert reviewers spend hours testing and comparing products and services so you can choose the best for you. Find out more about how we test.
When it comes to choosing the best designer heels there are a few key brands that will always stand the test of time. Favored by celebrities and the fashion crowd these are 5 the brands that make some of the best designer heels and are loved by fashion editors and celebrities across the world.
Best designer heels - as chosen by our experts
1. Christian Louboutin
Immediately identifiable by their red soles, Christian Louboutin's are probably the most recognizable designer heels in the world. The trademarked color of the sole is always a tell-tale sign to a true pair of Louboutin shoes and their classic shape is universally loved by designer heel wearers. In two size heel heights 85mm and 100mm, these aren't for the faint-hearted or uninitiated to heels, but they are shoes you will certainly keep forever. Whether you're looking for what to wear on a first date to make an impact, or simply want a pair of power heels that make you walk tall, there is no more iconic shoe to shop.
Christian Louboutin Kate 85mm
RRP: $745 / £545 | A classic pointy pump with a stiletto heel, this shoe focuses on sleek lines and has a timeless appeal. In a glossy patent leather, this is a wardrobe staple that will never date and will always make you feel like an A-lister.
Christian Louboutin Hot Chick 100mm
View at Christian Louboutin
(opens in new tab)
RRP: $745 / £545 | Another patent leather iteration, this time with on-trend scallop detailing, this is the iconic classic pump with added wow factor. In three classic colorways, this 100mm stiletto is for those who can really handle their heights.
Christian Louboutin Privé 120 mm
View at Christian Louboutin
(opens in new tab)
RRP: $875 / £645 | Embodying 1950s pin-up glamour, this peep-toe shoe is a style that will always be at the heart of the brand. With a concealed platform and 120mm stiletto heel, this will take you to new heights.
2. Manolo Blahnik
A favorite designer for Sarah Jessica Parker's character, Carrie Bradshaw, Manolo Blahnik's shoes are referenced continuously throughout the many series of Sex and City, making them even more iconic for those who grew up watching the show. Loved for their sculptural simplicity, alongside their party-ready embellishments, Manolo Blahnik shoes have a long history of making some of the best designer heels. From bridal to teaming with the best bridesmaid dresses, it's a brand many trust for the most important of occasions. First opening in Chelsea in 1970, now a globally recognized brand, it's still essentially family-run, with Manolo at the creative helm and his niece as CEO.
Manolo Blahnik Hangisi Blue Satin Jewel Buckle Pumps
RRP: $995 / £795 | One of the most iconic Manolo shoes - with many appearances on Sex and the City, the brand has replicated them in comfortable flats too. Available in multiple colors, the bejeweled toe design is ideal for evening glamor or dressing up your best jeans for a bit of designer sparkle.
Manolo Blahnik BB Black Suede Pointed Toe Pump
RRP: $665 / £515 | The BB is one of the most recognized pointed-toe pumps in the world of designer heels. Inspired by Bridget Bardot, it was first created in 2008 in suede. It is now replicated each season in new colors and patterns in a mid-heel pump. A great investment shoe it will never go out of style.
Manolo Blahnik Maysale 50 Yellow Suede Buckle Mules
View at Manolo Blahnik
(opens in new tab)
RRP: $745 / £545 | First designed for American clothing brand Izaac Mizrahi's 1991 runway, the brief was for a kitten heel mule with pilgrim buckle. Following its success, the shoe has since been recreated as a high heel pump and bridal shoe, remaining one of Manolo's most iconic designs, we love the color.
3. Jimmy Choo
For many, Jimmy Choo will be the first name that springs to mind when thinking of iconic designer heels. With a strong mix of classics and on-trend styles, Jimmy Choo has maintained a young and fresh approach to shoe design, complementing its shoes with luxe handbags, the best designer sunglasses, statement trainers and most recently a show-stopping swim collection. Loved by celebrities and royalty, Jimmy Choo started in the East End of London back in 1996 and is now a global leader in the designer footwear market. A key player when it comes to footwear to work with the latest wedding dress trends 2022, if you're getting married in the near future, you'll want to check out Jimmy Choo's bridal line too.
(opens in new tab)
Jimmy Choo Saeda 100 Suede Pumps
(opens in new tab)
Jimmy Choo Ballet Pink Mules
View at Jimmy Choo
(opens in new tab)
RRP: $975 / £750 | Mules aren't the easiest to walk in and are definitely more appropriate for indoor events - car-to-bar-to-table style evenings. These bejeweled beauties in ballet pink would work well for wedding parties and evening wear looks for their simplicity and shine.
(opens in new tab)
Jimmy Choo Monogram Ankle Boots
View at Jimmy Choo
(opens in new tab)
View at Jimmy Choo
(opens in new tab)
RRP: $975 / £750 | A small heeled boot is a good training ground for those not used to wearing heels. This metallic toe adds a touch of flare to these ankle boots and the monochrome embossing ensures everyone knows that you're stepping out in designer style.
4. Bottega Veneta
Founded in 1966, Bottega Veneta has showcased a variety of styles and trends over the years, although its recent success with some cult handbag trends 2022 and successful shoe collections has seen an enormous increase in popularity in recent months. Loved for color and texture, Balenciaga heels are for style moments, rather than wardrobe classics.
Whether you are looking for the best sandals, a stiletto, new mules or wedges, Bottega Veneta has it all. With a mixture of fabrics, perfect for both day and evening wear, these shoes are destined to steal the spotlight, elevating any outfit. Pair with the matching bag for the ultimate stylized look.
(opens in new tab)
Bottega Veneta Stretch Heel
RRP: $1150 / £820 | One of the biggest fashion color trends 2022, green is central to Bottega Veneta's collection this summer, marking these pumps as a classic, regardless of their unique texture. A bold color combination of gold and green can be pared-back with a white outfit.
(opens in new tab)
Bottega Veneta Stretch Wedge
RRP: $890 / £655| These Bottega Veneta wedges are a stylish option for the summer. A combination of mesh and leather, these wedges offer a modern take on the classic espadrille silhouette. Learn how to clean white shoes to keep these shoes in pristine condition.
(opens in new tab)
Bottega Veneta Tower Heel
View at Bottega Veneta
(opens in new tab)
RRP: $1,150 / £820| In a gorgeous chocolate brown shade, these towering block heels offer an easy and instant way to lengthen your silhouette. Made from 100% calfskin, these are high-quality shoes with a smooth finish. With a '70s feel, pair with wide-leg trousers to finish the look.
5. Stuart Weitzman
Stuart Weitzman offers a bit more of an entry price point to the designer heels market. The American footwear brand was run by Weitzman until he retired in 2018 after five decades in the footwear industry, however, the brand carries on and is synonymous with beautiful timeless styles, ideal for everyday classics or special occasion pieces such as event and wedding heels. Generally a lower heel and more comfortable design, Weitzman make great bridal shoes but are also a good place to shop for footwear to pair up with the best mother of the bride outfits and best mother of the groom dresses as the heel heights, designs and price points are ideal for family occasionwear looks. With shoes starting from around the $400 / £300 mark, it's a more accessible way to invest in designer heels.
(opens in new tab)
Stuart Weitzman Delia 100 Pump
(opens in new tab)
Stuart Weitzman Lucite Sling
RRP: £375 (US shipping available) | While many of the best designer heels are stilettos, Weitzman also champions the mid-heel for a more comfortable, yet still elegant wear. This heel also reflects the creative heel shoe trend - making for an easy and chic way to inject the latest looks into your closet.
(opens in new tab)
Stuart Weitzman Mondrian Pump
RRP: £375 (US shipping available) | A modern take on a retro shoe, this design combines patent black paneling with clear PVC areas for a fun twist on a classic court shoe. The ankle wrap straps give a nod to the Gladiator sandal trend but offers a dressy and quirky finish, great for pairing with tailored dresses.
6. Guiseppe Zanotti
In the shoe game for nearly a quarter of a century, Guiseppe Zanotti is well-loved in the worlds of fashion, music and entertainment for his contemporary and glamorous approach. Championing modern femininity, his shoes are coveted everywhere - from the red carpet to the runway, to the street. Beautifully crafted, utterly creative and iconic, Zanotti heels combine the delicate with rock and roll for must-have styles that will never date.
(opens in new tab)
Giuseppe Zanotti Reikii Pumps
RRP: $750 / £535 | The subtle sculpting turns this sandal into a masterpiece. In a monochromatic matte black, this heel is timeless featuring a monogrammed logo on the ankle strap to give the shoe a unique Zanotti finish. We recommend investing in a good quality pair of black pumps and these are a classic.
(opens in new tab)
Guiseppe Zanotti Mangentha Sandal
View at Guiseppe Zanotti
(opens in new tab)
View at Guiseppe Zanotti
(opens in new tab)
RRP: $995 / £563 | This season the best designer heels are more than about height, they're drawing inspiration from art and sculpture for styles that really make a statement. The crafted chunky gold heel is ideal for those who would usually opt for flat sandals but want a little more glamour.
(opens in new tab)
Giuseppe Zanotti Ejecta Plexo
RRP: $1,015 / £715 | Featuring an elegant kitten heel and slingback strap for a '90s-inspired style, the combination of clear and opaque details gives these shoes a modern twist. The gold snaffle detailing at the front adds a hint of glitz to proceedings. Ideal for pairing with your best little black dress.
7. Saint Laurent
Powerful and iconic Saint Laurent is known for its sleek and sensual aesthetic and this very much follows through to its beautiful shoes. While like most big French clothing brands, its offering changes with the seasons, the brand's timeless designs will take pride of place in any collector's wardrobe. When it comes to the best designer heels at Saint Laurent, look for the sculptured YSL heels and squared-off boot designs as these are some of the brand's most iconic and enduring looks. With an edgier feel, they're ideal for what to wear to a concert, teamed with your best leather jacket to finish the look.
Saint Laurent Leather Heels
View at Saint Laurent
(opens in new tab)
RRP: $825 / £710 | With an on-trend square toe, these sandals feature a toehold loop and stacked block heel offering style, comfort, and a secure fit. The YSL initials on the front give them some serious statement style, teaming well with pretty much anything.
Saint Laurent Opyum Booties
RRP: $1,695 / £1,325 | Do these boots need an introduction? The sculpted and powerful YSL heel will leave no one in doubt that you've arrived. The sleek ankle fit at the top ensures these will work with everything from your best skinny jeans to the best midi dresses.
RRP: $1,695 / £1455 | With a pointed toe and slim stiletto heel, these boots are made from 100% leather. A classic design, there are so many different answers to how to style knee-high boots, but one thing is for certain, you'll never not feel like a mega star in these.
8. Prada
Italian clothing brand Prada has been around since 1913, so when it comes to high-end design and quality, you know it can be trusted. With effortless elegance at its core, Prada pumps guarantee you style, stability and comfort, making each pair a worthwhile investment. If you're looking for a subtler designer shoe, Prada succeeds in discreetly incorporating its iconic triangular logo or name into each design, without jeopardizing the style or making them too showy, although they are unmistakably Prada.
(opens in new tab)
Prada Quilted Heeled Neutral Sandals
RRP: $995 / £750 | Quilted heels have become increasingly popular and these mules do not disappoint. The chic stitching offers a fashion-forward finish, while the coloring keeps these beauties timeless. Ideal for the summer, pair with neutral hues.
(opens in new tab)
Prada Triangle Slingback Pumps
View at Prada
(opens in new tab)
RRP: $1,150 / £850 | Slingbacks have made a return this season. With a sleek and streamlined design you can really get your fashion mileage out of them as they're a strong choice for what to wear to an interview as well as working with evening looks.
(opens in new tab)
Prada Triangle Logo-Plaque Pumps
View at Prada
(opens in new tab)
View at Prada
(opens in new tab)
RRP: $1150 / £850 | In an icy pastel blue shade, these reimagined kitten heels inspired by Prada's '90s archive are quite the scene-stealer. The rubber shell boasts a sporty yet feminine design allowing them to be dressed up or down depending on the event.
9. Aquazzura
If you're looking for colorful designer heels, look no further than Italian luxury footwear brand, Aquazzura. Ideal for occasions such as what to wear to the races, this brand has become a firm favorite amongst stylists, celebrities and fashion editors, with even Megan Markle wearing Aquazzura for both her engagement and wedding day. Combining wearability and comfort with the best designer heels, the brand creates beautifully crafted footwear in a range of colors, patterns and fabrics that you can enjoy for a lifetime.
Aquazzura Purist Pump 105
RRP: $695 / £500 | The subtle curvature of these pumps marks these shoes as a stunning investment heel for your wardrobe. These heels will pair perfectly with both summer and winter wardrobes, adding a splash of color to any outfit. Pair them with neutral monochromatic outfits to let them shine.
Aquazzura Mirror Pump 105
RRP: $1195 / £905 | These carefully crafted, green metallic heels are the ultimate statement shoe to dress up an evening outfit. The sharp perspex stiletto heel teamed with a closed toe evokes the '90s glamour that really is the look of the season. A glitzy shoe will always sharpen up your little black dress too.
View at Aquazzura
(opens in new tab)
RRP: £660 / $895 | The ultimate garden party heel, these fun designer heels combine and tan and red for a bold finish. With a unique embellishment design, these are a statement shoe choice, easily dressing up any item in your capsule wardrobe. Include these in a white jeans outfit for a standout look.
10. Valentino
Valentino is one of fashion's most desirable brands. Adored by celebrities and fashion editors alike, despite its long-standing heritage, the brand manages to reinvent itself season on season, staying at the forefront of fashion trends, creating cult buys that are much sought after and replicated. Making some of the best designer heels, Valentino collections are bold, and powerful, they don't shy away from color and playful detailing, and while they house plenty of classic styles, it's the brave designs that are always the talk of the town.
(opens in new tab)
Valentino Garavani Platform Pump
RRP: $1150 / £810 | Valentino leaned into pink in a big way, sending some of the best pink dresses we have ever seen down the runway as part of its 2022 collection. These statement shoes are bound to get you noticed, team with an A-line dress of any hem length.
(opens in new tab)
Valentino One Stud Pump Heels
RRP: $970 / £690 | Valentino never shies away from a statement pair of heels, however, if you want to invest in a timeless design, then this gold and black pair, with stable block heel should be on your hit list. With a Mary Jane inspired design, this retro shoe can be dressed up or down.
(opens in new tab)
Valentino Logo Signature Patent Pump
View at Valentino
(opens in new tab)
View at Valentino
(opens in new tab)
RRP: $970 / £680 | This slender design offers a streamlined elegance, ideal for pairing with ladylike dresses and well-tailored two pieces. The light pastel blue heel promises to brighten up those summer outfits for work while offering a sporty and directional feel to proceedings.
Are designer shoes worth investing in?
The best designer heels can cost a small fortune, but are they really worth the hype? Sometimes.
Beauty PR, Iman Leila says, "Designer heels can be overpriced but if you opt for a classic pair, like a strappy black style that won't date, they can be a great investment. You can of course, also find some great designer dupes on the high street. My advice would be to pick up heels in the sale for a great investment bargain".
Designer heels do have a high price tag, but unlike your run-of-the-mill, straight-to-market shoes, the best designer heels are often handcrafted from the finest materials and are extremely high quality.
"Designer shoes are almost always worth the money because they are well made and many have survived many years walking in the city without needing much more than scuff repair. One thing to watch out for however is sizing. Many designers run wildly small. I have to go up 2 sizes in some brands" - Renee Cafaro, creative director of plus size luxury brand RCA Public Label (opens in new tab).
Aside from quality fabrics and beautiful craftsmanship they often have decades of experience in crafting high-heeled shoes that not only look good but are as comfortable as a stiletto heel can possibly be.
Of course, as we've shown in this feature, not all designer heels have to be stilettos, many designers do lower iterations of their most loved designs so whether you like your heels kitten, block or sky-high, there is a pair for you.
---
What to look for when buying designer heels
While the best designer heels take lead from the latest shoe trends, if you're new to purchasing designer shoes, we always suggest opting for classic pairs that won't date. If you're spending a lot on a pair of heels, you're going to want to get maximum wear out of them, so a sleek black pair or a neutral color will never be a bad investment.
Of course, the bright colors are enticing and if that's where your heart leads you, or you want a really loud statement pair of pumps, go for it, but if this is going to be a big and special purchase, make sure you've run through what you can wear your new heel with and when.
Embellished styles are also a good option as they will always be useful for evening occasions and for adding instant glam to any look.
If you have wider feet, buying designer heels might be a little trickier as many tend to be quite narrow or pointed. Look for more rounded toes or square toe styles as a good starting point. And remember, feet can swell in the heat or throughout the day as we get tired - if you've walked a lot, so take this into fit consideration too.
Rivkie is a fashion editor, writer and stylist with over fifteen years' experience in the industry. Having studied design and pattern cutting at the London College of Fashion, Rivkie fell in love with styling and journalism, covering fashion weeks in London, Paris and New York.
Specialising in plus size fashion, Rivkie has long championed that style is for everyBODY and has been a regular talking head on a host of radio stations and television shows, pushing for greater representation for plus size women and fashion throughout her career.