53 shoe quotes from some of the most iconic names in fashion to entertain and inspire you
The most famous shoe quotes, from fashion and entertainment icons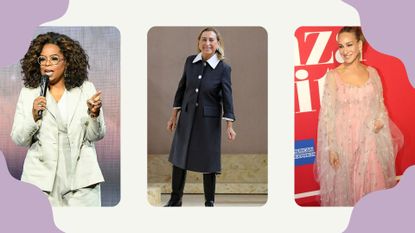 (Image credit: Getty Images)
woman&home newsletter
Sign up to our free daily email for the latest royal and entertainment news, interesting opinion, expert advice on styling and beauty trends, and no-nonsense guides to the health and wellness questions you want answered.
Thank you for signing up to . You will receive a verification email shortly.
There was a problem. Please refresh the page and try again.
Step up your style knowledge with the best shoe quotes. Whether you're looking for sartorial shoe quotes for social media or a pep talking slogan for your wall, we take a walk in the shoes of fashion icons and tastemakers with these pearls of wisdom.
When it comes to shoe quotes, it's time to put your best foot forward. The birth of social media and memes has meant that fashion quotes have never been a more valuable commodity. Whether you want to utilize the best style quotes as witty Instagram captions, or are looking to be entertained or inspired by the wisdom of others - check out these Coco Chanel quotes on life and fashion. The best shoe quotes should spark your imagination.
We've gathered 53 shoe quotes from some of the biggest names in the fashion business. From the designers that decide on the fashion trends 2022 and handbag trends 2022, to the footwear geniuses responsible for the shoe trends 2022. These quotes come from the true style experts.
Shoe quotes by fashion designers
The ultimate tastemakers, fashion designers always have plenty to say when sartorial style is at stake and when it comes to footwear, the big names in the business take shoe design seriously. And while you might think it's all about the best designer heels, the runways have been awash with comfortable flats too and as we head into summer, the best sandals need to be in your closet, stat. Ever the adaptors, these savvy style makers know what makes customers tick. We've rounded up the best quotes from designers including Christian Dior, Coco Chanel and Miuccia Prada to inspire and entertain you.
"A woman with good shoes is never ugly."- Coco Chanel
"Fun footwear is a great way to jazz it up and make your ensemble more interesting."- Christian Siriano
"Craziness in a shoe is great - you can have much more freedom, you can exaggerate and it doesn't feel stupid. But to have too much craziness near your face, that would just feel weird." - Miuccia Prada
"The average woman falls in love seven times a year. Only six are with shoes." -Kenneth Cole
"You can never take too much care over the choice of your shoes. Too many women think that they are unimportant, but the real proof of an elegant woman is what is on her feet." - Christian Dior
"A great pair of shoes can make your old outfit look great, too."- John Varvatos
Shoe quotes by shoe designers
Who better to turn to for shoe quotes than the people behind some of our favorite footwear. Between them, the icons quoted on this list have created some of the most famous designer shoes - from Louboutin's iconic red soles or Carrie Bradshaw's favorite Hangisi heels. These are the designers setting the shoe trends and this is exactly what they have to say about fashion's most powerful accessory.
"Never underestimate the power of a shoe." - Giuseppe Zanotti
"To wear dreams on one's feet is to begin to give a reality to one's dreams."- Roger Vivier
"I actually have more shoes than anyone will ever know." - Tamara Mellon
"Shoes transform your body language and attitude. They lift you physically and emotionally." - Christian Louboutin
"Shoes are the quickest way for women to achieve instant metamorphosis." - Manolo Blahnik
Shoe quotes by fashion icons
These fashion icons are the trendsetters of the industry. Where they lead, others follow. Known for their sartorial style, the likes of Alexa Chung are rarely seen without one of the best designer handbags slung over their arm and you can rest assured they all know their Choos from their Viviers. A great pair of shoes has the ability to immediately transform how you look and feel. Teamed with the best blazer and your fave jeans, in a good pair of shoes, you'll feel unstoppable.
"I don't know who invented high heels, but all women owe him a lot." - Marilyn Monroe
"If your hair is done properly and you're wearing good shoes, you can get away with anything."- Iris Apfel
"Always wear high heels. Yes, they give you power. You move differently, sit differently, and even speak differently." - Carine Roitfeld
"I did not have three thousand pairs of shoes, I had one thousand and sixty." - Imelda Marcos
"I'd say I have more shoes than anything else; they're a good way to update a look. Bags and shoes—it's like decorating a cake." - Alexa Chung
"I can be naked as long as I'm wearing the right pair of shoes." - Anna Dello Russo
Shoe quotes by celebrities
Much like the style set and the best fashion bloggers, celebrities have a huge influence on fashion, making and breaking brands with one simple step. Whether they're attending red carpet award ceremonies, heading to a party, or simply taking a moment for a quote a little more profound, this is what the likes of Amy Adams and Demi Lovato had to say about shoes.
"Nicki Minaj has a better booty; but I have better shoes." - Rihanna
"As a child I trained myself to dance in very high heels. At 13, in Destiny's Child, we were told to wear heels, but at first we couldn't walk in them. We couldn't keep our knees straight, but we learned." - Beyoncé
"Shoes are strange things. If you take your shoes off in a situation in which you're vulnerable, you'll be 10 times more vulnerable."- Daniel Day-Lewis
"You can do anything you put your mind to, and you can do it in stilettos." - Kimora Lee Simmons
"I like Cinderella, I really do. She has a good work ethic. And she likes shoes. The fairy tale is all about the shoe at the end." - Amy Adams
"I see a pair of shoes I adore, and it doesn't matter if they have them in my size. I buy them anyway." - Keira Knightley
"When your feet start to hurt, place yourself in someone else's shoes." - Demi Lovato
"To be happy, it first takes being comfortable being in your own shoes." - Sophia Bush
Shoe quotes by Carrie Bradshaw
Everyone's favorite shoeaholic, if you've ever wondered how to dress like Carrie Bradshaw, the secret is all in the shoes. A firm lover of high heels to complement her stylish outfits, Carrie Bradshaw is one celluloid heroine who knows her stuff when it comes to footwear. From her encyclopedic knowledge of the best shoe brands and Manolos to how to wear knee high boots, Carrie is a true font of shoe wisdom. And if like Carrie you have a lot of lovely footwear, don't forget to get yourself one of the best shoe organizers to keep your shoes in tip-top condition. These are just some of her best shoe quotes.
"So many shoes, and only two feet!" - Carrie Bradshaw
"I've spent $40,000 on shoes and I have no place to live? I will literally be the old woman who lived in her shoes!" - Carrie Bradshaw
"Maybe the reason Cinderella was so happy wasn't because of the Prince…. but because of the shoes." - Carrie Bradshaw
"I have this little substance abuse problem... expensive footwear." - Carrie Bradshaw
"I'm not afraid of heights, have you seen my shoes?" - Carrie Bradshaw
"The fact is, sometimes it's hard to walk in a single woman's shoes. That's why we need really special ones now and then - to make the walk a little more fun." - Carrie Bradshaw
"With no man in sight, I decided to rescue my ankles from a life of boredom. By purchasing too many pairs of Jimmy Choo shoes" - Carrie Bradshaw
Shoe quotes about high heels
Although we're certainly seeing an increased number of flat shoes on the runway, there is no denying that high heels still have the upper hand when it comes to fashion allure. While designer flats are a relatively new phenomenon, these shoe quotes prove that the runway will always favor the brave in their 5inch and up heels. An opportunity for drama, the heel has been a tool used by fashion creatives for decades to literally send models to heady heights. But it isn't just designers who love a stiletto. Many profess that a skyscraper shoe leaves them feeling on top of the world.
"I always wear heels, even around the house. I'm such a short little thing, I can't reach my kitchen cabinets." - Dolly Parton
"Shoes must have very high heels and platforms to put women's beauty on a pedestal." - Vivienne Westwood
"You put high heels on and you change." - Manolo Blahnik
"How can you live the high life if you do not wear the high heels?" - Sonia Rykiel
"Life is short, your heels shouldn't be." - Brian Atwood
"High heels can always put you in a good mood. The more depressed you are, the higher the heels you should wear." - Anna Dello Russo
"I can throw on a silver five-inch heel pump and all of a sudden, I feel a little prettier."- Jenna Lyons
Shoe quotes about comfortable shoes
When it comes to shoes, many of the style set openly admit that they prefer style over comfort. For many of us though, ending the day without having sore feet is the ultimate joy. Whether you have stocked up on the best Chelsea boots, are obsessive about the best white trainers, or love a good ballet pump, comfortable shoes definitely deserve a spot in your capsule wardrobe.
"One thing I've learned is: be comfortable in your skin, and more importantly, be comfortable in your shoes." - Octavia Spencer
"The flat shoe makes the woman equal of men. When they have high (shoes), they play a part like a geisha, and they can't be expected to be taken that seriously." - Karl Lagerfeld
"I can't concentrate in flats." - Victoria Beckham
"I would hate for someone to look at my shoes and say, 'Oh my God! They look so comfortable!" - Christian Louboutin
"I spend most of my time wearing uncomfortable things, so for me, it's all about trainers." - Cara Delevingne
Shoe quotes from Instagram
Instagram, the microblogging platform has become the place to head for some serious inspiration and it's not just the latest fashion bloggers and plus size models we're checking out for style tips, there are also plenty of life quotes and lessons to be found too. These last few shoe quotes are a mix of style statements and mini pep talks to help you walk taller.
"I firmly believe that with the right footwear one can rule the world." - Bette Midler
"Keep your head, heels and standards high." - Lola Stark
"Let your dreams outgrow the shoes of your expectations." - Ryunosuke Satoro
"For women, shoes are the most important. Good shoes take you good places." - Seo Min Hyun
"It's easier to put on a pair of shoes than to wrap the earth in leather." - Chogyam Trungpa
"I still have my feet on the ground - I just wear better shoes." - Oprah Winfrey
"It's not about the shoes, it's what you do in them." - Michael Jordan
"One shoe can change your life." - Cinderella
"Give a girl the right shoes and she can conquer the world." - Marilyn Monroe
Antonia Kraskowski is a freelance fashion editor with over 15 years of experience in the industry.
Having started her career at Conde Nast working for titles including Easy Living, Glamour and Vogue New Markets, Antonia went on to work in the fast-paced world of newspapers and weekly magazines, becoming Fashion Editor at Express Newspapers and Magazines in 2014, a role she held for five years before going freelance.
Her career has seen Antonia travel the world, shooting in 18 countries and styling campaigns for brands ranging from Ben Sherman and DKNY to Wallis.