The 28 most famous plus size models in the world - and how to follow them
From Ashley Graham to Tess Holliday, we take a look at the 28 most famous plus size models in the world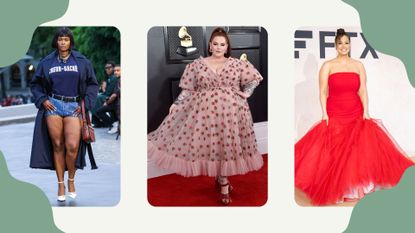 (Image credit: Getty Images)
When it comes to famous plus size models, you've probably heard of Ashley Graham and Tess Holliday, but they aren't the only stylish curve models out there.
From Palomar Elesser to Nyome Nicholas-Williams and Denise Bidot to Brielle Anyea, a new host of curvy women have taken the fashion spotlight, landing global campaigns, scoring huge social media followings and challenging narrow beauty standards along the way. And it's not just women, the male plus size market is booming too, and it's making for a more inclusive, representative industry.
And, as people who are immersed in the fashion world, the models in our list are a great source of fashion tips and body confidence inspo, showing that style and success have no size boundaries.
The plus-size fashion world is finally catching up with the rest of the industry. More and more brands are extending their size ranges and it feels like we're seeing a greater and diverse set of bodies in the pages of magazines, in campaigns and on the runway.
The last few years have seen a sharp rise in the best plus size clothing brands offering covetable wardrobe pieces, from the best plus size leggings, to wow-factor dresses, on-trend tailoring and brilliant jeans for curvy women. And the shapewear industry has improved too, with more labels than ever selling plus size shapewear. There's a positive shift happening. And while there's still a way to go until the fashion industry is a truly inclusive place, more plus size brands, coupled with greater representation of curve and plus size models on the runways and in magazines, can only be a good thing. And it's not just modeling that these women are acing, some of the best fashion bloggers are plus size too, creating their own fashion lines, packed with some of the best plus size dresses, with leading retailers, allowing you to buy into their style.
In no particular order, here are our favorite plus-size models.
THE 28 MOST FAMOUS PLUS SIZE MODELS IN THE WORLD
1. Ashley Graham
One of the most famous and successful plus size models in the world, Ashley Graham began her career aged just 12 in 2001 and has since achieved international success.
A vocal advocate for body positivity, Ashley is a force for change within the industry, even hosting a TED talk in 2015 called Plus size? More like my size, (opens in new tab) where she challenged the industry's outdated conventions.
Covers, Campaigns, Catwalks and Collections: Ashley Graham's covers include American Vogue, Vogue Arabia, Harper's Bazaar, Elle, and Glamour. She has also walked the runway for Dolce and Gabbana, Tommy Hilfiger, Michael Kors, Christian Siriano and Fendi. Fronting campaigns for Revlon and St Tropez, Ashley Graham has also collaborated on several collections, including a lingerie range with Addition Elle, a collab with PrettyLittleThing and a denim edit with Marina Rinaldi.
If you want to hear more from Ashley Graham, then tune into her podcast Pretty Big Deal, for inspirational chit-chat and plenty of self-love.
Instagram followers: 18.9 million
2. TESS HOLLIDAY
The industry thought that Tess Holliday was too short and too big, but the industry was wrong. When Tess first tried her hand at modeling at an open casting call at 15, she was unsuccessful. Standing at just 5 foot 3 inches tall and a US size 16 (UK 18/20). It was thought that Tess wouldn't be the right fit for print ads or catalog work.
Unperturbed, in 2013, Tess launched the Instagram hashtag #effyourbeautystandards, a social protest against the world's beauty standard and aims to champion body positivity. Tess was the best-kept secret of a growing plus size fashion movement. Existing largely online, through social media and plus size fashion or 'fat-shion' blogs, Tess's influence and status was growing and in 2014, the world finally got to hear about Tess Holliday.
Quitting her day job and subsequently appearing in the viral video #everyBODYisflawless, launched Tess Holliday into mainstream consciousness. The video, which also featured plus size models and influencers Gabi Fresh and Nadia Aboulhosn, showed the trio lipsynching to Beyoncé's hit song Flawless. star was born.
Covers, Campaigns, Catwalks and Collections: Since rising to prominence, Tess has featured on a cover for Cosmopolitan UK and starred in an H&M campaign, as well as featured in Marie Claire, Vogue Italia, and Nylon magazines. Tess has also walked during London Fashion week for an off-schedule Simply Be show as well as during New York Fashion Week for high fashion brand Chromat. Tess has also worked on several edits and collaborative fashion collections including a line for Penningtons and Fashion to Figure.
Instagram followers: 2.5 million
3. Denise Bidot
Born in Miami, Denise Bidot was inspired to step into the world of modeling by her Puerto Rican mother. However, where her mom struggled to reach success due to her curvy figure, Denise has become one of the most famous plus sized models in the world, starring in campaigns for the likes of Forever21, Levi's and Rihanna's Savage x Fenty.
At 18, Denise moved to California to pursue a career in acting, however, whilst working as a make-up artist, Denise was approached by a photographer who convinced her to get into modeling. In 2014, Denise became the first-ever plus size model to walk for two straight-sized brands during New York Fashion Week.
Covers, Campaigns, Catwalks and Collections: Who hasn't Denise Bidot worked or walked for. With 14 years in the industry, Denise Bidot is still absolutely killing it. Most recently Denise launched a collection with Kohls and has previously collaborated with British brand Nasty Gal. She has modeled for Old Navy, Lane Bryant, Macy's Levis' Nordstrom, Forever21, to name just a few and has walked the runway for the likes of Chromat, Christian Siriano, Evans and 11 Honoré.
Instagram followers: 760k
4. Barbie Linhares Ferreira
Born in the New York borough of Queens, Barbie Ferreira began her modeling career when she was a teen by sending photos of herself to an American Apparel open casting call.
Moving into acting, you might recognize Barbie from Euphoria, where she plays Kat Hernandez. Passionate about body positivity and pushing back on body shamers, Barbie regularly speaks on these topics within the media and uses her platform to champion body diversity.
Covers, Campaigns, Catwalks and Collections: Barbie has worked with some of the biggest brands in the business, including Aerie, Adidas, ASOS, Forever21, H&M, Levi's, and Target. Her acting credits include Divorce, Euphoria and Unpregnant. In 2016, following un-retouched images from her campaign for Aerie lingerie going viral, Time Magazine named her among its 30 Most Influential Teens. With a glittering modeling career, Barbie has featured on the covers of Cosmopolitan, Elle, Grazia, Oyster, Paper and Allure magazine.
Instagram followers: 6.2 million
5. Hayley Hasselhoff
You might know Hayley for being the daughter of Knight Rider and Baywatch heartthrob David Hasselhoff, but Hayley has forged an acting and modeling career of her own.
Hayley Hasselhoff started modeling in 2007 when she was only 14 and has since modeled for and collaborated with a number of fashion brands. She is a big champion for body positivity and often speaks on the topic of self-acceptance and being confident in your own skin. Hayley also has an acting career, playing Amber in ABC Family series, Huge.
Covers, Campaigns, Catwalks and Collections: Hayley is a contributing wellness columnist for Marie Claire, having previously also covered plus size fashion for the publication. The first-ever plus size model to pose for the cover of the German edition of Playboy, Hayley is a regular on the plus size fashion scene too. Having walked the runway at British Plus Size Fashion Week and starred on covers for the likes of Dare magazine, Hayley is a recognizable face within the industry. She has collaborated with brands such as navabi, Elvi and Yours Clothing to name just a few. Away from the fashion spotlight, Hayley is a big advocate for mental health too.
Instagram followers: 135k
6. Iskra Lawrence
Iskra is a British model who is best known for being the global face of lingerie brand Aerie. With millions of followers on Instagram, and a loyal following of young women who thrive on her positive outlook and promotion of self-love, Iskra is one of the most famous, and much-loved curvy models in the world.
Iskra is an inspiring brand ambassador for the National Eating Disorders Association (NEDA) and the creator of the NEDA Inspires Award. In February 2017 she presented AT TEDX talk called 'Ending the Pursuit of Perfection' at the University of Nevada.
Covers, Campaigns, Catwalks and Collections: Iskra made her catwalk debut in 2016 when she walked the runway for New York-based label Chromat and has been spotted on the runway at the infamous L'Oreal catwalk in Paris. As a world-famous model and influencer, Iskra is also a regular on the FROW (front row), spotted at shows such as Elie Saab and Balmain.
While Iskra is probably best known for her work with Aerie, she has also fronted luxury plus size fashion campaigns for the likes Marina Rinaldi and American Eagle Outfitters. The latter of which used unretouched images of the model wearing their The New American Jean.
Instagram followers: 5 million
7. Kate Wasley
Kate Wasley is an Australian body positive activist, curve model and social media influencer. Getting her big break in 2018, Kate landed a coveted spot in the 2018 Sports Illustrated Swimsuit issue, which was actually the start of her modeling career. Kate is also the co-founder of Any Body Co, an initiative supporting body positivity, which she launched with fellow Sports Illustrated model Georgia Gibbs.
Covers, Campaigns, Catwalks and Collections: Kate has racked up an impressive list of clients in just four years. From modeling for Frank Body and ASOS, to being the first ever curve model to team up with Australian straight-size activewear brand Lorna Jane, who have expanded into plus-size clothing, extending their gym-ready range up to size XL.
Instagram followers: 348k
8. Paloma Elesser
British-born Paloma Elsesser shot to fame after being discovered by internationally renowned make-up artist Pat McGrath, who chose the plus size model as the first face of her beauty line. Paloma, who is now 29, was only discovered at 27, but has enjoyed a meteoric rise to fame in the fashion world.
She become an outspoken advocate for inclusion within the fashion industry, using her 400-thousand plus Instagram following to challenge traditional beauty standards.
Covers, Campaigns, Catwalks and Collections: As well as fronting campaigns for Coach, Glossier, Fenty, and Nike, she has walked for designers including Alexander McQueen, Fendi and Salvatore Ferragamo, and cast as one of the new faces of Victoria's Secrets #TheVSCollective, and is advocating for the brand to extend its sizing up to a 5XL. In 2021, Paloma Elsesser scored her first American Vogue cover, photographed by Annie Leibovitz. Paloma has also featured on covers for Vogue Arabia (alongside Ashley Graham), ID, Vogue Mexico, Vogue Spain, as well as covers for The Sunday Times Style, Vogue UK, Porter and Muse Magazine.
Instagram followers: 525k
9. Precious Lee
A true trailblazer, Precious Lee is a model, actor, writer and activist. Signed to IMG, one of the top modeling agencies, Precious uses her public profile and platform to campaign for race and size diversity across fashion, TV and film. While still a big name in plus size modeling, Precious is now very much just a big name in fashion and beauty modeling, period. Bagging some huge campaigns for major clients, Precious is working with some of the industry's biggest names and causing some serious waves.
Covers, Campaigns, Catwalks and Collections: Born and raised in Atlanta, Precious was the first Black curve model to appear inside American Vogue, and one of the first plus size models to walk for Moschino for its Fall/Winter 21/22 collection during Milan Fashion Week. She also made history as the first African American curve model to walk in Versace's spring 2021 show. But Precious Lee's list of top clients is far bigger than that. Appearing in campaigns for Fenty Beauty, DSquared2 as well as covers for British Vogue in April 2021, V magazine, ID, Vogue Italia, Harper's Bazaar and Vogue Arabia, to name a few, you get the picture.
Instagram following: 345k
10. Brielle Anyea
Brielle has become a hot household name and she shows no sign of slowing down. Hitting the limelight as a 2019 Sports Illustrated Swimsuit Search Finalist (Top 67), Brielle is a model, influencer and body positive activist focusing on ending colorism & creating genuine diversity in fashion.
Covers, Campaigns, Catwalks and Collections: Brielle is an international model with an incredible brand list that includes ASOS, Panache, Nelly, Kohl's, Nike, and many more. With a cover for Glamour under her belt, Brielle has also launched her own swimwear line, Misses Brie swim that stocks swimwear in sizes XS-4X and ships all over the world. The collection of showstopping swim pieces are bright, bold and fun, just like Brielle.
Instagram followers: 157k
11. Nicola Griffin
Starting a new career at 55, Nicola Griffin shot to fame in a Sports Illustrated shoot. Since then, Nicola has flown the flag for older and grey haired models, staring in numerous fashion shoots and looking absolutely sensational.
Covers, Campaigns, Catwalks and Collections: Nicola can regularly be spotted in the pages of lifestyle and fashion publications, including Grazia, Harper's Bazaar, Saga and Women's Health. She has also starred in campaigns for Ulla Popken, adorned the windows of Selfridges, Zalando and Reserved.
Instagram followers: 13.6k
12. Sonny Turner
Sonny Turner is well known for being an outspoken advocate for inclusivity. Extremely popular with millennials and Gen-Z, Sonny has a strong and engaged social media following who are inspired by her body-positive messaging.
Happy in front of the camera, or speaking to a room full of impressionable teens, Sonny wants to use her position and her voice for change, a message we can wholeheartedly get behind.
Covers, Campaigns, Catwalks and Collections: Sonny has fronted major campaigns on both sides of the Atlantic and partnered with brands including Adidas, Marc Jacobs, H&M, and Tommy Hilfiger.
Instagram followers: 265k
13. Jocelyn Corona
If you don't know Jocelyn Corona, you should. Hailing from Mexico, the 24-year-old has already built a phenomenal, global career. Jocelyn regularly shares behind the scenes from fashion photoshoots on her Instagram account, as well as documenting some of her latest high fashion editorials.
Covers, Campaigns, Catwalks and Collections: Jocelyn is a regular on the New York Fashion Week runway and has been spotted walking for Chromat, Christian Siriano, The Blonds NY Peter Do and Benito Santos. When it comes to ready-to-wear brands, Jocelyn has shot with some pretty major household names, including Simply Be, Cacique and River Island. But it's in her editorial work where Jocelyn really shines, with work featured in Vogue Mexico, Love, Grazia and W Magazine in the last few years. Jocelyn has also worked with Marc Jacobs beauty, improving representation for curvier models in the realm of beauty too.
Instagram followers: 104k
14. Louise Boyce
Having been modeling for 25 years, you might recognize Louise Boyce from the many ready-to-wear campaigns and television adverts she has starred in. A mum of three, Louise is a spokesperson for inclusivity and body confidence, having modeled both as a straight-sized model and now as part of the curve board.
Launching her brand, MamaStillGotIt, Louise is quick-witted and shares brilliant reels and stories on her Instagram from the frontline of being a parent, alongside a healthy dose of behind-the-scenes from her life as a model and influencer. Recognizing the changes the industry has gone through, Louise is a power for good, championing women and mothers including campaigning to get fake bumps in fashion advertising and e-commerce labeled as such and to include more real pregnant models in shoots.
Covers, Campaigns, Catwalks and Collections: You'll recognize Louise from the likes of Phase Eight, JD Williams, Marks and Spencer and of course her hilarious reels (seriously she's a must follow - especially if you have kids).
Instagram followers: 258k
15. Nyome Nicholas-Williams
All of the plus size models in this column have made an impact on the fashion industry and beyond, but not all of them have taken on social media in the way Nyome Nichols-Williams has. Shooting to fame in 2020, Nyome Nicholas-Williams is perhaps best known for challenging Instagram (and winning) after an Instagram policy saw her photos censored and removed from the micro-blogging site.
Kicking off with a hashtag campaign #IWantToSeeNyome. Nyome Nichola-Williams rightly challenged Instagram after they removed a gorgeous nude photo, that Nyome had posted of herself. In the photo Nyome had covered her bare breast with her arm.
Outraged by the removal, the model took to Instagram, "Millions of pictures of very naked, skinny white women can be found on Instagram every day," said Nyome. "But a fat black woman celebrating her body is banned? It was shocking to me. I feel like I'm being silenced."
And the #IWantToSeeNyome movement was born.
The issue was publically escalated when the photographer, Alex Cameron, and the British activist Gina Martin (who campaigned to make upskirting illegal) came out in support of Nyome. Following this, in October 2020 Instagram agreed to change its policies surrounding nudity - promising to stop censoring fat bodies and Black bodies. Nyome's photo was also reinstated on her account. Nyome, Alex and Gina are still working hard to eliminate the censoring of plus size Black women.
Covers, Campaigns, Catwalks and Collections: Nyome has worked on campaigns for Adidas, Boots and Dove.
Instagram followers: 80.7k
16. Felicity Hayward
British model Felicity Hayward got her big break while out partying in an East London pub. Dancing to Diana Ross, Felicity was scouted to model for photographer Miles Aldrige and the shoot was then published in Ponystep Magazine in 2012. Soon after, Felicity signed to her first agency and the rest they say, is history.
Signed to MiLK Model Management, Felicity is a powerhouse of self-love and body acceptance and a respected voice within the fashion and plus size fashion industries.
Covers, Campaigns, Catwalks and Collections: Where to start? Felicity has shot covers for the likes of ID magazine as well as having worked with MAC cosmetics, L'Oreal and Katy Perry's INDI fragrance, Felicity was also the first curve ambassador for ASOS in 2014. She has worked with some of the biggest photographers in the business, including Patrick Demarchelier, Ellen Von Unwerth and Rankin. Felicity is a big champion for body positivity and self-worth and was one of the first models to show off cellulite, scars and stretch marks in major campaigns for the likes of Missguided and The Body Shop. This bold move was inspired by her digital campaign #selflovebringsbeauty, which has turned into a global body-positive movement, promoting diversity and acceptance. With three lingerie collections for Playful Promises under her belt, Felicity also hosted on Channel 4's Naked Beach. If that wasn't enough, Felicity has also launched a podcast, 'Bad Moon Rising', and has released a book entitled, 'Does my Butt look big in this', and has a TedxTalk of the same name. The size 20 model also founded SelfLoveBringsBeauty, an online body acceptance movement, wellness and fashion line.
Instagram followers: 292k
17. Hunter McGrady
Starting as a straight-sized model at just 15 years old, Hunter switched to plus size modeling at 19, when she could no longer maintain the size 0 frame set by her agency. And the switch paid off. In 2017 at a US size 16, she became the largest model to appear in a Sports Illustrated Swimsuit Issue.
Covers, Campaigns, Catwalks and Collections: Hunter McGrady boasts her own clothing line with QVC called All Worthy and has also partnered with the likes of Fabletcis and Olay. With plenty to say on body positivity, Hunter also launched a podcast with her sister, entitled 'Model Citizen'. Hunter has also appeared on a cover of The Knot magazine and Health magazine and has walked the runway for Chromat at New York Fashion Week.
Instagram followers: 726k
18. Nadia Aboulhosn
As well as being a well-known plus size model, Nadia Aboulhosn is also a popular fashion blogger and designer.
The Lebanese American model got her first break when she was tapped for a curve feature for Seventeen Magazine, before going on to win American Apparel's model search.
Covers, Campaigns, Catwalks and Collections: Nadia has modeled for a host of brands and her Instagram feed is packed full of editorial imagery. Nadia has modeled for and collaborated on collections and edits for Addition Elle lingerie, Boohoo.com and Lord and Taylor. Part of the original plus size fashion bloggers and influencers, Nadia was catapulted to the mainstream alongside Gabi Fresh and Tess Holliday when appearing in their viral video #everyBodyisflawless, lip-synching Beyonce's top hit, Flawless. In 2019 Nadia launched a collection of wider calf boots, with Fashion to Figure, which sold out, not once, but twice.
Instagram following: 800k
19. Gabi Fresh
Gabi Gregg first came onto the fashion scene in 2008 after realizing there was a dire lack of resources for plus size women interested in fashion. Gabi's style blog took off and with the birth and growth of social platforms such as Instagram, Gabi became one of the go-to voices for all things fashionable and plus size.
Gabi, a former fashion editor, career exploded in 2012 after a blog post showing her wearing a bikini with the caption #fatkini went viral. A movement exploded, empowering curvy women to embrace bikinis and the buzz, coupled with Gabi's fashion prowess landed her a swimwear collaboration with Swimsuits For All—a partnership that proved so popular it still continues to this day.
Covers, Campaigns, Catwalks and Collections: With a rolling swimsuit line with Swimsuits for All, a lingerie collection with Playful Promises and a collab with Fashion to Figure, Gabi remains one of plus size fashion's key voices.
Instagram following: 927K
20. Olivia Campbell
Olivia Campbell, or CurvyCampbell, if you prefer her Instagram moniker, is one of a few cult plus size models that forged their own path through social media. Olivia can literally light up any room with her joyous personality, cheeky laugh and vivacious energy. She is well-loved for her message of body acceptance and self-love. But is much admired for her unapologetic attitude, fashion-forward sense of style and her tenacity to rip up the fashion rule book, wear what she likes and look amazing whilst doing so.
Having publicly spoken out about the fattest and racist attitudes she's faced in the industry, she uses her platform to campaign for greater inclusivity and diversity and challenge societal beauty norms—as well as some great modeling shots.
Covers, Campaigns, Catwalks and Collections: Olivia has walked at British Fashion Week and collaborated with numerous brands, including the likes of River Island, Yours Clothing and Simply Be promoting both plus size fashion and body confidence and has been featured in articles for Cosmopolitan and the Guardian.
Instagram followers: 203k
21. Louise O'Reilly
Louise O'Reilly is a plus size model and influencer. Having worked in the industry for over a decade, Louise produces fashion content for her own site Style Me Curvy, alongside sharing fashion footage and ideas with her active and engaged Instagram following, as well as holding down an international modeling career.
Covers, Campaigns, Catwalks and Collections: This blonde bombshell has worked with everyone in the plus size clothing industry including Karen Millen, Evans, Coast and River Island, to name just a few. A recognized fashion voice, you can often spot Louise at New York and London fashion weeks checking out the latest trends and she loves to focus on solving her Instagram follower's fashion dilemmas. Big on beauty, Louise gives great makeup and skincare advice too.
Instagram followers: 158k
22. Philomena Kwao
Philomena Kwao was launched into the industry in 2012 through a major modeling competition between Models1, Evans and Cosmopolitan UK. Almost immediately, Philomena began booking commercial and editorial work, all this while getting a master's degree and gaining the GUBA 2012 Rising Star award too.
In 2013, after graduating, Philomena moved to NYC to continue developing her career where she signed to Ford Models and further broadened her impressive. client list.
Covers, Campaigns, Catwalks and Collections: Having worked in the industry for a decade, Philomena can comfortably tick off plenty of big names. From editorials with Essence, Cosmopolitan and Pride magazine, to fashion brands Simply Be, Nordstrom, Torrid, Lane Bryant and Evans, as well as a brilliant campaign with beauty giant Estee Lauder.
Instagram followers: 66.2k
23. Candice Huffine
A former teen beauty queen, Candice Huffine signed her first modeling contract in 2000 at the age of 15, when the limited plus size fashion offering meant there were scant opportunities for larger models. However, in the 20 years since, she has forged an enviable career and furthered the plus-size fashion offering, becoming a leader of the inclusive fashion movement.
Covers, Campaigns, Catwalks and Collections: Candice has graced the pages of high-end glossy magazines such as Vogue, Elle, Grazia and Glamour and is one of the first crop of plus size supermodels. She has also walked the runway for designers including Prabal Gurung, Christian Siriano and the 11 Honoré show in 2019. In 2015 she became the first plus size woman to be featured in the Pirelli Calendar. Passionate about fitness, Candice also runs Day/Won (opens in new tab), a size-inclusive performance activewear brand. With recycled materials and sustainable practices. The brand, like Candice is all about making a positive impact.
Instagram followers: 268k
24. La'Tecia Thomas
Australian model La'Tecia Thomas is vocal about how she embraces her body and the importance of both physical and mental health. Spring into public consciousness when she shared before and after photos to Instagram, where she highlighted how she was much less happy when she was trying to fit society's beauty standards, and an after shot of her just loving herself (whatever her size), La'Tecia is passionate about championing self-love and acceptance. Working as a model internationally, La'Tecia is also a trained makeup artist.
Covers, Campaigns, Catwalks and Collections: La'Tecia has had collections with online fashion brands In the Style and Boohoo and has worked with Simply Be, Fashion Nova Curve, Showpo, Lounge Underwear, REBDOLLS, Fashion To Figure, PrettyLittleThing, Alpine Butterfly Swim, rue21 and Nasty Gal, to name a few.
Instagram followers: 1.7million
25. Leslie Sidora
French model Leslie Sidora is another plus size model making her mark on the fashion industry. Already a favorite for numerous fashion brands, Leslie's Instagram is full of beautifully taken shots, fun selfies and inspiring fashion editorials.
Covers, Campaigns, Catwalks and Collections: A regular for mega fashion brand PrettyLittleThing, Leslie is often seen on their site and in their campaigns. She has starred in campaigns for Good American, the brand owned by Khloe Kardashian and has shot for the likes of Target and Eloquii.
Instagram followers: 448k
Plus size male models to watch out for
They certainly aren't as many in number but plus size male models are gaining ground within the fashion industry. Many clothing stores for men now also have Big and Tall collections, such as Boohoo, ASOS and River Island, as well as specialist brands such as BadRhino and Jacamo. We've put together just a few plus size male models to keep your eye on.
26. Steven Green
When Steven Green (aka Steven G) was contacted by Rihanna's team on Instagram and asked to star in the singer's Savage X Fenty Show Vol 2, the plus-size model thought it was a joke. However, his underwear-clad appearance broke the internet as fans applauded seeing plus size male representation.
Covers, Campaigns, Catwalks and Collections: After his overnight success, post-Fenty campaign, Steven has worked for big-name brands such as ASOS and Lands' End.
Instagram followers: 32.6k
27. Darnel Ghramm
Plus size model and influencer Darnel Ghramm is best known for his #WeAreBigAndTall project which, in 2018, saw him and a group of fellow plus-size male models recreate A$AP Rocky's famous Calvin Klein campaign. Garnering headlines across the world, the celebratory images aimed to break boundaries and promote body positivity among men.
"We EXIST and we are constituted by many different things. Whether big, tall or simply fall outside of the world's standards, we are ALL handsome and worthy, FACT!", Darnel wrote on his Instagram page.
Covers, Campaigns, Catwalks and Collections: Darnel has worked for the likes of ASOS, BoohooMAN and BadRhino, all of whom carry Big and Tall collections for men online.
Instagram followers: 10.4k
28. Ben James
Having played rugby throughout his childhood and teens, when Ben retired from the sport he ended up gaining eight stone, which impacted his mental health.
Yorkshire-born Ben James, used social media to start talking about the issues facing men in terms of body confidence and mental health and has since garnered quite a following on Instagram and TikTok.
Outspoken against unrealistic beauty standards, in 2019 he took part in an advert for clothing brand Simply Be, which critiqued Love Island for its lack of body diversity. The campaign used a lineup of curve and disabled models to recreate the British TV show's classic opening image.
Covers, Campaigns, Catwalks and Collections: One of the most famous British plus size male models, Ben has worked for the likes of Burton, Ted Baker, and ASOS.
Instagram followers: 38.5k
What is plus size?
This is rather a contentious term in some circles, but when it comes to knowing exactly what is plus size, the lines are a little hazy. Parameters differ from market to market, but in the US, a plus-size model is anyone above a dress size US 12/ UK 16.
When it comes to plus size modeling, there is a size range, which is probably where it differs most from straight-size modeling. Plus size models, or Curve models start from around a US size 10-12 and there is no end size. Where as straight size models have a smaller size range to fit into. This has led to the rise of the term 'mid-size' and 'curve' being used in some instances, which many see as 8-12 in US sizing, with anything above that, plus size.
Anna Shillinglaw, owner of MiLK Model management has been at the forefront of the plus size and curve fashion modeling revolution. A former model herself, Anna launched her own agency in 2011 and has since looked after many of the top plus size models (including many in this list). And has seen first hand the changes in the fashion industry.
"The industry has definitely seen a big and important shift. More commercial brands are using models of all different sizes and more than ever before we are seeing high-end fashion designers show different body shapes on the runway. We still have a long way to go but I applaud how far we have come."