18 of the best over 40s fashion bloggers to follow for style inspiration this season
Meet the best over 40s fashion bloggers who provide a masterclass in timeless style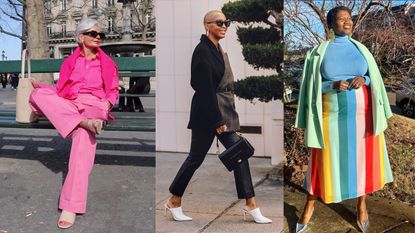 (Image credit: @greceghanem, @kimair, @grownandcurvywoman / Instagram)
The best over 40s fashion bloggers deliver style inspiration in droves. From fashion influencers who champion minimalist and classic ensembles, to style mavens who favor bold outfit ideas, if you need help stepping into spring, these are the women to follow.
If you're stuck in a style rut, or just want to embrace the new season with a fresh fashion outlook, drawing inspiration from the best over 40s fashion bloggers can help to reinvigorate your wardrobe. While we love flicking through glossy magazines, seeing how the best fashion bloggers have interpreted the latest trends can help make those runway looks feel more attainable.
The best over 40s fashion bloggers cover numerous style ethos. Whether you're looking to re-evaluate and invest only in timeless items, or want to develop more of a style personality, looking to women who are already nailing their new season wardrobe can help you rework your own. These are the women we suggest you start following right now.
18 BEST OVER 40s FASHION BLOGGERS ON INSTAGRAM TO FOLLOW RIGHT NOW
Some of the greatest sources of outfit inspiration come from over 40s fashion bloggers on Instagram. Finding a selection of favorite influencers to follow can provide you with a few tips and tricks for getting the most from your wardrobe.
Whether it's introducing you to the latest fashion trends 2023 or finding the best plus size clothing to suit your body shape, these days it's so much easier to scroll from the sofa than to scour the shops.
Mature fashion bloggers are some of the most valuable sources of inspiration; they know their tastes, their bodies, and what suits them. Moreover, the search for great style doesn't end when you reach your forties, as we all still want to look and feel fashionable. With outfit ideas aplenty, these over 40s fashion bloggers are the ones to watch.
So, whether looking for the best midi dresses, the shoe trends 2023, or what stylish tops to wear with jeans, keep scrolling for our roundup.
1. Trina Gupta
If you're a fan of the best petite dresses and best petite jeans, you're bound to pick up some style tips from Trina, aka Petite Style Studio. Boston-based, Trina describes her style as "feminine and elegant, with a twist". She regularly posts outfits to suit pear-shaped bodies and hourglass body shapes, in her words "I love to create elegant longline silhouettes and have a penchant for everyday glamour, like wearing a floor-grazing trench or a standout color". If you're petite, this can sometimes be tricky to achieve so be sure to follow Trina for some tips and tricks.
Trina is all about affordability so unlike some bloggers, her looks are really achievable to replicate. She looks for eco-conscious lines from mainstream brands that are still inexpensive. With nearly 6K followers at present, Trina is your go-to for petite fashion inspiration.
Instagram followers: 5,905
2. Eva Chen
US journalist Eva Chen is the Director of fashion partnerships at Instagram and previously held positions at magazines such as Lucky and Teen Vogue so she knows her stuff when it comes to fashion. Whilst at Instagram, Chen helped launch e-commerce features, including shopping fashion looks directly from influencers' feeds.
Her followers are just as interested in what she wears as to what she does, from chic minimalist tailoring one day to embellished crowd pleasers the next; Chen throws out the fashion looks in abundance. Find her at the forefront for New York fashion week 2023 street style looks, in an array of sought-after ensembles.
Instagram followers: 2.3million
3. The Chic City Girl
Chicago-based Brenda, aka The Chic City Girl, inspires her followers to "tell your own style story". Her blog suggests useful solutions whether it be, summer outfits for work or how to organize your closet, her followers are well-versed in hearing how to dress for each season.
Not one for the minimalists as Brenda is a big fan of print and accessories, whether it's a pair of statement earrings, a stand-out bangle, or a pop of color in her purse, Brenda shows how more is more. We love the acid citrus tones she introduces through her feed such as lime, orange and zingy yellow.
Brenda describes her style as "Colorful, chic, artistic, unique and timeless". Her influences come from "nature, other people and old movies". We can't help but smile at the joy that comes with Brenda's outfit creations.
Instagram followers: 107,000
4. Kimair
Kimara Mitchell is an award-winning creative director, photo art director, brand strategist, and designer based in San Francisco. Her feed is full of contemporary outfits and her inspiring looks have led her to collaborate with the likes of The OUTNET and Valentino Beauty. Now in her fifties, Kim is one of the best over 40s fashion bloggers and knows what she likes and knows what suits her as she showcases inspirational looks to her 14.3K followers. With unexpected combinations such as the best hoodies styled with slip skirts or sequins paired with sneakers, she redefines the rules when it comes to style and in that process provides unlimited outfit inspiration.
If you're looking for new ways to get the most from your wardrobe then Kim Air is the one to follow.
Instagram followers: 14,300
5. Confessions of a Super Ager
'Confessions of a Super Ager' creates honest posts about style for all ages. You can expect to see clever style hacks and surprising ways to wear your clothes differently (check out the origami shirt and upside-down cardigan tricks). Isabella has collaborated with the likes of Brahmin, Walmart, and Love Chicos.
As a well-seasoned traveler, Isabella provides expert tips on how to build a capusle wardrobe for travel, city-break looks and what to pack for a beach vacation, alongside other destinations. We love her upbeat approach to fashion and her achievable looks with a glamorous edge. Give her a follow if you're looking for some serotonin shopping.
Instagram followers: 101,000
6. 50 Shades of Style by Kelley
Kelly McCoy wants to help her followers recapture their style and confidence which can often get put to one side as we get older. '50 Shades of Style By Kelley' provides useful content for her followers who are looking for some help and guidance with their style and an over 50s capsule wardrobe. With edits such as 'Wedding Guest Shopping Under $100' or 'Workwear new arrivals', you can expect to find useful information on what's new now. A great place to check out the best jeans for women over 50 too.
Of her own style which Kelley describes as "classic with a touch of modern", Kelley says "My Mother was a great fashion inspiration for me starting at a young age. She always subscribed to fashion magazines as well and I would comb through them every time they arrived."
Instagram followers: 30,500
7. Square Pearls
New Yorker Elaine Davis posts style inspiration under the handle 'Square Pearls'. She promotes elevated basics and luxe minimalism according to her Insta account and describes her style as "minimalist, chic and edgy" which perfectly suits her on-the-go urban lifestyle living in the Big Apple.
The inspiration for her outfits comes from such a vast range of different places and people that she finds it hard to narrow down but as Elaine says "I can say that 90% of my style is authentic to me". Elaine has worked with brands such as Pandora, Love Chicos, and Third Love lingerie - one of the best lingerie brands for women, to name a few and from her account, it's clear to see her effortless ways of working metallics into her everyday wardrobe.
Instagram followers: 19,200
8. Grece Ghanem
If you're not one of Grece Ghanem's 996K followers then you need to click that follow button, pronto. In her own words, Grece is "Bold yet graceful, timeless, empowering and fun!" With a fearless attitude to try out any trend, the 50-something-year-old proves you can rock an outfit regardless of age. Whether it's crop tops, cut-outs or color blocking, Grece wears them all with an abundance of confidence.
Grece has worked with the likes of American clothing brand J. Crew, Mint Velvet and Anine Bing and is often seen being snapped during Milan Fashion Week. Motivated by art, photography, and street style, Grece says "My inspiration since I was very young is my grandma". Her favorite items that she can't live without are her "501 Levi's denim I have had since I was 28 years old, a trench coat, a pair of sunglasses and my workout gear!"
Instagram followers: 996,000
9. Fashion on the 4th Floor
Diane from 'Fashion on the 4th Floor' believes fashion should transcend all ages and that it isn't an issue when it comes to creating your own personal style. Her hashtag #wearitwhynot epitomizes her attitude to fashion.
Diane's ensembles are best suited to a Florida climate, meaning they're ideal if you're after what to wear in the heat. From cute co-ords to top-to-toe tonal dressing, Diane also has a penchant for preppy outfits and more tailored styles. We'll definitely be recreating Diane's knit and metallic pleat skirt combo.
Instagram followers: 8209
10. My Tall 40s
At 6ft1" Abby is all about finding stylish buys for tall women and those with longer legs. She believes women should embrace their height and not shy away from trends for fear of standing out. Abby's worked with brands such as Marks & Spencer on a regular basis, showcasing tall girl-approved styles. She says "My style has always been fairly relaxed and I like it to feel effortless. My style influence has never really changed, from my early years it was Elle MacPherson and Claudia Schiffer with their flared jeans and tailored shirts, to Jenna Lyons's style of mixing elegance and fun!"
We love her down-to-earth tone and a great selection of everyday outfit inspiration, including the best jeans for tall women. Her capsule wardrobe of essentials consists of "A great pair of flared jeans, blazer, jumpsuit, tailored wide leg trousers, white shirt, leather jacket, black polo-neck and a long slip skirt."
Instagram followers: 13,700
11. Midlife Chic
Nikki Garnett aka midlifechic is an award-winning style blogger writing about ageless fashion. As a former editor of Selfridges magazine, she knows a thing or two about dressing to suit yourself. Nikki describes her style as "Streamlined, sporty, simple, bold and colorful" and that can definitely be seen in the rainbow of outfits dotted through her feed.
Nikki is influenced by women who dress for themselves. She says "I love it when I see a midlife woman whose style really seems to match her personality so that she projects confidence and joy in what she's wearing… Jo Whiley, Helen Mirren, Jenni Falconer, Inès de La Fressange… they don't appear to be women who've put on an outfit, they just look like themselves - and that's the secret to great style, whatever your look".
Items that she can't live without are her jumpsuit and a cropped jacket, she styles this favored ensemble with trainers. For weekend style she says "I often wear wide leg jeans, a semi-sheer blouse, and a pair of low metallic heels with a cropped jacket again. Throw in a jumper and down jacket for dog walks and I could probably manage on a desert island (with a British climate!)".
Instagram followers: 38,500
12. Does My Bum Look 40
Author, influencer, and all-round fashion guru Kat Farmer came to fame thanks to the television program 'You Are What You Wear' and more recently, regular slots on the style segment of This Morning. The author and digital creator who goes under the handle of 'Does My Bum Look 40' has worked with many brands such as Hobbs, Whistles and John Lewis & Partners amongst many more.
Kat is a big advocate for getting women to dress for themselves and also for encouraging women to use both new items but also existing pieces from their wardrobes to create new looks as her website says "This is my journey into my 40s hunting to find a style that doesn't scream mutton or frump". We love Kat for her polished boho style that is always accessorized with the biggest smile.
Instagram followers: 318,000
13. Vens Wife Style
If you're a fan of street style looks, chances are you'll have come across Vens Wife Style on your scrolling travels. 57-year old Renia Jazdzyk shows how to put together outfits regardless of your age. She describes her style as "classic and elegant but with a twist" and can't live without her "jeans, oversized blazer, cashmere knit and unique pair of heels" - a favorite ensemble.
Effortlessly cool Renia proves you can still look fab in your fifties and has amounted an impressive number of followers. Her luxe looks often have a fun element to them such as a pop of hot pink or a micro bag accessory - giving a nod to the latest handbag trends; Renia loves to show how fashion can be fun. Her looks have inspired many but where does Renia get her inspiration from? "I get a lot of my inspiration from runways and from street style. I also love checking Cate Blanchett and Tilda Swinton outfits."
Instagram followers: 147,000
14. Erica Davies
Author, ex-magazine fashion editor and all-round superwoman, Erica offers her followers relatable and useful style solutions. As a fan of color and print (leopard being her go-to), Erica's followers are drawn to her approachable but straight-talking style advice, she regularly works with brands such as Marks and Spencer, Oliver Bonas and more recently has collaborated with John Lewis & Partners where she designed a wide calf boot range and a collection of dressy coats.
According to Erica, her inspiration comes from "Everywhere! From people sharing their outfits online and street styles, but mainly from things like color combinations and shapes." She is drawn to seeking out design gaps and offering solutions to her followers. In her personal closet, she can't live without "A vintage leopard print trench coat I found online, a statement midi dress and black wide leg cropped trousers."
Instagram followers: 192,000
15. Back of the Wardrobe 70
UK mom of four, Melissa Abbott has an effortless sense of everyday fashion that feels obtainable. With brands such as Amazon, Baukjen, and Monica Vinader under her collaborative belt, Melissa offers helpful tips and tricks to her followers such as the '3 pieces that elevate any outfit' and '3 ways to wear your wide leg trousers'.
When we asked what items she couldn't live without, Melissa said "Leather trousers, blazers and loafers" which perfectly describes her personal style that involves tailored classics, mixed with on-trend looks. She's inspired by outfits she sees on Instagram as well as her own personal preferences when it comes to fashion.
Instagram followers: 104,000
16. Carolines Style Hacks
It says it all in the name; 'Carolines Style Hacks' is your place for gorgeous style hints and tricks. As a former buyer, Caroline Cook encourages her followers to make considered choices by supporting small businesses to seek out independent labels and mix them with straight-to-market pieces to create an individual style.
Her own style is a mix of effortless everyday with a boho-vibe, think how to style baggy jeans with a ruffled blouse or a printed maxi dress with a denim jacket, there's also the occasional soft tailoring look thrown in for good measure. Caroline works with wearable brands such as Me & Em, White Stuff, and Boden.
Instagram followers: 130,000
17. MSørrig
Mette Sørrig Anderson's feed is a medley of creative flair. The Danish mum of two, pulls together experimental outfits to inspire her avid fans. From sequin dresses over pants - ideal, if you're looking for inspiration for how to style skirts over pants, to socks worn with pencil skirts, Mette's outfits, are not for the fashion light-hearted. Embracing bold, statement colors, her feed provides a curation of dopamine-dressing, similar to that of a work of art.
Mette has collaborated with well-known labels such as Clarks shoes and Sleeper. We love how Mette takes a conventional denim outfit and gives it a twist by adding a quirky accessory, such as an oversized flower brooch or a something in neon.
Instagram followers: 79,700
18. Grown and Curvy Woman
When it comes to the best over 40s fashion bloggers, forty-something plus size blogger Georgette of grownandcurvywoman believes style has no age or size and no matter what body shape you are, everyone has a right to look good. Blogging from Philadelphia, Georgette provides an array of color-blocking outfits with a positive outlook, blog posts such as 'All Bodies are Summer Bodies' and '49 and feeling fine' define the right for women over a certain age to dress with confidence and joy.
We love Georgette's ability to clash tones and pair colors with brand collaborations such as plus size clothing brand Lane Bryant and Love Chicos making her a firm favorite in showing us how dressing can be fun whatever your size of age.
Instagram followers: 28,200
Anna Woodham is a well-established stylist with nearly 20 years of experience under her fashionably tied belt. She has styled numerous celebrities such as Amanda Holden, Holly Willoughby and Claudia Winkleman to name a few and has endured a very tense moment interviewing Kim Kardashian during which her dictaphone decided to cease working!
Anna has worked for titles such as Stella, Grazia Middle East, The Telegraph Magazine, YOU magazine and was formerly Fashion Editor at S magazine. Anna also writes a blog called The Mothershop; a curated edit of the best maternity wear on the market.