The best lingerie brands for women over 30
25 of the best lingerie brands for women and what to snap up this season to give your top drawer an overhaul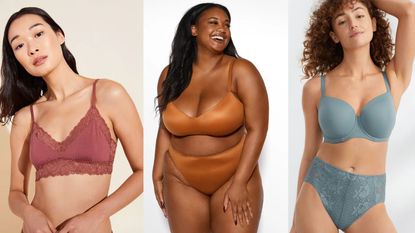 (Image credit: Eberjey / Love, Vera / Bare Necessities)
When we think of the best lingerie brands for women, we're talking about well-crafted items that also add a certain va-va-voom to our wardrobes. Although there is a broad spectrum of expectations when shopping for intimates, there is a wealth of brands that cater for both style and size, delivering everyday options and special occasion items.
Investing in the best lingerie sets the tone and fit for the rest of your outfit. Sculpting and supportive, the best bras and best underwear pieces will help your clothes sit properly against your silhouette, ensuring you can get on with whatever the day throws at you.
Gemma Birtwhistle, Design and Creative Manager at Gossard commented: "The key to shopping for lingerie is identifying exactly what you want out of it. Are you seeking comfort or glamour? Do you need support but still want to enhance your assets? Or a combination of all the above? It's all about you".
25 best lingerie brands to shop in 2023 for style, quality and fit
As with fashion trends, the best lingerie for women draws inspiration from the runways for the season ahead. We spotted lingerie-inspired looks across the fashion capitals for spring/summer 2023, with Fendi showcasing pretty lace bra tops and camisoles, while bra tops were key to both Dior and Tom Ford. Delicate and feminine silhouettes, as well as dopamine dressing-inspired hues and spring-ready pastels, reflective of the fashion color trends 2023 have all made the cut this season.
Whether you're looking to refresh your wardrobe essentials or spice up your lingerie drawer, we've rounded up 25 of the best lingerie brands for women over 30 to shop for quality pieces that deliver on style and we're confident you'll find what you're looking for.
Bluebella advocates innovation and body inclusivity and believes in the fact that just because you need the best bras for a large bust, that doesn't mean you should have to sacrifice style. Its DD+ range goes up to 40G and is a great option for those who are looking for a great fashion-forward style and some of the best plus size lingerie.
Bluebella has a simple idea at its core: to produce luxurious lingerie for fashion-forward women. By the time you hit your 30s for the most part you know what you like and what you're looking for and this is particularly true when it comes to the best lingerie brands too.
---
Believing the best lingerie for women should be multi-functional, making you look and feel good, Third Love aims to fall between the two most common lingerie categories: comfortable or sexy.
Aiming to elevate the everyday bra, Third Love feels the most comfortable bras don't have to be coupled with a boring design and its top-selling 24/7 bra (over 10 million sold) is one of the best t-shirt bras, coming in half-cup sizes for a better fit. Its briefs are equally as wearable, coming in a range of fun colors, styles, and cuts in sizes from XS-3X. Look out for bundle deals on briefs so you can stock up.
---
One of the best Italian lingerie brands, Cosabella was founded by a husband and wife duo in 1983. With a distinctively luxurious feel, thanks to the exquisite detailing, these are sensual lingerie designs with sophistication.
Whether you're looking for the best strapless bra or a chic longline bralette Cosabella has you covered. With attention to detail on quality, fit and design, you're sure to find a bra to suit your taste.
---
San-Fran-based Everlane is nearly 13 years old now and its popularity is showing no signs of wavering. One of the best sustainable clothing brands, Everlane aims to explain to its customer how each product is produced with its classic, made-well pieces. With a host of celebrities spotted in the brand's clothing, including, Katie Holmes, Meghan Markle, and Angelina Jolie all firm fans of the brand's timeless apparel. Made with some of the finest fabrics, Everlane's products are designed for everyday wear that is made to last. The intimates collection has a range of styles with sizing from XXS-XXL and is some of the most comfortable to wear.
---
Launched in the 1950s, La Perla is arguably one of the best lingerie brands for women. The craftsmanship that goes into each piece of underwear is second to none, and its attention to detail and smaller sizing make it worthwhile if you're looking for the best bras for smaller busts.
La Perla lingerie is an investment, as one of the higher priced lingerie brands in this list, they are more of a luxury or special occasion item. These pieces are for treasuring, which is why they're the perfect brand to treat yourself to once you're over thirty (and don't mind investing time in how to wash bras).
---
It's only been in the last few years that American clothing brand, Old Navy has branched into intimates but if its comfortable basics you're looking for, then Old Navy is your go-to. With an inclusive size range and huge color palette, Old Navy has a fantastic range of everyday underwear for as little as $7.99.
With every cut of bra and panties you can think of, Old Navy has you covered. Look out for the Mid-Rise Signature mesh bikini briefs, the perfect style from Monday to Sunday.
---
Miami-based pajamas, loungewear, and women's lingerie brand Eberjey, was established in 1996, on the premise of flattering, feminine and comfortable design. After its success in sleepwear, the brand branched out into lingerie with the same intention, to bridge the gap between provocative and functional.
Eberjey intimates are clever in their design as they suit every day as well as special occasions and approach both with the same level of comfort. We love the Mariana style, it does have a higher price point but the durability of the fabrics guarantees you will get a lot of wear from it.
---
Fleur Du Mal was founded in 2012 by former Victoria's Secret lingerie designer, Jennifer Zuccarini. Fleur Du Mal lingerie has that special occasion feel, but is crafted to be worn every day, because why limit how often you wear something so beautiful? Zuccarini's goal is to create products that make women feel their best while getting dressed and undressed whatever your age.
One of the best lingerie brands for women over 30, it also offers a more subtle, everyday collection that has an affordable price tag. The bras in the premium range start at $78, with briefs from $42. It's still an investment but if you feel good under your clothes, your confidence will shine through.
---
Love, Vera want to provide a shopping space for all women no matter who you are or what size you wear. Offering some of the best plus size lingerie as well as bras for large and small busts, this affordable and fashionable lingerie brand offers everything from bodysuits, chemises, bras, briefs and corsets. With bra sizing in a 32A to 40H and panty sizing S-4X, this is a truly welcoming lingerie brand for women.
---
Founded in 2002, Lavinia Lingerie believes everyone deserves to feel good. It offers contemporary designs that are both comfortable and sexy and recently expanded into plus size and bridal lingerie to meet consumers' demands.
When it comes to lingerie shopping, owner of Lavinia Lingerie, Armands Kruze, suggests. 'Shop for your body! Every body shape is beautiful, and dressing for your attributes can make a world of difference. For example, an hourglass figure pops in corset-style lingerie, while pear-shaped figures wear a baby-doll oh-so-well. For an athletic figure, teddies and bodysuits with belts or cut-outs will create curves and shape you never know were there."
---
It's impossible to think of Hanky Panky lingerie without thinking of color. With intimates in every shade of the rainbow making getting dressed in the morning a ray of sunshine. With nearly half a century under its belt, Hanky Panky supports slow fashion and sustainable practices which is why its loved by celebrities such as Jennifer Aniston. Who doesn't want to wear the same brand panties as an A-Lister?
Hanky Panky is known for comfort making it a great choice for everyday wear. And at affordable prices such as three items for just under $50, it's time to add some color to your lingerie collection.
---
Delivery the sexy, sensible, and everything in between, Adore Me believes 'life is too short for boring lingerie'.
Having recently been acquired by lingerie giants Victoria's Secret, Adore Me currently provides 77 different sizes, from A-I cups, and 30-46 bands and are firm advocates of body positivity and inclusivity.
---
If you fancy something fun and flirty then For Love and Lemons has some of the best lingerie for women. It began as a lemonade stand run by two friends in a small US town in 1996. The girls grew up and out of selling lemonade but kept their business motto the same when they launched For Love And Lemons - providing a joyful product for those looking for a bit of adventure.
The brand is 100% female-led, an asset when it comes to lingerie knowledge and has celeb fans such as Selena Gomez, Emma Roberts, and Paris Hilton. Super feminine styles with fun florals, and flirty frills are perfectly suited to those looking to embrace something a little different.,
---
Curvy Couture is a female-owned US company founded by Evora Russell who brings 15 years of plus size intimate apparel expertise to the brand. With band sizes up to 46" and H size cups, plus size women can rejoice in perfectly fitting lingerie without compromising on style.
Wearable for everyday or special moments, getting the correct fitting foundations is essential to ensure your clothes sit right. So invest in yourself with the best lingerie for women for maximum confidence.
---
Montelle Intimates have 25 years of experience when it comes to crafting lingerie and is proud to produce "a bra that fits a real body". They appreciate women change through different stages of life and ages and Montelle Intimates aims to do what it can to support that shift.
With a desire to produce confidence-building products that make women feel good about themselves, it offers high quality, well-fitting lingerie, with 80 sizes including band sizes from 30-42 and cups sizes from A-H, when it comes to briefs they go from 24-42" waists. All this comes at very competitive prices for lingerie that looks like it should cost a lot more.
---
US based Bare Necessities hosts 20 years of experience in the lingerie industry. Celebrating women with curves, they see the importance of building confidence from your first layer out.
Bare Necessities wants to create an inclusive community for women to express themselves with confidence. With around 140 of the best bra brands stocked on-site, including all your favorites from Wolford to Wacoal, Calvin Klein to Chantelle; they're your one-stop shop for lingerie.
---
Venus is a Florida-based online lingerie emporium that began in 1982. It's aimed at the modern-day woman and covers every lingerie desire from straight-forward to straight-up-sexy, all at affordable prices. They have a great range of plus size lingerie that goes up to a size 3X (UK26-28).
If you're looking for the best plus size shapewear or lingerie solutions then Venus have you covered, from backless plunge bras, adjustable cleavage bras and the best push-up bras; there's something to solve the most difficult of lingerie dilemmas.
---
One of the best lingerie brands for giving back to women, everyday, check out Bombas. Its mission is to provide comfortable lingerie to everyone who needs it. Therefore, for each item of lingerie you purchase, an item of the same kind is donated to those without a home. To date, Bombas has donated over 75 million items to more than 3,500 community organizations.
It's not about the frills, the sexiness, or the detailing, Bombas is all about form and function and doing good too. With some of the best everyday bralettes (up to a 42" band) and seamless briefs we've seen in terms of style and comfort, they're a brand to support and add to your basket stat.
---