Best nightgowns for women 2023: The sleepwear styles to shop now
Looking for new nightwear? The best nightgowns for women are making a fashion comeback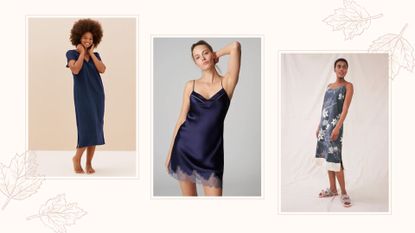 (Image credit: M&S, Simone Perele, The White Stuff)
The best nightgowns for women haven't always been seen as fashion-forward. But as boudoir style returns to the runways, nightgowns are gaining momentum as the sleepwear style to invest in for the season ahead.
Light and breathable, the best nightgowns for women are set to rival the best pajamas this season. Offering a more feminine look than classic collared pajamas, nightgowns come in numerous iterations, from warm flannel styles to long over-shirts, and silky slip dresses. Ensuring there is a nightgown to suit every taste.
As we head towards spring, we can't help but think about the warm weather that is coming our way and the best nightgowns are perfect for what to wear in the heat, particularly if you opt for strappy slip dress silhouettes or loose-fit cotton styles. Many of the best pajamas brands also offer the same fabrication and prints as they're pajamas in a nightgown, making it an easy style to add to your wardrobe.
Best nightgowns for women
When selecting the best nightgowns for women, fabric, and cut are the most important factors to consider. Natural fibers are ideal, particularly if you're looking for a sleepwear option to keep you cool at night, and the best nightgowns can be some of the best sleepwear styles for night sweats, thanks to their more airy silhouette.
When it comes to shape, A-line and trapeze silhouettes will be the lightest, giving you plenty of room for movement at night. For something a little more loungewear leaning, look to camisole style slip dresses that can easily be worn around the house with your best robe and slipper combo.
1. M&S Pure Cotton Broderie Trim Long Nightgown
Specifications
RRP: $25.99 / £15
Sizes: US 2-22: / UK: 6-26
Fabric: 100% cotton
Reasons to buy
+
100% cotton for breathability
+
Great size range
+
Long silhouette
Reasons to avoid
-
Slightly plain in terms of design
Offering a longer length than most of the best nightgowns we found, this V-neck cotton design from British clothing brand, Marks & Spencer, takes on the silhouette of a t-shirt for the most comfortable of bedtime options. Thanks to the oversized t-shirt style, this navy design could also be used as one of the best loungewear options for relaxing in at home. And if you really want to, you could slip on a belt, a denim jacket and a pair of white trainers and head out in it too.
---
2. H&M Satin Nightgown
Specifications
: $27.99 / £18.99
Sizes: XS-XXL
Fabric: 97% polyester, 3% spandex
Reasons to buy
+
Pretty lace detailing
+
Ideal for warm weather
+
Comes in two colorways
For something a little more sumptuous and silky, try this H&M camisole nightgown for size. This gorgeous, pale pink design can also be worn instead of your best Valentine's Day pajamas as it exudes romance, thanks to the high-shine fabric and delicate lace trim. The cut out detail at the back takes this straight-to-market piece into designer territory, and it's available in black too.
---
3. The White Company Jersey Nightgown
Specifications
RRP: $75 / £50
Sizes: XS-XL
Fabric: 96% viscose (LENZING™ ECOVERO™), 4% elastane | Lace: 88% polyamide, 12% elastane
Reasons to buy
+
Jersey offers added stretch for comfort
+
Year-round color
+
Attractive lace trim
The White Company has already stolen our hearts thanks to its sumptuous selection of the best cashmere socks and cozy cable knit sweaters, but its nightwear collection shouldn't be overlooked. Crafted in the palest of grey jerseys, this slip dress style nightgown features a delightful lace trim for added detail. Thanks to the stretch of the jersey, this will be super comfortable to sleep in, just add one of the best sleep bras underneath if you feel you need extra support.
---
4. Loretta Caponi Smocked Nightdress
Specifications
RRP: $710 / £515
Sizes: XS-XL
Fabric: 100% cotton
Reasons to buy
+
Can be worn in the day as a dress
+
Beautiful detailing
+
100% cotton for breathability
Believe it or not, this stylish floral printed design is in fact one of the best nightgowns for women, although we wouldn't blame you for wearing this out the house too. With a ruched bodice, this delicate 100% cotton dress is ideal for sleeping in, but is also an excellent piece to add to your capsule wardrobe for travel. The lightweight fabric ensures it's great for sleeping in, in the heat, while the design means this is also one of the best midi dresses to wear out on holiday too. Two wears, for the price of one.
---
5. Desmond & Dempsey Turmeric Yellow Linen Nightie
Specifications
RRP: $185 / £150
Sizes: S-L
Fabric: 100% linen
Reasons to buy
+
100% linen for breathability
+
Could be worn out of the house
+
Bold color
Another dress that straddles the line between day and sleepwear is this turmeric yellow design from Desmond & Dempsey. Already creators of some of the warmest pajamas for women, this cool yellow, 100% linen dress, is sure to keep you comfortable on long hot summer nights. With slim shoulder straps and a gathered, dip back, this is the bed time dress you'll want to show off. Wear alone in the day, or slip a white t-shirt underneath for added coverage.
---
6. The White Stuff Nina Woven Nightdress
Specifications
RRP: $51.50 / £35
Sizes: XS-XL
Fabric: 100% cotton trim: 56% cotton, 44% modal
Reasons to buy
+
Cotton-modal mix, great for breathability
+
Attractive print
+
Good price point
In a slip dress silhouette, this camisole nightdress is ideal for those looking for something a little prettier for bed time. The metal grey adds a chic finish to the dress, while the white floral print adds a delightfully feminine touch. Add your best slippers - preferably the cozy, fluffy kind and a good book, and you're ready for the ultimate night in.
---
7. Simone Perele Nocturne Nightgown
Specifications
RRP: $195 / £165
Sizes: 1-4
Fabric: 87% silk, 13% polyamide
Reasons to buy
+
High silk content
+
Attractive design
+
Available in 5 other colorways
If you're looking to add a little more luxury and va-va-voom to your sleepwear drawer, then the best nightgowns for women by lingerie designer Simone Perele should be on your shopping list. Already masters at creating the best bra and pants sets, the label has taken its luxury silk and lace detailing into sleepwear with some magical results. This short-hemmed nightdress is crafted from 87% cotton for a light and delicate feel, while the lace adds further gorgeous detailing.
---
8. Toast Bea Soft Double Cotton Nightshirt
Specifications
RRP: $165 / £99
Sizes: XS-XL
Fabric: 100% cotton
Reasons to buy
+
100% cotton
+
Traditional shirt shape
+
Could be worn out
Made from cotton, this denim chambray style night shirt is a great hybrid between the best pajamas and the best nightgowns for women. Featuring three front buttons for an adjustable neckline and a back, curved yolke for added fullness to the dress, this delightfully light, but long sleeved nightdress is a great wear all year through. The denim blue hue gives this retro silhouette a modern feel, while the relaxed style makes this sleepwear design something you could easily wear in the day too.
---
9. Pretty Secrets Valentines Short Nightie
Specifications
RRP: £14 (UK only)
Sizes: 8-34
Fabric: 95% Cotton 5% Viscose
Reasons to buy
+
Great size range
+
High cotton count
+
Great price
Reasons to avoid
-
Dual sizing makes selecting correct size more complicated
Getting ready for a season of love? This heart-printed nightgown is a great option for those that are after something a little more fun. The repeat pattern is a great option as we head towards Valentine's Day, while the t-shirt dress silhouette makes this extremely comfortable and easy to wear. Available up to a size 34, this was one of the most size inclusive nightgowns for women that we found.
---
10. CyberJammies Beth Heart Dobby Check Nightshirt
Specifications
RRP: £32 (international shipping available)
Sizes: 8-22
Fabric: 100% cotton
Reasons to buy
+
Good size range
+
Crafted from cotton
+
Has a pajama style
Reasons to avoid
-
Doesn't convert cost into dollars, but does ship internationally
If you love the best flannel pajamas then this nightgown might be the one for you. Essentially a classic pajama top - but longer, this nightgown or night shirt features a revere collar and button-through silhouette. Finishing around the lower thigh, the nightshirt features a long sleeve, making this a great design for late winter and early spring weather. In a monochromatic palette, we love the subtle heart print in the centre of every check for a romantic finish.
---
11. M&S Pure Cotton Muslin Revere Nightshirt
Specifications
RRP: $38.99 / £22
Sizes: US: 2-22 / UK: 6-26
Fabric: 100% cotton
Reasons to buy
+
Closer look to traditional pajamas
+
Sized up to a 25
+
Made from 100% cotton
The borrowed-from-the-boys look has made its way from boyfriend jeans to pajamas with this long white nightshirt. With a relaxed and oversized silhouette, channelling an androgynous style, this is one of the best nightgowns for women, thanks to its light cotton construction and timeless style. While some may prefer a design with more color and print, you really can't beat the old classics.
Which brand is best for nightwear
When it comes to the best nightwear brands the answer is really dependent on what you're looking for. While many straight-to-market brands now offer sleepwear, you might want to look to specialist retailers if getting comfy at night is an issue for you. Regardless of where you buy your sleepwear from, always check the fabric composition of any item and decide whether it has enough natural fibers for your needs.
Which is the coolest fabric for a nightgown
The coolest fabric for a nightgown will always be a natural fabric as these are the most breathable options, allowing heat to escape your body easily as you sleep. Fabrics such as cotton or silk are best for this purpose. Silk is very expensive and often silk nightgowns will be amongst some of the most expensive sleepwear pieces you can buy. If you can't buy 100% silk, but still want a silk fabric, look for pieces that have a high content of silk, ideally over 50%.
Is it comfortable to sleep in a nightgown
Whether a nightgown is comfortable or not really will come down to your personal preference, but for those looking for the best pajamas for night sweats, a nightgown might be the best alternative as due to the lack of pants, a nightgown is naturally more breathable and cooling. You can also get nightgowns of shorter and longer length, if the idea of the hem riding up bothers you. Selecting a cotton jersey nightgown that stretches and moves with you might be the best place to start if you're wearing a nightgown for the first time.
Rivkie is a fashion editor, writer and stylist with over fifteen years' experience in the industry. Having studied design and pattern cutting at the London College of Fashion, Rivkie fell in love with styling and journalism, covering fashion weeks in London, Paris and New York.
Specialising in plus size fashion, Rivkie has long championed that style is for everyBODY and has been a regular talking head on a host of radio stations and television shows, pushing for greater representation for plus size women and fashion throughout her career.