Best pajamas for women - to help you have a cozy and comfy night's sleep
Best pajamas for women - the ultimate bedtime styles selected by our fashion team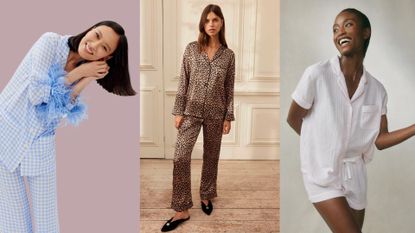 (Image credit: Sleeper, Yolke, White Company)
The best pajamas for women should aid you in your bid for a good night's sleep. From breathable cotton to sumptuous silk, picking the perfect pair of pajamas boils down to more than just aesthetics.
While the best pajamas for women might never make it past your front door, they're undoubtedly one of the most important items in your closet. Not quite considered part of your capsule wardrobe, pajamas will be the one item you spend an infinite amount of time, maybe even more time than in your favorite jeans, so getting them right is important.
The pajama market for women right now is booming, with a mixture of great staples from well-known fashion brands and a crop of new designer and specialist brands that have made giving you the comfiest night's sleep their mission. But the best pajamas for women aren't just good for sleeping in. We've all gotten used to giving ourselves a little more downtime and paired with the best slippers and best robes, pajamas can double up as some of the best loungewear too. We've rounded up our favorites for style and comfort.
Best pajamas for women - what to consider
When it comes to selecting the best pajamas for women, there are a few things to consider.
Fabric: opt for natural or natural blend fabrics for all night breathability
Use: now obviously their primary use is sleep, but are you someone who then wants to laze around the house in your PJs too?
Aesthetics: from the uber-glam, retro, feathered trims to pretty and printed, or something closer to the best joggers, deciphering your pajama style is also a key consideration.
The best pajamas for women, chosen by our fashion team
1. Marks & Spencer
This British clothing brand is an institution when it comes to the best basics, so it's no surprise that M&S are one of our go-to brands for the best pajamas for women. Not only do they have great quality pieces in cute prints but they have brilliant price points too, with lovely fabrications.
View all pajamas at Marks and Spencer
M&S Pure Cotton Striped Pyjama Set
RRP: $25.99 / £15 | This lovely striped set will be as comfortable as your best leggings and favorite t-shirt combo. Ideal for lounging as well as sleeping, this set is both affordable and practical, so you will never tire of it.
M&S Navy Cotton Pajama Set
RRP: $51.99 / £30 | A long sleeved matching PJ set is a must in any collection, and these simple pieces are as classic as the best flannel pajamas and perfect for wearing together or layering separately.
2. The White Company
The White Company is one of the best pajama brands and is where we head to for luxury basics that don't cost the earth. While we've always enjoyed good pajamas and lovely loungewear, after the last two years, we've realized how important feeling secure and comfortable at home truly is. The White Company always keeps it classic, with lots of lovely light neutrals, timeless stripes and chic prints. For the fast-approaching warmer months expect lots of cotton fabrications, both long and short pajama sets that will be ideal for warm weather.
View all pajamas at The White Company
The White Company Gingham Shortie Pajama Set
RRP: $95 / £65 | This pink gingham set will be the nightwear you'll wear on repeat. The summery shirt could be worn over a swimsuit come summer, so you will really get your money's worth with this purchase.
The White Company Ditsy Pajama Set
RRP: $85 / £65 | This lightweight lace trim pajama set provides the best of both worlds, ensuring you won't overheat or get too cold. We love the simple patterned design that can be teamed with the best sweaters.
3. Intimissimi
Italian clothing brand Intimissimi specializes in lingerie, hosiery, and loungewear. With lots of lovely fabrications and great price points, as you might expect from an Italian fashion brand, their pajamas are both super chic and really wearable. Sold as separates rather than sets, they have lots of lovely mix-and-match collections so you can make the set that's right for you. The mix-and-match idea is also particularly good if you're different sizes on the top and bottom. Made from high-quality fabrics, they also have some of the warmest pajamas around, for those that feel the cold.
View all pajamas at Intimissimi
Intimissimi Button Down Top
RRP: $59 / £47 | This slouchy long sleeved tee is extremely versatile and could even be worn out of the house on lazy days. Pair with matching neutral-hued striped pajama trousers for a fun mix and match look.
Intimissimi Lace Trim Trousers
RRP: $49 / £39 | With a loose fit and elasticated waist, you won't find pajama trousers more comfortable than this. We love the soft pink hue that is ideal for year-round wear and will compliment the best Valentine's Day pajamas.
Intimissimi Red Silk Pajama Shorts
RRP: $39 / £42 | Just like your fave Breton top, silky pajama bottoms will always be on-trend. If you invest in one loungewear item to elevate your pajama game, make it these gorgeous red shorts.
4. Yolke
Launched as a luxury sleepwear brand in 2013, Yolke have garnered a reputation for beautiful silk pieces (with stretch) in classic silhouettes with gorgeous prints and playful twists. The brand has since grown to encompass childrenswear, ready-to-wear and homeware categories so you can inject your life with print and color and make your loungewear collection stand out from the crowd.
Yolke Leopard Silk Pajama Set
RRP: $326 / £310 | Get the supermodel look with these leopard print pajamas that have been spotted on Kate Moss - a testament to the trendiness of Yolke sets. Wear to relax on the sofa or style the trousers with a black knit and boots for work.
RRP: $247 / £235 | Cotton pajamas are a great option all year through as they will help to balance your body temperature. We love this floral blue print and the ruffled hems that elevate these pieces beyond typical nightwear. Pair with sandals for summer.
5. Bonsoir London
With a history that dates back to 1926, Bonsoir of London specializes in fine craftsmanship and timeless elegance. The brand premium materials and the most delightful of natural fabrics, including super-soft cashmere, crisp cotton and luxurious silks. For luxury pieces that won't completely break the bank, look no further.
View all pajamas at Bonsoir London
RRP: $425 / £310 | Made from 100% silk, these gorgeous printed pajamas are a real standout. Featuring a slouchy button shirt and contrast piping, they are perfect for how to dress simple but stylish at home.
RRP: $210 / £99 | Made from a cotton/modal mix, these pajamas are great for regulating body temperature. Modal adapts to seasonal changes, keeping you warm when it's cool and cool when it's warm.
6. Desmond & Dempsey
A fashionista favorite, Desmond and Dempsey are all about the print. The brand was launched after a failed hunt for pajamas in the UK and an obsession with beautiful night and loungewear was born. "Proper pajamas are to leisure what butter is to toast; a way of turning something quite ordinary into something quite magical. And we're all about the magic of ordinary things." - Desmond & Dempsey. Packed full of fantastic prints that come in a multitude of silhouette options, if you like your sleepwear to packed with fashion flare, then this is the brand for you.
View all pajamas at Desmond & Dempsey
Desmond & Dempsey Parrot Print
RRP: $210 / £170 | Known for their eclectic and quirky prints, these parrot pajamas do not disappoint. In fact, they're so beautiful you might want to wear them out. Try adding one of the best thermals for women for wearing them out in the day.
Desmond & Dempsey Cerise Linen Set
RRP: $260 / £140 | When we talk about chic loungewear, this is what we mean. We would absolutely wear this set out of the house in the warmer months, especially as it is linen making it ideal as one of the best beach cover-ups when you're traveling.
Desmond & Dempsey Cami Top & Shorts Set
RRP: $140 / £110 | As we head towards warmer months, it's advisable to start thinking about summer pajamas and loungewear. Printed cotton shorts and cami set are a great choice for warm evenings, add a cashmere sweater for a cozy feel.
7. Fable & Eve
Not just a beautiful pajama brand, Fable & Eve is also one of the best sustainable clothing brands too. Keen to produce responsibly, Fable & Eve uses 100% natural fibers and modal/cotton blends that don't use any harsh or synthetic chemicals. The prints are beautiful and often carried through into coordinating eyemasks and robes for a really cohesive look, making this ideal for gifting and self-gifting.
View all pajamas at Fable & Eve
Fable & Eve Silky Stripe Floral Pajama Set
RRP: £85 (international shipping available) | Available with matching eye mask, headwrap and robe, you can fully embrace this print into every part of your sleep and loungewear life. Pairing two classic styles together makes for a super striking set.
Fable & Eve Geometric Print Shorty Set
RRP: £64 (international shipping available) | We love this unique print and subtle pops of color that tap into the fashion trends 2023, brightening up any duvet day. Style with a silky scrunchie and some fuzzy socks when the warmer months roll around.
8. Sleeper
This fashion brand creates the most covetable of loungewear and pajama sets. This is high fashion sleepwear at its finest, with boudoir style feather detailing, silky executions and luxe looks that you can wear to bed as well as throw on heels to head to a party in too. While their pajama and loungewear combos will up your at-home glam aesthetic, make no mistake, these are for whenever you need to feel like the starring role in your own screenplay.
Sleeper Pajama Set with Feathers
RRP: $390 (worldwide shipping available) | Definitely the most glam pajamas in this piece. Having a late night? Go out in this amazing pajama set, remove your heels and get straight into bed. This really does give a new meaning to one-stop dressing.
Sleeper Sizeless Pajama Sets
RRP: $290 (worldwide shipping available) | These relaxed and silky pajamas are made from 100% Eco-rayon. With a matching hair ribbon, these sizeless pajamas play into the oversized trend but will also be just supremely comfortable for lazing around.
---
What are the most comfortable women's pajamas
The best pajamas for women does in part boil down to the time of year. In the winter you will want cozy fabrics such as brushed cotton, fleece and cashmere blends to keep you snug against the winter chill. In the summer you will want less warm-to-the-touch fabrics such as lightweight cotton, linen, and silk fabrications - although silk can work all year through due to its unique properties.
The one thing all of these pajamas do have in common though is breathability. The best pajamas to choose will always be natural fabrics or at the very least, blends with a high percentage of natural fabrics. That is because these fabrics - cotton, silk, linen, modal and cashmere, all have the ability to help regulate your body temperature and that in turn will help you get a good night's sleep.
When it comes to stretch, there are two divided camps here. While a stretchy waistband is a must for maximum comfort at bedtime, not everyone will subscribe to pajamas with stretch woven throughout the fabric and this will come down to personal preference.