Our favorite pink pajama sets available right now
Inject some romance into your nightwear with a luxurious pink pajamas set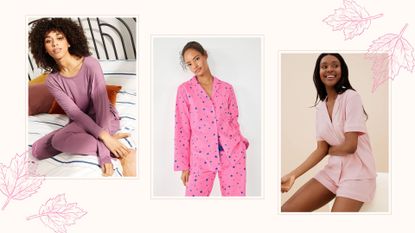 (Image credit: John Lewis & Partners / Hush / M&S)
Looking for the best pink pajamas set this season? You've come to the right place. With both Galentine's Day and Valentine's Day just around the corner, there has never been a better time to add this pretty hue to your sleepwear collection.
This bold and feminine hue offers an immediate pop of mood-boosting brightness to the best pajamas for women, and as one of the biggest colors of last season, you can expect to see pink remain a key fashion color trend in 2023. Whether you opt for fuchsia hues of Barbiecore or go soft and pastel-hued to welcome in spring, one thing is for certain, a pink pajamas set is one you won't regret investing in.
Symbolic of love and romance, pink, is particularly popular in the run-up to both Galentine's and Valentine's Day, but there is no reason to limit your pink pajamas set to the first couple of months of the year. Whether you're looking for the warmest pajamas, or a pair to go with some fluffy slippers, for lounging at home, opting for one of fashion's favorite colors will ensure your sleepwear remains timeless.
Our favorite pink pajamas set to shop right now
1. Marks & Spencer Pink Modal Pajamas Set
Specifications
RRP: $43.99 / £25
Sizes: US: 2-18 / UK: 6-22
Fabric: 50% cotton, 50% modal
Reasons to buy
+
Breathable fabric
+
Good size range
+
Affordable price point
If you want a pink pajamas set for warm weather then look no further than this shortie set from British clothing brand Marks & Spencer. The classic silhouette of the top is given a spring-ready update thanks to the short sleeve and short pants. In a lovely lightweight cotton/modal mix, you get the benefit of a breathable fabric, which is a must when looking to figure out what to wear in the heat. Pair with one of the best sleep bras from M&S to complete your comfortable night-time get-up.
---
2. Victoria's Secret Pink Striped Pajamas Set
Specifications
RRP: $ / £69
Sizes: XS-XL
Fabric: 100% polyester
Reasons to buy
+
Long pants ideal for spring
+
Sophisticated design
+
Traditional silhouette
American clothing brand Victoria's Secret is known for making some of the best underwear, but its pajamas shouldn't be overlooked either. This satin striped, pink pajamas set is utterly luxurious, offering a flirty and feminine feel. With a traditional cut to the collar of the shirt and a long pant, it's ideal as we head into trans-seasonal weather. The pastel hue is ideal for welcoming in early spring too. Pair with your best slippers - preferably fluffy ones, for a cozy feel.
---
3. H&M Pink Satin Pajamas
Specifications
RRP: $34.99 / £24.99
Sizes: XS-4XL
Fabric: 100% polyester
Reasons to buy
+
Relaxed fit
+
Items can be worn separately
+
Great for Valentine's Day
Reasons to avoid
-
Polyester fabric not particularly breathable
One of the best Valentine's Day pajama sets, this subtle pair of pink pajamas from Scandinavian clothing brand H&M, manages to give a nod to the season of love, without being overtly cheesy, making them a great gift or self-gift. The pink pajamas are trimmed with subtle red piping detail for a super stylish finish. Cut to a relaxed silhouette for best loungewear vibes, the button down shirt and pants are crafted from a satin-look fabric for a chic feel.
---
4. La Perla Powder Pink Silk Pink Pajamas Set
Specifications
RRP: $485 / £345
Sizes: XS-XL
Fabric: 100% silk
Reasons to buy
+
7 colorways available
+
Can be personalized
+
Breathable fabric
Reasons to avoid
-
Extremely high price point
Italian clothing brand, La Perla is known for crafting the best bras and the most luxurious lingerie and its pajama range follows suit with a number of 100% silk iterations. As the pajamas are made from silk they carry a much higher price point, however if you're looking for the best luxury pajamas, you can't go wrong here. Thanks to the relaxed fit pant and silky button fronted shirt, these can also be worn separately for a stylish evening look to maximize wear and your comfort. Available in four different colorways, for those looking to really splash out on their night time wardrobe, the brand also have lace trimmed silk pajamas too.
---
5. Linea Donatella Satin Short Pajamas Set & Robe
Specifications
RRP: $60 / £50.17
Sizes: S-XL
Fabric: 100% polyester
Reasons to buy
+
Matching robe available
+
Attractive contrast lace design
+
On trend color palette
Reasons to avoid
-
100% polyester makes this set less breathable
A deeper hue than most pink pajama sets in this column, this design taps into Pantone's Color of the Year 2023 with its Vivid Magenta tones. This super cute two piece can be bought with a coordinating robe for the ultimate sleepwear set. The bright hue is accented by the more subtle lace trim, offering a vintage boudoir feel. The fashion trends 2023 have cited the return of lingerie looks to the runway, with plenty of lace trims and sweet camisoles making their debut and this two piece taps into that trend's energy nicely.
---
6. Toast Ada Soft Double Cotton Pajamas
Specifications
RRP: $210 / £125
Sizes: XS-XL
Fabric: 100% cotton
Reasons to buy
+
Double-faced cotton for great comfort as it's washed
+
Breathable fabric choice
+
Ideal for spring and summer
Reasons to avoid
-
Cropped trouser not to all tastes
Crafted using double-faced cotton, this Toast pink pajamas set is designed to loved and worn on the regularly, with the double layering helping for this set to age with grace and beauty. The delightful pale pink hue feels spring-ready, while the modern cut, of a rounded collar, plenty of pants pockets and a cropped hem finish feel directional without losing the hallmarks of a more classic silhouette.
---
7. Hush Liv Pink Print Pajamas Set
Specifications
RRP: $80 / £59
Sizes: XXS-XL / Reg and Long length
Fabric: 100% cotton
Reasons to buy
+
100% cotton for breathability
+
Multiply prints available in this style
+
Great for tall shoppers
Reach for the stars in this striking pink pajamas set. The LIV pajamas at Hush are made from 100% cotton for excellent comfort and breathability. The bold pink coloring is contrasted wonderfully with a bright blue star print - the ideal print before you slip into a deep sleep.
The LIV pajamas are a popular silhouette for the brand and come in number color and print styles, so you can take your pick, or stock up on them all. Available in two leg lengths, regular and tall, this is a great pajama set option for those who always find their ankles on show.
---
8. Nadine Merabi Darcie Feather Trim Pink Pajamas Set
Specifications
RRP: $200 / £150
Sizes: XS-XXL or US: 2-14 / UK: 6-18
Fabric: 100% poly-silk
Reasons to buy
+
Can be worn as evening wear
+
Several colorways available
+
Glamorous style
Reasons to avoid
-
Would be great to see plus sizes
Get ready for that pajama party in this gorgeous, pale pink pajamas set. The pants and shirt are both trimmed in feathers for a rich embellishment that ensures this two piece can take you from dancefloor to dreamland in no time.
A chic replacement for your best cocktail dress, the pieces can be worn together for an evening out with your best designer heels. Or slipped on with some fluffy slippers for slinking around at home. Feels all too frou-frou? Split the pieces up, half-tucking the shirt into jeans and pairing the pants with a sequin camisole for a stylish outfit.
---
9. Desmond & Dempsey Pink Parrot Pajamas Set
Specifications
RRP: $210 / £170
Sizes: XS-XXL
Fabric: 100% cotton
Reasons to buy
+
Monogram available
+
Other colorways available in this print
+
100% cotton for breathability
If you're looking for something not overly feminine, then this Desmond & Dempsey set, that has a base color of pink, but then an overriding blue parrot pattern could be the one. Cut to a classic men's pajama silhouette, the shirt and pants combination is then given a more tailored feel to match the female form, without losing its androgynous properties. Made from 100% cotton for excellent handle and breathability, these pajamas will work all year through.
---
10. John Lewis & Partners Any Day Jersey Pajamas Set
Specifications
RRP: £22 (UK only)
Sizes: 8-18
Fabric: 95% viscose, 5% elastane
Reasons to buy
+
Loungewear aesthetic
+
items can be worn separately
+
Great price
In antique rose, this dusky pink hue is universally flattering. The top and pants have a more best joggers and sweatshirt feel, delivering a casual, loungewear element, ensuring these can be worn for chilling out, not just nap time. The long sleeve top can certainly even be paired with jeans or track pants for running errands on the weekend too.
Rivkie is a fashion editor, writer and stylist with over fifteen years' experience in the industry. Having studied design and pattern cutting at the London College of Fashion, Rivkie fell in love with styling and journalism, covering fashion weeks in London, Paris and New York.
Specialising in plus size fashion, Rivkie has long championed that style is for everyBODY and has been a regular talking head on a host of radio stations and television shows, pushing for greater representation for plus size women and fashion throughout her career.