The very best sheets of 2022 - from luxury bed sheets to budget choices
Our guide to the best sheets ranges from luxury organic cotton bed linen to affordable options for those who want a hotel bedroom feel on a budget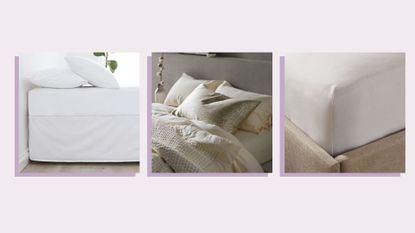 (Image credit: Dunelm | John Lewis & Partners | The White Company)
woman&home newsletter
Sign up to our free daily email for the latest royal and entertainment news, interesting opinion, expert advice on styling and beauty trends, and no-nonsense guides to the health and wellness questions you want answered.
Thank you for signing up to . You will receive a verification email shortly.
There was a problem. Please refresh the page and try again.
Choosing the best sheets for your bed goes far beyond the aesthetic considerations of choosing a preferred color or pattern. Great bed linen needs to provide comfort, temperature regulation, and ease of care. So whether you're heading back to school and need to ensure a good night's sleep, looking for a place to retire after a busy day at work, or just in need of extra comfort for opportune weekend lie-ins, always consider comfort first.
There's a popular misconception that the softest sheets need to have a high thread count that costs the earth, but there's actually a wide range of bed sheet options available to suit every conceivable preference and budget.
Getting the best sheets is key to sleeping better and getting a good night's rest, so use our guide and expert-selected picks to help make your bed feel like a hotel from a 5-star establishment.
How we tested the best sheets for beds
Why you can trust Woman & Home Our expert reviewers spend hours testing and comparing products and services so you can choose the best for you. Find out more about how we test.
Each of the bedsheets in this guide were tested in a real-life bedroom so that we could see exactly how they performed. Factors that influenced our views on each of the sheets featured included:
Fit: How well the sheet stretched to fit the mattress.
Comfort: How comfortable it felt against the skin – was it smooth or scratchy?
Care: How easy the sheet was to look after - can it be machine washed, or does it require extra care?
Extra benefits: Such as eco credentials and temperature regulation.
Value for money: How does the cost of the bed sheets balance against their performance?
The best sheets as tested by our expert
The prices shown throughout our guide are starting prices, typically for a single-sized sheet.
1. Dip & Doze The Perfect Fitted Sheet
Best sheets overall
Specifications
RRP: From £35
Material: 100% organic cotton
Sizes available : Single, double, king and super king
Reasons to buy
+
Made from organic and Fairtrade cotton
+
Chemical-free
Dip & Doze's Perfect Fitted Sheet is what it says on the tin – perfect. Bar a limited color palette that sticks solely to cool Scandi-esque neutrals, the sheet is an all-around winner when it comes to the overall best bed sheets. We loved how luxurious they felt to lie on, and also liked how gentle they felt on the skin.
The 'Perfect' bed sheet is crafted out of cotton that's both Fairtrade and organic. There are no nasties lurking here - in fact Dip & Doze's sheets aren't coated in any chemicals that some companies use in order to minimize the risk of shrinking when washed, which is fantastic if you're interested in sustainable living. Rather, they've opted to provide sheets that are slightly too big, meaning you can get those risky first couple of washes out the way without worrying that your gorgeous new bed sheet will shrink beyond recognition. When we washed them, we noticed the tiniest hint of shrinkage, which brought the sheet closer to the size it should be.
The sheet is delivered in a recycled plastic case, with a handwritten note that's signed by George, the founder of Dip & Doze, for that extra-personal touch.
2. Dunelm Non Iron Plain Fitted Sheet
Best budget sheets - ideal for students
Specifications
RRP: From £6
Material: Polyester-cotton blend
Sizes available: Single, Small double, Double, King and Super-king
Reasons to buy
+
Amazing prices
+
Wide range of colors
Reasons to avoid
-
Polyester blend composition
If you're looking for bed sheets on a budget, you won't find anything better than Dunelm's Non Iron Plain Fitted Sheet. It comes with a huge range of plus-points, with the only potential downside being its composition.
Made from 52% polyester and 48% cotton, it might not be the best choice for sensitive sleepers, who could instead prefer something constructed entirely from breathable pure cotton. However, it's worth noting that a polyester blend is still a lot gentler on skin than an all-polyester product.
That aside, this sheet is a fantastic choice if you're looking for a classic option that offers all the functionality you need from a standard bed sheet. It's available in 22 colors and has one of the widest palettes on this list. It can also be purchased in a range of varying depths, meaning that you have a brilliant chance of finding a sheet that will properly fit your bed. We found it easy to fit to the mattress and thought it washed well: its Non Iron treatment means that it was noticeably less creased than other sheets when it left the washing machine.
3. Bedfolk Luxe Cotton Sheet
Best luxury sheets
Specifications
RRP: From £45
Made from: 100% cotton
Available in: Single. double, king and super king
Reasons to buy
+
Free from chemicals
+
100% cotton
Bedfolk's silky-soft bed sheets are what only the sweetest dreams are made of. With a 100% cotton sateen weave, this sheet is the height of bedtime indulgence and feels silky-soft on the skin. The sheet was enticingly cool when we climbed into bed and blissfully warm by the time we woke up. It was great for keeping the bed at the perfect temperature, and also oh-so luxurious to lie on top of: we didn't roll over in bed so much as glide.
The bed sheet is available to order in five cool colors: Rose, Ink, Snow, Dove, and Rust (all perfectly in line with the biggest bedroom trends of 2022) and is also OEKO-TEX certified, meaning that it's free from chemicals and synthetics. It's low maintenance, and can be popped in the washing machine for cleaning; after one wash, we found it was just as smooth to the touch as it was when brand new, and didn't appear to shrink at all. It did take a little longer than expected to dry, though.
The packaging is another bonus if you're looking for a bed sheet that won't arrive swaddled in layers of plastic. Instead, it was delivered in a gorgeous fabric drawstring bag that could easily be reused for storage.
4. John Lewis & Partners Warm & Cosy Brushed Cotton Fitted Sheet
Best cotton sheets
Specifications
RRP: From £18
Material: 100% cotton
Sizes available: Single, Double, King and Super king
Reasons to buy
+
Great for cold sleepers
+
Easy to look after
Reasons to avoid
-
Limited color palette: three shades only
John Lewis & Partners bills this bed sheet as being the perfect pick for cold sleepers –and we found that it lived up to the promise. Crafted from 100% cotton that has been brushed on both sides after weaving, the sheet has a texture that's ideal for getting cozy. Tested on a cold winter night, we certainly found it helped retain warmth without becoming overbearing.
Slightly bigger than the size of the king-size bed it was tested on, the sheet wrapped around our mattress and mattress protector nicely. One side had pinged off when we woke up in the morning but this was probably more due to us not putting it on properly: the next night, it stayed in place throughout.
All in all, the sheet is pretty low maintenance: it seems to wash well and ironed nicely. Combined with its price, it's a solid choice that offers great value for money.
5. Soak & Sleep White 600 Thread Count Egyptian Cotton Fitted Sheet
Best Egyptian cotton sheets
Specifications
RRP: From £38
Material: 100% certified Egyptian fibers
Sizes available: Single, Double, King and Super king
Reasons to buy
+
Breathable and moisture-wicking
+
100% certified Egyptian cotton
For an elegant option that looks as if it's tumbled straight out of your favorite 5* hotel, search no further than this 600 thread count option from Soak & Sleep. Each sheet is made from 100% certified Egyptian cotton fibers (accredited by none other than the Egyptian Cotton Association), with the cotton grown on the banks of the river Nile.
Promising to wick away moisture, these sheets are naturals at temperature regulation. They're a great demonstration of what happens when style meets substance: we loved the luxe feel of the smooth sateen weave but also found lying on them to be really comfortable, too.
It's worth noting that the product is seemingly only available in white, so if you're looking for a bed sheet in a particular color, this might not be the one for you. When washed, the sheet did crease quite significantly. Soak & Sleep recommends ironing the sheet while it's still damp to smooth things out. Be aware that they also advise avoiding detergents when washing them, as these can affect how the color appears.
6. Piglet In Bed Linen Fitted Sheets
Best linen sheets
Specifications
RRP: From £70
Material: 100% linen
Sizes available: Single, Double, King and Super king
Reasons to buy
+
Incredible quality
+
Ideal for summer and winter alike
Reasons to avoid
-
Higher maintenance than others
Piglet In Bed's fitted bed sheet is made from 100% stonewashed linen, making it a high-quality option if you want to add some serious luxury to your bedroom.
There are 15 different colors and patterns available to choose from (with free swatches available to order), meaning there's a shade to suit almost any bedroom decor scheme. The beauty of linen is that it almost adapts to the season, meaning it will help you keep cool in the heat of summer and warm on chilly winter nights.
We found the sheet wasn't quite as stretchy as some of the others on this list but it still fitted on the bed perfectly. (It's also available to buy as a flat sheet if that's your preference.) They're beautiful to lie on and unlike other sheets, seemed to maintain an optimal temperature all night long: at no point did they become stiflingly warm. These linen bed sheets might not be a great choice for those with super-sensitive skin due to the texture of the material but other than that, there's no reason they wouldn't offer you a seriously comfortable sleep.
The slight faff of these gorgeous sheets is the maintenance. Piglet In Bed advises not to use fabric softener and recommends outdoor drying if possible – something our experts recommend when advising on how often you should wash towels. When we washed them, they took almost 24 hours to fully dry and had some serious creases. However, the sheets were still just as soft and comfortable as they had been previously.
7. Dusk Mayfair Flat Sheet - 400 Thread Count
Best flat sheets
Specifications
RRP: From £40.50
Material: Egyptian cotton
Sizes available: Double, King and Super king
Reasons to buy
+
A sophisticated addition to any bedroom
+
Luxury feel
Reasons to avoid
-
Smallest size available is double
Flat sheets are synonymous with elegance, and they're an easy way to bring some fuss-free hotel-worthy decadence to any bedroom.
Of course, the slight downside of flat sheets – even when they're as beautiful as Dusk's elegant Mayfair sheets – is that they're not quite as controllable as fitted sheets. Without the option of an elastic skirt to hold them in place, you might find yourself having to regularly rearrange them to ensure they stay exactly where you want them.
However, if that doesn't phase you then these Egyptian cotton bedsheets are a great investment. They're available in a limited (yet sophisticated) range of colors and are easy to look after. Despite the decadence they exude, they can be washed, tumble-dried and ironed, making it delightfully simple to keep them in tip-top condition.
8. The French Bedroom Company Stay Cool Tencel White Bedding
Best sheets for hot sleepers
Specifications
RRP: From £32
Material: 70% Cotton and 30% Tencel
Sizes available : Single, Double and King
Reasons to buy
+
Great option for temperature regulation
+
Ethically created
The French Bedroom Company's elegant take on stay-cool bedding is a must-consider for anyone who is an uncomfortably hot sleeper. Due to its breathable composition, the sheet is also more resistant to the risk of bacteria - and let's face it, that's only a good thing.
For the unfamiliar, Tencel is naturally sourced from eucalyptus trees and can absorb up to 50% more moisture than cotton, making it a great choice for everything from sheets and pillow cases to activewear and gym gear. In short, it's a natural sweat-trap, and an ideal material pick for the warmer sleepers out there.
Tested on a chilly winter night with the central heating on full blast, these sheets did what they promised. We woke up feeling comfortable and cozy, without any of the uncomfortable clamminess that some bed sheets can generate.
One downside is the lack of color options. Available only in white, it's perhaps not the best option for anyone who has their heart set on a specific décor scheme. However, if tackling heat is a greater concern for you, it's the perfect pick. Plus, the majority of hotels use white bedding – so you'll be one step closer to re-creating a hotel boudoir at home.
9. The White Company Velvet-touch Brushed Cotton Fitted Sheet
Best brushed cotton
Specifications
RRP: £40
Material: 100% cotton
Sizes available: Single, Double, King and Super king
Reasons to buy
+
An ultra-soft touch
+
Improved softness with every wash
The White Company is not famed for its bedding for nothing - they are experts in providing luxury sleep products, and this velvet-touch fitted sheet is no exception. The velvet-touch design is made of an incredibly tactile brushed cotton that has a comforting feel that is the perfect balance of warming and luxe.
This soft fitted base sheet is made from 100% cotton, which is woven and brushed into a cozy flannel fabric which is what gives the design its velvety-soft handle that is both warming and comfortingly tactile.
The beauty also of a brushed cotton finish is how well the fabric wears with each wash because it never feels starchy or stiff. So no matter how often you wash your sheets with every wash, this long-lasting design retains a softness to the touch that makes it super comforting to sleep on. The velvet-touch is also available as flat sheets and Oxford pillowcases to complete your bedding set.
What to consider before buying new sheets
One crucial thing to consider when choosing your new bed sheets is the size you need to buy them. Simple? Yes. Easy to get wrong? Also yes.
Buying a bed sheet that's in the correct size might sound foolish but you'd be surprised by how many people actually do it, costing them both time and money. And it can happen all too easily, as many of the best mattresses don't adhere to a set, standardized sizing down to the exact centimeter.
"Whilst you should take into account the standard bed sheet size that matches your mattress (such as a double, king, super king, or queen), you also need to consider the depth of the mattress," explains Martin Seeley, CEO of bed specialist MattressNextDay (opens in new tab). "If yours is extra thick or you use a mattress topper, you should size up—especially as some fitted sheets may shrink after continual use and washing."
A too-small bed sheet won't tuck under a mattress's corners, resulting in it pinging off throughout the night, so if you ensure and don't have the exact measurements of your mattress to hand, it's better to go up in size rather than down.
What are the best materials for bed sheets?
Whilst there is a wide range of materials that can be used to create bed sheets, there are five popular choices that people turn to over and over again...
Cotton: Breathable, cool and cheap, it's little wonder that cotton is such a favorite. "Cotton sheets soften up with time, which is why it's important to wash a new bed sheet before putting it on," advises Seeley. "Cotton sheets also wash well, as they tend to maintain their durability."
Polyester: Polyester can get a tough rap, but not always fairly. While itchy polyester can feel uncomfortable on skin, blended variations of the material can make a great budget-aware compromise. "Pure polyester sheets are rough, and not recommended unless you're on a tight budget," says Seeley. "Polyester blends, however, are much softer and also maintain their strength. They're easy to wash and don't need to be steamed or ironed." The downside of polyester-based sheets is that they're not as breathable as other materials, meaning polyester bed sheets won't keep you cool at night.
Linen: If you're a hot sleeper or suffer with allergies, linen bed sheets are the ideal choice for you. "This is because linen is a naturally cool material and, therefore, allows plenty of airflow through the material," advises Seeley. "If you like a soft bedsheet, you should wash your linen bed sheets multiple times before using them for the first time, as they can be quite stiff compared to other fabrics."
Bamboo: Looking for an eco-friendly option? Bamboo bed sheets could be the perfect choice for you. "They're more wrinkle-resistant than cotton, making them the ideal fabric for those that like the look of a hotel-standard bed," Seeley explains. "They're also hypoallergenic and breathable, making them perfect for those who tend to overheat at night."
Silk: After something a bit more opulent for your boudoir? Romantic silk could be your perfect match. Seeley advises that silk tends to have a higher price point as "it's a natural fiber produced by silkworms, and therefore needs delicate care when being produced. This makes them more high maintenance to clean than other bedsheets."
Katie Byrne is a contributor to woman&home and a writer whose interests span everything from homes and interiors, to pop-culture, travel, business and self-development. A former digital editor, her freelance journalism has featured across a wide range of print and online titles, including Raconteur, Digital Spy and more. When she's not writing, she loves reading (and has the groaning bookshelves to prove it...), dreaming up new décor ideas for her flat and devouring Netflix's latest true-crime series with her husband. You can find her on Twitter: @katie_b123 (opens in new tab).