What is the best thread count for sheets?
Here's how to work out what is the best thread count for sheets for your home, and how to avoid being duped by deceptively luxurious-sounding bed linen...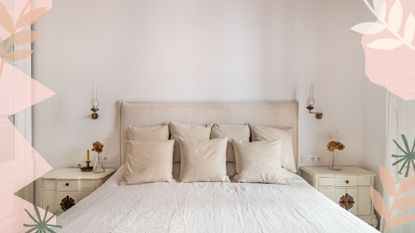 (Image credit: Getty/Canva)
woman&home newsletter
Sign up to our free daily email for the latest royal and entertainment news, interesting opinion, expert advice on styling and beauty trends, and no-nonsense guides to the health and wellness questions you want answered.
Thank you for signing up to . You will receive a verification email shortly.
There was a problem. Please refresh the page and try again.
Knowing what is the best thread count for sheets is one of the most important things to consider when picking out new bedlinen.
Aside from ensuring they will fit your mattress properly, picking your bedsheets based on their quality is equally as (if not more) important than ensuring they will match your room's aesthetic.
When considering new linens, many of us are on the hunt for bed sheets that rival those used in five-star resorts, so we can make a bed like a hotel bedroom. Often people think that to achieve this they need sheets with a high thread count, because the higher the thread count, the better the quality. But, it's not necessarily true.
So, what should you be aiming for? If the talk of thread counts and sheet comfort gets you in a tangle, we've asked the experts: just what is the best thread count for sheets - and what should we be investing our money in for a better night's sleep?
What does thread count mean?
Quite simply, thread count is a measure of the number of threads woven into one square inch of fabric.
Sleep Foundation (opens in new tab) explains that thread count is calculated by "adding together the numbers of lengthwise (warp) and widthwise (weft) threads within a certain area", and it is a rough overall indicator of the softness and feel of a fabric.
While it's widely believed that a higher thread count means a better quality sheet, this is not true.
"When it comes to thread count, most people think that the higher the count, the better the bedding," Yusuf Ozkanli, Founder of Beddable (opens in new tab), told woman&home. "Yet, after years of research, we've realized a high thread count can lead bedding to be coarse, heavy, and difficult to iron. This is due to the density of its weave."
What is the best thread count for sheets?
Depending on your preference, many factors should be taken into consideration when it comes to finding the ideal thread count for your bedsheets, including the time of year, where the cotton comes from, and personal preference.
In the warmer months, most people are going to opt for something a little more lightweight and cool (so lower thread counts), while winter months will require something thicker to cozy up under (higher thread counts).
Generally, a thread count ranging anywhere between 400 and 600 would suit an average home.
Luxury bed linen company, Peacock Alley (opens in new tab), suggests: "Ideal thread count needs to be taken into account with the quality of cotton, single ply vs. multi-ply cotton, and the type of weave."
"If you're a fan of a heavier sheet, you might opt for 600 thread count sheets. However, if you prefer something a bit lightweight and crisp, a 200 thread count sheet would be better."
While thread count is important to some people, the type of weave and the quality of the cotton, along with other materials used, make a much bigger difference than the number.
What is the best thread count for sheets to stay cool?
Throughout the summer, investing in sheets (and cooling pillows) that will keep you cool and comfortable during warm nights is a must.
When thinking about the material, cotton is the way to go. It's a material that transmits heat and absorbs moisture well, meaning it cools you down better than any other natural materials. Cotton sheets are also more durable and affordable than most other alternatives.
As for thread count, a lower thread count is the best for a cool night's sleep. This is because sheets with a higher thread count will have a tighter weave and therefore less breathability - making you feel even warmer overnight.
You can get sheets with a thread count as low as 180, but we'd advise going for around 200 minimum for comfort that will still ensure maximum airflow while you sleep.
What is the recommended minimum thread count for sheets?
While there's strictly no minimum thread count for bed sheets, Tuck (opens in new tab) says anything between 200 and 400 is a "good" number to go for. Anything less than 200 may be uncomfortable to sleep on, and won't last as long as it goes through each wash cycle.
British bed linen retailer, Beddable, says that a thread count of 400 is the sweet spot for many of its customers.
"We've found a 400-thread count provides the ideal balance between softness, breathability, and durability," explains Ozkanli. "This means your bedding will stay soft and comfortable, without compromising on quality."
Marissa Murphy-Adriaanse, Director of Operations and E-Commerce at Pioneer Linens (opens in new tab), agrees: "Thread count is defined as the weaving per square inch. The higher the thread count, the more cotton and the heavier the sheet. Thread count has been used as a marketing ploy and the quality of the sheet isn't always defined by thread count. If you buy a set of 10,000 thread count sheets, you'll have very heavy sheets, which many people would not like. We've found the most popular thread count to be between 500-600,"
Marissa says that Egyptian or Gizah cotton works best, especially when you're looking for the ideal thread count woven for sheets. She also says that the country of origin is an essential factor.
"To have the best assurance you have a high-quality sheet you want to ensure they are made in Europe," she notes. "The best sheets we've found are made in Portugal and Italy."
What is the most luxurious thread count for sheets?
Want the most luxurious sleep? As well as the best pillows money can buy and a good-quality mattress (the Emma mattress and Simba mattresses are consistent bestsellers), you're probably going to want to invest in sheets with a higher thread count too.
This is because thread counts of over 1,000 are thought to be the most extravagant– feeling fuller, thicker, softer, and of overall better quality. It should come as no surprise that these are on the higher end of the price scale, too.
However, if you're someone who is after a super-high thread count, you should be aware that a high thread count does not always mean better quality, particularly when looking at four figures. Bedsheet brand Peacock Alley warns:
"Anything with a thread count nearing (or above) 1000 thread count is almost certain to be significantly lower quality than sheets with a more reasonable number. Most fabrics with a thread count of over 600 are a sign of deceptive marketing tactics at work."
So, if possible, always see the sheets in the shop before you buy them, just to ensure they are of the quality you expect. If shopping online, double check the brand's return policy before you purchase. That way, if your 'luxurious' bedsheets don't live up to your expectations when they arrive, you can always send them back.
After watching 13 Going on 30 one too many times, Emma decided that she wanted to be a journalist and studied Multimedia Journalism at the University of Salford. She started her career as a fashion copywriter before delving into the world of digital journalism and her published work can be found in the likes of woman&home, Cosmopolitan, Metro, i-D and Apartment Therapy. Emma writes about interior design, travel, film and television, celebrities, and internet culture.