Simba mattress review—should you add the leading Hybrid mattress to your bedroom?
For our Simba mattress review, our tester took (several) deep sleeps on the Hybrid Original model to find out whether it's worth considering for your home and bed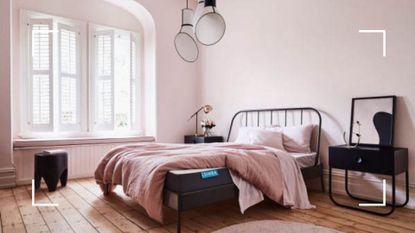 (Image credit: Future/Simba)
The Simba Hybrid is a huge, longstanding hit with a strong fanbase, particularly among those suffering from back pain and side-sleepers. It doesn't come with all the bells and whistles, but nor does it lack that all-important plush feel. Zoned support cushions your pressure points perfectly, and it's loaded with stay-cool features, too.
Reasons to buy
+

Decent bounce

+

Good breathability

+

200-night sleep trial

+

100% recyclable
Why you can trust Woman & Home Our expert reviewers spend hours testing and comparing products and services so you can choose the best for you. Find out more about how we test.
In our Simba mattress review, our expert tester takes a look at the Hybrid Original mattress from the brand, which has become a cult favorite among shoppers (or should we say sleepers). The Simba Hybrid isn't the British brand's newest, or most high-tech model—there's also the top-end Hybrid Pro and super-swish Hybrid Luxe. But it has bagged multiple awards—including the Best Cooling Mattress in the Best Mattress UK Awards 2021 and the 2020 Product of the Year Award—as well as almost evangelical user reviews from fans.
And with good reason. This bed-in-a-box mattress sculpts to your body shape, offering good support on key pressure points, and is very popular with side sleepers and people who suffer from back pain. Like most Hybrid bed-in-a-box mattresses, the Simba Hybrid combines layers of open-cell foam with conical springs, for a soft yet bouncy feel. We tested the Simba Hybrid for three weeks—and were so impressed we swiftly added it to our best mattress guide.
How easy is the Simba hybrid mattress to set up?
The Hybrid arrived vacuum-packed for easy delivery, as the box is a manageable 107cm x 50cm x 50cm. Thanks to the aforementioned springs, it quickly recovered from compression—far faster than an all-foam mattress. You also receive a nifty 'safety' knife for opening the heavy-duty plastic bag it's suctioned into without accidentally cutting into your new mattress, which is a nice touch.
The instructions say the mattress will be sleep-ready within three-six hours after unboxing, but our test mattress felt fully inflated within an hour or two, which is especially useful if you are buying this as a first mattress (or you've already got rid of your existing one) and your only other option is the floor or sofa!
WHAT'S THE SIMBA HYBRID MATTRESS LIKE TO SLEEP ON?
The Hybrid sector of the mattress industry, in general, was established in response to customer demand. While many people could appreciate the superior support of memory foam, plenty could not get on board with its lack of bounce. Thus, a layer or two of springs were added to bring that comfort into the equation—and it's this bounce that our tester appreciated when lying on the Simba Hybrid mattress. Having just finished reviewing several pure memory foam mattresses back-to-back, the Simba Hybrid felt like returning to a much loved and sorely missed friend. Admittedly, the conical springs are smaller and more refined than you might find in a traditional pocket sprung mattress, but it definitely felt more spring-like and light when our tester first got into bed.
Night one went very well—it is undoubtedly a comfortable mattress. Our tester found it softer than we were expecting from a medium-firm comfort mattress, but this isn't necessarily a bad thing. Naturally, the bounciness of the Simba Hybrid mattress does have an impact on motion transfer (which is about how much your partner's movement in the night affects your quality of sleep). But happily, the layers of latex and memory foam have a dampening effect, and the recoil was evident (compared to an all-foam mattress) but minimal. Neither our tester nor her partner was woken during the night, and neither recalled feeling any movement while they slept. A big tick.
SPECIFICATIONS
● RRP: £649-£1,109
● Sizes: Kids (small single), single, small double, king, super-king, EU single, EU double, EU queen.
● Filling: Hybrid (foam/springs)
● Sleeping position: All
● Firmness: Medium-firm
● Trial period: 200 nights
● Guarantee: 10 years
To assess support levels, we got a 56lb weight and measured how far down it sank at various points across the mattress surface. And boy did it sink! Down to 9cm on our crudely drawn scale (10cm is the highest), which is the deepest of all the mattresses we've ever tested. This means the springs really do squish well and you can expect a lot of cushioning from the Simba Hybrid. Our tester was pleased to note that the weight sunk by the same depth at the side and middle, suggesting a level sleeping surface from edge to edge.
In general, we found this mattress pretty supportive, albeit rather squishy, which would suit those who prefer softer mattresses. The really good news is that our tester didn't feel any of the aches and pains as she would often experience the morning after a long day at work followed by various workouts. She also felt comfortably cool while sleeping on the Simba Hybrid mattress (a similar benefit to the Simba Hybrid pillow, which is featured in our best pillow guide)—which is saying something given that the mattress was tested during some record-breaking spring temperatures.
WHAT DOES THE SIMBA HYBRID SMELL LIKE?
Typically, all-foam mattresses can emit a smell known as off-gassing, which is generally considered to be a chemical kind of smell that can be detected upon opening the product. But surprisingly for a foam-inclusive mattress, the Simba Hybrid we tested didn't smell. Or at least not of the chemical off-gassing odor familiar with memory foam that gets into your nostrils, curtains, and soft furnishings. It just smelt like fresh new bedding, which is never a bad thing.
And if you're after another mattress that also emits no smell, you might be interested in taking a look at our Emma Original Mattress review. In our Nectar mattress review, however, we found that—though not unpleasant or unbearable—there was a scent that lingered for a few days.
HOW FIRM IS THE SIMBA HYBRID MATTRESS?
We invited six additional testers (three male, three female, ranging from 10-17 stone) to take a lie down and offer their opinions on softness levels. They were asked to rate the mattress from 1-10, with one being feathery soft and 10 being rock solid. The results ranged from five-seven, with the majority giving it five or 5.5 out of 10, so Medium comfort was the overall consensus.
It was interesting to note that the heavier the tester, the softer they rated the mattress. This suggests that if you are of a lighter build, you will most likely find it firmer than someone who is bigger.
WHAT DO YOU GET FOR YOUR MONEY?
Price-wise, the Simba Hybrid is at the top end of the competitive Hybrid mattress sector, starting from £649 for a single and going right up to £1,109 for a Super King but you can often get as much as 40% off the list price if you hang out for a sale.
We've broken down the pricing to see what you'd need to pay for each size mattress:
Single—£649
Small double—£879
Double—£879
King—£999
Super King—£1,109
EU Single—£709
EU Double—£939
EU Queen—£1,049
Kids—£399
And, if you're looking for a discount, it's worth noting that there are often Simba mattress sales going on, especially around Black Friday and in the New Year sales.
The mattress comes with a 200-night trial, and hassle-free returns if it's not for you. Experts suggest it takes at least 30 nights for your body to get used to a new mattress, so this should be more than adequate time to see if it's right for you. There is also a 10-year guarantee, which is again more than fair, not least because you should really replace your mattress every seven years.
WHAT IS THE SIMBA HYBRID MATTRESS MADE OF?
Starting from the top, the mattress is adorned with a hypoallergenic cover, which is aerated to help with temperature control. Under that lies a comfort layer, aka Simba-Pure foam, which has a modern, open-cell foam structure that's geared towards swerving the sweatiness of traditional memory foam.
Next comes a layer of mini titanium pocket springs (2,500 in a King Size) that provide bounce and responsiveness. Then there's another decent wedge of Simba-Pure foam, which essentially contours the mattress to your body shape, whatever your sleeping position. Finally, a zoned support foam base helps reduce motion transfer and provides height. In essence, the Simba mattress is made up of five layers of materials that provide a well-supported, cool night's sleep, an important part of knowing how to sleep better.
WHAT DID WE NOT LIKE?
You will need to invest in a mattress protector, to protect your investment from spills and make it easier to keep hygienically clean, as there isn't a zip-off cover that can go in the washing machine. At 25cm-thick, it's not the deepest mattress in the world, which, if you are a bit older or just a bit stiff in the knees, might be an issue in terms of getting in and out of bed easily.
WHO IS THE SIMBA HYBRID BEST FOR?
The Simba Hybrid is a great all-rounder option for everyone. But it does offer exceptional cushioning, which is particularly good news for side-sleepers, who need their shoulders and hips to sink down in order for the spine to stay aligned. It is perhaps not as great for front or back sleepers, though they shouldn't find it uncomfortable at all.
Those who sleep hot will appreciate the thought that has gone into keeping this mattress well aerated, so heat is pulled away from your body while you sleep—an important part of good sleep hygiene, considering that we should be as cool as possible to sleep well.
IS THE SIMBA HYBRID WORTH IT?
The Simba Hybrid is not the cheapest, nor the most expensive, in its sector, but you do get an impressive 200-night sleep trial—completely stress-free with no collection costs involved if it's not for you, plus a 10-year guarantee. It perhaps isn't ideal if you're a front sleeper or want really firm support. But as mentioned, it is certainly a decent all-rounder and will feel coolly comfortable for the majority of people. It's not the most luxurious option ever made, but we do firmly think it represents good value-for-money.
Eco-conscious shoppers will also love the Simba Hybrid's green credentials. The mattresses are made in the UK, which reduces transport pollutants, and the materials used are 100% recyclable. Packaging is up to 60% recycled, a figure that could be improved, and all cardboard is from FSC approved sources.
WHAT DO ONLINE SHOPPERS THINK?
There is a huge amount of love from certified customers for the Simba Hybrid on Simba's own website—most give it the highest 5-star rating. And if you're keen to know how to fall asleep fast, you'll be pleased to hear that many of these happy shoppers wax lyrical about quickly enjoying the best night's sleep of their lives on the Simba—while the few nay-sayers are mostly complaining about delivery issues. The stats are similarly impressive on Trustpilot, with the overwhelming majority opting for the top 'excellent' rating. Many of the fans mentioned improvements (and even cures) in their back pain at night and are very happy to encourage fellow sufferers to give it a try.
WHAT IS ORDERING AND DELIVERY LIKE?
Simba mattresses are only available in the UK and other European countries, such as Belgium and France. Delivery is fast (often within 48 hours) and free, and the UK-based customer service department are very friendly and knowledgeable. A specific time slot in the week will cost £20; £40 on the weekend. If you want to return it, for whatever reason, you won't need to prepare for battle. The two-man delivery team will call ahead when they're nearing you, so you're not tempted to pop out at the last minute. They were also very friendly and helpful and carried the box upstairs for us. In most parts of the UK, Simba also offers a removal and recycling service for your old mattress, for an extra £40.
An interiors journalist for more than 20 years, Linda Clayton has worked on a wide array of consumer titles, including Homes & Gardens, Livingetc, Country Homes & Interiors and Real Homes.
She graduated from Cardiff's esteemed School of Journalism, Media and Cultural Studies with a First Class degree and Postgraduate Diploma in Magazine Journalism.