Nectar mattress review—does this memory foam mattress deliver on the support it promises?
In our Nectar mattress review, our tester reveals whether the product—which has a huge online following—actually lives up to the hype, and assesses how supportive it really is...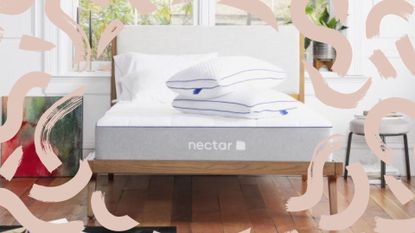 (Image credit: Nectar)
The Nectar Memory Foam mattress has a trophy cabinet full of awards and with good reason. This is a high-quality mattress with a generous layer of memory foam that supports joints and provides a comfortable, undisturbed night's sleep. The risk-adverse will love that it comes with a year-long test period and lifetime warranty on defects.
Reasons to buy
+

365-night trial

+

Forever warranty

+

Impressive cooling

+

Great support
Reasons to avoid
-

No handles for carrying

-

Smelly off-gassing

-

Cover isn't removable for washing
Why you can trust Woman & Home Our expert reviewers spend hours testing and comparing products and services so you can choose the best for you. Find out more about how we test.
Our expert tester trialed the Nectar Memory Foam mattress for two weeks to assess its comfort, support, value-for-money, and to work out who might best benefit from purchasing it. These are her honest thoughts.
Nectar was founded in 2016 in the USA, launching in the UK two years later. Despite their origins as a brand in the US, Nectar and their mattresses (manufactured in the UK), have become a hugely popular brand in the UK, too, impressing sleepers with their supportive product that comes with a very impressive trial period. In fact, that's why it's made it into our guide to the best mattresses to buy.
There is only one Nectar mattress to choose from in the UK, the Nectar Memory Foam mattress, but the company has added bed frames, bedroom furniture, and bedding to its portfolio (we recommend keeping an eye out for attractive deals and freebies on complete sleep bundles by signing up to Nectar's newsletter via its website (opens in new tab)). And, in the US, you can choose between the Nectar, the Nectar Premium, and the Nectar Copper—all made of memory foam.
We tested the Nectar Memory Foam mattress (the only option in the UK, and the most affordable and popular option in the US) for two weeks in the early summer, when the weather was fairly warm, but not heatwave hot. Nectar claims its mattress suits every style of sleeper and offers exceptional support and cooling performance—see our unbiased review to find out how it fared.
What does the Nectar mattress smell like?
If you have never slept on a memory foam mattress before there are two things you need to know. Firstly, they smell. Not in a chemical way that would be a deal-breaker. But it's not altogether pleasant, and it'll be there when you first unbox your memory foam mattress. Known as off-gassing, the smell is not dangerous, in fact, Nectar is Certipur certified, which means there are no harmful chemicals in its foam.
During the fortnight we conducted our Nectar mattress review, the odor did fade significantly, but do be prepared to smell something a little plastic-like when you enter the bedroom for at least two weeks. If the smell lingers, Nectar recommends setting a small bowl of white vinegar in the room for a few days to help absorb odors faster.
If you're really set on a mattress that doesn't smell, you may want to take a look at our Emma Original mattress review, instead.
WHAT IS THE NECTAR MEMORY FOAM LIKE TO SLEEP ON?
The second thing you need to know about memory foam mattresses is that they are dense—if you need bounce in your life, you're better off going for a traditional pocket sprung or Hybrid mattress, which is a mix of springs and foam.
But that is just one part of the Nectar mattress—and thankfully, there are plenty of great things also going for it. With regards to motion transfer, which is about how much your partner's movements disturb you in the night, the Nectar scored as well as any memory foam mattress our there. If sliding into your other half during the night is a massive bugbear, or either of you moves a lot in the night, we'd always recommend all-memory foam (rather than a springy Hybrid). We felt like we were sleeping solo on the Nectar Memory Foam mattress—though it did help that we reviewed a Super King size, so there was plenty of distance between bodies.
SPECIFICATIONS
● RRP: From £769-£1,284
● Sizes: Single, small double, double, king, super-king
● Filling: Memory foam
● Sleep position: All
● Comfort: Medium-firm
● Trial period: 365 nights
● Warranty: Forever
While our first night or two may have started with that 'bring back the springs' feeling when we lay all-too-firmly on the surface, it was only a matter of minutes before the memory foam started to give and our joints began to feel cushioned and supported, as promised, which was brilliant. You can also see our guide to the best pillows, many of which also provide great memory foam support.
We slept soundly on the Nectar Memory Foam mattress throughout the two-week experience, and, better yet, woke up without any of the usual aches and pains we usually blame on a combination of manual labor and exercise. Could our old mattress be to blame? The evidence was a compelling 'yes'.
IS THE NECTAR MATTRESS GOOD VALUE FOR MONEY?
With RRPs ranging from £769-£1,284 (single-super king) the Nectar Memory Foam mattress is not the cheapest in its sector—but nor is the most expensive.
We've broken down the pricing to see what you'd need to pay for each size mattress:
US Twin/UK Single: $499/£549
US Twin XL: $569
US Full/UK Double: $699/£699
US Queen/UK King: $799/£799
US King/UK Super King: $1,099/£899
US California King: $1,099
The cost is certainly pricey, but compared to many other memory foam mattresses on the market, they are about average. However, it's worth noting that Nectar does host a lot of very generous promotions, so it's well worth hanging out for a deal—in fact, you can see the best Nectar mattress deals on at the moment here.
Plus, you can expect this mattress to last for a very long time without losing comfort, which makes it a better investment in the long term.
WHAT IS THE NECTAR MEMORY FOAM MATTRESS MADE OF?
Nectar's main USP—fillings-wise—is a generous slab of 3cm-thick memory foam (many other makers only use 2cm memory foam). This is sandwiched between a breathable foam top layer to promote cooling and a zoned base layer, which is all about spine alignment and support. Altogether you're looking at a depth of 25cm, which is about standard for a decent memory foam mattress and looks good on the bed frame.
What did we not like?
In order for our Nectar mattress review to be as honest as possible, it's important we mention a few of the drawbacks of the product. As memory foam is very dense, it also tends to be heavy. This fact is not exclusive to the Nectar Memory Foam mattress, but as it has a thicker layer of memory foam, this does contribute extra weight (the Super King we tested was 43.02kg; about the weight of a healthy 12-year-old boy!).
Heavy equals hard to handle too, so we didn't appreciate the lack of handles when maneuvering the mattress into position. On the plus side, it is a no-turn mattress so you shouldn't have cause to awkwardly move it about very often. It would also be nice if the top cover was removable for washing. We'd recommend using a mattress protector to keep your Nectar Memory Foam mattress hygienically clean, for good sleep hygiene. See our guide to how to clean a mattress if you need more information keeping yours in tip-top condition.
Who is the Nectar memory foam mattress best for?
Like the majority of bed-in-a-box mattresses, the Nectar Memory Foam is aimed at the masses. Firmness is usually the biggest factor when seeking all-around comfort levels and the Nectar Memory Foam mattress is rated 6.5-7.5 on Nectar's website (with one being a feather pillow and 10 a cement floor). This is a crowd-pleasing Medium-Firm rating, which the company claims is 'Just Right' for the majority of individuals.
While we can't speak for all body types and sleeping positions, we can concur with Nectar's firmness assessment for adults of average weight and build (our tester and her partner are within healthy BMI guidelines, just!) who mainly sleep on their sides or back. A mattress that is too soft or too hard will have a negative impact on your joints—either cushioning them too much or not enough—so a Medium-Firm rating is the holy grail, making the Nectar Memory Foam mattress a great choice.
DO YOU GET A TRIAL PERIOD AND WARRANTY?
The Nectar Memory Foam mattress comes with an impressive 365-night trial period. This means that if, on night 364 you decide it's not for you, they will come and pick it up free of charge and return the money you spent on it. The only other mattress we are aware of with the same generous trial period is the DreamCloud Luxury Hybrid, from Nectar's sister company.
If that's not enough, the Nectar Memory Foam mattress also comes with a Forever Warranty, which covers construction, materials, quality, and durability. This applies to the lifetime of the original purchaser—you can't bequeath it to your children in your will under warranty, for example. In short, you don't have to worry about whether the Nectar Memory Foam mattress will last. If it doesn't, you can request a free replacement.
Is the Nectar memory foam mattress worth it?
We'd say the Nectar Memory Foam mattress is worth it if you are intent on purchasing a memory foam mattress to trial how it can help you deal with any back, neck, or shoulder pain.
While there is nothing earth-shattering about the mattress itself in terms of construction or tech, the 365-night sleep trial is pretty rare and a huge plus (especially if you've never tried a memory foam mattress before). Overall, it is the most comfortable memory foam mattress our tester has used so far, which makes it unique and well worth it for us.
WHAT DO ONLINE SHOPPERS THINK?
A huge majority of customer reviews online are in support of the Nectar Memory Foam mattress. Even after years of use, many reports that this mattress continues to provide great support and doesn't sag or soften. We conducted a deep dive in search of negative reviews from Nectar customers on sites like Trustpilot etc. There were a few complaints about poor customer service and faulty mattresses—but the overwhelming majority were very enthusiastic in their love for the Nectar Memory Foam mattress.
WHAT IS ORDERING AND DELIVERY LIKE?
Ordering and delivery were super easy with the two-man service, which costs $27.25/£20. The mattress arrived when we were told it would be carried by said men, who popped it upstairs for us. They also called ahead with an ETA, which was very helpful. Currently free delivery is a doorstep-only 'contactless' process though, due to the pandemic.
You can also opt to pay $55/£40 to have your old mattress removed, but this is a separate service to delivery, not undertaken at the same time—which might be considered a little counterintuitive on the carbon footprint front!
An interiors journalist for more than 20 years, Linda Clayton has worked on a wide array of consumer titles, including Homes & Gardens, Livingetc, Country Homes & Interiors and Real Homes.
She graduated from Cardiff's esteemed School of Journalism, Media and Cultural Studies with a First Class degree and Postgraduate Diploma in Magazine Journalism.