How to make a bed like a hotel housekeeper with luxurious finishing touches
Dreaming of a hotel-style bed at home? Here's how to make a bed like a hotel housekeeper for five-star luxury at home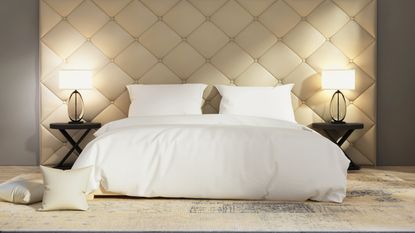 (Image credit: Getty Images )
woman&home newsletter
Sign up to our free daily email for the latest royal and entertainment news, interesting opinion, expert advice on styling and beauty trends, and no-nonsense guides to the health and wellness questions you want answered.
Thank you for signing up to . You will receive a verification email shortly.
There was a problem. Please refresh the page and try again.
Ever wondered how to make a bed like a hotel housekeeper? We asked top housekeeping managers across the globe about the insider tricks when it comes to recreating the hotel experience in your own bedroom.
There's nothing like a peaceful night's sleep in a comfortable hotel bed. The high-quality bedding, the best pillows, crisp and clean white sheets, and the signature "hotel tuck" that makes you feel as snug as a bug in a rug—it's all part of the experience. If you've been dreaming of recreating a luxurious hotel-style bed at home, you're in luck. From what bedding types the top hotels use, to those little finishing touches that make your slumber extra special, we've got the inside scoop straight from those who work in luxury hotels on how to make a bed like a five-star establishment.
How to make a bed like a hotel housekeeper
Not only will a well-made bed look much tidier, it also will promote good sleep hygiene. Whether you want to learn the tucking techniques or how to achieve those perfectly-fluffed pillows, here's everything you need to know about how to make a bed like a hotel.
1. Fitted sheets are not your friends
Yes, fitted sheets may make changing beds that little bit easier, but if you're looking to get a hotel-quality bed, it's time to say goodbye. "Surprisingly, it is very common for hotels beds to use flat sheets rather than fitted sheets," Gabriella Wong, Housekeeping Manager at The Plaza Hotel (opens in new tab), New York City, tells woman&home. "The bed-making process starts off with a flat sheet laid evenly across the mattress."
To achieve a luxurious hotel-like bed, Gabriella says that you should stretch and pull the sheets as tight as you can—and that signature hotel tuck? "It is a technique called hospital corners," she notes. "This is a process of tucking-in sheets neatly under the mattress—similar to gift-wrapping a present."
How to make a bed like a hotel with hospital corners:
First, tuck the flat sheet into the ends and sides of the bed (leave the corners hanging out).
Lift the edge of the sheet to form a 45-degree angle.
Then pull and tuck the hanging fabric as tight as you can, before doing the same with the leftover fabric.
2. Use your duvet cover corners
Putting a duvet cover on can be a tedious task that leaves you buried in bedsheets and considering sleeping under an uncovered duvet for a week. While it may seem tempting, duvet covers serve a bigger purpose than just looking pretty. Not only do they keep your duvet clean and help with longevity, but they are also designed with your skin health and comfort in mind. To make applying a duvet cover easier, hotel housekeepers often utilize the corners, helping guide the cover on as neatly as possible.
"With the duvet on the bed, take the clean duvet cover inside out and hold each corner. Take two corners of the duvet, shaking the duvet cover out the correct way," says Catherine Devlin, Executive Housekeeper at Holmes Hotel London (opens in new tab). "Make sure the two top corners are at the top of the bed before smoothing the duvet out, making sure to fold under the bottom corners and the sides."
3. Wave goodbye to wrinkles
You don't need to get the iron out to achieve perfectly crisp sheets. The secret? Misted water. "To keep bedding wrinkle-free, you can use wrinkle release spray, but water in a spray bottle works just as well," explains Adabel Carlos, Director of Housekeeping at The Gwen, a Luxury Collection Hotel (opens in new tab), Chicago. Just spray a little on sheets once you pull them tight and say goodbye to wrinkles."
According to Emily Morgan at Clementine's Hotel in York (opens in new tab), another tip is to waft the duvet, kind of like the motion made when playing the parachute game at school. "To create the airy feel when you get in, waft the duvet up and onto the sheet and smooth across the bed ensuring the duvet is even around the sides," she says.
4. Size up your sheets
For a tight tuck and extra snuggle room, consider sizing up your sheets. "For the sheet and the duvet, we always go up one size, so for a king-sized bed we would use a super king-sized duvet," says Sophie Colston, Manager at The Greenbank Hotel (opens in new tab), Cornwall. This ensures the perfect tuck and so that there's more space for our guests to cuddle under."
5. Karate chop your comforter
To get that perfect, even inward fold in your duvet, use your arm as a guide. Place your arm on the bed in a karate-chop motion around two feet into the fabric, then fold down neatly. This will give you a clean, precise fold on both sides of the bed, creating the ideal amount of space for your pillows to sit.
Next, plump and stack your pillows. Use a gentle chopping motion to ensure maximum fluffiness.
What type of bedding do hotels use?
Hotels typically use white bedding for a simple and clean look. While an all-white bed isn't necessary to achieve a luxurious hotel bed at home, Jeanie Mottley, Director of Operations at Wave Resort, New Jersey (opens in new tab), recommends sticking with a softer color palette. "Choose colors, patterns, or textures that give off a relaxed feel. Neutrals always help add to this effect," she says.
Joseph Del Guidice, Senior Vice President at PM Hotel Group (opens in new tab), recommends investing in higher-quality bedding, pillows, and the best mattress you can find for the ultimate luxurious hotel-style experience. "Purchasing upgraded linens with more cotton and higher thread counts, thick mattress toppers for added comfort and upgraded pillows will all help provide a better at-home hotel experience," he explains.
As for an exact thread count?
"Bed linen is the pièce de resistance," says Mark Hardy, General Manager at The Cavendish Hotel (opens in new tab), London. " As a general rule of thumb higher-end hotels typically use linen with a 250 to 300 thread count."
Finishing touches that will make your bedroom more luxurious
You know how to make your bed like a hotel housekeeper, but what about those all-important finishing touches?
Cozy robes, the very best slippers, and a soft throw will definitely up the comfort factor, while ambient lighting and relaxing scents (we love lavender for a feeling of calm) will create a feeling of calm as you drift off. Use the best candles, pillow mists, and oil diffusers.
Kemar Russie, Executive Housekeeper at Sandals Royal Caribbean Resort & Private Island (opens in new tab) suggests the following steps for creating a hotel-style bed at home:
"In order to re-create the feeling of a luxurious hotel bed at home, it is important to keep your bedroom comfortable and clear of clutter, allowing you to relax and unwind.
"To add extra ambiance, try a fragranced pillow spray or a room mist to create a feeling of calm, just before going to sleep."
After watching 13 Going on 30 one too many times, Emma decided that she wanted to be a journalist and studied Multimedia Journalism at the University of Salford. She started her career as a fashion copywriter before delving into the world of digital journalism and her published work can be found in the likes of woman&home, Cosmopolitan, Metro, i-D and Apartment Therapy. Emma writes about interior design, travel, film and television, celebrities, and internet culture.