How to build a capsule wardrobe for travel according to a jet-setting fashion stylist
Our fashion insider reveals how to build a capsule wardrobe for travel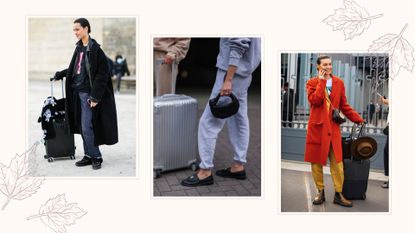 (Image credit: Getty Images)
woman&home newsletter
Sign up to our free daily email for the latest royal and entertainment news, interesting opinion, expert advice on styling and beauty trends, and no-nonsense guides to the health and wellness questions you want answered.
Thank you for signing up to . You will receive a verification email shortly.
There was a problem. Please refresh the page and try again.
When it comes to a capsule wardrobe for travel, the key thing to remember is that you don't want to overpack, as a massive bill for a heavy suitcase is not the way to get your trip off to a good start.
Crafting a capsule wardrobe for travel requires a huge amount of discipline, as the temptation to panic about how much you'll need is very real. Hands-up if you've often packed a vast amount, only to end up re-wearing the same thing on repeat? Believe me, you're not alone. Deciphering exactly what you will need will take some practice, but if you've already started to compile a capsule wardrobe, you're well on your way to success.
The first thing to do is think about the type and length of your holiday. The longer your trip, the more items you will need, although remember, as with any good minimalist capsule wardrobe, items can be re-worn in different ways for various activities and you can potentially clean some items during your travels. The type of holiday will ultimately determine what you pack, but you do not need an entirely new outfit for everyday, and while there is no set amount to take with you, there are certainly areas where you can cut right down.
How to create a capsule wardrobe for travel: including what you need for a beach holiday, city break or a cold weather trip
In the below sections, I will dissect three key types of travel and how I would go about packing for each destination. I've selected a beach holiday, a city break and a winter retreat as the three core capsule wardrobes for travel you might need. It's time to say goodbye to bursting suitcases and hello to a streamlined and organized you.
It's important to remember that there is no final formula for how many items to pack and this is general guidance as to how I logically think through my holiday looks to ensure I have just the right amount, but not too much. It's important to look at your itinerary to see if any occasion requires a specific type of outfit or dress code to make sure you have every thing covered. However the real trick is bringing items that can easily be interchanged, as well as pieces that can be dressed up by simply swapping a shoe, or adding a piece of costume jewelry, taking you from day time sightseeing to evening drinks.
1. How to create a capsule wardrobe for travel: Beach Vacation
We've all been there, you go to check your luggage into the hold and realize you have seriously overpacked. With many airlines now charging for luggage, it's more important than ever to work out how to create a capsule wardrobe for travel before jetting off for a beach vacation.
In order to break down how to create a capsule wardrobe for travel to the beach, I'm basing this analysis on a week abroad that will involve both tourist activities, beach time and going out for dinner / dressing up for some meals.
For your capsule wardrobe for travel to the beach your will need:
T-shirts: When it comes to t-shirts on holiday, err on the side of caution, particularly if they're white t-shirts. If you plan to largely wear shorts and skirts, then for 7 days you'll want at least 5 t-shirts. We wouldn't advise taking your best t-shirts on holiday as a combination of suncream, sand and sweat can do some serious damage to your best white tees. Many brands, even those on the more budget-friendly side now offer sustainably-sourced cotton t-shirts, so you don't have to compromise on your green ethos either.
Dresses: Midi dresses are ideal for alfresco dinners, and the stores are packed with summer-ready styles. Opt for bright colors and attractive prints to evoke that holiday mood. A white midi dress is ideal nearer the end of your holiday, as it's a great way to show off a tan. Jersey or cotton maxi dresses are great for daywear and also are ideal for throwing over your best swimsuit if you've got a bit of a journey to the beach or pool. Paired with sandals they double up as a chic sightseeing ensemble. The longer length will protect you from the midday sun.
Travel clothes: You'll only need one travel outfit as you can wear the same outfit on the return journey. For long-haul flights, you might want to wear your best loungewear co-ord to ensure you're comfortable on the long flight, although you might want a lightweight dress in your hand luggage to change into at the airport so you don't overheat on the way out. Jersey maxi dresses are also a safe and comfortable bet for jetting off in style. They look and feel great and you'll be vacay ready on the other end.
Denim: When it comes to hot holidays, leave your favorite slimming jeans at home. If you want some denim that you can rock beachside, then invest in some great denim shorts. A brilliant beach cover-up, you can wear them over your favorite bikini or swimsuit, team them with t-shirts or throw on with an oversized cotton shirt for an instantly easy-breezy look.
Trousers and shorts: Cotton and linen trousers are the only fabric types that should be making it into your holiday wardrobe, with chiffon palazzo pants a strong contender for evening wear. Choose relaxed shapes and lighter hues to reflect the sun and keep you cool. Look for easy elasticated waists so that you can truly kick back. For those needing dressier pants for dinners, floaty palazzo points offer instant elegance, team with a coordinating or matching camisole or an embellished kaftan for a stylish finish.
Skirts: Lightweight maxi and A-line skirt silhouettes are ideal for every day. While prints offer a directional feel, for pieces you can turn to year after year, stick to neutral hues that will pair with anything.
Shoes: You never need as many shoes on holiday as you think you will, we guarantee it. So wear your sightseeing pair on the plain (such as trainers or plimsolls), and then pack a pair of sandals for every day, flip flops for the pool, a dressy pair of flats and one pair of heeled or wedged shoes. Leave the rest at home.
Bags: As with shoes, you don't need all your favorite bags on holiday. We suggest opting for a large tote that can double up as a beach bag and then one crossbody bag that you can wear for sightseeing and dinner.
Jewelry: While it's tempting to want to style it out on holiday with stacks of bangles and layered chains, the truth is it doesn't only add tones of bulk to your case but it's not always that comfortable either. Metal jewelry can get increasingly hot throughout the day and while big bangles might look fun, you don't need the window dressing. Keep it simple and give your accessories the week off too.
Sunglasses: One thing you can't forget. If you're the kind of person who sits on your sunnies or leaves them on your lounger on day one, then pack a couple of super cheap (but UV-protected) pairs. Otherwise, consult the sunglasses trends and our guide on what sunglasses suit me and invest in one of the best.
Swimwear: Always ensure you have at least one great piece of swimwear in your summer arsenal at all times. You can top up and switch out according to the swimwear trends 2022 as we hit peak summer, but having at least one piece of swimwear that you feel good in, whether that's a bikini or any of the best plus size swimwear will ensure that you won't have to pass up any opportunities to soak up some much-needed vitamin D this season.
2. How to create a capsule wardrobe for travel: City Break
There isn't one type of city break, making this capsule wardrobe for travel a little trickier, however I have based my ultimate capsule wardrobe for travel on a 5 day break in mid-spring weather. The trip involves a mix of sightseeing and coffee shop culture as well as dinners out and investigating the local nightlife. The key to this wardrobe is layers that can be mixed and matched and keeping items simple, you may need to dip into some of your winter capsule wardrobe for some key basics. While I often like to forgo jewelry on holiday, when it comes to maximizing your clothing, inexpensive costume jewelry can instantly up-style more casual looks, making you dinner-ready in a flash. Whether you're wondering what to wear in Rome or what to wear in Paris, this guide has some simple style formulas that will ensure you avoid any fashion faux pas.
For your capsule wardrobe for travel on a city break your will need:
Jackets: Check the weather before you go so that you can pack appropriate outerwear. For balmier weather the best leather jacket will keep you warm and add edge to an evening look, while for climes that are looking rather drizzly, choose the best waterproof jacket that can be packed into a pouch for easy transportation. To make any look feel more polished - particularly if you need to 'dress up' for a restaurant booking, the best blazers pull any look together in a jiffy.
T-shirts/Tops/Sweater: When it comes to tops and knits to wear on a city break, for a 5 day trip, you're looking at 3-5 tops. This can include your best sweater that slips on over the top for added warmth - as springtime city breaks can be notoriously unpredictable weather-wise. You'll want a mix of long sleeve tops, a cashmere sweater, a t-shirt and a blouse that will work for day or evening.
Dresses: Similarly to your capsule wardrobe for travel to a beach vacation, the best midi dresses remain the most versatile purchase. You'll want to pack dresses that can work for day or the evening, with printed dresses ideal for a city break as they can take you from a day out with trainers, to an evening dinner, paired with heels or ballet pumps.
Travel clothes: When it comes to what to wear on a plane, you'll only need one travel outfit as you can wear the same outfit on the return journey. As city break flights tend to be short haul, you might be looking to head straight out to enjoy the sights. If that's the case, a jeans and sweater combo will take you comfortably through traveling and then straight out once you've dropped your bags. If you're flying super early, or late, you may feel better in your best loungewear.
Denim: While on a hot holiday your jeans are certain to be left at home, for a city break, your favorite jeans are front of the queue when it comes to your capsule wardrobe for travel. Black or dark blue jeans are the best jeans to pack for a city break as they can easily be dressed up or down, meaning you can wear them out in the day with a light sweater and jacket, before adding a little glitz for dinner, fulfilling the paired down packing brief perfectly.
Trousers: As a general rule jeans would be the go to from a capsule wardrobe for travel in this situation, however if you have upscale dinner reservations you may want to pack a pair of wide leg tailored pants to sharpen up an evening look. It's always a good idea to check the dress codes of any restaurants you want to go to prior to travel.
Skirts: Depending on your personal style, skirts may or may not feature in your capsule wardrobe for travel. If you favor a skirt over trousers, I would suggest packing one or two smart evening A-Line skirts to wear to dinner and drinks and a denim skirt to wear in the day. You could also minimize packing by opting for an A-line leather skirt that will work from AM-PM.
Shoes: Overpacking on shoes is a common error, but I guarantee you can lighten the load by wearing one pair for travel and packing just one in your luggage. You need one pair of shoes for day time, most likely your best white trainers, or something similarly supportive and then one pair of neutral evening shoes that will go with everything. A pair of the best knee high boots (flat or with a strong sole) is usually the best option for a city break, but again, make sure to check any dress codes for dinner venues, in case you need a pair of heels or ballet pumps too. Wear your chunky boots on the plane to lighten the load.
Bags: Similarly to shoes, you don't actually need lots of bags on holiday. I suggest just one bag, that will take you from your plane journey, through sightseeing and out to dinner and that's one of the best crossbody bags. This will keep your personal belongings safe right by your side at all times, whilst giving you the ability to be handsfree.
Jewelry: I'm a huge fan of leaving jewelry at home when traveling. Only wearing items that you never take off - think Carrie Bradshaw and her cherished name necklace - although I would recommend leaving valuables at home. If you want to quickly dress up evening looks, such as jeans and a great top, pack one or two of your favorite costume jewelry bits such as a big pair of earrings and a statement necklace.
Sunglasses: Regardless of time of year, a pair of sunglasses is a must. This is because UV is around in all seasons and spring or fall can be bright but cold, so learn what sunglasses suit me and invest in one of the best pairs.
3. Capsule wardrobe for travel: Winter get-away
There are two types of winter getaway that would require a capsule wardrobe for travel. The first, a sunny break is covered in section one, but the second, is a trip where you actively embrace the cold. For this capsule wardrobe for travel you will require a selection of versatile layers that can interchanged over a 5 day trip to create the perfect cold weather wardrobe. This will include items such as the warmest leggings, base layer thermals, the best cashmere socks and snuggly sweaters. Here's what I think you should be in your go-to wardrobe for a wintery break.
Base layer tops: A great example of this is straight-to-market brand thermals. From British clothing brand M&S to fashion pack favorite, Uniqlo's HeatTech tops, these are the light layering pieces that will trap in heat. They can be worn alone, or slipped on under a piece of knitwear for added warmth. 3-5 pieces should suffice for your stay.
Sweaters: You won't want to complete this capsule wardrobe for travel without knitwear. These can cover everything from the best jumper dresses, to oversized sweaters that are ideal for slipping on with leggings. What you're looking for is that feeling of being cocooned and safe. You'll want 2-3 oversized sweaters - such as the best fleeces, a roll neck and one longline cardigan that can be worn with different bottoms or over base layers.
Leggings/pants: The best joggers and cozy leggings are ideal for this trip, you'll want around 3 to 4 pairs. You want to warm and comfortable at all times. Jeans are actually not particularly warm, however if you have plans to venture out, you may want to also include a pair of tailored evening trousers for this purpose, or a pair of black fitted jeans.
Dresses: Knitted dresses has already been covered, but if you have evening plans that require something a little more glitzy, make sure to pack appropriate evening wear, two dresses should suffice.
Shoes: In this instance shoes are a little more complicated, as it largely depends on the activities of the trip. You may need a sturdy pair of the best hiking boots if long walks are on the cards, but a pair of the best winter boots, ideally with a sheepskin lining for added comfort should also be a go to. If you need something for evening, I suggest a pair of knee high boots as these offer coverage and sartorial style.
Outerwear: The best winter coat is a given for this kind of trip and the chances are you won't need to pack this as you'll probably be wearing it. Consider either one of the best puffer jackets for more active trips, or the best wool coats for elevated elegance.
Accessories: Don't forget to pack those winter warmers, the best winter hat, one of the best scarves, gloves and of course cashmere socks.
Rivkie is a fashion editor, writer and stylist with over fifteen years' experience in the industry. Having studied design and pattern cutting at the London College of Fashion, Rivkie fell in love with styling and journalism, covering fashion weeks in London, Paris and New York.
Specialising in plus size fashion, Rivkie has long championed that style is for everyBODY and has been a regular talking head on a host of radio stations and television shows, pushing for greater representation for plus size women and fashion throughout her career.