Best winter hats for women to keep you cozy, while still looking cool
From beanies to berets, upgrade your headgear with the best winter hats for women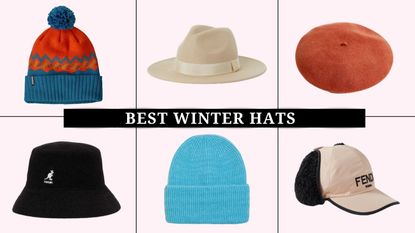 (Image credit: Future)
One of the unsung heroes of cold-weather dressing, the best winter hats are the finishing touch of a well-layered outfit. Like a little hug on your head, a winter hat is not only guaranteed to keep you warm (by keeping the heat in your body) but it will also give your look a seasonal stylish spin.
From baker boys or beanies, the best winter hats should reflect your own personal style, and of course, enhance your outfits. Coordination is key and to find the perfect headgear for you, it helps to think about whether certain styles will match your best winter coat and best winter boots, too. When shopping for your winter hat, there's plenty to think about. Fabric is key—think toasty lambswool or luxurious, plush cashmere—as are the details, such as playful pom-poms. Color is also something to consider, as you might want to opt for punchy hues to give your outfit a little boost in the winter weather.
While some styles of hat are more casual and will work with your off-duty, best-jeans-and-jumper combo (we're looking at you, beanie and bobble), other options, such as the fedora, are super versatile—exuding elegance, they will work for smarter occasions, too. Chances are, you're going to want to snap up more than one hat for your capsule wardrobe, so the fact that most designs for daily wear won't break the budget is a welcome added bonus.
What are the best winter hat styles?
Why you can trust Woman & Home Our expert reviewers spend hours testing and comparing products and services so you can choose the best for you. Find out more about how we test.
Before we dive into the best winter hats out there right now, it helps to know your options. These are the most common millinery styles you'll see out and about.
Bobble: Probably the coziest of all the winter hat styles, the bobble's fluffy pom-pom finish makes it both fun and feminine. Bobble hats are, universally, pretty flattering and can be found in an array of colors, so there's something for everyone. If you aren't sure which winter hat style to go for, you're definitely safe choosing a bobble.
Beanie: Best described as the bobble hat's bobble-less counterpart, beanies are ideal if you're after something simple but chic. As well as coming in an array of colors and patterns (so the fun associated with a pom-pom-topped hat isn't totally lost), beanies are also made in a variety of depths, meaning you can choose between something that sits snug to your head or allows for a little more room. If you're wondering how to wear a beanie, we recommend teaming with the warmest leggings for a cool athleisure look.
Baker boy: Adopted by the chicest women in the '60s and '70s, and a style statement ever since (Julia Roberts made them iconic again in the '90s in Pretty Woman), the baker hat moves in and out of fashion on rotation. Right now, it's very much in! Where woolen knits sit close to the scalp, baker boy hats' cap-like appearance and sharp angles add definition that helps to elongate round faces. While this style might not be the warmest, it's definitely among the sultriest.
Bucket: Arguably the most fashion-forward of all the headwear styles available right now, the bucket hat might seem scary but it's definitely making its way into the mainstream. The bucket hat is available in a wide variety of materials, from teddy textures to waterproof finishes (which are great for rainy days, worn with your waterproof jacket).
Fedora: While woven finishes might reign supreme in summer, the fabric of winter is felt. And this is where the fedora comes into its own: this style's structured shape makes it great for sophisticated outfits, adding a touch of glamour to the everyday. Some fedoras have wider brims than others, and the more rectangular your face is, the wider you may wish to go.
Beret: This French style is always in fashion, but it inevitably made a widespread comeback after Netflix aired Emily In Paris with the hugely popular show prompting a rise in beret sales and searches for how to wear a beret. While you don't have to select an outfit from a chic French clothing brand to pair it with, your outfit for a beret needs to be more stylish than your average tracksuit bottoms, so opt for a smart pair of jeans and, if you want to take more classic style notes from the Continent, maybe even a Breton top.
The best winter hats for women as chosen by our fashion team
Millie Gooch worked at woman&home as a fashion writer and stylist and has worked on numerous shoots for the brand. As a freelance journalist, Millie has written for a range of publications, including, ELLE, Stylist, the BBC, and the Evening Standard.
Millie is also the founder of Sober Girl Society, an online collective of women who don't drink alcohol. Millie's debut non-fiction book, The Sober Girl Society Handbook, is a bestselling manual to navigating life as a young and sober woman. Millie gave up alcohol back in February 2018 and has since dedicated her career to changing perceptions around sobriety.