How to wear a beret in a modern way without feeling self-conscious—because they're cool again!
Yes, you can learn how to wear a beret without coming off as a clichéd tourist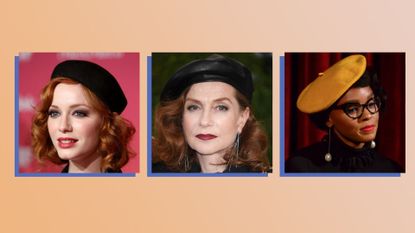 (Image credit: Getty Images/Future)
For decades now, it's been widely understood that wearing a beret was a style choice lost to the common fear of coming off as a fashion cliché or looking like a French noir film character. Those days might be behind us now, as more chic street style looks are appearing with the floppy fit in check. If you're looking for insight on how to wear a beret and looking cool doing it, we've got some advice.
Berets have always been a look that's hard to pull off correctly, but they have been worn by a lot of cinematic stars. Whether you were attracted to them because of seeing Marilyn Monroe wearing one in the film Gentleman Prefer Blondes, French actors sporting them off-duty, or, more recently, on Emily in Paris's Lily Collins, they are making a comeback. On the heels of Paris Fashion Week, the accessory is creeping into fashion's mainstream on both sides of the Atlantic as one of the hottest clothing trends of 2021, spotted on the likes of Alexa Chung and Valentina Ferragni.
First things first, let's sum up exactly what we're talking about when we say beret.
What is a beret?
A beret is a circular hat that's relatively flat in shape and made from soft, often woolen, material. Although berets tend not to have a structured brim, some more trend-led styles do. Traditionally, berets are black, navy, or red, but pastel tones have been making their way onto the scene recently—putting a new spin on the classic.
How to wear a beret
Standing in front of the mirror unsure of how to position your beret on your head? No problem. We've broken it down into five easy-to-master forms.
1. Off kilter
Fashion should be fun. So, instead of agonizing over perfectly positioning your beret, embrace the jauntiness that comes with a slightly lopsided approach. In fact, the Queen once wore her hat backwards—so if breaking with tradition is good enough for the royals, it's good enough for us too.
2. Straight and centred
If the mere idea of a less than polished look is enough to leave you feeling antsy, keep it simple by wearing your beret in the middle of your head. Keeping everything centered and raised will give your look a symmetrical, structured look that still has a French formality to it.
3. Soft and slouchy
For a fully relaxed feel, place your beret further back, with the front closer to the crown of your head than the hairline. Whether this laid-back look is achievable or not will depend on the fabric your beret is made from—the softer, the better.
4. Tucked under
To create a fuller, more voluminous shape (and add extra height to your frame in the process), tuck the base of your beret beneath itself. This will make the fabric drape over the band around your head and create a billowed look for more coverage.
5. Pulled down
If you want to know how to wear a beret to disguise a wayward fringe, this is the style for you. Pull the base of the hat down to just below your hairline. This will stop your beret from becoming too high.
The best berets to shop now, according to our fashion team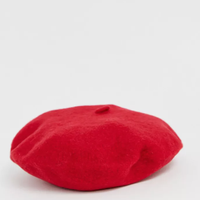 (opens in new tab)
ASOS Wool Beret | RRP: $14.50/£10
Those looking to just dip their toe into the beret world might want to try this number on for starters. It's inexpensive and while it might not be built to last a lifetime, it'll surely enhance some European looks no matter where you wear it.
View this wool beret at ASOS (opens in new tab)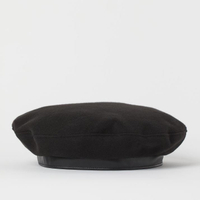 (opens in new tab)
H&M Beret in Black | RRP: $12/£10
For an affordable option that trades in the floppy felt for a bit more structure with a faux-leather band, this H&M option has all the look of French faire without any of the cost involved.
View this beret at H&M (opens in new tab)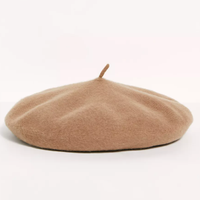 (opens in new tab)
Free People Margot Slouchy Beret | RRP: $38/£28
The perfect form for the laid-back look you can just pop on, this beret can be pulled down or sit on the back of your head. It also comes in a few different muted tones to blend into looks easier.
View the Margot beret at Free People (opens in new tab)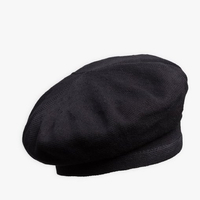 (opens in new tab)
Agnes B. Black Cotton Beret | RRP: $90/£67
Featuring a higher lip than its counterparts on this list, this beret offers more room for pulled-down styling, making it a great choice going into the colder fall months.
View this beret at Anges B. (opens in new tab)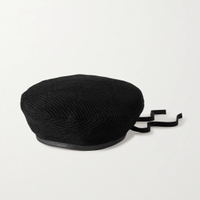 (opens in new tab)
Gucci Malibu Crocheted Cotton Beret | RRP: $620/£400
Looking to go all-in on a designer beret for your next fashion week street style look? Try this number from Gucci that offers a more structured approach to the accessory.
View the Gucci Malibu Beret at Net-A-Porter (opens in new tab)
How to style a beret
Instead of taking notes from Lily Collins' Emily In Paris character and wearing yours with a check short suit, consider a more low-key nod to Parisian style by pairing it with a Breton top, tailored camel coat, a chic pair of cigarette trousers, and one of the biggest shoe trends of the year. You can even steer clear of French favorites altogether and simply use your new beret to add some je ne sais quoi to much-loved staples like your best jeans or best winter coat.
While some headgear, like topping off with a straw boater or knowing how to wear a beanie, are strictly seasonal, berets have an all-year-round appeal. Wear in warmer months with a floral dress and trench coat, trading for a straight-cut woolen coat and faux leather leggings come colder seasons. Effortless, French girl fashion, here we come.
Jess Beech is an experienced fashion and beauty editor, with more than eight years experience in the publishing industry. She has written for woman&home, GoodtoKnow, Now, Woman, Woman's Weekly, Woman's Own and Chat, and is a former Deputy Fashion & Beauty Editor at Future PLC. A beauty obsessive, Jess has tried everything from cryotherapy to chemical peels (minus the Samantha in Sex and The City-worthy redness) and interviewed experts including Jo Malone and Trinny Woodall.