10 shoe trends to buy now that you'll wear all next year
These are the biggest shoe trends of 2021—from clompy military boots to dainty kitten heels and fancy flats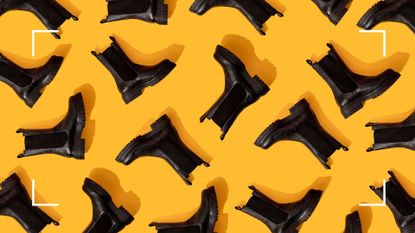 (Image credit: Getty | Future)
The latest shoe trends are guaranteed to provide a source of fashion inspiration. The last 18 months have seen relaxed clothing trends take center stage as we've reached for shoes that deliver on comfort. When it comes to footwear, flat and slipper-like has been the order of the day.
However, with life slowly returning to normal and socializing firmly back on the agenda, there's an undeniable appetite for glitz and glamour in the air coming from the best shoe brands.
"I think we're all in need of a glamorous event or two when hospitality venues fully reopen," says celebrity stylist Natalie Robinson, who has tipped kitten-heeled mules inspired by Bottega Veneta's cult Lido style as this season's party shoe of choice.
But it's not all razzle-dazzle. As many of us return to the office in the coming months, everyday functionality remains a key footwear requirement and chunky soles and sturdy lace-ups that can withstand rainy commutes are among the biggest boots trends of 2021.
As well as influencing styles, the global pandemic has also made us think twice about what our shoes are made of. "Increasingly in footwear, an emphasis on sustainability is becoming part of many features", says Dr Kate Strasdin, Senior Lecturer in Cultural Studies at the Fashion and Textiles Institute of Falmouth University. "Whether shoes are made from Econyl (recycled ocean plastic nylon), reclaimed water bottles or vegan leather, it is all part of the growing awareness of the environmental impact that the fashion and textile industries contribute to."
Whether you've committed to staying in slippers for the rest of the year, or want to put your best foot forward in something high-heeled and high-octane, 2021's trending shoes have got you covered. And if you're looking for your next pair of the best winter boots or weekend sneakers to add to your capsule wardrobe, there's a style to suit.
From shearling slip-ons to 70s fashion-inspired disco platforms, these are the 2021 shoe trends to know about.
Biggest Shoe Trends of 2021
1. Combat Boots
When it comes to 2021 boots trends, "the combat boot is here to stay," says style expert and podcaster Cieja Springer; the question is, did it ever really leave? As a 90s fashion staple, many of us will have a pair at the back of the closet ready to be dusted off–but for those new to the law of combat (boots), it's worth noting a few 2021-specific aspects before running to your local cobbler. Lug soles, contrast stitching, buckles and laces give a utilitarian that feels just right.
WHERE TO SHOP
Our shopping editor recommends...
2. The 70s Platform
For those who can feel their heart dancing the night away but find their body still firmly on the sofa, the 70s platform is an ideal stepping-stone shoe. A platform makes higher heels more walkable (read: danceable) and according to Cieja, "the Tom Ford Disco Platform" are among "the shoes of the moment." Just make sure, for platforms, to know how shoes are supposed to fit.
While Ford's retro heels come with a hefty price tag, there are plenty of high street syles which promise to put a spring in your step without lighting a fire in the balls of your feet. Team with midi dresses or use to dress up your favorite jeans.
WHERE TO SHOP:
Our shopping editor recommends...
3. Kitten-Heel Mules
On that note, the kitten-heel is back–and so is the mule. Two trends you might remember from the 80s fashion era, for 2021 that nostalgia is dialed up to 11 with both styles combined in a single shoe. While that might sound like overkill, the slip-on nature of a mule diffuses the formality of its kitten heel companion; arguably, the duo are something of a match made in shoe-heaven and work with all body shapes.
The kitten heel itself taps into the prevailing ambivalence that characterizes fashion in 2021–offered glamour or comfort, we keep shouting "both!" and this elegant yet comfortable heel is a case in point. Further down the foot, pointed toes are appearing on kitten-heel mules by everyone from Manolo Blahnik to Balenciaga (warmer than an open toe for the cooler months), but the high street is heaving with affordable options. Pair with ankle grazing trousers, soft socks and inner calm, knowing you're doing both your fashion cred and your feet a favor.
WHERE TO SHOP
Our shopping editor recommends...
4. Fancy Flats
As high heels were kicked off in March 2020, sighs of relief and wails of regret could both be heard beneath the din. Entering A/W 2021, a shoe trend to marry those warring tribes has finally emerged: the fancy flat, ideal for evenings and brimming with prettiness all without a stiletto in sight. Silhouettes vary but are reliably strong, whether it's a pixie-worthy pointed toe or a squared-off shape. Slingbacks are a great option for those who want a shoe that feels delicate but still wearable; elsewhere stud embellishments are hot property, with everyone from Louboutin to Valentino plastering their 2021 shoe collections with delightfully no-nonsense hardware.
WHERE TO SHOP
Our shopping editor recommends...
5. Chunky Loafers
Citing chunky loafers among this year's shoe trends to watch, stylist Natalie might have been watching the runways of any number of fashion houses from Givenchy to Proenza Schouler—certainly, the chunky loafer has come blazing through the door of 2021's shoe trends and made itself at home. Take Prada's iteration: built like a tank, equal parts space-age and school-days, this season's loafers are gleefully preppy and unapologetically practical. Pair with a floral midi skirt to confound that aesthetic or lean into it with opaque black tights and high hemlines as temperatures drop. Chosen well and treated right, these are shoes that will last and last: have some fun but avoid gimmicks to ensure a style's longevity.
WHERE TO SHOP
Our shopping editor recommends...
6. Outdoor Slippers
A distinctly post-lockdown phenomenon, one of 2021's most unique trends has to be the outdoor slipper; here, comfort reigns supreme without a skerrick of compromise when it comes to style. On the contrary, coziness is a visual feature as well as a tactile one: think shearling and quilting, which look as great as they feel. According to Dr Kate, the outdoor-slipper vibe is making its own waves with Gen Z; "different colored Crocs with customized charms added to them is certainly something I am seeing as a mother of teenagers," she notes.
Luckily, there are plenty of grown-up options that capture the micro-trend's spirit. Think Birkenstock-style sandals and flat clogs, mules and sliders, all as easy to wear as they are lavishly louche–and yes, you can pair them with socks when it gets chilly. Stick to luxe cashmere and chunky wool and wear with pride.
WHERE TO SHOP
Our shopping editor recommends...
7. Stacked Heels
Hot on the heels (sorry) of platforms, podcaster Cieja noted that, "stacked heels are making a quiet comeback for 2021". One of the year's most versatile trends and harking back to its 2000s fashion heyday, the stacked heel is in evidence across boots and shoes too. Taking its name from the technique of stacking blocks of material, often wood, to form a heel, the resulting style is often chunky rather than slender. Cowboy boots are a classic example and while they're well and truly in style for 2021, stacked heels are finding new homes in mules and high sandals too. Try circular or teardrop stacks for a minimalist but distinctly modern twist on a classic: less yee-haw, more ooh lala.
WHERE TO SHOP
Our shopping editor recommends...
8. Luxe Rain Boots
Luxe rain boots might sound chi-chi, but really we're talking posh wellies – aka your best friend as soon as autumn closes in, thank me later. Think robust ankle-length and knee-high styles made from splash-proof materials that can withstand the worst of the weather. But they deliver on style factor too, coming in classic Chelsea and Wellington shapes that can be worn with a smart dress, or under tailored trousers for wet morning commutes. Team with jeans and a sweater for the ultimate weather-resistant weekend look. The designers leading the way are Chloé with its Betty style and Bottega Veneta's via the fabulously-named Puddle boots. Practically indestructible, these are boots that will endure and endure.
WHERE TO SHOP
Our shopping editor recommends...
9. The Statement Sneaker
Be they classic Reeboks or color-pop styles from cult sustainable brand Veja (a favorite of the Duchess of Cambridge), 2021's sneakers are dominating this season. Nike's Reacts, for instance, come in three colorways each with wow-factor.
Whatever you choose, pair your statement sneaker with something unexpected for maximum impact. If you'd normally wear your running shoes with running pants, try them with a silk skirt; if you'd normally match the sneaker to the outfit, opt for clashing colors instead. As irreverent as it is practical, this is a trend that unites the fashion-initiates and the die-hard aesthetes too. As such, and if you've only got the bandwidth for one trend this year, make it the statement sneaker.
WHERE TO SHOP
Our shopping editor recommends...
10. Ballet Pumps
The most essential of all essentials, a ballet pump is a perennial in any capsule wardrobe worth its salt. This season is no exception; if you're in the market for a ballet pump, French Sole are one company who have truly mastered their craft. Try a low-cut vent for a flatteringly elongating effect, and an unexpected material or color for a personalized take on a timeless footwear option.
WHERE TO SHOP
Our shopping editor recommends...
Emily Watkins is a culture journalist living and working in London. Emily writes for publications including the i, the Independent, Grazia and WhyNow.