How shoes should fit—everything you need to know for a comfortable, blister-free experience
Learning how shoes should fit will increase your everyday comfort levels and your confidence levels when shopping.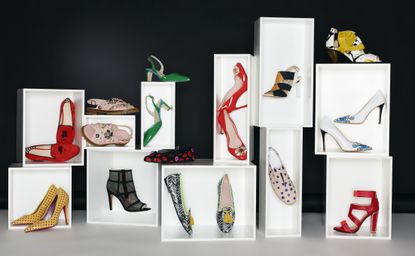 (Image credit: Getty)
Understanding how shoes should fit will not only make a huge difference to your comfort levels but improve your all-around foot health.
Rumour has it Marilyn Monroe once said "give the girl the right shoes and she can conquer the world"—a statement we're inclined to agree with. Similarly, if you give a woman an ill-fitting, blister-inducing pair of shoes, then they're likely to ruin her day.
We spend most of our waking hours wearing shoes, so it's important to ensure they fit well. Failure to find a footwear with a spot-on fit can result in long term problems. Blisters and bunions shouldn't be part-and-parcel of footwear you love, rather rare and mostly avoidable occurrences.
Buying shoes in the correct size is a crucial starting point, as is taking into consideration the shape of your foot. Are your feet narrow or wide? Are your arches high or flat? For example, the best shoes for flat feet have a wide toe box, making extra space to avoid rubbing at the sides. It's worth noting that this sizing guidance applies to all types of shoes, from the best sandals and boots to your trusted trainers.
Fabric plays a big part in how shoes should fit too. Leather and canvas are durable, breathable options, and both will give the more you wear them. Plastic and vinyl shoes are neither breathable, nor stretchy, making them some of the main culprits of uncomfortable, ill-fitting shoes.
How do you know if a shoe fits properly?
"Your shoes should feel sturdy and comfortable and should fit both the length and width of your foot," explains Tony Gavin, leading podiatrist and founder of Osgo Healthcare. "Your toes should have room to be able to wiggle freely. When trying on shoes, walk a little and take your time. Remember—if the shoes rub or pinch when trying them on, they'll rub or pinch when you wear them."
Laces, buckles and velcro straps will all help you to adjust the fit of your shoes, something that's especially handy if you're finding they're just a little too big, but not quite roomy enough to need to size down.
Shoes can be either too large or too small, and also too wide or too narrow. In some cases, the style of shoe may simply not be compatible with the shape of your foot.
Key signs of an ill-fitting shoe are:
Pinching at the toes or heel
Pain when walking
Blisters
Bruising
Bunions
How much room should be in the toe of a shoe?
Measuring the distance between the end of the shoe and your toe is a good marker of how shoes should fit. If possible, we'd recommend visiting a dedicated shoe store where a shop assistant can measure your feet and make suggestions based on your needs. This is especially important when shopping for running shoes or work shoes, as you'll be wearing both for long stretches of time.
"If you're not able to get your feet measured, there should be a thumbs width at the end of the toe before the end of the shoe," says Tony Gavin. "The toe box should be wide enough and deep enough for your toes. If you already suffer from a foot problem such as a bunion, you are advised to purchase extra side shoes or a shoe with depth." Shoes with depth are extra roomy and make space for feet of all shapes. They can be purchased from specialist shops, which do charge a premium but are far cheaper than investing in custom orthotics.
What are the consequences of wearing shoes that don't fit properly?
Ill-fitting shoes are at best uncomfortable, and at worst causing lasting damage to your feet. "Although genetics play a role in some structural problems in the feet, a shoe that doesn't fit properly can certainly aggravate these conditions and in some cases make them worse," advises Tony Gavin.
"One of the biggest problems caused by poorly-fitting shoes is blisters and the knock-on effect of these blisters," adds Dr. Chris Morriss-Roberts, Head of Podiatry Operations at Margaret Dabbs London. "They can cause thickening of the skin, and ongoing cracks and fissures in the skin of the feet depending on where the blisters are. If the blister is really severe, it can stop you from walking properly and most people find they start walking differently to compensate for the painful rubbing. In turn, this can cause back pain, knee pain or problems with your ankles."
So far, so daunting. And that's before we've even covered the potential havoc poorly-fitting shoes can wreak on your toenails.
"Another problem that can be caused by shoes that fit incorrectly is Onycholysis, which is when the toenails drop off. When shoes are too tight, this can cause repetitive micro-traumas on the nails. These repetitive micro-traumas are caused by regularly wearing tight or ill-fitting shoes. Not only are missing toenails this painful and unsightly, but it can also have longer term consequences. Once a nail drops off, it is often never quite the same again."
If you're noticing signs of any of these problems, we'd recommend visiting your GP or a podiatrist for guidance.
How to find well fitting shoes
SHOES FOR NARROW FEET
If you have narrow feet… You likely have narrow feet if you find that you have excess space in your shoes around the edges. This can cause your feet to slip and slide around the inside of your shoe, which can cause rubbing and alter the way you walk.
These brands are our top pick for anyone with narrow feet:
Shoes for narrow feet, Fashion Editor's picks
---
---
---
SHOES FOR WIDE FEET
If you have wide feet… Wide feet normally feel uncomfortable and caged in when wearing standard width shoes. You might feel as if your feet would spill out of the sides, or that you're having to squish them into footwear. Wearing shoes that are too narrow will cause blisters and sores at the sides and tops of your feet.
These brands are our top pick for anyone with wide feet:
Shoes for wide feet, Fashion Editor's picks
---
---
---
---
SHOES FOR FLAT FEET
If you have flat feet… Flat feet are characterised as having little to no arch, so that all of your foot is making contact with the ground. You should be able to tell if your feet are flat by looking at them, but examining your footprint is a good indication too. Flat arches mean your feet roll inwards when you walk, which can put pressure on your joints.
These brands are our top pick for anyone with flat feet:
Shoes for flat feet, Fashion Editor's picks
---
---
---
---
SHOES FOR HIGH ARCHES
If you have high arches… Again, like flat feet, you should be able to see if you have high arches by looking at your foot or footprint. High arches can cause problems as there's less surface area to absorb shock and impact when walking or running. Seeking out shoes with extra cushioning will help ease any discomfort.
These brands are our top pick for anyone with high arches:
Shoes for high arches, Fashion Editor's picks
---
---
---
---
Sign up to our free daily email for the latest royal and entertainment news, interesting opinion, expert advice on styling and beauty trends, and no-nonsense guides to the health and wellness questions you want answered.
Jess Beech is an experienced fashion and beauty editor, with more than eight years experience in the publishing industry. She has written for woman&home, GoodtoKnow, Now, Woman, Woman's Weekly, Woman's Own and Chat, and is a former Deputy Fashion & Beauty Editor at Future PLC. A beauty obsessive, Jess has tried everything from cryotherapy to chemical peels (minus the Samantha in Sex and The City-worthy redness) and interviewed experts including Jo Malone and Trinny Woodall.