The best Nike running shoes for women for all running styles and abilities
We've rounded up the best Nike running shoes to help you run faster and for longer.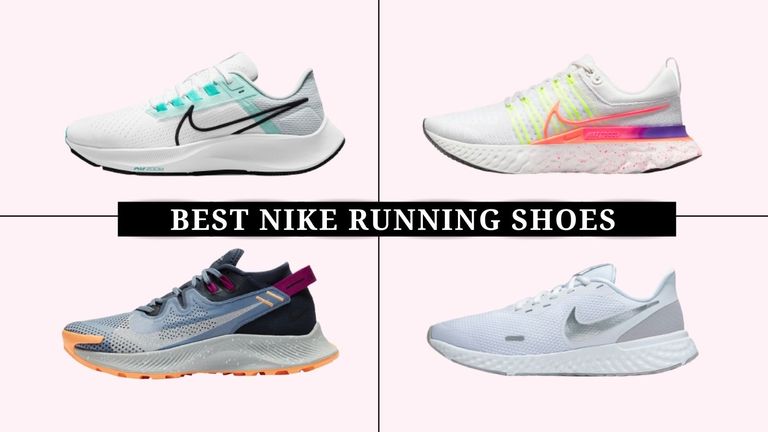 (Image credit: Future and Nike)
We've handpicked the best Nike running shoes for women, including must-have new products and trainers that have been fan favorites for decades. No matter your activity or fitness ability, there's something for every sport and budget in our top picks. 
Investing in the very best running shoes for women is essential for any runner, whether you're beginning your running journey with a couch to 5k or already racking up the miles with long-distance runs weekly. 
Nike, which was born in the 1960s when University of Oregon athlete Phil Knight and his coach Bill Bowerman began selling imported shoes from the back of Phil's car, has built up a loyal fan base over the years. And, it's not hard to see why Nike running shoes are a favorite among fitness fans.  
The brand sells a huge range of trainers for every activity, from road running to trail running and HIIT classes to at-home workouts, including fan favorites that have been around for decades, such as the Air Zoom Pegasus trainers.
To help you find the best Nike running shoes for you, we've rated the brand's current offering. Assessing each style on what they promise to do, how they look, what color options and sizes are available, and how they fair in customer reviews. 
Coming out on top as the best Nike running shoes for women was the brand's bestseller—the Air Zoom Pegasus 38 running shoes. The trainer has been popular with customers for over four decades and is suitable for both the elite and casual runner. But, if it's a little out of your budget don't worry. There are more great Nike running shoes on the market with more affordable price tags.
How to choose the best Nike running shoes for you
When it comes to choosing the best Nike running shoes for you, you should consider your budget, what features are important to you, how far you'll be running in your trainers and how often you'll use them. The prices of Nike running shoes vary by a large amount, so you should always buy the best shoes at the top end of your budget. Other key takeaways include:
Determine the type of runner you are: Consider how much use your running shoes will get and think about how long running shoes last on average. Some Nike running shoes are designed for casual runners, who might head out occasionally on a 5K at the weekend. Others are created for those who run more frequently and therefore are made to be more durable and withstand greater impact. 
Assess comfort and shock absorption: Landing on the ground step after step puts a lot of pressure on your joints, so it's important to prevent injury and strain by choosing a running shoe that helps counteract that. Helpfully, many of Nike's running shoes have been redesigned recently to include extra foam, for a more secure and cushioned feel for every step you take. 
Size up: A frequent comment from Nike customers, and Nike themselves, is that the brand's shoes run a little small compared to your normal size. It's worth trying both your size and the next one up to see which works best.
The best Nike running shoes for women as chosen by our experts
1. Nike Air Zoom Pegasus 38
Best Nike running shoes overall
Specifications
Sizes: US 5-12 / UK 2.5-9.5
Colors: Available in 6 colorways
Material: Synthetic leather and textile in upper shoe
RRP: $120/£104.95
Reasons to buy
+Ideal for elite and everyday runners alike+Comfort is key with this Nike bestseller
Reasons to avoid
-May be out of budget for some-Some customers find they come up a little small
The Nike Pegasus trainers have been on sale—and a bestseller—for almost four decades, and there's a reason loyal customers keep coming back to it. The updated version, the Air Zoom Pegasus 38, includes a new Zoom Air bag placed in the forefoot of the shoe, which is designed to cushion your step and improve responsiveness in the trainer. The foam in these trainers also keeps your steps light and springy as you run, ensuring you don't feel weighed down while you rack up those miles.IT's also super durable, meaning the Pegasus trainers should be a worthwhile investment for many a run to come. 
If you're thinking you need to weigh up walking vs running before investing in a pair of trainers, you'll be glad to hear this pair work for both so there's no need to limit yourself to one activity! Customers often rave about the comfort of these trainers and say they are ideal for long walks or runs. 
However, some customers have pointed out that when it comes to fit, these trainers run a little small - so it might be worth sizing up with this pair.
2. Nike React Infinity Run Flyknit 2
Best premium Nike running shoes
Specifications
Sizes: US 5-12 / UK 2.5-9.5
Colors: Available in 12+ colorways
Material: Made with less material and more foam for support
RRP: $160/£139.95
Reasons to buy
+It has style and quality+Designed to avoid running injuries+Lots of colors available 
Reasons to avoid
-Some find the increased support too much-It's an expensive purchase
With glowing reviews on the website, singing praises about how comfortable this Nike running shoe is, the React Infinity Run Flyknit 2 trainers appear to be a popular choice for runners across the globe. This product was created specifically to help reduce the risk of injury while running, so could be the best option for those particularly worried about the possibility, or perhaps for those with prior injuries concerned about hurting themselves again. The most recent iteration of the React shoe has a wider base than those that came before it, in a bid to increase stability and avoid any nasty slips. 
The foam promises to keep runs light and comfortable, while the advanced Flyknit upper offers extra breathability. The technology means the shoe will work for outdoor running or running on the treadmill, whichever you prefer. 
The React also comes with boosted arch support, in another move to prevent injury and improve comfort, although some may find the increased support takes some getting used to. 
This is one of Nike's more expensive running shoes, but for those with the budget, it's a very worthwhile investment.
3. Nike Revolution 5
Best budget Nike running shoes
Specifications
US Sizes: US 5-12 / UK 2.5-9.5
Colors: Available in 10 colorways
Material: Made with a soft sockliner and plush lining
RRP: $65/£47.95
Reasons to buy
+Affordable option+Lightweight and comfortable
Reasons to avoid
-Some customers state they are a little tight on top-Might not work for those with wider feet
If you're new to running, then a budget option from Nike is a good idea. The Revolution is a lightweight shoe, created to help you move with ease and as naturally as possible. It's also one of the brand's most affordable shoes – and one of the bestsellers – so if you're on the hunt for a new trainer that won't break the bank, this could be the right choice for you. Unlike other Nike running shoes, the Revolution doesn't have as thick a sole or with as much foam cushioning, which is ideal if you prefer feeling a little closer to the pavement.
What's more, you can use them for plenty of other activities too. Whether you turn your hand to boxing or walking, these trainers will see you through many workouts. 
However, some customers have noted the fit can be tight. But many have also assured that after some wearing in, the problem seems to resolve itself. 
4. Nike Renew Run 2
Best Nike shoes for the everyday runner
Specifications
Sizes: US 6-11 / UK 2.5-9.5
Colors: Available in 4 colorways
Material: Rubber outsole and durable mesh
RRP: $99.00 - $204.70 / £79.95
Reasons to buy
+Breathable for hotter runs on warm days+Customer recommended for runners with overpronated feet
Reasons to avoid
-A thicker sole might put some off-Some shoppers have experienced rubbing
Another bestseller for the brand, the Nike Renew Run 2 is touted as the best option for the everyday runner. The trainers have been created with durability in mind, for those worrying about whether the shoes will hold up with their intensive exercise schedule. 
Like the Pegasus, the shoes feature Lunar foam underfoot, for a supportive and cushioned run, as well as breathable mesh on the side panels, to help increase airflow while running – ideal for warmer days. The latest edition of the popular trainers features better shaping around the collar and tongue, promising even better support around the foot.
Shoppers have noted the great support these trainers offer, especially if you have an overpronation. In fact, plenty have said that it's like 'running on a cloud'—so, we're sold.
5. Nike Pegasus Trail 2
Best Nike shoes for outdoor running
Specifications
Sizes: US 6-11 / UK 2.5-9.5
Color: Available in 7 colorways
Material: Made of synthetic and textile materials
RRP: $130/£114.95
Reasons to buy
+Sole gives you traction on off-road routes+Design guarantees foot stability
Reasons to avoid
-Thick, chunky feel to shoe-Not great for treadmill running 
For those after a pair of the best trail running shoes, this Nike running shoe is the perfect option. The Pegasus Trail 2 has a thick, tire-inspired rubber sole to help with your grip on both pavements, grass and rougher terrain like mountains or woods. The shoe aims to help you feel secure on slopes, too, either uphill or downhill, so you needn't worry about slipping or accidents. 
The React foam, used in many of Nike's running shoes, can help you move easily through rocky and unstable terrain, while the mesh inside the trainers is designed to drain any water away, for those exercising in less than ideal weather. Cushioned to provide a smooth transition between pavement and trails, Nike customers have said the trainers are a comfortable fit that feels "squishy" and "good for all surfaces". 
As trail shoes, they are a little chunkier which may not be versatile enough for some runners who like to mix things up by running off-road and on treadmills. 
6. Nike ZoomX Invincible Run Flyknit
Best Nike running shoes for flat feet
Specifications
Sizes: US 5-12 / UK 2.5-9.5
Colors: Available in 5 colorways
Material: Waffle outsole; panel at the heel is embedded in the Flyknit
RRP: $180/£159.95
Reasons to buy
+Durable even on concrete+Lightweight, comfortable, and bouncy+Great fit+Suitable for long distancing and speed training
Reasons to avoid
-Heel cup is a bit wide-Might be too chunky for some 
The Nike ZoomX Invincible Run Flyknit serves as a solution against overpronation, which generally plagues flat-footed runners. Overpronation happens when the foot rolls too far inward. This common phenomenon hinders our ability to distribute impact and may lead to stress-related injuries.
Running jargon aside, pronation describes the way our body absorbs impact—particularly how our foot naturally rolls inward to lessen the impact upon landing on pavement. So, when you walk or run, your weight leans more on the inside of your foot. For optimal protection and stability, experts say your foot should roll forward from heel to toe. 
These are the best Nike running shoes for those with flat feet because they maximize shock absorption with soft, responsive foam cushioning. The rocker-shaped sole reduces pressure on the foot too, plus the wide base offers more stability. 
Shoppers online were surprised at just how durable these running trainers are, thanks to the chunky foam sole that's really helped them go the distance. 
7. Nike Downshifter 11
Best Nike running shoes for wide feet
Specifications
Sizes: US 5-11 / UK 3-8
Colors: Available in 6 colorways
Material: Rubber outsole and lightweight mesh
RRP: $59.99/£54.95
Reasons to buy
+Flexible, yet firm +Great arch support
Reasons to avoid
-Some shoppers found the laces to be tight-Shoppers found they run small so best to size up 
From product conception to completion, Nike abides by the notion that better fit means better performance. Case and point: The Downshifter 11, the best Nike running shoes for those with wide or extra-wide feet prone to blisters from narrow options.
The rubber sole features grooves that create traction and allow these trainers to be ultra-flexible with lots of soft foam cushioning for comfort. The latest version features more support around the midfoot for extra comfort. The only downside to these running shoes is some shoppers found them to run small, so it's worth trying the next size up if you're considering investing in this pair.