The best Nike running shoes for women for all running styles and abilities
We've rounded up the best Nike running shoes to help you run faster and for longer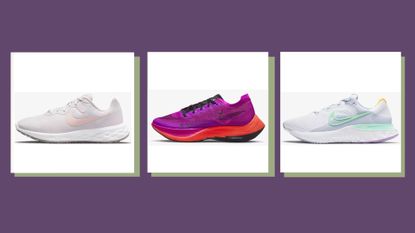 (Image credit: Nike)
The best Nike running shoes should be at the top of your wish list, no matter if you're a dedicated runner with miles behind you or you're looking to get into it for the very first time.
Nike was born as a brand in the 1960s, when University of Oregon runner Phil Knight and his coach, Bill Bowerman, began selling imported shoes from the back of Phil's car. Since then, the brand has built up a loyal fan base over the years - and it's not hard to see why with its superior design, materials, and fit.
If you're looking for the best running shoes for women, you've come to the right place. These are the top running shoe picks from Nike to choose from, including the best models for 5k and 10k distances, tried and tested by us.
How to choose the best Nike running shoes for you
Why you can trust Woman & Home Our expert reviewers spend hours testing and comparing products and services so you can choose the best for you. Find out more about how we test.
When it comes to choosing the best Nike running shoes for you, you should consider what type of running you do, your budget, what features are important to you and what style you prefer.
The prices of Nike running shoes vary by a large amount, but opting for the most expensive pair won't necessarily guarantee you the best experience. Other key points to consider include:
Determine how often you'll use them - consider how much use your running shoes will get, as you might choose to invest a little more if you're out running every day. Some Nike running shoes are designed for casual runners, who might head out occasionally on a 5K at the weekend. Others are created for those who run more frequently and therefore are made to be more durable and withstand greater impact. Whether your run on a road, treadmill, track, or trail will also make a big difference in how quickly your shoes are worn down.
Assess comfort and shock absorption - landing on the ground step after step puts a lot of pressure on your joints, so it's important to prevent injury and strain by choosing a running shoe that helps counteract that. Opt for trainers with extra foam cushioning, for a more secure and cushioned feel for every step you take, especially if you tend to strike the ground first with your heel when running.
Size up - a frequent comment from Nike customers, and Nike themselves, is the brand's shoes run a little small compared to your normal size. It's worth trying both your size and the next one up to see which works best.
The best Nike running shoes for women as chosen by our experts
1. Nike Air Zoom Pegasus 38
Best Nike running shoes overall
Specifications
Sizes: US 5-12 / UK 2.5-9.5
Colors: Available in 6 colorways
Material: Synthetic leather and textile in upper shoe
RRP: $120 / £104.95
Reasons to buy
+
Ideal for elite and everyday runners alike
+
Super comfortable
+
A fan favorite for decades
+
Lightweight
Reasons to avoid
-
Some customers find they come up a little small
Nike's Pegasus trainers have been one of the brand's bestsellers for almost four decades, with loyal customers coming back to them again and again. The Pegasus 38 model is the updated version of the original, although there is now the 39 as well. It includes a new Zoom Air bag placed at the forefoot of the shoe, designed to cushion your step and improve responsiveness in the trainer.
The foam in these trainers also keeps your steps light and springy as you run, ensuring you don't feel weighed down while you count up the miles with your choice of the best Fitbits. When testing out Nike's Pegasus trainers, we found them to be durable and so a worthwhile investment if you're looking for a pair to stand the test of time.
But even non-runners can enjoy the perks of these shoes as, unlike some of the other models we tried, they are suitable for both running and walking since the footplate is fairly level with only a slight elevation on the heel.
There's really no better model for those looking at the best Nike trainers for easy road runs, and Pegasus even comes in a range of cool colors - including fluorescent yellow for those who like to run outside.
2. Nike ZoomX Vaporfly Next% 2
Best premium Nike running shoes
Specifications
Sizes: US 5 - 12 / UK 2.5 - 9.5
Color : Available in eight colorways
Material: Carbon fiber, foam
RRP: $250 / £224.95
Reasons to buy
+
New tongue material reduces pressure on foot
+
Great cushioning
+
Range of colors available
Reasons to avoid
-
Some runners say these wear out quicker than other Nike models
If you're looking to invest in a running shoe, then it should be the Nike ZoomX Vaporfly Next% 2. While a pair of these might set you back a bit price-wise, we reckon it's worth it even if you're running only a couple of times a week. These also come in an exciting range of colors, including this hot pink, fluorescent green, and various shades of blue.
The Vaporfly Next% 2 is one of the brand's newest models, having built on the success of previous carbon plate racing shoes like the NEXT% and Nike Vaporfly 4%. When it comes to cushioning, they're almost unmatched thanks to the internal foam pod at the heel and supportive ZoomX cushioning throughout. The biggest change between this model and former ones is the tongue on the shoe, which is made of lighter padding and helps to reduce any pressure from tight laces on the front of your foot.
While this is certainly one of the best Nike running shoes for any distance, giving you comfort and support all the way, we found that it's best for slightly longer distances - around the 10k mark - where you take take full advantage of the trainer's features.
3. Nike React Infinity Run Flyknit 2
Best Nike running shoes for injuries
Specifications
Sizes: US 5-12 / UK 2.5-9.5
Colors: Available in 12+ colorways
Material: Made with less material and more foam for support
RRP: $160 / £139.95
Reasons to buy
+
Stylish with lots of colorways available
+
Quality breathable material
+
Designed to avoid running injuries
The React Infinity Run Flyknit 2 trainers appear to be a popular choice for runners across the globe and with glowing reviews of them from thousands across the website, we were excited to try them.
The standout feature of these trainers is their design. Created specifically to help reduce the risk of injury when running, they have a wider base than the React model - which is an older version of this shoe - to try and increase stability for the runner and avoid any nasty slips. They also come with boosted arch support to try and improve comfort, which is supportive but some runners might find it takes some getting used to.
The foam keep runs light and comfortable, while the advanced Flyknit upper offers extra breathability. We tested these trainers both outdoors and inside on a treadmill, and found that they work well for both - so whatever you prefer.
While the React Infinity Run Flyknit 2 are cheaper than the Nike ZoomX Vaporfly Next% 2, they're still on the upper price range of the best Nike running shoes at $160 / £139.95. If you're running with an injury and able to invest though, they're definitely worth it.
4. Nike Revolution 6 Next Nature
Best budget Nike running shoes
Specifications
US Sizes: US 5 - 12 / UK 2.5 - 9.5
Colors: Available in 8 colorways
Material: Made with a soft sockliner and plush lining
RRP: $65 / £54.95
Reasons to buy
+
Affordable option
+
Lightweight
+
Comfortable lining
+
Great for lots of activities
Reasons to avoid
-
Some customers found them slightly narrow
-
Not a great option for those with wide feet
Investing in a pair of Nike running shoes on the lower end of the price spectrum is a good idea if you're new to the sport and just starting to pull together your running gear. If you decide that running isn't for you, you haven't broken the bank, and if you decide it is, then you know what you do and don't like in a trainer.
The Revolution 6 Next Nature is a lightweight shoe, made from at least 20% recycled materials, and created to help you move with ease and as naturally as possible. Unlike other Nike running shoes on this list, the Revolution doesn't have as thick a sole or with as much foam cushioning, which is ideal if you prefer feeling a little closer to the pavement and don't struggle with heel striking. What's more, you can use them for plenty of other activities too, making them a good option if you're looking for casual walking shoes too.
We found these to fit like a glove, but some customers have noted that the fit is a little tight. These certainly aren't for those with wider feet, it would seem. However, many have assured that these trainers stretch if you wear them for a while.
5. Nike Renew Run 2
Best Nike shoes for the everyday runner
Specifications
Sizes: US 6-11 / UK 2.5-9.5
Colors: Available in 4 colorways
Material: Rubber outsole and durable mesh
RRP: $99.00 - $204.70 / £79.95
Reasons to buy
+
Breathable
+
Suitable for runners with overpronated feet
Reasons to avoid
-
A thicker sole might put some off
-
Some rubbing on the foot
The Nike Renew Run 2 is the best option for the everyday runner as they were created with durability in mind above all. So if you run to work or to the gym, anywhere frequently, then these will likely be the pick of shoes for you.
Much like the Pegasus, the shoes feature Lunar foam underfoot, for a supportive and cushioned run, as well as breathable mesh on the side panels, to help increase airflow while running - ideal for warmer days. The latest edition of these popular trainers, the Nike Renew Run 3, feature even better shaping around the collar and tongue, with even better support around the foot. However, for a casual daily jog, we found that this model - which is cheaper than its newer counterpart - held up just fine.
For those who overpronate when they run, these are an excellent pick thanks to the great arch support system. This is something that other shoppers have also noted, with some saying that the Renew Run 2's offer an experience that's like "running on a cloud".
6. Nike Pegasus Trail 2
Best Nike shoes for trail running
Specifications
Sizes: US 6-11 / UK 2.5-9.5
Color: Available in 7 colorways
Material: Made of synthetic and textile materials
RRP: $130 / £114.95
Reasons to buy
+
Great traction on off-road routes
+
Offers lots of stability
+
Excellent cushioning
Reasons to avoid
-
Thick, chunky feel to shoe
-
Not great for treadmill running
For those after a pair of the best trail running shoes, this Nike running shoe is a great option. The Pegasus Trail 2 has a thick, tire-inspired rubber sole to help with grip on both pavements, grass, and rougher terrain like mountains or woods. The shoe aims to help you feel secure on slopes, too, either uphill or downhill, so you needn't worry about slipping or accidents.
The React foam, used in many of Nike's running shoes, provides ultimate comfort. The GORE-TEX technology keeps feet dry in wet weather while still offering great breathability as well, so you can feel safe running whatever the weather. Cushioned to provide a smooth transition between pavement and trails, we found that these trainers offer a comfortable fit that feels responsive when running and suitable for all surfaces including trails and off-road paths.
As trail shoes, they are a little chunkier. This may not be versatile enough for some runners who like to mix things up by running off-road and on treadmills.
7. Nike ZoomX Invincible Run Flyknit
Best Nike running shoes for flat feet
Specifications
Sizes: US 5-12 / UK 2.5-9.5
Colors: Available in 5 colorways
Material: Waffle outsole; panel at the heel is embedded in the Flyknit
RRP: $180 / £159.95
Reasons to buy
+
Durable
+
Lightweight, comfortable, and bouncy
+
Great fit
+
Suitable for long distancing and speed training
Reasons to avoid
-
Heel cup is a bit wide
-
Might be too chunky for some
The Nike ZoomX Invincible Run Flyknit serves as a solution against overpronation, which generally plagues flat-footed runners. Running jargon aside, pronation describes the way our body absorbs impact - particularly how our foot naturally rolls inward to lessen the impact upon landing on pavement. So, when you walk or run, your weight leans more on the inside of your foot. For optimal protection and stability, experts say your foot should roll forward from heel to toe.
These are the best Nike running shoes for those with flat feet, we found after testing them. As well as being more comfortable thanks to the chunky foam sole, they maximize shock absorption. While the rocker-shaped sole reduces pressure on the foot too, and the wide base offers more stability.
When we tested them, we were surprised at just how durable these running trainers actually are as we used them for a couple of weeks fairly regularly with little to no sign of wear.
8. Nike Downshifter 11
Best Nike running shoes for wide feet
Specifications
Sizes: US 5-11 / UK 3-8
Colors: Available in 6 colorways
Material: Rubber outsole and lightweight mesh
RRP: $59.99 / £54.95
Reasons to buy
+
Flexible, yet firm
+
Great arch support
+
Comfortable
Reasons to avoid
-
Some shoppers found the laces to be tight
-
Shoppers found they run small so best to size up
From product conception to completion, Nike abides by the notion that better fit means better performance. Case and point: The Downshifter 11, the best Nike running shoe for those with wide or extra-wide feet prone to blisters from narrower options.
The rubber sole offers great traction yet keeps the shoe flexible, while the soft foam cushioning makes for comfortable all-day wear. The latest version of the Downshifter features more support around the midfoot, and the foam tongue is connected to the upper's inner lining for a secure fit.
The only downside to these running shoes is some shoppers found them to run small, so it's worth trying the next size up if you're considering investing in this pair.
A digital health journalist with over five years experience writing and editing for UK publications, Grace has covered the world of health and wellbeing extensively for Cosmopolitan, The i Paper and more.
She started her career writing about the complexities of sex and relationships, before combining personal hobbies with professional and writing about fitness. Everything from the best protein powder to sleep technology, the latest health trend to nutrition essentials, Grace has a huge spectrum of interests in the wellness sphere. Having reported on the coronavirus pandemic since the very first swab, she now also counts public health among them.
With contributions from