The best running gear for women—whether you're a beginner or a pro
The best running gear will keep you comfortable and safe on your workouts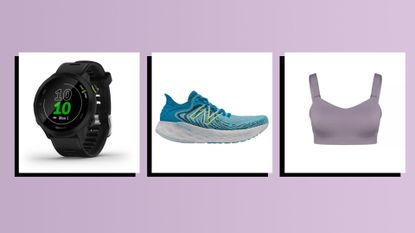 (Image credit: Future)
Investing in the best running gear is key if you want to improve your technique, prevent injury and take your workout to the next level. Whether you're a newbie or have been hitting the pavements for years, treating yourself to some comfortable and stylish activewear is sure to boost motivation.
Good quality and well-fitted kit will keep you comfortable as you run, but will also support your body as you chalk up the miles, ensuring you're moving in the right way and not putting any unnecessary pressure on bones and joints. The best running gear can help you keep your pace, run more sustainably and even support you in hitting a new PB!
Finding the best running shoes is a good place to start, whether you've just started a couch to 5k program, or are a seasoned marathon runner. But, investing in other running gear, such as fitness trackers, and the best sports bra to keep you feeling supported and secure is just as important.
The choice of sportswear nowadays is huge, with so many brands all claiming to be the best. Good running gear often holds a higher price tag than casual or leisurewear, so it's important to know you're getting good value for money, rather than paying for a popular brand name. To help you on your search, we put popular sports brands to the test to bring you our ultimate guide to the best running gear.
How we tested and selected the best running gear
Why you can trust Woman & Home Our expert reviewers spend hours testing and comparing products and services so you can choose the best for you. Find out more about how we test.
Testing the best running gear is no mean feat and, you guessed it, involves a lot of running! To bring you this guide to the best running gear, our testers racked up the miles in rain and shine to put everything from running shoes and running leggings to fitness trackers and running apps to the test.
All of the products in this guide were tested multiple times over a range of terrain and in different weather conditions. But, not everything we tested made it into our round-up, so you can rest assured what we've rated here is worth spending your money on.
The best running gear, as chosen by our experts
1. New Balance Fresh Foam 1080V11
Best running shoes
Specifications
Size range: US 5-13/UK 3-11
Offset: 8mm
Waterproof: No
Weight : under 500g per pair
RRP: $150/£135
Reasons to buy
+
Well-cushioned for joint support
+
Lightweight
+
Breathable
+
Perfect for treadmill and road running
Reasons to avoid
-
Not waterproof
-
Small fit, best to size up
New Balance 1080 trainers have been worn by runners for years and the latest version of the popular shoes, the Fresh Foam 1080v11, might be our favorite pair just yet. Well-cushioned for joint support, lightweight and comfortable to wear thanks to the Ortholite sock liner, our tester described running in these trainers like running on clouds. The Fresh Foam midsole cushioning works to compress each time your foot hits the ground to help against the force of impact. Our tester overpronates and often has knee pain running in less-cushioned shoes, but felt no pain at all as they jogged in this pair.
The 1080v11 trainers are best for road running and treadmill running (seeing our guide to running on the treadmill vs outside if you're weighing this up) but wouldn't be suitable for rough terrain. Our tester also recommends sizing up in this pair as they come up small.
2. Garmin Forerunner 55
Best fitness watch for runners
Specifications
Watch dimensions : 42 x 42 x 11.6 mm
Battery life: 2 weeks or 20 hours with GPS on
Water resistant : Up to 50m
Colors: Black, White, Aqua, Grey
GPS: Yes
RRP: $200/£180
Reasons to buy
+
Easy to use
+
Bright screen
+
Accurate GPS
+
On-screen coaching
Reasons to avoid
-
No interchangeable wristbands
An easy-to-use fitness tracker with accurate GPS is a must-have for any runner. Step forward—Garmin's Forerunner 55, with simple navigation and a range of features that will help you track your runs and monitor your progress.
Once synced to your phone via the Garmin Connect app, it has all the running metrics you need. As you run, on the screen of the watch you can see your distance, pace and time. The watch face is big and bright with a stop and start button that makes it easy to use on the move. The Garmin Coach and PacePro technology provide expert training plans and pace guidance, and cadence alerts let you know when you've gone outside your target range. We also love the Race Predictor which helps us set goals by combining data from previous workouts.
All runners know that mixing up workouts is the key to becoming a stronger, faster runner. Whether you're dipping your toe in yoga for runners or adding ab workouts for runners to your routine, the Forerunner's built-in sports apps make it easy to switch between activities. Like other Garmin fitness trackers, the Forerunner 55 also tracks heart rate, steps, calories burned, respiration rate, energy levels, stress levels, sleep and more. While it's not the most stylish watch, and you can't change the wristband, it's the best fitness tracker for those serious about their running metrics.
3. NURVV Run Smart Insoles
Best smart insoles for runners
Specifications
Sizes: US 5-15.5/UK 2.5-12
Battery: Rechargeable lasts 5+ hours
Water resistant: Yes
GPS: Yes
RRP: $300/£250
Reasons to buy
+
In-depth analysis
+
Expert coaching guidance
+
Lightweight
+
Suitable for all weather
Reasons to avoid
-
Takes time to set up
-
No heart rate or calorie tracking
-
Expensive
If you want to take your running technique analysis one step further, it's time to invest in some smart insoles for runners like the NURVV Run Smart Insoles. The insoles feature 32 sensors that track and monitor your distance, time, step length, foot strike, pronation and balance, all of which you can then view in the NURVV app on your smartphone.
As the tracking is happening right where the movement is taking place, these insoles give an overall picture of your running technique. Plus, once connected through Bluetooth to your smartphone, you can access real-time audio coaching using the Pace Coach and Footstrike Trainer settings to help you keep on top form as you run. The insoles are slim and lightweight, barely noticeable in your running shoes, however, they do take some time to set up. Before you can assess your technique fully and access a personalized Running Health score showing how sustainable your running is, you'll have to run at least four times to the total of 10km. As they're an expensive piece of kit, they're best suited to intermediate or pro runners.
4. Falke Impulse Running Tights
Best running leggings
Specifications
Sizes: US 1-4 / UK 8-16
Material: 94% polyamide, 6% elastane
Machine washable: Yes
RRP: $200/£130
Reasons to buy
+
High-tech fabric
+
Compression fit
+
Machine washable
Reasons to avoid
-
Only available in black
-
Sizing is confusing
The Falke Impulse Running Tights may be more expensive than the average pair of leggings but are a worthy investment and some of the best leggings on the market.
Designed specifically for runners, these leggings are made from moisture-wicking polyamide and feature patented knitted and silicone technology around the knee and thigh muscles to optimize leg movement. This keeps joints supported and stabilized as you run, helping reduce the risk of injury, while also stimulating muscle, optimizing movement and leg swing, and aiding recovery. The tech used to create these leggings is nothing short of impressive and could have you running faster and for longer, or hitting a new PB in no time.
Our tester found the sizing of these running leggings a little harder to navigate than the norm, as they are available in sizes 01, 02, 03 and 04. Spend some time reading the size chart on the Falke website to pick the best size for you.
5. Lululemon Swift Speed Bra High Support
Best sports bra for running
Specifications
Sizes: 32A-40DD
Material: 56% Nylon, 44% Lycra® elastane
Wired: No
Machine washable: Yes
RRP: $88/£78
Reasons to buy
+
Comfortable
+
Doesn't move as you move
When it comes to the best sports bra for runners, the Lululemon Swift Speed Bra High Support always takes the top spot. When doing a high-impact activity like running, you want a sports bra that provides lots of support and doesn't budge as you strive to hit your fitness goals. The Lululemon bra does this, and then some. It's got a second skin feeling with super-soft fabric—you almost forget you're wearing it as you move.
The non-wired bra has molded cups that create a smooth shape and help to reduce impact and a bonded underband that doesn't dig in or ride up as your run. The bra also features straps that can be adjusted at the front, ideal for tightening on the go if needed, and a hook-and-eye closure that won't pop open as you move.
The Lululemon sports bra does come with an expensive price tag, but if you're investing in the best running gear it's worth it. Plus, you can then use it for other activities, whether that's Nordic walking or strength training.
6. Brooks Canopy Jacket
Best running jacket for all weather
Specifications
Sizes: XS-XXL
Colors: Yellow, Black and Navy Print
Waterproof: Water-resistant
RRP: $120/£80
Reasons to buy
+
Breathable material
+
Packs down for storage on-the-go
+
Bright colors available
Reasons to avoid
-
Not fully waterproof
-
Expensive
For a lightweight and breathable running jacket, look no further than the Brooks Canopy Jacket. Our tester felt protected from the elements without overheating while running in this pick, thanks to the DriLayer Seal fabric that lets out excess heat without letting wind or rain in. In windy conditions, they were thankful for the draft flap at the zip that kept the jacket in place.
The Canopy Jacket is available in a range of colors, from bright yellow to a purple and pink print, and is made from water-resistant polyester material. It's great for taking on the go as it folds into a built-in mesh backpack. However, it's worth noting the versatile jacket isn't fully waterproof and is only water-resistant, which might be a deal-breaker for some.
7. Strava
Best running app
Specifications
Price: Free to download, premium subscriptions available
Available on: iOS and Android
Reasons to buy
+
Tracks key metrics
+
Share activity with others
+
Free to download
Reasons to avoid
-
Detailed analysis and goal setting requires a subscription
Among the best workouts apps, you'll find running apps like MapMyRun, Couch to 5k and Runkeeper. While the best running app for you will depend on what you want from an app and where you are in your running journey, time and time again beginners and pros alike rave about Strava and we agree!
If you don't have a fitness watch or tracker, Strava is the next best thing. Through the app on your smartphone, you can track your runs and dive into your performance stats. The app tracks distance, moving time, pace and elevation. You can also share your activity with your friends in the app, which is often the best workout motivation.
If you do have a fitness tracker, you can sync it with your Strava account for a more detailed analysis. The app is free to download, but you can also pay a monthly subscription that allows you to create new challenges, set goals, analyze your training and progress in more detail, and discover new running routes near you.
8. Sweaty Betty On Your Marks 4" Running Shorts
Best running shorts for women
Specifications
Sizes : XXS-XXL
Colors: Black, Navy, Red and Checked Print
Material : Spandex and recycled polyester
RRP : $68/£55
Reasons to buy
+
Made from recycled plastic
+
Side zip pockets
+
Mid-rise elasticated waistband
Reasons to avoid
-
Might be too short for some
Sweaty Betty's On Your Marks 4" Running Shorts are a must-have addition to your running gear, especially in the warmer months. The 2-in-1 shorts have a sweat-wicking Spandex inner short and light outer short made from recycled polyester. Our tester found these shorts light and comfortable to run in—they loved the mid-rise elasticated waistband that did budge as they moved. Best of all, they have pockets! The two zip side pockets are great for carrying keys.
The eco-conscious shorts are available in a range of colors and sizes, however while our tester felt comfortable and supported as they ran in this pair, they did note the 4inch length might not be suitable for those who prefer a longer running short.
9. Proviz Reflect360 Running X-Vest
Best reflective running vest
Specifications
Size: One size
Waterproof: Water resistant
Material: R360 Stretch
RRP: $55/£34.99
Reasons to buy
+
100% reflective
+
Adjustable with Velcro straps
+
Breathable and lightweight
Reasons to avoid
-
Not waterproof
-
Only available in one size
Being visible to other runners and traffic around you as you hit the pavements is essential. If you've been on the hunt for a reflective vest to pop on over your usual running gear, let us introduce you to the Proviz Reflect360 Running X-Vest. In this vest, you won't be missed!
The brand says the vest is 100% reflective, and we can't argue with that! In daylight the vest looks grey, but as soon as the sunset and our tester headed outside to try this vest out they were impressed by how reflective it is. Using the REFLECT360 material, the vest picks up light from vehicle headlights and reflects it back so you can easily be seen by oncoming traffic. The material is breathable and lightweight, our tester barely noticed it over their usual running gear. Thanks to the adjustable velcro straps you can change the size to fit the number of layers you're wearing. It's worth noting the vest is water-resistant, but not waterproof and is only available in one size.
10. Sweaty Betty Run Gloves
Best running gloves for winter
Specifications
Sizes: S-M
Colors: Black, Green, Red
Material : Polyester
RRP: $48/£35
Reasons to buy
+
Touch-screen compatible
+
Reflective details
+
Range of colors and sizes
Once the cold weather hits, a pair of running gloves are essential if you're running outside. We love Sweaty Betty's Running Gloves for staying warm on the go. The fleece-lined gloves are made from sweat-wicking recycled polyester with grippy palms and reflective details for more visibility.
Our tester said these gloves kept their hands warm on cold winter evenings, and appreciate the touchscreen-compatible fingertips for checking their stats on their phone. These cozy gloves are available in black, green and red and come in sizes S-L Our tester went for a size M and found them to be too big, so it's worth trying a couple of sizes to find your perfect fit.
11. Salomon Active Skin 4 Running Vest
Best hydration running vest
Specifications
Sizes : XS-XL
Colors: Orange, Blue, Red
Holds: two 500ml flasks or 1.5 litre hydration bladder
RRP: $90/£60
Reasons to buy
+
Comfortable to wear
+
Bright colors available
+
Secure pockets
Reasons to avoid
-
Not suitable for longer runs where you need more liquid capacity
A hydration vest is a must-have for long runs and trail adventures. We love the Salomon Active Skin 4 Running Vest it's small, compact, and comfortable to wear. It comes with two 500ml Salomon flasks that can be stored at the front of the pack but the vest is also compatible with a 1.5-liter hydration bladder. It's got extra pockets for securely storing essentials, and is made of soft mesh fabric that offers great breathability and is comfortable to wear
The Salomon vest comes in a range of bright colors and is available in sizes XS-XL. While our tester found this pack perfect for trail runs (and even used it while hiking), they did suggest it would be best suited to shorter adventures due to the liquid capacity. For longer runs, an option that holds more liquid might be best suited.